Introduction
In the comment section of my article on Crescent Point Energy (NYSE:CPG), a reader asked if I could have a look at Northern Blizzard Resources (OTC:NBZZF). I accepted the challenge and as I was quite impressed with the quality of the company's assets, I decided to structure my thoughts in this article and explain why Northern Blizzard will get through 2016 without a lot of problems.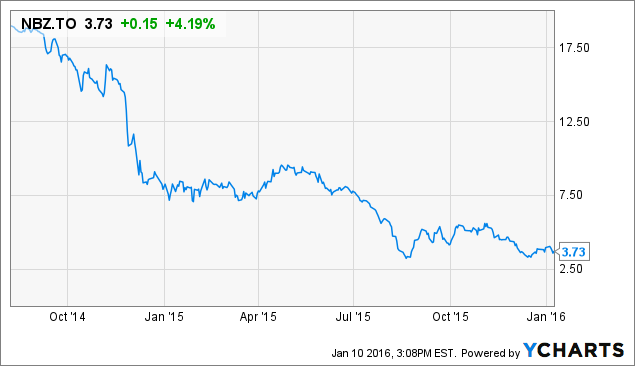 Keep in mind the company's listing in the USA is quite new, so I'd strongly recommend you to use Northern Blizzard's listing on the Toronto Stock Exchange as the liquidity is much better there, with an average daily dollar volume of approximately half a million dollar. The ticker symbol is NBZ, and the current market capitalization is approximately $300M (after having reached $1.5B (!!) just 16 months ago)!
2015 will be good, and 2016 might be good as well
Even though the company is pretty small now and doesn't really enjoy a lot of name recognition outside of Canada, Northern Blizzard actually is a pretty decent-sized producer as its oil-equivalent production is in excess of 20,000 barrels per day (in Q3 2015) and averaged almost 21,500 boe/day in the first nine months of the year.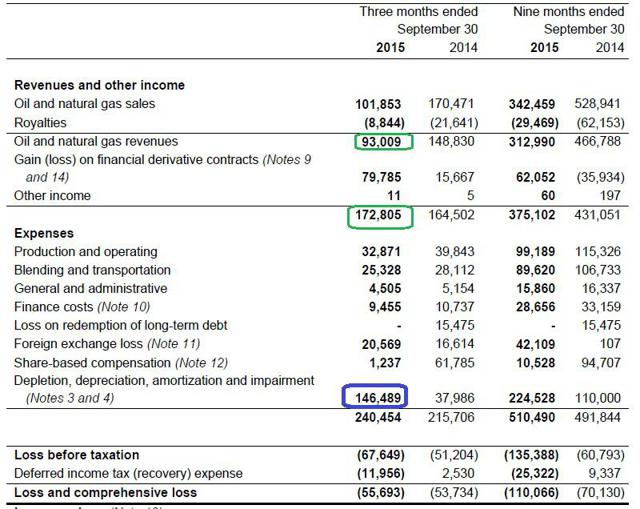 Source: financial statements
What's interesting is Northern Blizzard's ability to operate at a low production cost which is very interesting, and a huge benefit to the company. The revenue from oil and gas sales (net of the royalty payments) was C$93M ($65M) in the third quarter and after the company added a C$80M ($57M) gain on its hedging contracts, the total revenue was almost C$173M ($122m). However, due to a relatively hefty impairment charge of C$110M ($77M), the pre-tax and after-tax profit was pushed into the red.
Okay, that's not a nice starting point, but let me assure you the company's situation isn't that bad at all, considering the majority of its quarterly loss was caused by the non-cash charges. You can find proof of my claim in the company's cash flow statement as the operating cash flow of C$34.2M ($24.5M) was more than sufficient to cover the C$15M ($11M) in capital expenditures, which means Northern Blizzard was free cash flow positive in the third quarter, using the cash flow to pay down its debt and to pay a dividend.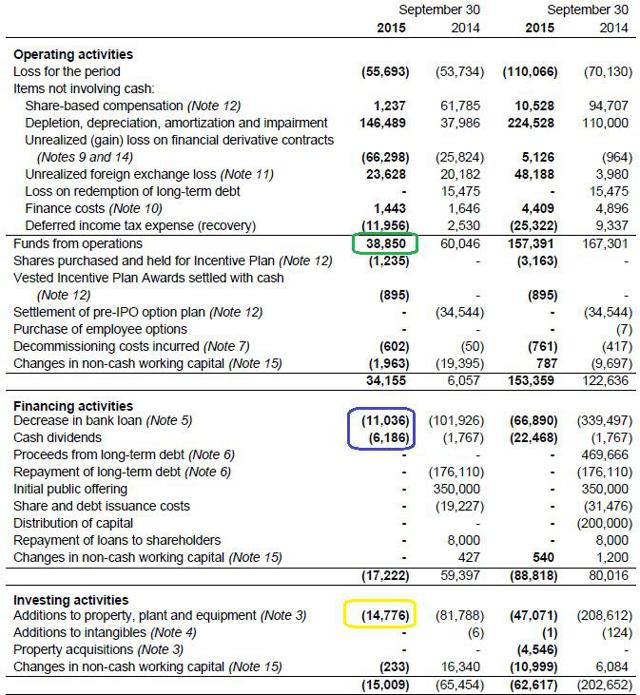 Source: financial statements
Fortunately a large part of its shareholders prefer to take the dividend in shares, so the net cash outflow for the dividends remains pretty 'limited' as just 50% of the shares are taking the dividend in cash. On the one hand, that's pretty nice to keep more cash inside the company but on the other hand the dilutive effect should not be underestimated as the company issued 7% new shares in just the first nine months of the financial year. So whilst it definitely feels nice to receive a dividend (even in shares), shareholders are just fooling themselves as the dilution reduces the attractiveness of the dividend.
Fortunately Northern Blizzard made the right decision by cutting its dividend by 50% earlier this year, but I think an additional cut could be warranted to reduce a) the cash outflow and b) the dilution by paying the dividend in new shares.
But Northern Blizzard will have to spend its cash wisely. But there's something working in Blizzard's favor
Of course, being free cash flow positive has been really great for Northern Blizzard in 2015, because whereas other oil and gas companies need to cut expenses or even borrow more cash to fund the capital expenditures to keep the oil production at a stable level, Northern Blizzard was actually able to repay in excess of US$45M of bank debt.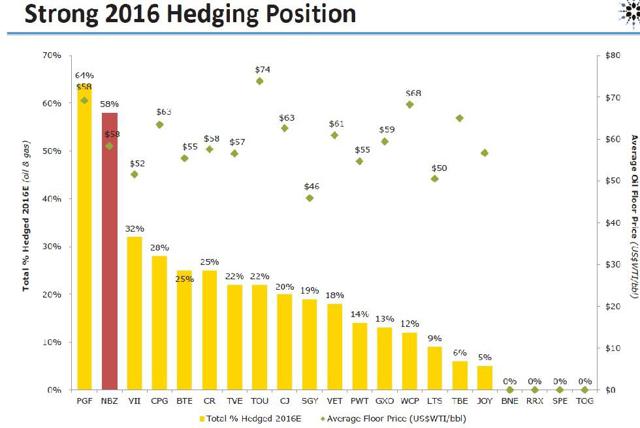 Source: company presentation
That's great, but this doesn't automatically mean 2016 will be great as well. Well, fortunately enough, Northern Blizzard might actually outperform itself again this year and do much better than the average oil company. The preliminary capex program calls for a total capex of C$100M ($72M) to keep the production level stable at 20,000 barrels per day. That's great, but what's even nicer is the fact the company has hedged approximately 58% of its expected 2016 production (11,500 barrels per day) at a relatively attractive price of C$79.5/barrel (US$58).
This would basically confirm the company will be free cash flow positive again in 2016 and will definitely generate a sufficient amount of cash flow to pay out its dividend. I would be in favor of the company to reduce its outstanding debt, but that will be a bit difficult in Blizzard's case considering its bank debt has now been fully paid off, and its long-term bond is only maturing in 2022. One caveat: unfortunately the bond has been issued in US Dollar, so the weakening Canadian Dollar has actually increased the value of the debt position on the company's balance sheet.

Source: company presentation
There's also a very positive advantage of Blizzard's operations I'd like to highlight; fortunately the decline rate of the company's projects is extremely low at just 17%, which is much lower than for instance Crescent Point at 29% and RMP Energy at 45%. This basically means that Northern Blizzard could easily slash its capex by 50% and only see its production rate decline by just 2,000 boe/day.
Investment thesis
First of all, I'd like to thank reader "mtldarknight," who pointed me in the direction of Northern Blizzard. Reading up on this company and analyzing its financial situation was definitely worth my time.
A lot of the pieces of the puzzle are in place; the company is free cash flow positive and well benefit from a high ratio of hedged production in 2016. That being said, even a good company like Northern Blizzard will have to count on a much better 2017 as the majority of its hedges will end at the end of this year (just 10% of next year's production rate has been hedged). I hope the company will be able to add some cash to its balance sheet to head into 2017 in a stronger position, but if the oil price doesn't recover by the end of this year, you should take a potentially lower dividend into consideration.
Disclosure: I/we have no positions in any stocks mentioned, but may initiate a long position in NBZZF over the next 72 hours.
I wrote this article myself, and it expresses my own opinions. I am not receiving compensation for it (other than from Seeking Alpha). I have no business relationship with any company whose stock is mentioned in this article.