A sudden and significant amount of fear has come into the market in the first days of 2016. Concerns over China, a nuclear bomb test by North Korea, tensions between Saudi Arabia and Iran, and an ongoing plunge in oil have taken a huge toll in the market and sent major averages down by nearly 5% in just a matter of days. This is similar to the "flash crash" the market experienced last August and that turned out to be an ideal buying opportunity. I believe the current pullback represents another great chance to buy cheap because none of these fears are really new.
This market plunge has created even bigger buying opportunities in small cap stocks which typically suffer the most in big selloffs because of liquidity risks. Small cap stocks are also more vulnerable to short seller attacks, but these factors can create big opportunities. I think one of the biggest opportunities right now is in the shares of Genworth Financial (NYSE:GNW) which currently trades for just below $3.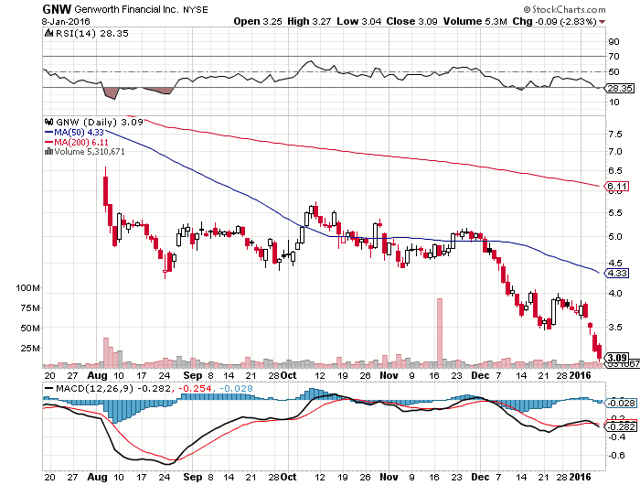 As the chart above shows, Genworth shares have been brutally punished in the past few weeks due to tax-loss selling and a big market decline in early 2016. When these types of sell-offs occur, it makes sense to take a closer look at facts to see if there is a substantial basis for a near 30% decline in the share price or if it is nothing more than unfounded fears and excessively negative sentiment. I have recently taken a closer look at Genworth and I believe the recent drop has nothing to do with the fundamentals of the company and that means this pullback is a great buying opportunity. I think Genworth shares could rebound back towards the 50-day moving average of $4.33 per share in the short-term and in the long run I believe that a new analyst price target of $10 per share is reasonable.
Genworth shares were trading for about $5 in December and appear to have been pounded by tax-loss selling and by shorts up until year end. This stock (along with most financials) started to show strength on anticipation of the rate hike by the Federal Reserve but those gains have faded. Like most stocks in recent days, Genworth shares have been hammered and are trading near 52-week lows as are many other financials like Morgan Stanley (NYSE:MS), Goldman Sachs (NYSE:GS), Metlife (NYSE:MET). Financial industry stocks have been hammered in the current market pullback due to fears (over the global economy) that the Federal Reserve will not be able to increase interest rates 3 to 5 times this year. I doubt we see many rate hikes in 2016, but these stocks are not pricing in that expectation anyhow, and these companies will still be better off than they were before as rates just did rise a bit. It seems like algorithm driven machines have decided to sell or short financials this week but I think this is a mistake. Financials have been dealing with low rates for multiple years now, and clearly already will have some benefit from the recent rate hike so the recent rout to this sector makes no sense.
The stock market has a long history of repeatedly mispricing Genworth shares, sending it to levels on the upside and to the downside that appear unreasonable in hindsight. For example, this stock plunged from about $35, to just a couple dollars during the depths of the Financial Crisis, but it then surged back to over $18 per share by March 1, 2010. By 2012, Genworth shares plunged back to about $5, but once again by March, 2014, it was back to trading for about $18 per share. Over the past year, this stock has once again been sent back down to what appears to be very undervalued levels due to a significant charge the company took in order to boost reserves for its long-term care division. Those charges were already taken, but the stock remains in the penalty box. I believe part of the reason for this is because Genworth has recently sold policy blocks at a loss which has impacted quarterly results. However, I believe the sale of policy blocks have been done for strategic purposes which could ultimately create shareholder value. These sales have generated a significant amount of cash and that is being used to strengthen the balance sheet and to pay off debt. These moves can lead to credit rating upgrades and it can also position Genworth to separate the mortgage insurance business from the long-term care insurance division. Just a few months ago, analysts at the Booth-Laird Investment Partnership published new analysis on Genworth that described this company as an out-of-favor asset play that has spinoff potential and upside to as high as $16 per share. I agree with this analysis and it is worth noting that this same analyst has a history of large gains in buying out of favor insurance stocks. I think that Booth-Laird is right to view Genworth as an asset play which will eventually be carved up and split into parts that will yield big gains for investors who get in while the stock is still cheap and out-of-favor. I also want to point out that investors have repeatedly left this stock for dead in the past and foolishly sold it in the low single digits, only to watch it rise multiple times back into the mid to high teens. I believe this time is no different because Genworth is generating operating earnings, it has significant assets, and it trades for such a low percentage of its book value.
Investors and shorts who are skeptical could be saying many of the same things that have been said before about Genworth every time it has traded at these low levels. This includes statements like it is a broken stock, something is wrong with this company, it's cheap for a reason and so on-Genworth shares were deemed toxic due to the mortgage insurance division during the housing bust, but clearly the mortgage business has rebounded and those fears were overblown and unfounded. I think the fears over the long-term care insurance division are also overblown and it is worth noting that the vast majority of Genworth's revenues come from the mortgage insurance division which remains very solid.
Analysts expect Genworth to earn nearly $1 per share for 2016. This means that time is on Genworth's side because it can continue to build book value and strengthen the balance sheet which ultimately puts the company into a position to be financially strong enough to split up and spinoff the long-term care division. Furthermore, the blocks of long-term care policies that have been dragging down results will continue to improve each year due to premium increases and because of mortality. I believe that the current share price does not at all reflect these factors.
I have tried to research other concerns that could be on investors' minds and one of them could be about how the commodity plunge could impact the housing market in Australia or Canada since Genworth sells mortgage insurance in those markets. I don't see this as a major issue because the vast majority of Genworth's mortgage business comes from the U.S. where the real estate market is strong. As stated in the Booth-Laird Investment report, Genworth only owns about 51% of the publicly traded Australian mortgage business and about 57.5% of the publicly traded Canadian mortgage business. This means that Genworth's real exposure is significantly less than many investors realize. Home prices in Australia have been rising and there has been no significant impact due to weaker commodity prices. In fact, many experts believe that the uptrend in Australian housing prices will continue in 2016. Canada also has seen no major impact to housing prices, and in fact, it ended 2015 on a high note according to this recent article which states that pent up demand is pushing prices even higher in early 2016. Therefore, investors and shorts selling in fear over home prices in Australia and Canada appear to be making a big mistake.
All this concern over Genworth's mortgage business in Australia and Canada seems extremely overblown when you see the default rates are similar or even much lower to what they are in the U.S. It also appears overblown when you consider that Genworth only owns about 50% stakes in these businesses and that Canada and Australia and also are not nearly as important as the mortgage insurance business Genworth has in the U.S. Does anyone truly think that a roughly 50% ownership stake in a mortgage insurance business in a small country like Australia is going to outweigh the mortgage business Genworth has in a huge economy like the U.S.? It seems as if some investors are casting out Genworth as a "toxic" play on commodities due to potential mortgage defaults in those countries, but the facts show the exact opposite with housing prices remaining strong in both Canada and Australia and delinquency rates being very low. For example, fewer than one third of 1% of all mortgages in Canada are in delinquent according to the latest data. The mortgage delinquency rate is just under 1% in Australia. The mortgage delinquency rate is also just under 1% in the U.S. These numbers show that Canada's mortgage delinquency rate is extremely low and even significantly better than what it is in the U.S. These are the facts, and the reality is that there is no evidence of a looming mortgage crisis that warrants the type of huge correction seen in Genworth stock. Furthermore, even if mortgage defaults were to tick up in the future, the probability is that they would remain at very low levels. With analyst estimates at nearly $1 per share, this company could see profits cut in half and Genworth shares would still be extremely cheap. If Genworth earns just 50 cents this year (instead of nearly $1), it is currently trading at less than 6 times earnings.
While I have seen some posting on message boards (presumably by shorts trying to spread fear) that Genworth shares should be sold because the stock has been so weak lately, I totally disagree. I believe the sell-off in Genworth is due to overblown and unfounded fears as well as highly negative market sentiment. We all know that negative sentiment can cause investors to sell stocks at bargain levels and that is what I think we are seeing today. When you see negative action in the stock price or with investor sentiment, it makes sense to look at how the bonds in any particular company are trading. The credit markets are much larger than the equity markets and if a company is in real trouble, you often see the value of its bonds plunge to very low levels. If you look at Genworth's bonds, it clearly indicates that the stock decline is not being supported by the bond market for this company which is solid. If you look at bonds Genworth has outstanding, you can see that the bonds are trading at very strong levels when compared to the recent stock price action. In fact, many Genworth bonds are trading at or near parity or even about 5% above parity which suggests that this company is much stronger than the current stock price suggests. The bond market is clearly not indicating any anxiety over Genworth's future and it is worth noting that it has a debt to equity ratio of .35 which is right in line with the industry average of .33. Furthermore, in another sign of financial strength, Genworth recently announced it would pay off $300 million of senior bonds for 100% of the principal amount in January, 2016.
Just days ago, an analyst at BTIG came out with new analysis on Genworth and set a $10 price target. This along with other analyst price targets, all of which are significantly higher than the current share price, suggests that investors are making a big mistake in selling at current levels, and shorts are potentially playing with fire as the stock price is now oversold and could pose a major risk for shorts if Genworth shares potentially more than triple in value and hit the $10 analyst price target. As mentioned before, Genworth has climbed from the low single digits to well over $10 per share more than a couple times in the past few years. A couple of clean quarters should restore investor confidence and analyst estimates of nearly $1 per share could support a $10 share price based on a PE ratio of just 10 times earnings. Earnings Whispers estimates that Genworth will report 22 cents per share in earnings for the fourth quarter of 2015, on February 9, 2016. I don't know of many stocks that can be bought for just below $3 that could report 22 cents per share in earnings in a single quarter, or nearly $1 per share for 2016.
I expected that Genworth shares would get a boost from the end of tax-loss selling in January. Obviously, with a significant market decline in the first week of January, this potential rebound has not happened, but it might only be delayed and occur as soon as the markets calm down. This stock is too cheap to ignore, and could offer major short-term and longer-term upside as the negative sentiment and concerns appear totally unfounded.
Data is sourced from Yahoo Finance. No guarantees or representations
are made. Hawkinvest is not a registered investment advisor and does
not provide specific investment advice. The information is for
informational purposes only. You should always consult a financial advisor.
Disclosure: I am/we are long GNW.
I wrote this article myself, and it expresses my own opinions. I am not receiving compensation for it (other than from Seeking Alpha). I have no business relationship with any company whose stock is mentioned in this article.