Recommendation
I recommend longing Coach, Inc. (COH), a leading New York design house focusing on luxury goods and apparel. COH currently trades at $31.95 (as of 1/8/2016), and has severely lagged the performance of the S&P 500 and most of its competitors for the past five years. This poor performance in recent history reflects overambitious promotional activity, and strategic missteps in design and marketing, all of which deteriorated Coach's brand equity. Although Coach will need to exercise prudence going forward, the execution of their brand transformation has turned for the better with continued improvements in the three "brand pillars": stores, product, and marketing. At the current stock price, investors are given an attractive entry level into an expanding design company, and are cushioned with one of the strongest dividend yields within its industry. As seen below, Coach is at a price point that has not been reached since 2009, and with the continued rise in the MCSI since 2008, COH will increase with a strong brand transformation.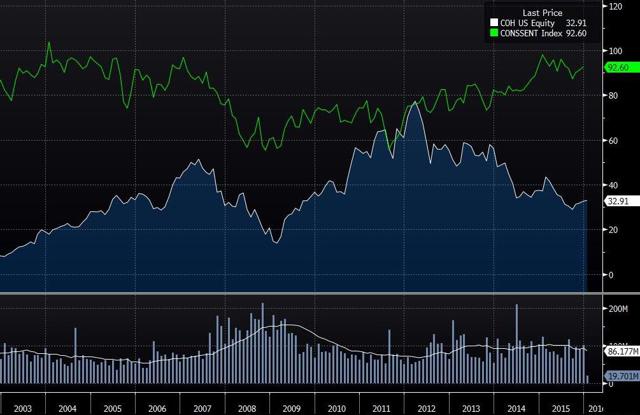 Opportunity
Strong dividend - Although the history of an increasing dividend at Coach is short (started issuing dividends in 2010), the dividend per share amount has steadily increased each year, and the dividend yield has increased from an average of 0.76% in 2011 to an average of 3.64% in FY2015. As of this writing, the dividend yield is 4.23% with an annualized dividend of $1.35; of course, this doesn't directly correlate to top-line growth in the company, but it does give the investor an attractive reason to be patient as Coach continues to implement its long-term strategy.
Brand Transformation - The effort to drive growth using four initiatives has begun to take place, where Coach will 1) Grow internationally into a global lifestyle brand 2) Raising brand awareness and build market share in under-penetrated geographies 3) Increase brand opportunities in Men's apparel through dual gender stores 4) Increase customers digital interaction through coach.com, their invitation-only retail outlet website, and social media.
Stuart Weitzman - Coach recently acquired Stuart Weitzman, a designer and manufacturer of women's footwear from Sycamore Partners. It's obviously beneficial to Coach for this deal to become immediately accretive, but the important part of this acquisition is the beginning of Coach's transition into a multi-brand company. Coach realized over the past few years that rapid expansion of a luxury brand depletes a large part of a luxury brand's differentiation from its competitors. With just the Coach brand, top-line growth would be limited; but Coach can grow and stay synonymous with acquisitions such as Stuart Weitzman.
Catalysts
Improved marketing - Coach is somewhat mimicking Apple stores by making positive changes to its marketing strategy in ways that will have a much more lasting effect. They will increase focus on full-time hires to develop deeper relationships with clients, and introduce "craftsmanship bars" in select stores that will offer product customization and leather services. This strategy is more subtle than conventional marketing tactics, but will ensure a strong brand equity and increase repeat buyers.
Online Presence - As stated here, YOY online holiday sales rose 20%, and with e-commerce sales representing only a fraction of total retail sales (see below). This poses more room for e-commerce growth, and ample opportunity for retailers whose products don't rely on a tangible experience before purchase. As management is pushing for growth in handbags and accessories (brick & mortar not necessary), Coach's online experience for the consumer will be a huge opportunity for international growth.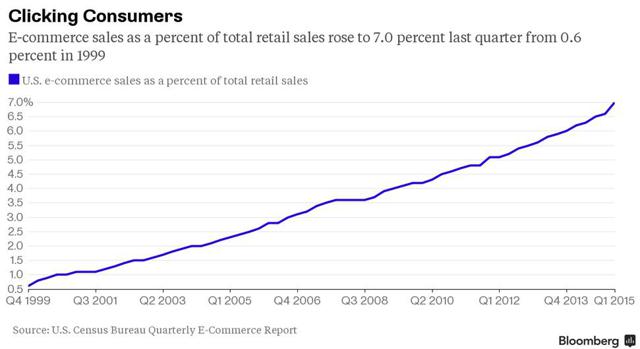 Brand Equity - More so than most industries, luxury goods companies live and die by their brand equity. Coach has deteriorated its brand equity for the past few years due to aggressive promotional tactics, and a general over-exposure to consumers. But they are currently on a turnaround with long-term value creation in mind. Having been founded in 1941, this Manhattan based company has the history to create a most compelling story that will serve as the backbone to any other brand that may fall under the Coach umbrella.
Risks
F/X Challenges - In the most recent earnings transcript (Q1 2016), Coach's CFO expressed that currency headwinds will negatively impact revenue growth by approximately 200 basis points. Of course, any company exporting from the U.S. will have to deal with currency issues.
Macro Headwinds - Elazar Advisors, LLC was right on the money in terms of Asia being a laggard this holiday season in this previous article. This may be disadvantageous only in the short term, but it will certainly be a thing to follow as gaining market share internationally is a large part of Coach's growth strategy, and has increased from 27.8% of revenue in FY2011 to 39.7% in FY2015.
Design flaws - Not to belabor the idea of brand equity, but Coach's design strategy moving forward will play a huge role in the brand perception and the consumer base Coach attracts. Stuart Vevers joined the Coach team in 2013 as Creative Director in an attempt to cater to a younger generation. This currently requires a toning down of large logos. I believe this is the largest of the given risks, as consumer tastes (particularly when catering to a younger consumer) can be fickle. This risk can be mitigated with the expansion of the men's line, as men's design is generally more conservative and stable.
Coach, Inc. has the perfect history and foundation to become a central figure in the American luxury goods industry; and recent strategic missteps have left COH at an attractive entry point for long-term investors.
Disclosure: I/we have no positions in any stocks mentioned, and no plans to initiate any positions within the next 72 hours.
I wrote this article myself, and it expresses my own opinions. I am not receiving compensation for it (other than from Seeking Alpha). I have no business relationship with any company whose stock is mentioned in this article.