Last week, TransCanada (NYSE:TRP), one of the leading energy infrastructure companies of North America, said that it will take legal action against the US government after its plan to construct the 1,179-mile Keystone XL oil pipeline was rejected by the Obama Administration.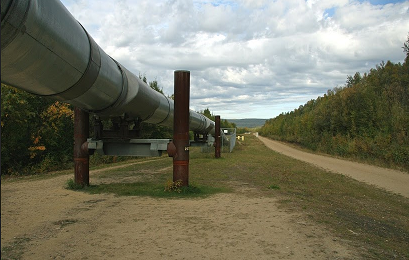 For the last seven years, TransCanada has been trying to get an approval for developing the 830,000 barrels a day pipeline that would have primarily taken crude from Canadian oil sands as well as 100,000 barrels a day of North Dakota oil to refineries along the Gulf Coast. The company has been facing stiff opposition from Obama administration which finally rejected the project in November, saying that cross-border line was not in the US interest and could undermine the country's global leadership in fighting the climate change.
Two months later, on Jan. 6, TransCanada filed a notice to begin a Chapter -11 claim under the North American Free Trade Agreement (NAFTA), claiming that the rejection related to the C$8 billion project was "arbitrary and unjustified." The company is seeking more than $15 billion in costs and damages. The midstream energy firm will likely claim that the decision was politically motivated and it has been unfairly treated, given the company met the conditions US administration applied when it approved similar cross-border projects previously and the U.S. State Department's environment review had already concluded that Keystone XL won't have any meaningful impact on greenhouse emissions.
In addition to this, TransCanada has filed a lawsuit in US federal court in Texas, claiming that President Obama exceeded his constitutional powers when he rejected the project. In this lawsuit, TransCanada isn't seeking any damages, but wants the rejection overturned and a ruling that says the president can't block construction.
TransCanada also said that due to the denial, it is now reviewing the C$4.3 billion carrying value invested in Keystone XL and will book write down charges of C$2.5 billion to C$2.9 billion (after-tax) in the fourth quarter.
TransCanada's decision to take the legal action is not entirely unexpected. In my previous articles (here and here), I wrote that the company had a couple of options on its table if its application gets rejected, and one of these was that it can seek remedies under the energy chapter of NAFTA. Moreover, the large write down for the fourth quarter was also anticipated. Previously, I wrote that a large chunk of what the company has already spent on Keystone XL will be likely written off as non-cash charges in the fourth quarter. Some of the Keystone XL line and equipment will likely be utilized on other projects.
Still, TransCanada has taken a bold decision. The company could have constructed a rail loop that would connect pipelines on both sides of the border, bypassing the need to get a presidential permit. TransCanada also had the option to wait for a Republican president, given most of the Republican politicians have been in favor of the pipeline, and make another application after this year's presidential elections. But the company is seeking $15 billion in damages from NAFTA and wants US court to overthrow the president's denial and close the doors for future action by any other president on the construction of a similar cross-border pipeline (that's something which NAFTA can't do).
TransCanada will be fighting against a formidable opponent that has always emerged victorious from every Chapter-11 NAFTA case. The company, with its limited resources and amid the energy downturn, will be up against the State Department's legal team, which includes some of the best and brightest lawyers in the country. I believe a settlement looks like a far more likely outcome than TransCanada actually winning the case. Perhaps the company just wants to send a strong message to President Obama and the Democrats.
It is highly unlikely that TransCanada will eventually get $15 billion, or anything this year. Rather, the update has confirmed that the company's bottom-line will take a big hit in the fourth quarter.
But TransCanada investors shouldn't lose sight of the big picture - TransCanada has a number of mega-projects in its pipeline with low regulatory risks and high probability of execution, such as the 1.1 million barrels a day Energy East pipeline which is significantly bigger than Keystone XL. In addition to Energy East, TransCanada also has C$15 billion of commercially secured major projects and C$13 billion of small-scale projects which will begin to contribute to earnings from next year. The projects will drive 8% to 14% earnings growth and 8% to 10% dividend growth each year through the end of the decade.
Disclosure: I/we have no positions in any stocks mentioned, and no plans to initiate any positions within the next 72 hours.
I wrote this article myself, and it expresses my own opinions. I am not receiving compensation for it (other than from Seeking Alpha). I have no business relationship with any company whose stock is mentioned in this article.