It's Week 2 of monitoring seasonal conversion on the selling floors in the mall and the big lesson taken out of Week 1 was that there is no one-size-fits-all pace for converting. That does not mean that any pace will do. It makes total sense that LL Bean has barely begun to convert to Transition/Spring. So far, their conversion is one table and a small wall section in Women's. And judging by the level of discount they are offering on Winter product, they are not experiencing any Weeks of Supply problems. Those discounts range anywhere from 0% to 20%, while other stores are ranging between 0% and 90% (ninety…not a typo). We have 3 months of winter to go, and they are in the function business, not the fashion business. I am sure they have a time proven calendar for their conversion. In the same vein, Eddie Bauer's newest receipt on the floor is hard core ski-wear. Buy now, ski now. And Lands' End (NASDAQ:LE) is a story unto itself, with zero percent conversion on the floor in their NYC pop-up shop, but also with the best looking presentation of Winter product I have seen all season. (Detailed in a separate article.) The outdoor retailers finally have the weather as their friend, and it will stay their friend regarding winter product for another 2 months. They can afford a little patience while they monitor their Weeks of Supply.
Having said that, LL Bean and Eddie Bauer are substantially sold down on many outerwear styles. Macy's (NYSE:M) is not. I have not been tracking any details on Macy's, but I am walking them every week. Both the Men's and Women's outerwear departments are almost as robustly inventoried today as they were at the beginning of November…which is to say…full. They don't look as densely inventoried as early December, but they also don't look like they have ceded one square foot of floor space. The recent announcement about Macy's comps and the fact that poor-selling cold weather product accounted for 80% of the drop is believable. They have the unsold inventory to prove it.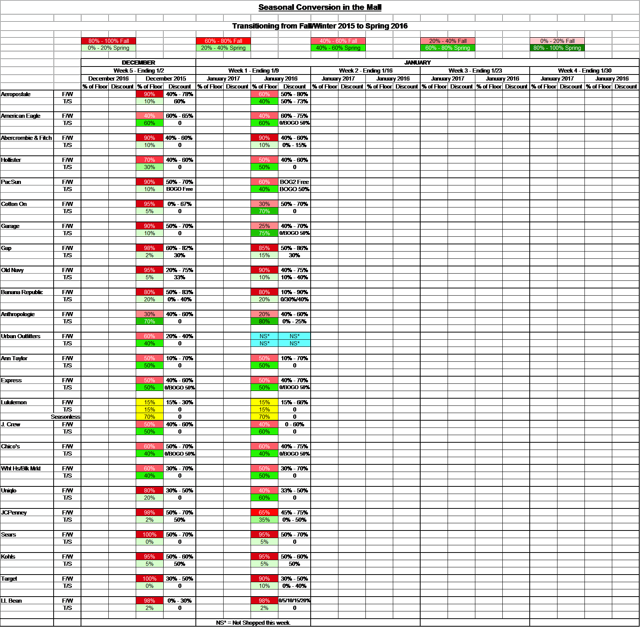 The teen retailers are all over the place in the Transition process. Garage and Cotton On, both privately held, have made sweeping changes converting almost three quarters of their floor. Both were judicious in how they approached the outerwear business, with Cotton On offering only a handful of styles in Q4. Both have now converted to a strong buy now/wear now Transition profile. American Eagle (NYSE:AEO) was first to convert and they are holding that footprint. Aeropostale (NYSE:ARO) is making progress, but they are also immediately including new product into the promotional stance of the store with discounts in the 40% to 70% range. Hollister and PacSun (NASDAQ:PSUN) continue to make progress with Hollister now almost 50% converted and holding ticket price on the new inventory. PacSun is about 40% converted with a BOGO 50% on denim and joggers. Abercrombie & Fitch (NYSE:ANF) lags in this process, but on January 9th there were comments about floor sets in motion for early this week. This is an important floor set for ANF. New thinking on aesthetic, attitude, color and logo use should manifest itself.
Pictured below: The Guys window at AEO.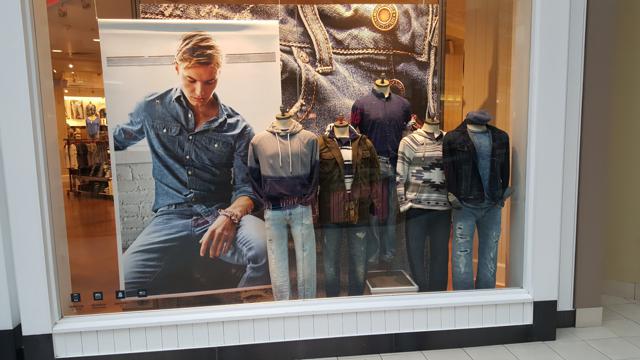 Pictured below: One of the Girls windows at AEO. Large shopping bag for scale.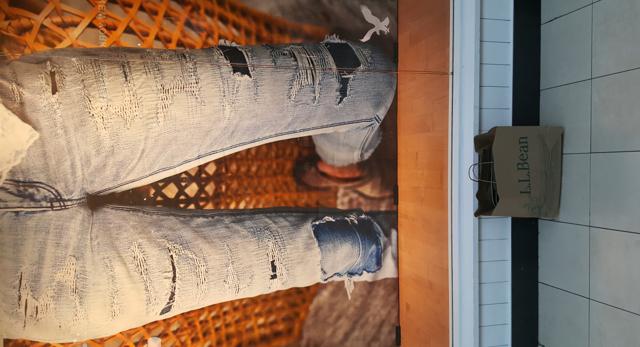 Pictured below: The feature window at Garage. One could get the idea that distressed denim will be trending for Girls this Spring.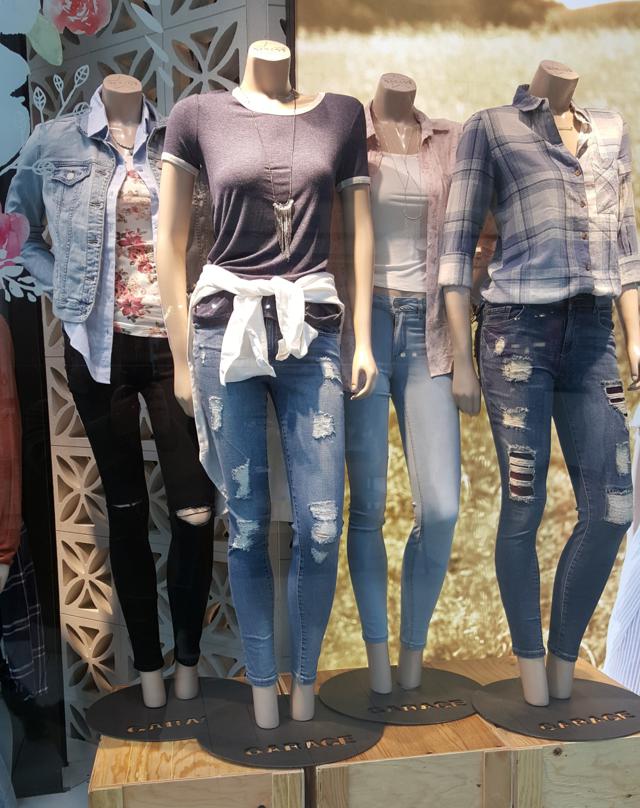 In the better Women's category, Anthropologie leads the pack with almost 80% of their floor converted. It's very much buy now/wear now along with some forward product. Winter white overcoats are still at ticket price. Express (NYSE:EXPR) and Ann Taylor (NASDAQ:ASNA) along with Chico's and White House/Black Market (NYSE:CHS) also doing a good job converting to Transition/Spring with about half the floor converted. Lululemon (NASDAQ:LULU) continues to sell down on Fall/Winter and is now getting a little more aggressive with their markdowns. There are markdowns as deep as 66%, but they are literally done on a style by style basis. Nothing all-inclusive, no promotions including total fixtures or classifications. It's as surgical as you can get.
The Gap group (NYSE:GPS) is lagging the rest of the mall. Banana has fresh product in the front room, but seems to be having real difficulty in digesting Fall/Winter residue. There is a sweater at about $9.00 after all the discounts are applied to the hard markdown stickers. Who would have thought it would take a 90% markdown to move out some of the residue? Gap is staging new Transition product in the middle and back of the store as the front of the store remains devoted to clearing Fall/Winter, sometimes at markdown rates of 80% when all the discounts are applied. Old Navy has very little new product on the floor in Men's but is making some progress in Women's.
Conclusion: The mall is making good progress in converting the selling floors out of Fall/Winter and into Transition/Spring product. Gap and Abercrombie seem to be lagging, and this is an important floor set for both retailers. I had hoped for more change earlier after management and designer changes, but the moment for that change to be unveiled has now finally arrived. So maybe in their defense, they want to execute this floor set in a manner that immediately demonstrates that "we fixed it". We all hope to see some degree of new thinking emerge as Spring 2016 unfolds. Aesthetic, Attitude, Color Management, Dosage, and Risk Mitigation are all Merchandising Metrics that come into play in order to create a customer friendly and profitable business. Gap and Abercrombie need to hit on all of the above to bounce back.
Disclosure: I/we have no positions in any stocks mentioned, and no plans to initiate any positions within the next 72 hours.
I wrote this article myself, and it expresses my own opinions. I am not receiving compensation for it (other than from Seeking Alpha). I have no business relationship with any company whose stock is mentioned in this article.
Additional disclosure: Articles I write for Seeking Alpha represent my own personal opinion and should not be taken as professional investment advice. I am an experienced apparel merchant, not a registered financial adviser. This article endeavors to give timely and ongoing color to the unfolding retail experience, not financial advice.
Editor's Note: This article covers one or more stocks trading at less than $1 per share and/or with less than a $100 million market cap. Please be aware of the risks associated with these stocks.