In life whether intentionally or not, in the end we usually pair up with someone. But not everybody finds that special someone as easily as others, and Match Group, Inc. (NASDAQ:MTCH) knows this and profits from it. The near monopoly it holds in the dating world makes it worth a look at in a world that is becoming ever more accepting of online dating.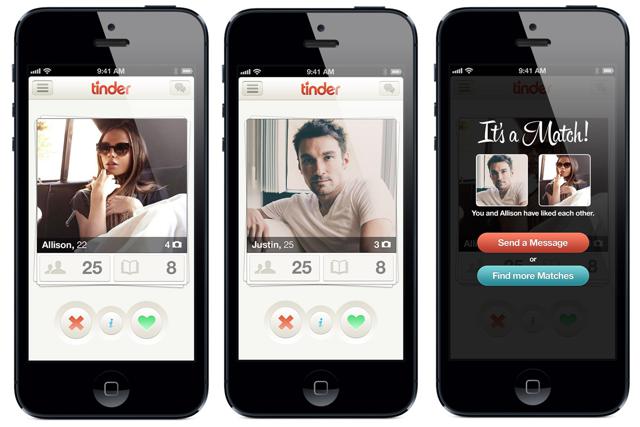 Match Group is the world's leading provider of dating products, operating a portfolio of over 45 brands, including Match, OkCupid, Tinder, Meetic, Twoo, Plentyoffish, OurTime, BlackPeopleMeet and FriendScout24. Through its portfolio of brands, it provides tailored products to meet the varying preferences of its users, in 38 languages across more than 190 countries. In addition to its dating business, it also operates The Princeton Review, which provides a variety of test preparation, academic tutoring and college counseling services.
We believe that online dating has lost much of its stigma and perhaps Tinder is to thank in many ways for that. We don't feel people saw Tinder as a dating app per se, but more of a "hook-up" app, which worked brilliantly in the Millennial demographic which saw online dating as desperate previously. A Pew Research study, pre-Tinder, found the following: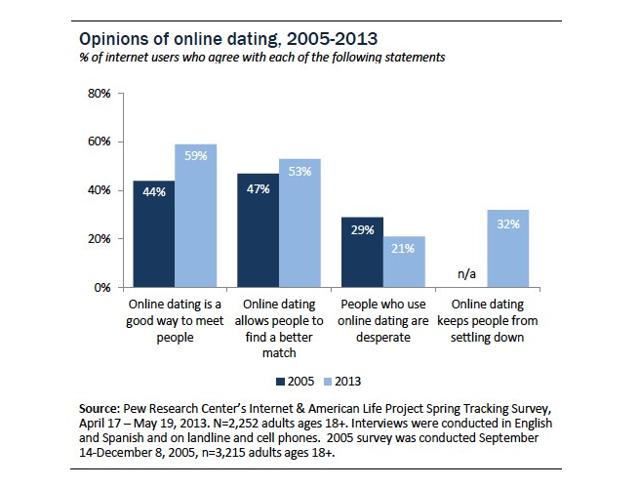 (Source: Pew Research)
By blurring the lines between hook-ups and dating we believe Tinder will lead to users changing their opinion on dating websites, which will lead to users adopting the more serious dating platforms the company supplies. As the company supplies a dating platform for every (sometimes worrying) niche out there, we feel Match is suitably prepared to capitalize on this.
The company has stated in its fact sheet that one in four relationships and one in six marriages now begin online. These figures certainly back up our view that online dating is no longer confined to "desperate" people.
In 2015 Tinder launched Tinder Plus, which was the company's attempt to monetize the app. It allowed for unrestricted swipes, rewinds (if you swiped the wrong way), and the ability to change your city. The standard version of Tinder works on a geo-location basis, bringing only people within a certain radius to your attention.
The cost of Tinder Plus is dependent on your age. For those under 30, the upgraded app costs $9.99 a month. But if you're over 30, it costs $19.99 per month. This policy has been called ageist by many media outlets, others call it capitalist. Either way, the company's research has shown that over 30s are more willing to pay for dating. It could also be a move to try and push them toward a Match.com subscription which actually works out cheaper. Match.com ranges from $12 to $18 a month (excluding value-add services).
In mid-December five out of seven analysts launching coverage on Match assigned bullish ratings (Barclays, BMO, Cowen, Deutsche, and Oppenheimer). JPMorgan launched at Neutral, and Goldman Sachs launched at Sell.
The company has a great current ratio of 1.43, a low debt to equity level of just 19%, and ample cash ($282 million). This ticks a lot of our boxes, which is always good.
We expect Match to grow its revenue to around $1.02 billion, up from $888.27 million the year before (pre-IPO), and earnings to follow suit at 71 cents per share, up from 59 cents per share pre-IPO. This represents a significant increase of 14.8% and 20%, respectively. We also believe for the following years that the same levels of growth can be maintained.
While we wouldn't normally get involved with a stock that has yet to turn in its first quarter results, opting instead for stocks that have a bit of history to them, we are impressed with the rate of the company's growth using pre-IPO figures as our guide. Having a near-monopoly in a growing industry that will always be around in some form means the company is well positioned to capitalize, and shareholders likewise.
Much like its parent company IAC/InterActive (NASDAQ:IACI) we envision Match to trade at around 20 times earnings, giving us a one-year target price of $16.00, or 16% return from its $13.73 close price on Monday.
We feel this could be a bit of a high-risk play, at least until further results are released so we can see how the company is being run. So for now, we think investors with a low tolerance for risk should swipe left, all others swipe right.
Disclosure: I am/we are long MTCH.
I wrote this article myself, and it expresses my own opinions. I am not receiving compensation for it (other than from Seeking Alpha). I have no business relationship with any company whose stock is mentioned in this article.