As the summary states, to date, I have accumulated a large position in VEREIT (NYSE:VER) in my portfolio and two others that I manage dating back to June 1, 2015. I have been a very active buyer at prices below $8.10, even though I believe the company is worth around $11 a share. I was attracted to VEREIT because of the stable cash flows that the business generates and the enormous price discrepancy between it and peers Realty Income (NYSE:O), National Retail Properties (NYSE:NNN), and W.P. Carey (NYSE:WPC). As someone who follows commercial real estate and whose family owns some commercial real estate, I can say with confidence that anyone would be hard-pressed to find commercial real estate with high-quality tenants at cap rates greater than 7%. If you employ leverage, you might be able to eke out 10% a year. I argue that VEREIT returns about 10% a year to shareholders, generating over $750M in FFO and trading at a price of $6.95B. If you include interest payments, which is appropriate, VEREIT generates about $1.1B in FFO plus interest, and sells at about $17.5B ($9.6B debt + $1B preferred + $6.95B equity). This amounts to an EV/FCF ratio (assuming taxes are negligible) of 16 or a 6.625% (100/16) annual return for all investors at the time of this writing.
My reason to buy VEREIT instead of investing in commercial real estate is simple: The annual yields from owning both assets will be about the same. However, VEREIT has over 4,000 properties through which the risk of loss of income is spread across, whereas if you buy a piece of commercial real estate, your income is as good as that one property. The risk of loss of return is way greater if you go out on the market and buy real estate yourself versus owning VEREIT, which is currently returning over 7% in dividends and using the rest of its available cash to pay down debt. Not to mention VER is professionally managed and takes none of your time or effort. Thus, see no reason to own commercial property over VEREIT unless you are in that profession. I cannot say the same for O or NNN due to their high valuations and correspondingly low yields of under 5%. I will say that I believe O and NNN are definitely good for their dividends.
Before I you read my letters, I imagine readers are interested in how I have come to this $11+ per share fair value for VEREIT shares. Here is my simple calculation to value VER. What does commercial real estate with high-quality tenants return per year? The answer is about 6% on average, though 5% is probably closer to the right answer, depending on where the property is located. 100/6 = 16.67, so that's the multiple of Enterprise Value/Free Cash Flow that is available in the private market. Because VEREIT has so many high-quality tenants, stable cash flows, and a diversified real estate portfolio, I argue that it deserves a higher multiple of 18x. Nonetheless, I'll provide the value given certain multiples for your review.
To be fundamentally sound, here is my first-pass calculation for the intrinsic value of the equity:
Intrinsic Value = (Free Cash Flow)/WACC - Debt - Preferred
Another way to look at this is:
Intrinsic Value = (FFO+Interest)/WACC - Debt - Preferred
Note that 1/WACC is really the same as multiplying Free Cash Flow by a multiple of (1/WACC), and that growth is not factored into this equation (this will be our upside - for now, let's be conservative). We can calculate VEREIT's WACC quite easily. The cost of debt is currently lower than it should be at 3.48%; peers are at around 4.5%. Let's assume VER's cost of new debt will be 5%, and the cost of equity is the yield, about 7% at the time of this writing. I am assuming the cost of equity is the dividend yield.
WACC = D/(E+D)*(1-T)*kd+E/(E+D)*ke
Assuming the tax rate is negligible, we get WACC = 5.83, and 1/WACC = 17.2. There's your multiple. When the stock price goes up and the yield goes down, the cost of equity will be lower, and should ultimately be around 6%. FYI, with ke = 6%, the WACC = 5.41 and 1/WACC = 18.4, which I think is more appropriate.
Here's a table with value calculations at various 1/WACC multiples:
| | | | | | | | |
| --- | --- | --- | --- | --- | --- | --- | --- |
| WACC | 1/WACC | FCF + Interest ($B) | Debt ($B) | Preferred ($B) | Intrinsic Value Equity ($B) | % undervalued | Target Share Price |
| 6.50% | 15.385 | $1.1 | $9.6 | $1.0 | $6.3 | -9.0% | $6.96 |
| 6.25% | 16 | $1.1 | $9.6 | $1.0 | $7.0 | 0.7% | $7.71 |
| 6.00% | 16.667 | $1.1 | $9.6 | $1.0 | $7.7 | 11.3% | $8.51 |
| 5.88% | 17 | $1.1 | $9.6 | $1.0 | $8.1 | 16.5% | $8.92 |
| 5.75% | 17.391 | $1.1 | $9.6 | $1.0 | $8.5 | 22.7% | $9.39 |
| 5.71% | 17.500 | $1.1 | $9.6 | $1.0 | $8.7 | 24.5% | $9.52 |
| 5.56% | 18 | $1.1 | $9.6 | $1.0 | $9.2 | 32.4% | $10.13 |
| 5.50% | 18.18 | $1.1 | $9.6 | $1.0 | $9.4 | 35.3% | $10.35 |
| 5.41% | 18.50 | $1.1 | $9.6 | $1.0 | $9.8 | 40.3% | $10.73 |
| 5.25% | 19.05 | $1.1 | $9.6 | $1.0 | $10.4 | 49.0% | $11.40 |
| 5.00% | 20 | $1.1 | $9.6 | $1.0 | $11.4 | 64.0% | $12.55 |
Here is a table showing the corresponding numbers of O, NNN, and WPC and backing out their implied FCF multiples:
| | | | | | | | |
| --- | --- | --- | --- | --- | --- | --- | --- |
| Ticker | FFO+Interest ($B) | Debt ($B) | Preferred ($B) | Market Cap ($B) | Total EV ($B) | Implied 1/WACC | Implied WACC |
| VER | $1.10 | $9.60 | $1.00 | $6.95 | $17.55 | 15.95 | 6.27% |
| O | $0.90 | $5.70 | $0.43 | $12.91 | $19.04 | 21.07 | 4.75% |
| NNN | $0.40 | $2.18 | $0.51 | $5.37 | $8.06 | 20.16 | 4.96% |
| WPC | $0.64 | $5.25 | $- | $6.07 | $11.32 | 17.69 | 5.65% |
Here is a table showing the Debt/FCF multiples of the three to give you an idea of why VEREIT deserves to trade at a discount relative to its peers. VER has more debt relative to its cash flows. Debt/FCF, or Debt/FFO+Interest is the best measure of how well the company can pay off its debt obligations. The higher this multiple is, the longer it will take the company to pay off its debt obligations. I believe it's the best measure of indebtedness.
| | | | |
| --- | --- | --- | --- |
| Ticker | FFO+Interest ($B) | Debt ($B) | Total Debt/(FFO+Interest) |
| VER | $1.10 | $9.60 | 8.73 |
| O | $0.90 | $5.70 | 6.31 |
| NNN | $0.40 | $2.18 | 5.45 |
| WPC | $0.64 | $5.25 | 8.20 |
With all this information present, we can begin to value VEREIT.
You can see that VEREIT's peers O and NNN trade at FCF multiples of 21 and 20, respectively, and that WPC trades at 17.7. These are all higher than VEREIT's current FCF multiple of 16. O and NNN trade at those multiples because of their relatively lower debt levels, which they achieved by issuing equity, something VER has not done for some time and should not do presently because of its high cost of equity. Nonetheless, a 16x FCF multiple is too steep a discount relative to peers and what the private market is willing to pay. As I mentioned before, a 17-18.5x multiple is appropriate based on VEREIT's WACC, the current market values of commercial real estate, the valuation of its peers, and the stability of its cash flows. From the values in the table I presented, you can see that this puts the fair value of VER's shares between $9.52 and $10.73. This is between a 25% and 40% discount to the current share price of $7.65. Considering the stability of VEREIT's cash flows, the logic of the multiples I suggest based on private market real estate values, and its relative undervaluation, I believe VER is quite a bargain and an excellent way to gain exposure to commercial real estate.
Without further ado, here is the letter I recently sent VEREIT's CEO, Glenn Rufrano. The letter outlines what I think needs to occur before VER's share price nears its fair value. As I mentioned previously, this is the second letter I have written to Mr. Rufrano. It seems more pertinent to publish the second letter first because at this point the first letter is six months old and was written before he unveiled any of his strategies. But the first letter does have some information that I would be interested in as an owner, so I will publish that one next for your review.
Please note you will find some differences in my calculations. The two biggest differences are that I did not count the value of VEREIT's preferred issues (which is wrong), and the second is that I used EBITDA of $1.2B and debt of $9B.
Letter 2, sent December 30, 2015:
Mr. Rufrano,
My name is Richard Harris. I am a fellow shareholder of VEREIT. Before I begin, I'd like to thank you for your continued and dedicated leadership of the company.
I sent you the attached letter about 6 months ago. As I have not heard back from you or your office, I am inclined to think that you did not read the letter. However, it seems we agreed on how to correct the business on almost all fronts. I applaud the steps you have taken to correct VEREIT thus far.
I am writing again because I am upset, as I'm sure you are too, that the stock price of VER has not come to reflect the company's true intrinsic value. I would like to offer some advice that might correct this discrepancy, and give my two cents about a few things, namely (1) the sale of the Red Lobster portfolio and (2) on the potentially troubled future of some forms of commercial real estate, and finish by listing some ways I hope VER might cope with this troubled future.
The market continues to value VER's peers more dearly than VER for seemingly no reason. This is not only frustrating, but is also a significant competitive disadvantage that must be immediately corrected. Having a high stock price effectively lowers your cost of equity and gives management a valuable tool to finance growth or debt repayments. This is how O and NNN have been expanding without compromising their balance sheet, and for a successful REIT that continues to grow profitably, a high stock price is essential. The detrimental effects of a low stock price for a company that grows through a combination of debt and equity financing can be seen by the recent downturn of Kinder Morgan (NYSE:KMI) equity which resulted in a dividend cut. Before you started, one way to correct the stock price would have been to reduce the debt level of the company while trying to maintain FFO near then-current levels. Since you started, you have done an excellent job in significantly reducing VER's debt levels. I feel, as mentioned in my earlier letter, that this has been an excellent strategy to lower your cost of debt and maintain an investment grade credit rating. However, I think you have already done the bulk of the work in reducing the debt load, and a further reduction will continue to hurt FFO, which is the lifeblood of the company. I'm sure you agree, as you stated you planned to sell $2B of assets to reduce debt. Currently, VER has a 50-50 debt to book value of asset split which seems in line with peers. Another way to look at the health of the balance sheet is debt/EBITDA. VER stands at about 7.5, whereas competitors O and NNN are at between 5 and 6. I do not think that it makes sense to compare debt to total capitalization, because VER's current capitalization does not reflect its true value.
Regardless of which way you intend to look at VER's capital structure, I feel VER is coming to the finish line in terms of shrinking its balance sheet, and it is time to focus on stock price, NOT business fundamentals. This is something that should rarely be said, but VER has the fortune of having a stable business with stable cash flows coming in. Because a high stock price is a significant benefit to shareholders in multiple ways, from padding their pocketbooks to making it easier for the company to grow profitably and without less dilution, this should become a priority. More time and energy spent making a very stable business incrementally more stable might not be the best use of time. Instead, time spent increasing transparency and focusing on correcting the intrinsic value-price discrepancy is in order, as a higher stock price has its advantages.
To correct the discrepancy in VER stock price, I suggest here what I would do, followed by what I would not do.
Would do:
1. Publicly address the discrepancy between the stock price and intrinsic value. State what VER management and board feels the stock is worth. By what I consider a conservative estimate, VER is worth over $11.30 a share (18x FFO+interest - debt: 18*($0.75B+$0.35B) - $9.6B = $10.2B). This is about a 40% discrepancy from today's stock price. In addition, you should say you intend to take all steps necessary to close the gap between the current share price and its fair value. Let investors know you are on their side. That will establish confidence in you and your team and ultimately this trust will reflect in the share price.
2. Use excess funds after dividends to enhance shareholder value. What I mean by that is use the excess funds to buy back shares or grow your real estate portfolio profitably. I feel buying back shares is by far the better investment, as your shares trade at a steep discount to intrinsic value (~40% discount). There is no real estate deal out there that offers better returns, and therefore, buying back shares adds value that purchasing real estate cannot. Not to mention, you will save the cost of the equity you repurchased. In fact, if the real estate deal doesn't have a cap rate of more than 7%, why even bother? You will save that by buying back your own stock. If shares are aggressively bought back, it will send a message to the market that management believes the stock is undervalued and is willing to break from convention to enhance shareholder value.
3. Consider a dividend cut. Why? The market was not happy with the dividend you established. It was too low. I thought 7% yield at the time was appropriate as opposed to the 6.25% yield that was established. Regardless, this can be used as an opportunity, as it is unclear that a large part of your shareholder constituency are investors who care about the income. Use the money instead to buy back shares or reduce debt. There is a growing number of value oriented investors who have become shareholders because they believe the price of VER does not reflect its true intrinsic value. And they don't need the dividend. They need the stock price to go up. If I were in charge, I would cut the dividend to the minimum amount required to keep the REIT status immediately and announce a $1.5B stock buyback effective for the next two years.
4. Celebrate your willingness to enhance shareholder value through inviting esteemed investors in the company onto the board. I suggest sending invitations to Keith Meister and Larry Robbins. Certainly, they will be helpful to shareholders.
5. Talk about your cost of capital openly. Address upcoming debt maturities and how you want your strategy to renew them. Be transparent about these things because they are on investors' minds. I think shareholders would very much like to hear this more about this topic as it affects the future of their company.
6. Ultimately, all of the above points involve more transparency in management's plans and newfound focus on the shareholder over growth or righting the prior management's wrongs.
Would not do:
1. I would not increase the dividend at this time. If anything, consider cutting it at the current stock prices. The use of VER's excess cash to pay dividends is wasteful, as it returns ~7% when a buyback should return 40%. While it is possible that a dividend increase will be applauded by some shareholders and therefore have a positive effect on the share price, it is not the best use of funds from a corporate finance standpoint, and only raises your cost of capital, thereby making it more difficult to grow profitably.
Future plans:
I believe all triple-net real estate companies heavily exposed to brick-and-mortar retailers will face an existential crisis within the next 10 years. As online shopping becomes more and more prolific, retail stores will begin to close. The Amazon (NASDAQ:AMZN) threat is real. For instance, I hardly go to any stores except to buy groceries, and I think a lot of my generation (I'm 28) shops this way too. This trend will invariably hurt income for REITs with exposure to traditional retailers. To combat this, I feel VER's portfolio should be more focused on restaurants and gas stations, convenient stores, pharmacies, grocery stores, home improvement, and perhaps banks - things that are not threatened by customers' preference for online shopping. I was not happy to hear about your decision to divest VER's CVS and Red Lobster properties. These are healthy companies that won't be killed by Amazon or other online retailer. You should keep these types properties and sell properties with tenants like Best Buy (NYSE:BBY), Wal-Mart (NYSE:WMT), Kohl's (NYSE:KSS), and Target (NYSE:TGT). The ability for VER's portfolio to continue to generate cash amidst a decline in big box retail shops will be an important factor in the stock price for the years to come.
I hope you consider these points as you make your upcoming decisions. Again, thanks for your continued leadership.
Letter # 1, sent June 15, 2015:
Dear Mr. Rufrano,
My name is Richard Harris, and I have recently become a shareholder of ARCP.
Before I begin, I would like to thank you for taking on the management job that you have for American Realty Capital Properties (ARCP). From what I have read about you and what you have said and the way you have said it, I believe that you will be able to both restore investor confidence in ARCP and restore ARCP's share price to its true intrinsic value.
I purchased ARCP because I believe the market has given investors an amazing opportunity. Here's why:
Owning real estate is an incredible business. Cash flows are generally very safe and predictable.
Given the magnitude, safety and stability of ARCP's cash flows, and the health of its balance sheet, it is substantially undervalued.
Enterprise Value/(AFFO + interest) is 15.4x.
Debt to tangible book value is a little high at 60%. However, it is not uncommon for real estate owners to finance properties with stable market values with debt. ARCP can easily cover its interest payments.
Looking at (AFFO + interest)/interest, the company easily covers its interest payments by 3x.
ARCP equity trades at near book value.
Compared to its peers, ARCP is substantially undervalued.
On a price-to-AFFO basis, ARCP is currently trading at 9.9x vs. peers O and NNN trading at 17.2x and 16.8x, respectively.
Taking balance sheet effects out of the equation, ARCP is still cheap compared to peers. Looking at Enterprise Value/(AFFO + interest), ARCP trades at 15.4x vs. peers O and NNN trading at 18.9x and 17.8x, respectively. This is close to a 20% discrepancy.
Compared to peers that are more dearly valued, ARCP has assets that are the same or better!
A company with cash flows of the quality that ARCP has should not be trading at 10x AFFO while peers trade at 17x and 16x. While ARCP is comparatively more leveraged, this fact does not justify the substantial comparative undervaluation we see today. And even on a debt neutral basis, ARCP is still around 20% undervalued. Nonetheless, the market does not seem to be reacting to this opportunity. I believe there are a number of issues the market has with ARCP, and I would like to address them here so that you will keep them in mind and hopefully address them at the next quarterly meeting.
The investment community does not trust ARCP's management
The investment community does not trust reported ARCP's financial statements
The investment community does not believe ARCP's assets are real
The investment community doesn't understand ARCP
The SEC is investigating ARCP
ARCP has too much debt compared to peers
ARCP pays no dividend
ARCP enjoys too low a cost of debt compared to peers (3.48% vs. 4.48% and 4.68% for O and NNN, respectively), and this cost of debt will not be able to be reproduced given rising interest rates and general lack of trust for reported finances
ARCP is not earning its cost of capital
ARCP management is not a substantial owner of ARCP
Addressing these 10 issues appropriately will help restore investor confidence and ARCP's equity to its fair value. How these matters are addressed is a pressing matter. I have analyzed the situation and wanted to share my thoughts on how I think these issues should be addressed.
1. The investment community does not trust ARCP's management. The community does not trust the past managers of ARCP. They will trust you if you and your team directly tackle the other issues mentioned in this letter.
2. The investment community does not trust reported ARCP's financial statements. Trust in the financial statements and controls need to be restored immediately. Addressing this head on is important to shareholders. I know the financial statements have been restated, but having them audited AGAIN by another party would not hurt.
3. The investment community does not believe ARCP's assets are real. I feel it is easy to prove that ARCP's assets are real. It might help to point the investment community is in the right direction regarding this matter. I think a telling metric is Revenue/Tangible Assets. Comparing this to peers and cap rates available on the market today gives a sense of how productive ARCP's assets are. In today's real estate market for single tenant properties with investment grade tenants, cap rates between 6% and 8% can be found. ARCP's rental income is 7.26% of its assets, in line with what is available in the market. O's is 8.9%, and NNN's is 9.25%. Peer rates are higher, but this is likely due to the age of their assets and the fact that property productivity has gone up over the years. Underlining this fact might help restore investor confidence in ARCP's financial statements.
4. The investment community doesn't understand ARCP. ARCP's history is complicated. Cole Capital is complicated. History cannot be erased, but the safety of the rapidly established asset base can be proved by (3) above. Cole Capital's health should be restored and thereafter the business should be promptly sold. Proceeds should go directly to paying down debt.
5. The SEC is investigating ARCP. It would help to give investors an update on the investigation. What magnitude of fines could the SEC possibly seek? This is unclear. I feel it is prudent to end the investigation as soon as possible through a settlement. Paying up to $100M to settle would probably do more to help the company's equity price than hurt it.
6. ARCP has too much debt compared to peers. From a Debt/EV perspective, ARCP is at 61% vs. 34% for O and 28% for NNN. But this is because ARCP is undervalued. Looking at ARCP from a debt/tangible book value perspective, ARCP is 60% vs. 49% for O and 38% for NNN. 50% is a good target to get the debt down to. Too little debt minimizes returns for shareholders, especially in the low interest rate environment that REITs currently enjoy. I recommend paying down about $3B in debt. Selling $2B in assets and using the cash on hand to pay down debt would give ARCP a debt/tangible book value of 50%, in line with peers. I have provided pro forma balance sheet below for reference.
7. ARCP pays no dividend. After the financial health of ARCP, the dividend is the most important upcoming issue. To me personally, the dividend is not a big deal. I would rather ARCP use its FFO to repurchase shares or pay down debt. But I believe ARCP's audience is looking for a dividend. I also believe it is in ARCP's interests for its share price to go up quickly, as equity can be used for financing future purchases or paying down debt. The lower the equity price is, the more equity ARCP may need to issue to raise money. I do not think ARCP's audience will respond fast to a dividend whose yield is in line with peers (~5%), unless it is paired with a plan to buy back shares or pay back a substantial amount of debt, quickly. A 5% yield alone will not be enticing enough to make prospective buyers purchase ARCP over peers O and NNN that are safer and offer similar yields. I think the better thing to do is pay in dividends a comparable percent of AFFO. O and NNN are paying out 83% and 76% of their AFFO, respectively, in dividends. If ARCP establishes a 70% payout ratio, that will be 7% yield. At a 7% yield, investors will be quite attracted to ARCP. When ARCP's equity value rises to its fair value, the yield will be around 5%. I think establishing a 7% dividend highlights just how undervalued ARCP is compared to peers. The rest of the AFFO should go to paying down debt. Pro forma summarized financial statements have been provided for reference.
8. ARCP enjoys too low a cost of debt compared to peers (3.48% vs. 4.48% and 4.68% for O and NNN, respectively), and this cost of debt will not be able to be reproduced given rising interest rates and general lack of trust for reported finances. Given the current interest rate environment, this is not necessarily true. However, ARCP does have about $4B in debt due within 3-4 years, and I think investors will wonder if ARCP will be able to refinance and if so, at what rates. Shareholders will be appreciative to your being proactive about ARCP's upcoming obligations. It is also a good time to address this because of the low interest rate environment we still enjoy.
9. ARCP is not earning its cost of capital. This is a fallacy. I calculate ARCP's WACC to be about 4.1%. This is too low. But even if it matched competitors' WACC of around 5.5%, ARCP is still earning above this through its real estate investments. I think ARCP's management should be forthcoming about what its WACC is and how it plans to maintain a WACC well below its ROIC.
10. ARCP management is not a substantial owner of ARCP. If ARCP is as undervalued as many believe, why has management not purchased a meaningful amount of shares? Substantial share purchases by members of ARCP's management will signal to the market that it thinks ARCP is a good investment and will help restore confidence in its equity.
I appreciate your taking the time to read my letter, and I hope you will take my thoughts into consideration. I wish you the best of luck in accomplishing your goals. And again, thank you for managing American Realty Capital Properties.
Sincerely,
Richard Harris
Richardharris17@gmail.com
Table 1: Fact about ARCP and peers O and NNN (numbers in billions of USD)
| | | | |
| --- | --- | --- | --- |
| Facts | ARCP | O | NNN |
| Market Capitalization | 7.7 | 10.5 | 4.83 |
| Asset Value | 20.3 | 11.092 | 5.02 |
| Tangible Asset Value | 18.4 | 11.077 | 5.02 |
| Liabilities | 11 | 5.4 | 1.9 |
| Tangible Book Value | 7.4 | 5.677 | 3.12 |
| Cash | 0.788 | 0.012 | 0.0045 |
| Enterprise Value | 17.912 | 15.888 | 6.7255 |
| Interest | 0.38 | 0.234 | 0.0872 |
| AFFO | 0.78 | 0.608 | 0.288 |
| Revenues | 1.336 | 0.984 | 0.464 |
| Debt/EV | 61.41% | 33.99% | 28.25% |
| Debt/Tangible Book Value | 59.78% | 48.75% | 37.85% |
| | | | |
| Valuation metrics | ARCP | O | NNN |
| Price/AFFO | 9.871794872 | 17.26973684 | 16.770833 |
| EV/(AFFO+interest) | 15.44137931 | 18.86935867 | 17.925107 |
| (AFFO+Interest)/Interest | 3.052631579 | 3.598290598 | 4.3027523 |
| Price/Tangible Book | 1.040540541 | 1.849568434 | 1.5480769 |
| Revenues/Tangible Assets | 0.072608696 | 0.088832716 | 0.0924303 |
| (Debt-cash)/(AFFO+Interest) | 8.803448276 | 6.399049881 | 5.0519723 |
| Yield | 0 | 5 | 4.6 |
| Dividend/AFFO | 0 | 0.835820896 | 0.7636364 |
| Cost of debt | 3.48% | 4.48% | 4.68% |
| WACC | 4.08% | 5.81% | 5.70% |
Table 2: Cost of debt for ARCP and peers O and NNN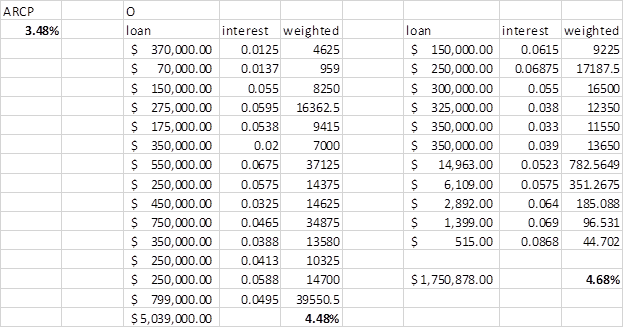 Table 3: Cost of capital calculations for ARCP and peers O and NNN
| | | | | | |
| --- | --- | --- | --- | --- | --- |
| | ARCP | O | NNN | | ARCP (Pro forma) |
| Yield | 0.08 | 0.05 | 0.046 | | 5% |
| Growth exp | 0.015 | 0.015 | 0.015 | | 0.015 |
| Ke | 0.095 | 0.065 | 0.061 | | 6.50% |
| Kd | 0.00% | 4.48% | 4.68% | | 3.48% |
| TAX rate | 30.00% | 30.00% | 30.00% | | 30.00% |
| Debt/EV | 0.614113 | 0.339879 | 0.282507 | | 42.92% |
| Equity/EV | 0.429879 | 0.660876 | 0.718162 | | 0.570771482 |
| WACC | 0.040839 | 0.053616 | 0.053061 | | 0.047556153 |
Table 4: Pro forma vs. current ARCP financial picture and valuation (numbers in billions of USD)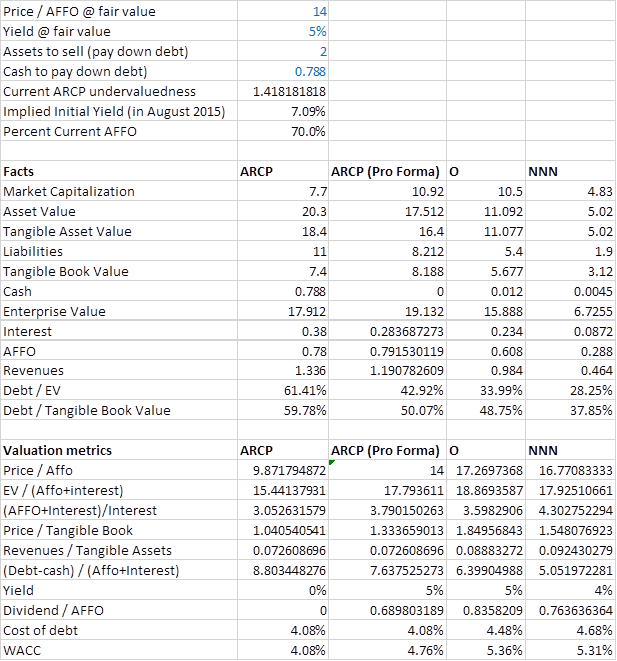 Disclosure: I am/we are long VER.
I wrote this article myself, and it expresses my own opinions. I am not receiving compensation for it. I have no business relationship with any company whose stock is mentioned in this article.
Additional disclosure: Also long AAPL, AXP, BAC, BDL, BP, BRK-B, BUD, C, CAH, HAL, IBM, JPM, KO, MCK, NOV, ORCL, VZ, WFC, WFM, WMT, XOM, KMIPRA, BX, KKR