Fitbit Inc. (NYSE:FIT) celebrated the New Year with a brutal selloff. The stock closed 2015 at $29.59, and on Monday, shares of FIT closed at $18.85. This represents a 36.3% decline.
To be sure, some of the decline was due to the broad market weakness. Fitbit is known as a "high beta" stock, meaning that it typically rises and falls faster than the market. So when the broad market is weak, high beta stocks typically experience even larger losses.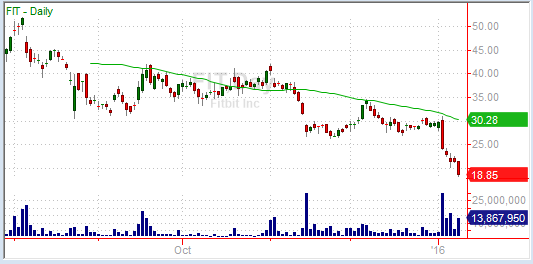 (Source: TradeStation)
But while the broad market played some part, the biggest influence on Fitbit's performance this year was investor reaction to Fitbit's newest product. Last week, the company unveiled the "Fitbit Blaze" at the Consumer Electronic Show in Las Vegas.
The blaze is a watch-like fitness tracker that closely resembles the Apple Watch. Investors hit the panic button after the announcement, as it appeared that Fitbit had entered a head-to-head competition against Apple Inc. (NASDAQ:AAPL).
On Monday, the weakness was enough to cause Fitbit to close below its IPO price of $20. This is a significant price point simply because it's the first time investors who participated in the offering have been left with a loss on their hands.
While the decline for Fitbit is disappointing, this is not the time to panic. Today, I want to look at the company's prospects and explain why at this price, Fitbit represents a valuable investment, and not a speculative "also-ran" in the consumer technology field.
Does Fitbit Really Need To Compete With the Apple Watch?
Much of the market chatter surrounding the decline in FIT has been focused on whether the "Fitbit Blaze" can compete with the Apple Watch. But while the two items may look similar at first blush, the functionality of the Blaze and the Apple Watch leave the two devices in very different categories and not likely to compete head-to-head against each other.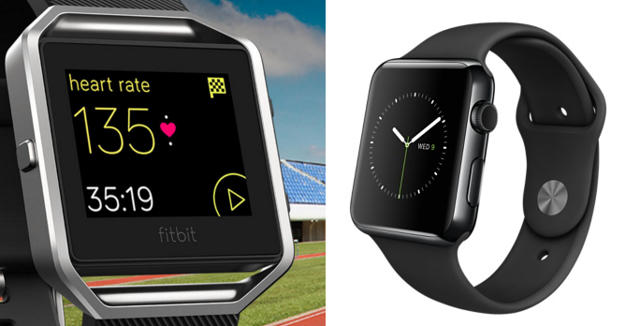 (Source: Fitbit and Apple websites)
Similar to Fitbit's other products, the Blaze is truly a fitness tracking device. It just has more functionality built in than previous Fitbit products. So if the product had a design that didn't resemble the shape of the Apple Watch, we might not even be having this discussion in the first place.
Since investors are focused on the resemblance, however, let's look at some of the most important comparisons between the Blaze and the Apple Watch.
The Blaze has a 5-day battery life versus about a 24-hour life for Apple
The Blaze does not allow third-party apps, but the Apple Watch does
The Blaze can alert you to texts but cannot respond like the Apple Watch
Obviously, there are plenty of other differences, but these are the differences that are discussed the most and are having the biggest impact on Fitbit's stock price.
With this quick comparison, it's clear that Blaze is not designed to be a smart watch in the way Apple has branded its watch. Instead, Blaze is designed to be a fitness tracker with some additional conveniences and functionality built in.
And that brings us to a final important difference between Fitbit's Blaze and the Apple Watch: The price.
The Blaze is currently retailing at $199.95. This is a 43% discount to the cheapest Apple Watch which is priced at $349. There also are sport models priced at $399 and the true full version of the Apple Watch actually starts at $549.
Another thing to keep in mind with the Apple Watch is that buyers must own an iPhone (an iPhone model 5 or better) in order to use the Apple Watch. The Blaze, on the other hand, does not need an interface with any particular smartphone and can be updated with a computer or a wide variety of smartphones.
So while Apple investors probably don't have to worry about the Fitbit Blaze cutting into potential Apple Watch sales, investors are probably being too conservative when comparing the Blaze directly to the Apple Watch.
If consumers are able to treat the new Blaze as its own product - a juiced-up fitness band with additional functionality - Fitbit investors may soon be pleasantly surprised with the company's sales growth.
A Growth Company Without A Growth Stock Price
Speaking of growth, it's interesting to note that Fitbit no longer carries a premium price-to-earnings multiple typically associated with growth companies. At today's price near $19, the stock is trading for roughly 19 times analyst estimates of $1.01 per share this year.
Analysts currently expect Fitbit to grow earnings by 12% next year to $1.13 per share. A price of $19 reasonably reflects expectations for a slow-growth corporation, but does not incorporate the potential for more aggressive earnings growth over the next year.
There are two primary reasons I expect Fitbit to continue to grow earnings in the year ahead and surprise analysts with higher than consensus EPS.
The first potential surprise for Fitbit could be a successful expansion of the corporate wellness platform. This platform could dramatically affect Fitbit's sales as each corporation that Fitibit signs represents hundreds if not thousands of new devices sold.
This is an area that Apple is not likely to compete in because it would be prohibitively expensive for corporations or insurance companies to pay for Apple Watches for each employee. And aside from the expense, many individuals in these programs wouldn't be able to use an Apple Watch anyway because they do not have an advanced iPhone model.
A second potential surprise for Fitbit could be accelerated expansion into international markets.
Fitbit has become a widely recognized brand in the U.S. Last quarter, the company generated 66% of its sales from the U.S. But moving forward, Fitbit should generate a larger portion of its revenue from overseas. In particular, Fitbit's revenue from Asia/Pacific markets increased by more than 300% year over year.
This growth will likely be helped along by Fitbit's versatility, whereas the Apple Watch depends on potential customers already owning an iPhone (or being willing to buy one). If international growth continues at the current pace, Wall Street's projections for 12% earnings growth in 2016 will likely turn out to be far too conservative.
Today, investors can purchase shares of Fitbit for a price that reflects very little growth expectations while potentially benefiting from these potential growth surprises.
Is There A "Good Scenario" for Fitbit?
We've already seen where the market may price shares of Fitbit based on a pessimistic perspective. But what could happen to the stock if investor sentiment were to take a turn for the better?
Suppose consumer reception to the Fitbit Blaze product turns out to be better than expected. Fitbit could then issue a press release stating that unit sales were healthy, while offering guidance for 2016. This type of announcement could be released in conjunction with fourth quarter earnings. (Briefing lists an unconfirmed date of January 28 for Q4 earnings.)
If Blaze sales were to be impressive, Wall Street analysts could boost models for 2016 earnings by a bit more than 30% to $1.50 per share. This would not be too much of a stretch given the potential for international expansion and the corporate partnerships that Fitbit has already secured.
If investors were willing to pay a multiple of 30 times earnings for the stock, (again, not an aggressive multiple for a company growing earnings by 50% per year), shares of FIT would trade near $45. This represents a triple-digit increase for shares of FIT based on just a 30% increase to analyst expectations.
While this $45 price target isn't a prediction, it's a good example of the potential returns that investors could receive based on reasonable success for the Blaze product.
The point is, at FIT's current price near $19, investors are pricing in the worst-case scenario, while turning a blind eye to the potential for FIT to generate strong earnings growth. A shift in investor sentiment surrounding the Blaze launch could hand investors a very handsome return - especially compared to the current low-risk valuation for the stock.
Disclosure: I am/we are long FIT.
I wrote this article myself, and it expresses my own opinions. I am not receiving compensation for it (other than from Seeking Alpha). I have no business relationship with any company whose stock is mentioned in this article.
Additional disclosure: I hold a FIT covered call position in the Growth Stock Income Generator model portfolio.