Chatham Lodging Trust (NYSE:CLDT) has a number of factors working in its favor. Although the stock experienced a heavy downswing in 2015 along with other lodging REITs, 2016 should be a good year as the firm is doing brilliantly on a number of fronts. This is based on three primary metrics:
It has shown strong FFO growth from 2011-2015. CLDT showed a 27% CAGR for FFO in the past five years compared with 13% for Host Hotels and Resorts (NYSE:HST), 14% for Summit Hotel Properties (NYSE:INN) and 19% for Chesapeake Lodging Trust (NYSE:CHSP).
It has reasonable AFFO payout ratio of 52%. Very low or very high payouts are undesirable.
It has one of the highest EBITDA margin in the business and when coupled with its higher presence in future growth markets, the stock should see better times in 2016-2017.
Past FFO growth
Good FFO growth in the past shows that the firm is making right decisions and is on a growth trajectory. CLDT showed second highest FFO growth among the peers. Although, we must also keep in mind that the period of 2011-2015 saw a higher than average growth, as this industry and the economy came out of the trough reached during the recession.

Fig 1: FFO growth from 2011-2015E, Source: Chatham lodging
Dividend yield and payout ratio
Currently the dividend yield is 6.23% which is the highest for this firm in the past four years. This yield is provided by an average payout ratio of 52%.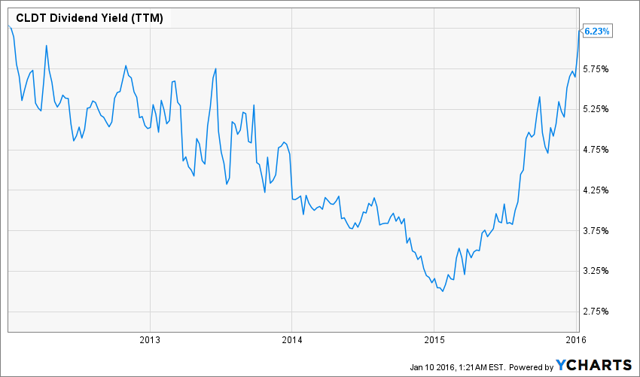 Fig 2: Dividend yield of CLDT in the past four years
This dividend yield is backed by a reasonable AFFO payout ratio of 52%.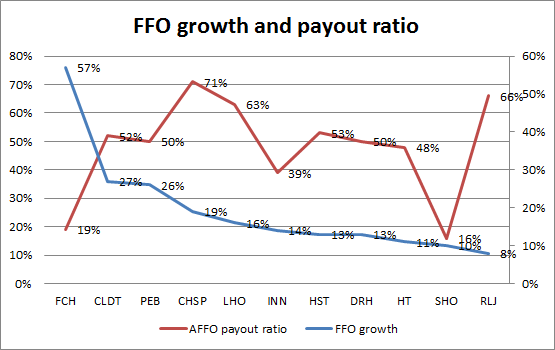 Fig 3: Compounded annual FFO growth from 2011-2015 and payout ratio for REIT firms
FCH has shown better FFO growth but at the cost of very low payout ratio. CLDT shows ideal mix of good FFO growth and reasonable payout ratio.
A very low payout ratio might indicate that the management wants to undertake aggressive expansion, invest more in share buybacks or lower the debt at a faster clip. All these options have their pitfalls and hence an average payout ratio is much better as it can help in long run sustainability of current growth of the firm along with decent return of value to shareholders.
Good occupancy figures and better EBITDA margins
CLDT is outperforming other peers in the industry on occupancy rates. This has to do with the better location of its properties and a good selection of premium brands. Most of the properties are in the upscale segment in which it is leading the average U.S occupancy by eight percentage points. This should eventually translate to higher ADR (Average Daily Rates) and RevPAR (Revenue per available room) figures for the firm.
CLDT is focused on select service hotels which due to the nature of the business produce better EBITDA margins than a full service hotel. However, even on comparison with peers who are focused on select service hotels, CLDT does a much better job at delivering higher margins. It is currently giving EBITDA margin of 44.7% which is full 6 percentage points higher than the average EBITDA margin given by select service lodging REITs.
Future FFO growth
Location plays a central role in future growth prospects for a REIT. CLDT has one of the highest concentrations of properties in markets which are expected to show good growth in the next few years. While looking for future growth prospects, data from HVS/STR is used. They have formulated a Hotel Valuation Index (HVI), which covers 65 markets within US and show the areas which are expected to show high, low or average growth in the next few years. I have developed a new "property concentration" metric for lodging REITs based on the analysis of the data from HVI.
The results of this metric yields the following growth chart for various REITs: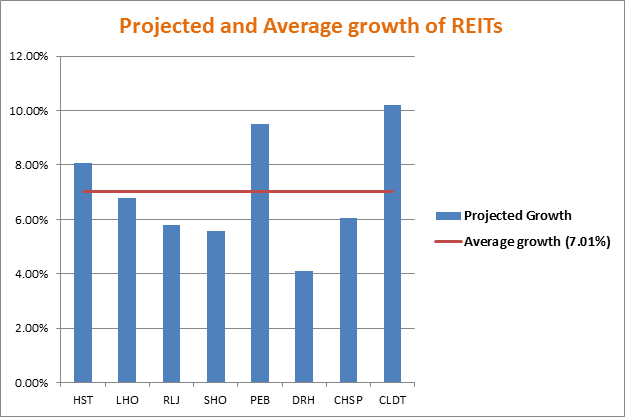 Fig 4: CLDT is at the top of the list among its peers, as far as ideal property concentration is considered. Source: HVI index of HVS/STR and company filings of the REITs.
Conclusion
CLDT is showing favorable metrics in terms of past FFO growth, high dividend yield, moderate payout ratio and future growth prospects. This reduces any possibility of a further downswing for the stock in the future. The current price point is quite attractive when all these metrics are considered. If the economy continues on a growth path we should see good growth in the stock in the next two years. I believe the stock should be able to breach $30 mark within the next 24 months given the present growth prospects.
Disclosure: I/we have no positions in any stocks mentioned, and no plans to initiate any positions within the next 72 hours.
I wrote this article myself, and it expresses my own opinions. I am not receiving compensation for it (other than from Seeking Alpha). I have no business relationship with any company whose stock is mentioned in this article.