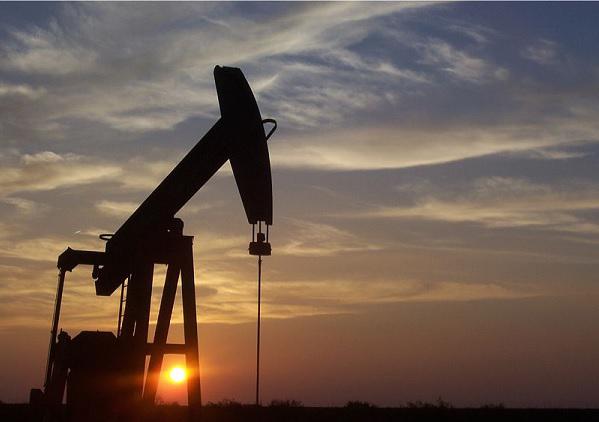 About 18 months ago I wrote an article discussing royalty trusts as a means of improving dividend yields in one's portfolio.1 The discussion there was in the context of the retirement portfolio I had suggested, one of the aims of which was to secure an overall yield of at least 5%. In light of recent developments in the oil and gas industry, I thought it might be useful to take a look at trusts again.2
As in 2014 it is still possible to get yields of more than 30 %; in fact, one trust is currently yielding over 75%. That is pretty good yield, but - as I mentioned in the original article - every silver lining has a cloud, and the clouds over the trust "industry" are ominous, at best.
Royalty Trusts
Royalty trusts are usually set up by oil/gas companies, with proceeds from the sale of units often being used to offset costs of drilling.3 All unitholder rights and entitlements - as well as conditions for receipt of profits, duration of the trust, and termination conditions - are specified by the establishing company in its prospectus, which is on file with the SEC.
For all intents and purposes, a royalty trust acts as an intermediary between the company that sets it up and the investors who buy into it. The trust serves to narrowly delineate the status of the unitholders - typically units do not imply ownership (as shares would), and apply only to the trust (not the company establishing the trust).
It is important to keep in mind that a unit issued by a trust typically has no value beyond its entitlement to a share of the profits disbursed by the trust. The units may be sold on the market just as one would sell shares of a company or ETF, but what the unit represents is strictly determined by the prospectus and typically does not have any intrinsic value beyond the entitlement to receive profits it confers to the holder.
Once the trust is liquidated, the unitholder is entitled only to a final disbursement of whatever funds may remain in the trust. 4
Can You Trust Royalty?
If one were to look at any of the trusts available on the market, the yields associated with them would be quite impressive, running a range from 1.09% up to 70.83%; the average yield is currently (approximately) 23.94%. The figures need to be taken in context, however, and that tells us a somewhat different story.
Consider the following table:5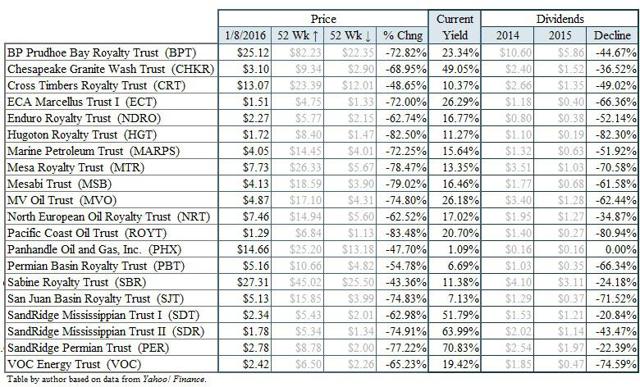 Looking at BP Prudhoe Bay Royalty Trust (NYSE:BPT), for instance, at its current price its $5.86 annual dividend [ttm] looks to provide a very handsome 23.34% yield. However, from its 52-week high of $82.23 (18 February 2015) it dropped 72.82% to its 52-week low of $22.35 (21 December 2015); its current price (as of 8 January 2016) has only nominally recovered, and is still 69.45% down from the high.
Prudhoe's price is not the only thing that has dropped over the past year. Its dividend has also dropped by 44.67%, to 2015's $5.86 from 2014's $10.60. Moreover, the 2015 quarterly distributions have been shrinking substantially, compared to their 2014 counterparts. I would be reluctant to imply that the current yield is what may be projected for the coming year.
As the table reveals, this sort of loss is not limited to Prudhoe - in fact, on average, the 20 trusts on the list above have realized an average loss in share price of 67.96%, and an average decrease in dividends of 50.83%. The pattern is consistent: highs tended to be reached in early 2015, with the lows occurring around the end of the year; dividends are down and going lower.
Dividend Trivia
This is the interesting thing about dividend yields: they are dependent upon both the actual dividends paid and the price of the stock the dividends are paid on. If dividends increase the yield should increase, and if dividends decrease, yield should decrease as well. However, diminishing unit prices also have the effect of increasing yield - and in an economy where the dividends are decreasing at a rate lower than that of the unit-price decrease, it looks the same as when dividends increase (simpliciter) or unit prices decrease (again, simpliciter).
Thus, while yields among the royalty trusts have maintained a healthy look, it is not necessarily an indication that the dividends those yields reflect are healthy. As the table indicates, the drop in unit prices has dropped faster - and further - than the concomitant drop in dividends.
Side Notes of Interest
Of the 20 companies listed in the table above, one stands out: Panhandle Oil and Gas, Inc. (NYSE:PHX). The reason it stands out is that its dividend has not undergone a drop; in fact, the table does not tell the whole story. In November 2014, Panhandle had a two-for-one stock split; its dividend after the split was the same (per share) as before the split, essentially doubling the payout.
Of course, the dividend for Panhandle is $0.16 per year, for a yield of 1.09% - the lowest yield of all trusts listed, reflecting the lowest dividend of all trusts listed.6
On the down side: by coincidence, one of the trusts I discussed at some length in the earlier article has run into hard times. Whiting USA Trust II (OTCBB:WHZT) was delisted by the NYSE on 6 January 2016. Its shares had dropped to its 52-week low of $0.10 from its high of $8.47 (a drop of 98.82%). While its 2015 dividend was $0.51 [ttm], its most recent dividend payment was $0.010003.7
Prospects
There is no mystery about what is happening in the oil industry. Oil prices have plunged, production has not. Oil companies that depended on oil at $80.00 - $100.00 and more per barrel are now having to cope with prices below $40.00.
For a company that is in debt, it is hard to justify cutting production in order to reduce supplies - which would, in principle, cause prices to rise. Globally, there seems to be little initiative to cut back on production, as all oil-producing nations face the same problem of having to cover costs with ever-shrinking prices.
What aggravates the situation is the level of uncertainty that has gotten wedged into the picture. Rejection of the Keystone XL extension, as well as persistent complaints against hydraulic fracturing ("fracking"), and other environmental concerns, have kept the industry off-balance.
Global climate and environmental movements have put governments on the spot to address perceived need to decrease reliance on fossil fuels.
Reports that Saudi Arabia is considering selling shares in its downstream subsidiaries have also added elements of conjecture and uncertainty to the global oil picture.8 Concerns about the addition of Iranian oil to global markets threatens to exacerbate supply issues.9
Projections by the U.S. Energy Information Administration (EIA) are somewhat optimistic. The following chart shows their projections for oil prices through 2016: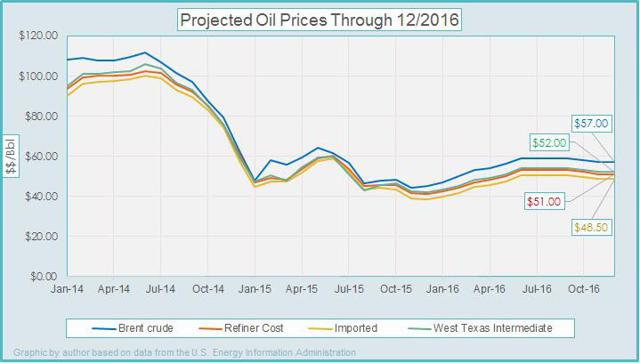 One needs to take those projections with a grain of salt, however. As of this writing, oil is slipping closer to $30.00 per barrel, with some analysts foreseeing prices dipping into the $20s.10 At the current rate, EIA projections will be shattered momentarily.
Even if oil prices did recover somewhat, it is unclear that the levels projected would support much of an increase in dividend payments by royalty trusts.
Assessment
I suspect there is no returning to the dividend levels that were prevalent when I wrote my earlier article. People who have been holding onto their royalty-trust units hoping for a trend upwards in dividends and/or unit price may have an unpleasant wait ahead of them.
What of new investors? Would it be reasonable to buy into royalties now, taking advantage of what still look to be great dividend yields? After all, if oil prices recover as the EIA expects, that would seem to indicate that current dividends may well be assured.
I would be reluctant to bet on dividends just yet. Almost without exception, the trend for trusts over the past year has been downwards - and those payments typically reflect monies from the preceding quarter.11
Fourth-quarter dividend payments were down, and the fourth quarter's price trend was not encouraging; the first quarter of 2016 looks to be off to a dismal start. That would seem to indicate that dividend payments for the first two quarters of 2016 will be - at best - at a level comparable to 2015's fourth-quarter payments.
The prudent course of action, at this point, may well be to wait until the second quarter to see how (1) first-quarter payouts go, and (2) what oil prices do. If things seem to be recovering at that point, it might be worth a small portion of your gambling money.
Of course, if you have some spare change and cannot wait for the second quarter, and you have your eyes on SandRidge Permian Trust (NYSE:PER) and its 70.83% yield, you might take your chances … or not.
I'll watch from the sidelines, thank you.
Disclaimers
This article is for informational use only; it is not intended as a recommendation or inducement to purchase or sell any financial instrument issued by or pertaining to any company or fund mentioned or described herein.
All data contained herein is accurate to the best of my ability to ascertain, and is drawn from the companies' websites and SEC filings to the extent possible. All tables, charts and graphs are produced by me using data acquired from the aforementioned sources or from other verifiable sources as noted.
All opinions contained herein are only opinions and are mine, unless noted otherwise. The opinions of others that may be included are identified as such and do not necessarily reflect my own views.
Before investing, readers are reminded that they are responsible for performing their own due diligence. They are also reminded that any investment involves the assumption of some level of risk. It is possible that invested monies can be lost in part or in whole.
Please invest carefully!
1 "Royalty Trusts And The ETF Retirement Portfolio."
2 An opinion shared, and suggested, by one of my followers, "Capt. Spaulding." By the way, I always encourage readers (not just those who follow me) to suggest topics of interest or to point out when I have neglected to update something that deserves updating.
3 Many times the trust will specify the particular site covered by the trust. This precludes unitholders from claiming income from other sites the company may operate.
4 For more details about trusts, see the article in (1), above.
5 The table is not a complete listing of royalty trusts. Several trusts are trading on the OTCBB and accurate data is not available. Those trusts are not listed here.
6 Not exactly something to get overly excited about. It is, however, nonetheless noteworthy, considering what has happened to the royalty trusts in general.
7 Its high was reached on 4 February 2015, the low being achieved on 7 January 11, 2016 - the day after delisting. As of this writing, WHZT is trading at $0.35/share (intraday), and carries a yield of ~ 11%. Yes, $0.04 per year. When I wrote the original article, WHZ (as it was known back then) had paid $2.69 in dividends over the preceding 12 months.
8 "Saudi Aramco would sell downstream ops, not upstream," Reuters, January 11, 2016.
9 "Iran doesn t want oil price war …" Reuters, January 6, 2016.
10 "Oil tumbles nearly 5 percent to new lows …" Reuters, January 11, 2016.
11 i.e., payments made in the fourth quarter reflect profits from the third quarter.
Disclosure: I/we have no positions in any stocks mentioned, and no plans to initiate any positions within the next 72 hours.
I wrote this article myself, and it expresses my own opinions. I am not receiving compensation for it (other than from Seeking Alpha). I have no business relationship with any company whose stock is mentioned in this article.