Lately, I've been giving some thought about the healthcare diversification of my dividend growth portfolio, as this is one of the sectors I want to get more exposure to. My portfolio is very much a work-in-progress, I started it with a couple of lump sum investments and add fresh cash on a regular basis.
In recent weeks, I've taking a closer look at a couple of European health stocks with promising dividend track records, including French healthcare giant Sanofi, Swiss healthcare holding Novartis and Denmark-based diabetes specialist Novo Nordisk.
For this article, I'm taking a closer look at Switzerland's other healthcare giant. Roche Holding is world's largest biotech company and a global leader in cancer treatment; oncology accounts for almost half of the firm's revenue.
In terms of market capitalisation Roche is the second largest pharmaceutical company in the world, trailing only Johnson & Johnson (NYSE:JNJ). Despite its long dividend track record you hear relatively little about Roche so read on to learn more about why this firm deserves to be on your watchlist.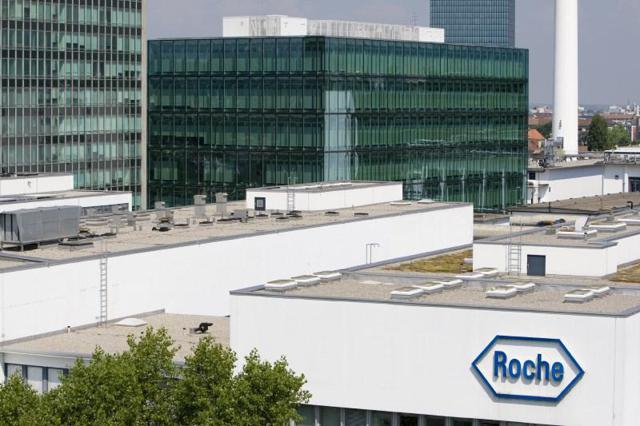 Image source: Roche
1. Company history
Roche Holding has a market cap of $227 billion and is one of the largest hybrid biotech/pharma companies in the world. The holding traces its roots to 1896, the founding year of the Hoffmann-La Roche company.
Founder Fritz Hoffmann-La Roche saw the potential of the industrial manufacture of medicines and initially, the company made a name for itself with various preparations and vitamin products. Later on, Roche diversified by entering the cosmetics sector, started manufacturing diagnostic products and made a big leap in cancer therapy.
Last decade Roche restructured its focus on biotech (NASDAQ:IBB) and started shifting towards personalized healthcare, by acquiring players in the life science research, gene sequencing and tissue diagnostics markets. Non-core divisions like fragrances, flavors, vitamins and fine chemicals were divested to focus on the company's biggest strengths: pharmaceuticals and diagnostics.
Over the last couple of decades, Roche made quite a number of acquisitions, the largest one being the 2009 takeover of long-term partner Genentech for $46.8 billion. At the time, Genentech was the oldest and most successful biotech firm in the world. Many of Roche's most succesful cancer drugs were developed by Genentech.
2. Main business segments
In 2014, Roche posted sales of 47.5 billion CHF ($47.73 billion) and was the global leader in biotech, in-vitro diagnostics, and oncology. Roche's sales are split roughly 80/20 between pharmaceutical products and diagnostic devices.
Both units are intertwined as Roche has made personalized healthcare one of its key focus areas. About half of Roche's pipeline is developed with a diagnostic test to help personalize treatment, and in 2014 sales of products requiring a companion diagnostic test represented 23 percent of pharmaceutical sales, up from 14.7 percent in 2010. These synergies give Roche a bit of an edge over competitors.
Pharmaceutical sales grew 4 percent in 2014 to a total of 36.7 billion CHF ($36.88 billion). The bulk of the pharmaceutical division consists of cancer treatment, the oncology division accounted for 62.12 percent of the Pharmaceutical unit's sales. In fact, Roche's oncology division is the largest in the world thanks to a very strong product portfolio. Sales of three drugs, Avastin, Herceptin and MabThera/Rituxan, accounted for 80 percent of Oncology sales. Due to the large sales volume, potential pricing pressure on these three expensive cancer drugs could be detrimental for Roche's margins.
Immunology made up 13.86 percent of sales, followed by 8.70 for infectious diseases, 4.64 percent for ophthalmology (eye treatment) and 1.98 percent for neuroscience. The remaining 8.70 percent was split between various therapeutic areas.
While Roche excels in oncology, in large part thanks to its Genentech division, R&D efforts outside of cancer suffered several failures in recent years. The majority of Roche's lineup consists of biotech drugs, which provides a cushion against competition as biosimilars are harder to make than traditional generic drugs.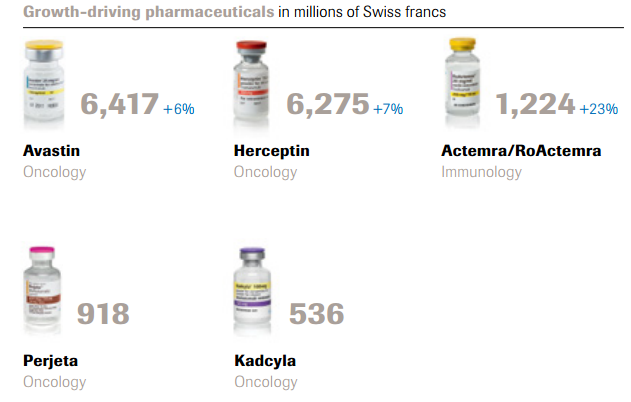 Image source: Roche
Sales of the Diagnostics division increased 6 percent to 10.8 billion CHF ($10.85) in 2014. Professional Diagnostic devices made up 56.15 percent of sales and diabetes care pulled in 22.22 percent of 2014 sales. Molecular Diagnostics ranked third with 14.98 percent and Tissue Diagnostics came in last with 6.65 percent of the total.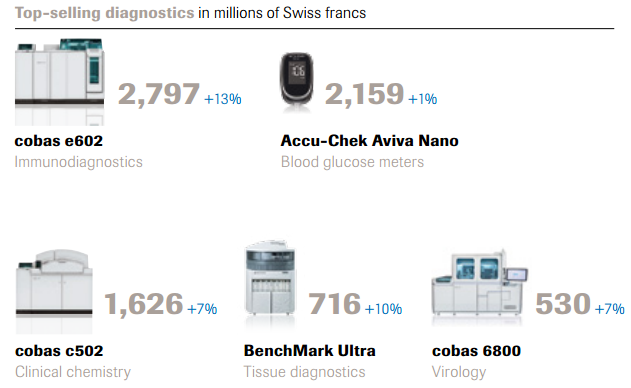 Image source: Roche
In 2014, the Roche Group posted a core operating profit margin of 37.2 percent but there's a wide difference between the two main business units. Pharmaceuticals pulled in core operating profit margins of 43.6 percent, versus 19.5 percent for diagnostics.
3. Global spread
Europe and North America are Roche's biggest markets, these two regions accounted for over 70 percent of 2014's revenue. As access to healthcare improves, emerging markets promise to be major drivers of future profit growth.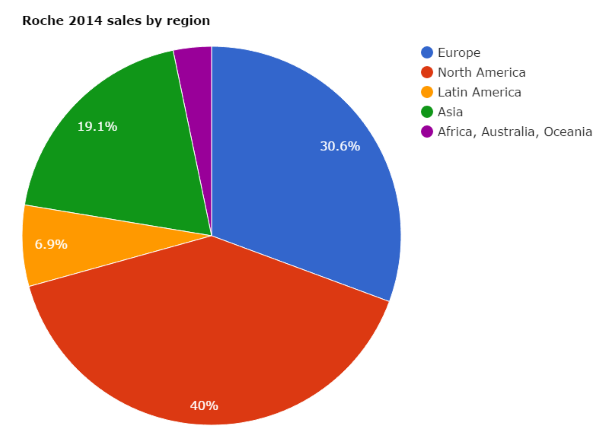 4. Ownership structure
Roche has a dual-share class structure, it has 160 million bearer shares with voting rights and 702.56 million non-voting shares. The price difference between the two share classes is very small, at present the voting shares trade at a small discount versus the non-voting shares. This is probably because the voting shares have very low liquidity due to a small free float.
Most of the voting rights are controlled by descendants of founder Fritz Hoffmann-La Roche. The family pool, which includes shares from several members of the Hoffmann, Oeri and Duschmalé families, controls 45.01 percent of Roche's voting rights. Furthermore, Ms Maja Oeri represents 5.057 percent of the voting rights independently of the pool.
Where it gets a bit interesting is that Roche's cross-town rival Novartis (NYSE:NVS) controls a third of Roche's voting rights and 6.3 percent of its equity. The stake is the result of a failed merger attempt between the two largest Swiss healthcare companies. Novartis keeps the Roche stake as a long-term, strategic investment.
5. Roche's dividend policy
Like most large European companies, Roche pays just one dividend per year. It is the way it is, but it's a bit unfortunate as this means that a portfolio with a lot of European holdings will see a large concentration of dividend payments around Spring time, and not a lot of cash the other three seasons.
Roche reports its earnings in Swiss francs and this is also the currency in which it declares its dividends. The healthcare firm is committed to distribute rising dividends (in Swiss francs) to its shareholders and has done so for 28 years in a row, this makes it a Swiss dividend aristocrat!
The Board will propose the 2015 dividend together with the 2015 full-year results, scheduled January 28, 2016. Shareholders must approve the dividend at the Annual General Meeting, to be held March 1, 2016. The ex-dividend date is typically two days after the AGM and the payment hits your account around five days later.
Roche is currently trading at a trailing dividend yield of 3.07 percent. You can buy Roche's non-voting equity security on the Swiss exchange, ticker symbol "ROG" or you can purchase the RHHBY ADR (OTCQX:RHHBY). Voting shares trade on the Swiss exchange under the "RO" ticker.
Roche ADR fees
As mentioned above, US investors can easily invest in Roche by buying the ADR on the OTC market. Eight ADRs represent one ordinary share.
The ADR depositary bank is J.P. Morgan, they charge a dividend fee of $0.02 per share and a depositary service charge of $0.0075 per share. One benefit of the ADR is that J.P. Morgan offers a dividend reinvestment plan, this involves a fee of 5 percent of the dividend payment (up to a maximum of $2.50) and a trading fee of 12 cents per share.
Payment of the ADR dividend is delayed by about six weeks as J.P. Morgan automatically reclaims the excess withholding tax for qualifying US investors. I'm not entirely familiar with the process, but I believe you or your broker need to hand over some paperwork to proof that you qualify for the 15 percent tax treaty rate, otherwise you pay the full 35 percent withholding tax. Furthermore, it may also be possible to reclaim the excess tax by dealing directly with the Swiss tax authorities.
There's also an unofficial RHHBF ADR (OTCQX:RHHBF). This ADR represents the voting shares but has very low liquidity.
Swiss dividend tax
Swiss shares are subject to a default withholding tax of 35 percent. A tax treaty with the US can lower this rate to 15 percent, check with your broker or tax advisor for more details.
6. Roche dividend history
Roche has rewarded long-term investors with very healthy dividend growth. Since 1990, the company has increased its dividend at a very impressive annualized rate of 16.38 percent!
I managed to trace back the dividend payouts to 1990 but was unable to confirm the 28-year dividend growth streak because I couldn't find older data. I got in touch with Roche but got to hear that they do not have this information on hand. Investor Relations explained the dividend payout under Roche's current capital structure began in 1989. Before that date, Roche equities have been traded over the counter and on pre-market exchange only. All data below is adjusted for historical stock splits.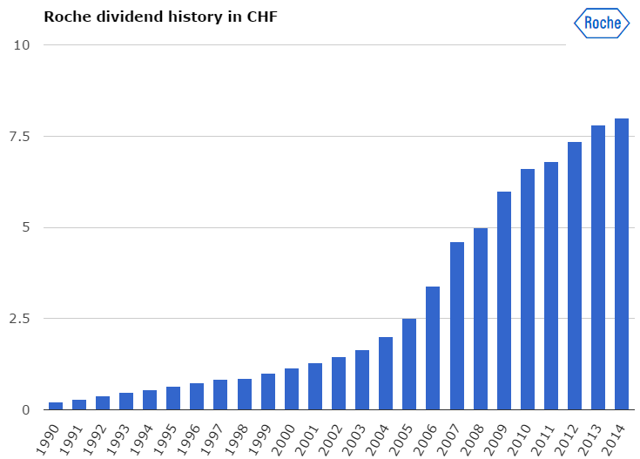 Most of the very strong dividend growth was achieved before the financial crisis. The 10-year dividend growth rate is still a strong 14.87 percent, but the 5-year dividend growth rate shows a slowdown to 5.92 percent. Dividend growth slowed down considerably in recent years, hitting a low of just 2.56 percent for the 2014 dividend increase.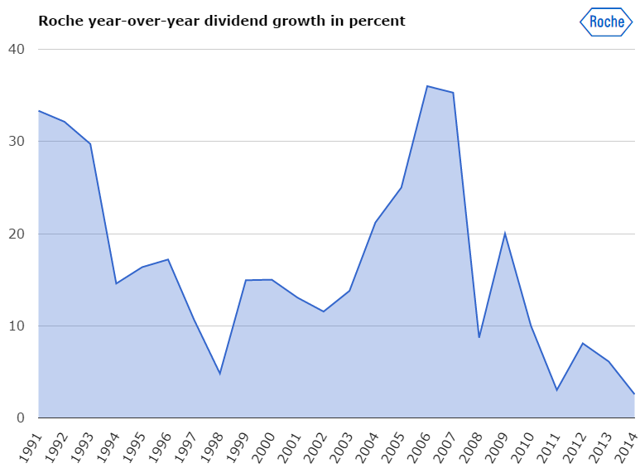 7. Dividend payout ratio history
The long-term trend of the dividend payout ratio tells us something about how the dividend growth was achieved. In case of Roche, a significant part of the dividend growth stems from a big increase in the payout ratio.
The payout level versus core earnings rose from just 18.26 percent in 1990 to 55.98 percent in 2014. This means future dividend growth will likely be more modest as it will have to be more in-line with earnings growth. Such a big increase in the payout ratio distorts the long-term dividend growth figures quite a bit. Assuming a constant payout ratio, the dividend increased at an annualized rate of 11.07 percent since 1990 versus the actual increase of 16.38 percent per annum.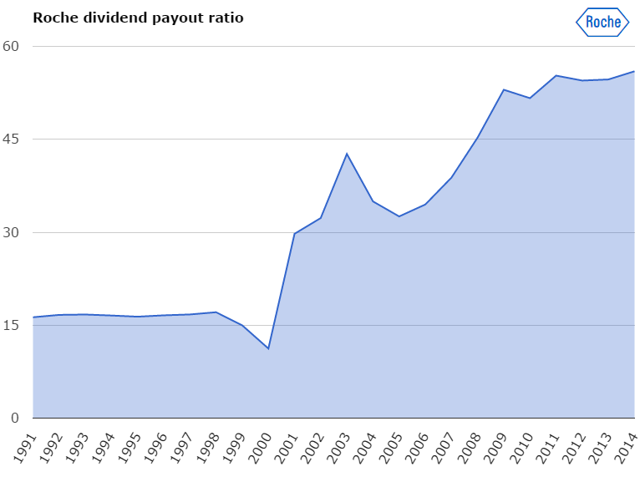 The dividend is very well covered by free cash flow, in 2014 the company had 5.32 billion CHF ($5.32 billion) excess cash left after payment of the 6.71 billion CHF ($6.71 billion) dividend and other expenses.
Here's the chart with all the raw dividend data:
| | | | |
| --- | --- | --- | --- |
| | Dividend in CHF | YoY change in percent | Payout ratio in percent |
| 1990 | 0.21 | N/A | 18.26 |
| 1991 | 0.28 | 33.33 | 16.28 |
| 1992 | 0.37 | 32.14 | 16.66 |
| 1993 | 0.48 | 29.73 | 16.72 |
| 1994 | 0.55 | 14.58 | 16.56 |
| 1995 | 0.64 | 16.36 | 16.37 |
| 1996 | 0.75 | 17.19 | 16.59 |
| 1997 | 0.83 | 10.67 | 16.73 |
| 1998 | 0.87 | 4.82 | 17.09 |
| 1999 | 1.00 | 14.94 | 14.97 |
| 2000 | 1.15 | 15.00 | 11.23 |
| 2001 | 1.30 | 13.04 | 29.75 |
| 2002 | 1.45 | 11.54 | 32.29 |
| 2003 | 1.65 | 13.79 | 42.64 |
| 2004 | 2.00 | 21.21 | 34.97 |
| 2005 | 2.50 | 25.00 | 32.55 |
| 2006 | 3.40 | 36.00 | 34.48 |
| 2007 | 4.60 | 35.29 | 38.82 |
| 2008 | 5,00 | 8.07 | 45.29 |
| 2009 | 6.00 | 20.00 | 53,00 |
| 2010 | 6.60 | 10.00 | 51.64 |
| 2011 | 6.80 | 3.03 | 55.28 |
| 2012 | 7.35 | 8.09 | 54.48 |
| 2013 | 7.80 | 6.12 | 54.66 |
| 2014 | 8.00 | 2.56 | 55.98 |
8. Sharecount history
I usually create a chart to show the evolution of the sharecount but in this case it was pointless as it would show a flat line. From what I could find, Roche's split-adjusted sharecount hasn't budged since at least 1990. It's a lot better than a sharecount that keeps inflating, but perhaps Roche could have created more shareholder value via a buyback program.
9. Outlook
Like most other pharma majors, the main growth drivers include a mix of demographic and economic factors. Demand for healthcare is increasing not only because of the rising global population, but also because the population in affluent regions like North America, Western-Europe and Japan is ageing. Then you also have the emerging market factor, not only is life expectancy increasing in many developing countries but as people get more affluent, they demand better access to healthcare.
Risk factors include higher competition, including pressure from generics and biosimilars, as well as pricing power concerns due to the high cost of healthcare. Both factors threaten to decrease future margins.
In the first nine months of 2015, Roche posted revenue growth of 6 percent at constant exchange rates, and 2 percent in Swiss francs. Results were impacted by the Swiss National Bank's lifting of the exchange rate peg in January. Roche's raised outlook calls for 2015 sales growth in the mid-single digit range, at constant exchange rates, and core earnings per share growth ahead of sales at constant exchange rates. The company also expects to further increase its dividend.
Last year Roche posted a return on equity of 43 percent, down versus the year before but still very strong. The most recent half-year report shows a debt to equity level of 125 percent, this very high ratio is the result of the 2009 acquisition of Genentech and several other, smaller takeovers. The company does have significant cash reserves and marketable securities, but the net debt to equity ratio is still quite high at 90 percent and the net debt/total assets ratio is 25 percent. However, in light of Roche's strong free cash flow generation the debt level is acceptable. S&P rates Roche's long-term debt as AA.
Based on analyst estimates, Roche is trading at 18.62 times 2015's earnings. Earnings growth has been anemic in recent years but the company's pipeline and strong demand for cancer treatment is expected to push earnings higher over the next couple of years. Earnings estimates point to a 2016 P/E of 16.95 and a 2017 P/E of 15.49.
Roche has an interesting pipeline with many drugs in Phase II and Phase III of clinical trails. The majority of the pipeline focuses on oncology, but it also contains many immunology and neuroscience drugs. In the short-term, Roche has significant filing and launch activities ahead and quite a number of these drugs are deemed to have blockbuster potential. For example, multiple sclerosis drug Ocrelizumab could potentially generate annual sales of $5 billion and lung and bladder cancer drug Atezolizumab could achieve peak sales of $2.1 billion.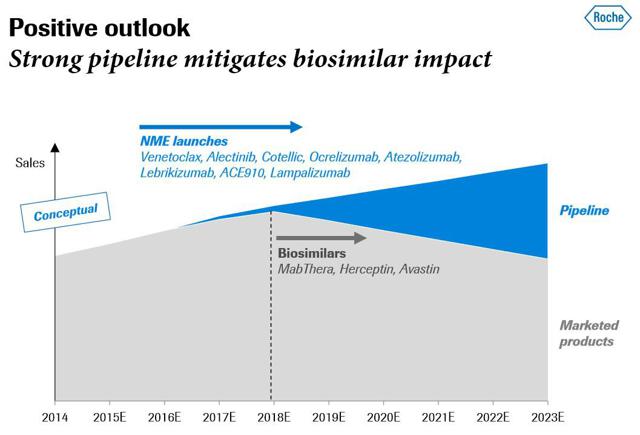 Image source: Roche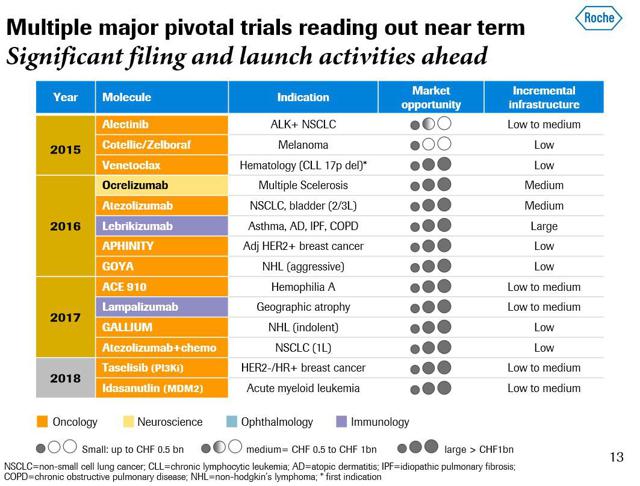 Image source: Roche
10. Conclusion
Roche has a decent moat thanks to its very strong presence in the growing cancer treatment market and its industry-leading diagnostics division. The company is able to charge very high margins and enjoys healthy free cash flow generation. The shares are trading at a higher level than in recent years but still offer a decent entry yield of 3.07 percent. A major drawback perhaps is the high Swiss dividend withholding tax but I think Roche would make a nice addition to the healthcare section of my dividend growth portfolio. I'm adding Roche to my watchlist and will consider initiating a position on price weakness.
If you enjoyed this analysis, please click the "Follow" button and check out some of my previous dividend-centered articles:
- Why I bought diabetes giant Novo Nordisk
- A look at Novartis, Roche's cross-town rival with 18 years of dividend increases
- Nestlé, the Swiss food giant with 19 years of consecutive increases
Are you a shareholder of Roche, how many years have you held shares and are you happy about the return? Or are you planning to buy Roche in the near-future? Share your thoughts below.
Disclosure: I am/we are long NVO, SNY.
I wrote this article myself, and it expresses my own opinions. I am not receiving compensation for it (other than from Seeking Alpha). I have no business relationship with any company whose stock is mentioned in this article.
Editor's Note: This article discusses one or more securities that do not trade on a major U.S. exchange. Please be aware of the risks associated with these stocks.