Annaly Capital Management (NYSE:NLY) is likely going to report a book value loss for the fourth quarter. When the quarter started, after two periods of book value losses for the mREIT sector, it seemed improbable that a third would come out so quickly. The major driver of book value losses lately has been the spread between the LIBOR rates on interest rate swaps and the rates on MBS.
If any part of this article gets confusing, I suggest checking out my guide to mREIT to terminology or my guide to reading the book value model.
Book Value
The following model demonstrates the book value per share according to my calculations: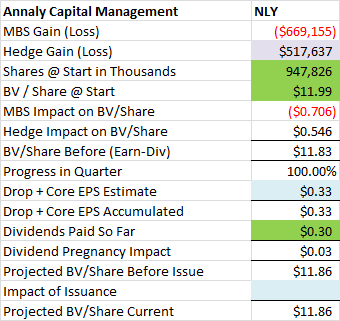 I may be estimating a bit high on the "Drop + Core EPS" estimate for the quarter. It won't surprise me if that comes in a few cents lower. For readers who follow Annaly Capital Management in depth, the numbers I'm working on for earnings would be equivalent to "Normalized Core EPS" rather than regular "Core EPS." The difference between the two is that the normalized value strips out the impact of scaling amortization up or down to make up for previous quarters. As a result, the normalized value is much less volatile. Don't be surprised if the normalized Core EPS figures only come in with a range of $.29 to $.32. The regular figures that incorporate changes to amortization estimates should be higher, around $.35 to $.40. Since NLY provides normalized figures, I find the normalized numbers to be more useful for most practical analysis.
Those MBS Losses
The stories about mREITs the last few quarters have generally been about how mREITs are failing to protect book value. That has been a little surprising lately as the fair value movements in MBS have appeared to me to be smaller than those in LIBOR swaps. However, I've found my model tends to be much more effective than attempting to "eyeball" the relative changes over the span of a quarter.
Unrealized
For the purposes of this article, I assume losses and gains remain unrealized unless the position is in TBA (to be announced) securities. Those securities are used to create dollar roll income, which is the same thing as drop income. If the terms are confusing, refer back to the terminology guide linked above.
Relative Discounts
I have been working to track book value for quite a few mREITs. By my estimate, the discount to book value at the end of trading for the end of the fourth quarter was about 20.92%. This put them at a slightly smaller discount than American Capital Agency Corp. (NASDAQ:AGNC), CYS Investments (NYSE:CYS), or ARMOUR Residential REIT (NYSE:ARR).
January 7th
I ran the model again with the latest publicly released data on the LIBOR swap rates.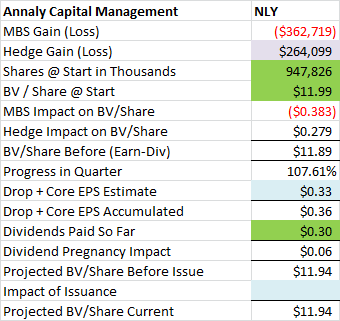 Between December 31st and January 7th, the interest rates moved down materially as investors moved out of equity and into bonds. Therefore, the expected decline in MBS values would be much smaller and the gain on swaps would be larger.
Yes, the progress in quarter is showing as greater than 100%. That is because we are into the first quarter of 2016 and the mREIT continues earning net interest income each day.
Accuracy
Hitting book value precisely on the head is very difficult. The fair values of the MBS and hedge positions depend on a few assumptions and perfectly complete information about NLY's portfolio is not even available at the end of quarters or years. NLY provides a very substantial amount of information, but there are always more details that could be filled in and that would enhance the predictive ability of a good model.
In my opinion, if an analyst predicts the ending book value per share within 3%, they did a fairly decent job. If they land within 2%, they did a great job. The 3% figure would give me a range of plus or minus $.36 per share in BV. The 2% figure would give me a range of plus or minus $.24 in book value.
The 3% range would be from to $12.21 to $11.51.
Note that if there are any changes to soft assets like "Goodwill," I would be stripping those changes out of the valuation. If the mREIT substantially changed their positions during the quarter, it would also make high quality analysis virtually impossible and being accurate on estimates would be a matter of luck rather than skill.
Comparative Discounts
By my estimate, Annaly Capital Management's closing price of $9.41 per share on January 8th represented a 21.2% discount to the book value from the day before. This discount continues to be slightly smaller than the discounts for CYS, AGNC, and ARR.
Based on the comparative discounts, I think CYS is slightly better positioned to outperform over the next few weeks.
My View on NLY
I'm trying to incorporate my views on valuation into each mREIT article because I believe readers want that quick assessment. My rating is highlighted in blue.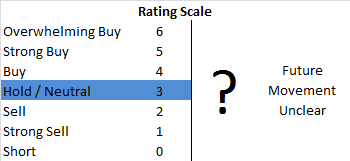 My rating scale runs from 0 to 6 and incorporates the option to apply a question mark instead of a number. When I choose to rate an mREIT as a question mark, it usually indicates a fairly inefficient market and an inability to reasonably predict which direction shares will go. I think AGNC and CYS may slightly outperform NLY in the next few weeks, but a difference of 1% to 2% does not warrant a material difference in ratings.
When I am rating NLY, you will rarely see them fall anywhere outside the 2 to 4 range. The mREIT is fairly large and the market is substantially more efficient for NLY than for the smaller mREITs.
My premature prediction for total returns to shareholders (change in price + dividend) from the end of 2015 to the end of 2016 was 6% to 8.48%. Since that window is remarkably narrow, I expect to miss. However, it gives readers a solid impression of my prediction for the most likely result if I am limited to only choosing a range of about 2.5%. The projected total return is less than the dividend yield by a material amount. I am expecting a decline in share prices, but I don't expect the decline to be as large as the income generated from dividends.
Conclusion
Hit me up with your questions in the comments section. I'll try to get some fourth quarter earnings projections prepared. If you're not following me yet, scroll to the top of the article and hit the follow button (it's free). If you want to limit the e-mails you receive, then follow without the "real time alerts."
As we get further into the quarter and see the interest rate scenario develop further, there will be a solid opportunity for some analysis on the sustainability of the dividend. Annaly Capital Management may suffer some in earnings from short-term rates moving higher, but a shift to incorporate more credit sensitive assets should also improve their yield on assets. Until a little more information is available, it will be tough to call.
Disclosure: I/we have no positions in any stocks mentioned, and no plans to initiate any positions within the next 72 hours.
I wrote this article myself, and it expresses my own opinions. I am not receiving compensation for it (other than from Seeking Alpha). I have no business relationship with any company whose stock is mentioned in this article.
Additional disclosure: Information in this article represents the opinion of the analyst. All statements are represented as opinions, rather than facts, and should not be construed as advice to buy or sell a security. Ratings of "outperform" and "underperform" reflect the analyst's estimation of a divergence between the market value for a security and the price that would be appropriate given the potential for risks and returns relative to other securities. The analyst does not know your particular objectives for returns or constraints upon investing. All investors are encouraged to do their own research before making any investment decision. Information is regularly obtained from Yahoo Finance, Google Finance, and SEC Database. If Yahoo, Google, or the SEC database contained faulty or old information it could be incorporated into my analysis.