By Patrick Keon
In 2015, Thomson Reuters Lipper's mutual fund macro groups (equity, taxable bond, money market, and municipal bond funds) experienced overall net outflows for the first time since 2011. The mutual fund groups saw over $121.5 billion leave their coffers last year with taxable bond funds (-$85.9 billion) and equity funds (-$60.0) accounting for all of the net outflows. Money market funds (+$16.0 billion) and municipal bond funds (+$8.4 billion) were able to take in net new money for the year.
The negative flows out of taxable bond funds represented their first annual decrease since the year 2000 and their largest net outflow since Lipper began tracking fund flows data (1992). After a positive start to 2015, the group suffered $109.2 billion in negative flows during the last two quarters of the year as it became apparent that the Federal Reserve was looking for an opportunity to start raising interest rates, before finally doing so in December. The selling was spread out across both investment grade and below investment grade bond funds as funds in Lipper's Core Plus Bond Funds (-$20.6 billion), Loan Participation Funds (-$20.0 billion) and High Yield Funds (-$14.5 billion) classifications all experienced substantial outflows.
The annual net outflows for equity funds marked their first decrease since 2012 as the group took in over $270 billion in net new money combined in 2013 and 2014. Equity funds did start the year strongly with net inflows of almost $34 billion in the first quarter but the tide turned after that with three straight quarters of net outflows culminating with $73.0 billion in negative flows during the last quarter of the year. Domestic equity funds (-$153.9 billion) were responsible for all of the year's net outflows as nondomestic equity funds (+$93.9 billion) were able to post gains for the year. The main contributors to the negative flows on the domestic equity side were funds in Lipper's Large-Cap Core Funds (-$47.5 billion), Large-Cap Growth Funds (-$29.4 billion) and Equity Income Funds (-$21.8 billion) categories.
Figure 1 Macro-Group Net Flows ($Bil), 2014 vs. 2015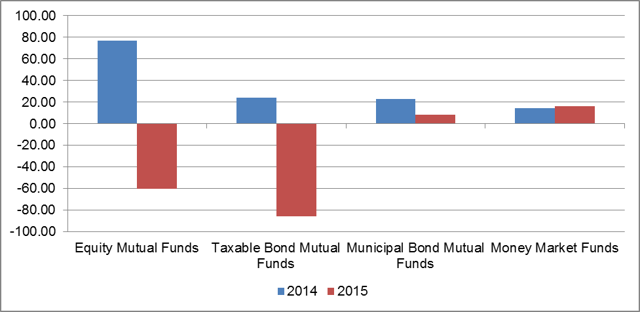 Source: Thomson Reuters Lipper