I had quite a busy weekend as I tried to find more oil and gas companies that were thrown out by investors in the past few months, and fortunately it looks to me as if there are some interesting gems out there, after being positively surprised by Northern Blizzard Resources (OTC:NBZZF). In this article, I wanted to dig a bit deeper into Enerplus Corporation (NYSE:ERF) as it has several oil and gas projects in North America, and therefore has the option to be quite flexible with its capex plans to invest in the oil (and gas) fields with the best returns.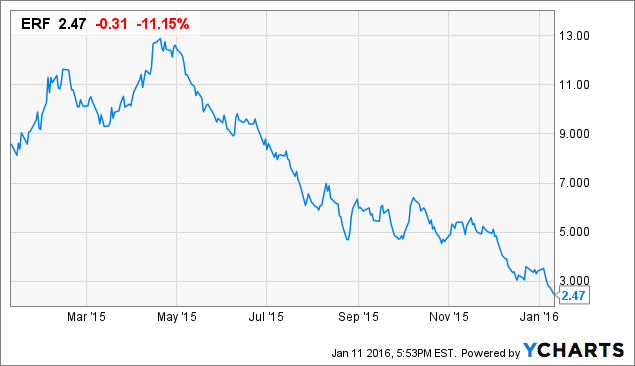 2015 Budget Has Been Slashed, but Enerplus Likely Won't Be Free Cash Flow Positive
Enerplus was able to increase its production rate in Q3 2015 after it had spent an additional C$89M in capital expenditures that were focused on oil production (the liquids account for approximately 45% of the total oil-equivalent output at Enerplus). This allowed the average production rate of the quarter to increase to in excess of 110,000 boe/day, which is a very decent production result compared to many other oil and gas companies.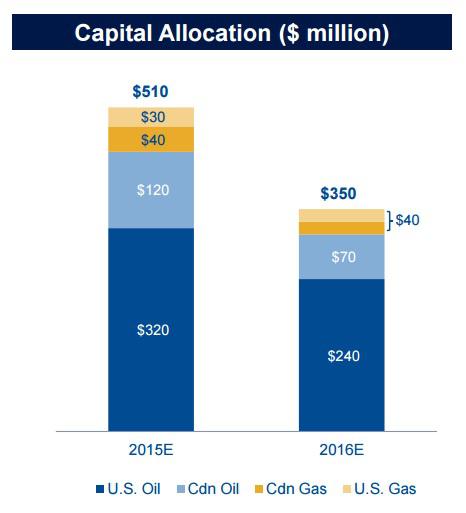 Source: Company presentation.
It's nice to see that Enerplus knows where to drill in order to increase its output again. But I'm cautiously optimistic about the company's plan to keep capex aligned with the current production rate, and only spend the amount of capex to keep the boe production rate stable.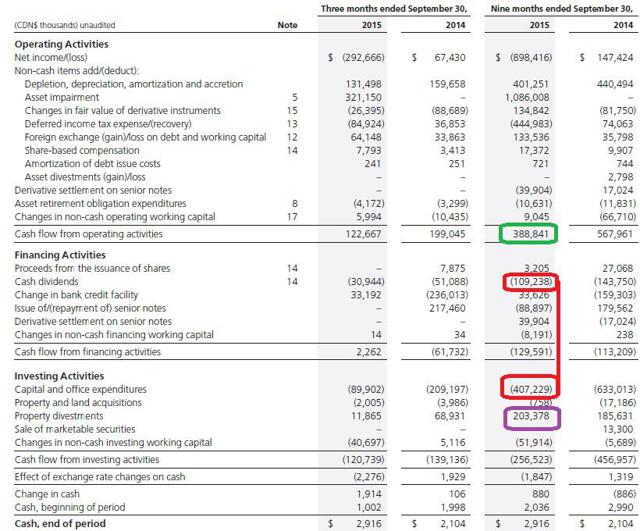 Source: Financial statements.
That's a wise decision, but more importantly, it's a necessary decision. I'd suggest you skip the income statement of Enerplus, which has been showing a sizable net loss of almost C$900M ($638M) in the first nine months of 2015 on the back of the impairment of an asset, partly countered by a tax recovery. In Enerplus' case, I don't care about the bottom line of the income statement at all, as everything will depend on cash flows -- how much can the company spend on drilling, and how much of the excess cash could be used to reduce the outstanding amount of debt?

Source: Press release.
And something indeed will have to be done, as Enerplus' operating cash flow in the first nine months of 2015 was just C$389M ($276M). While this definitely does sound like a very respectable amount (at least, as a nominal value), it was not sufficient to cover the C$407M ($289M) in capital expenditures, and most definitely did not cover the C$109M ($77M) in dividend payments on top of that. Enerplus had no other possibility than to start selling down some assets to raise the cash that essentially paid for the dividend. The fact that the dividend has recently been cut from $0.09/month to $0.03 wasn't just necessary: Enerplus is still paying more in dividend payments than it's generating in free cash flow. That's quite a deathly cocktail, considering the debt position of the company.
Another Capex Cut Promised for 2016, But Higher Oil and Gas Prices Definitely Needed
The capex reduction for 2015 was a good start, but definitely won't be sufficient to turn the ship around. I'm glad that Enerplus' management has indeed seen that additional measures were necessary, and the capex guidance for 2016 has been reduced to C$350M ($250M) (down from C$835M ($595M) in FY 2014). That's a big step, and Enerplus thinks it will be able to keep the oil and gas production rate stable by spending the US$250M in FY 2016.

Source: Company presentation.
That would be great because the reduced capital expenditures, combined with the strong hedge book for 2016, will go a long way in focusing on "damage control." Enerplus has hedged approximately a third of its oil production at almost $65/ barrel. Unfortunately, Enerplus doesn't really have any decent gas hedges in play, as less than 10% of the 2016 gas production has been hedged at a price of $3/Mcf. That's OK, and positive considering the current gas price, but the difference with Q4 2015 will definitely be felt as Enerplus had hedged in excess of 14,000 barrels of oil at almost $80/barrel and 36% of its gas production at a very nice price of $4/Mcf.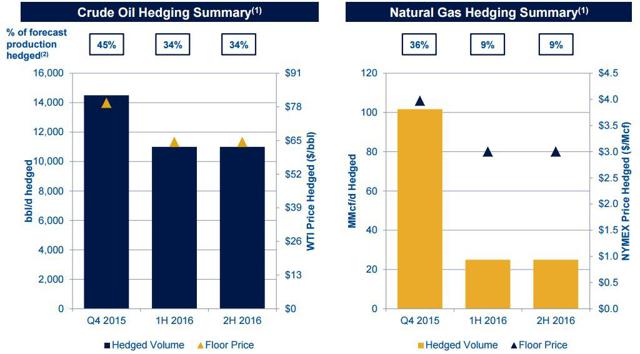 Source: Company presentation.
Will cutting the capex to C$350M ($250M) be sufficient to start reducing the debt? No, not a chance. As long as Enerplus continues to pay US$4.5M per month in dividends, there's no way the company will be able to repay any debt at the current oil and gas prices. The market definitely realizes this, and that's the main reason why it has sent the company's share price 87% lower in just 18 months.
Enerplus Has Quite a Bit of Long-Term Debt, But a Relatively Favorable Repayment Schedule
Enerplus had a total net debt of C$1.1B (US$800M) as of at the end of the third quarter. That's calculated as cash + deferred financial assets (which are the in the money hedges) - deferred financial liabilities and the long-term debt (including the current portion of the long-term debt). That's quite high, but it's reassuring to see that the long-term debt won't mature for another few years.

Source: Company presentation.
The repayment of the notes (which are unsecured) is very nicely spread out and the repayments remain very limited until 2020, providing Enerplus with quite a bit of flexibility. The company doesn't have to repay a dime in 2016 and just US$43M in 2017 and 2018, increasing to $64M in 2019 and $110M in 2020. That is a pretty nice repayment schedule and avoids a lot of balance sheet-originating frustrations. The situation would have looked completely different if Enerplus had to cough up a few hundred million in debt repayments in the current financial year.
On top of the long-term notes (which have an average cost of debt of 5.2%), Enerplus can also use use a line of credit of C$800M ($US$565M) (after Enerplus asked to reduce the size of the facility from C$1B (US$720M)) where it still can draw down an additional US$485M. As the credit facility is maturing in 2018, it shouldn't be a problem to draw down funds from the CF to repay the senior unsecured notes due in 2017 and 2018.
Investment Thesis
Is Enerplus headed toward bankruptcy? No, not yet. The company is quite fortunate to a) have a very decent financial flexibility with just minimal debt repayments coming up in the next three years, and b) the possibility to sell assets to raise the cash. It has recently closed the sale of some non-producing North Dakota assets for almost US$60M, and every million will obviously be welcome to reduce the net debt position and thus the interest bill.
There's no immediate danger (as the company's credit facility could be tapped to repay the unsecured debt when it's due), but it will be interesting to see how Enerplus deals with the current oil and gas markets as more asset sales will be needed if the oil and gas price doesn't recover. There's one thing working in Enerplus' favor: Its average decline rate at 19% is much lower than its competitors, so the company could afford to slash its capex once again by 50% and lose just 10,000 boe/day in production. And, yes, I must ask the company to please suspend the dividend -- thank you.
Disclosure: I/we have no positions in any stocks mentioned, and no plans to initiate any positions within the next 72 hours.
I wrote this article myself, and it expresses my own opinions. I am not receiving compensation for it (other than from Seeking Alpha). I have no business relationship with any company whose stock is mentioned in this article.