Introduction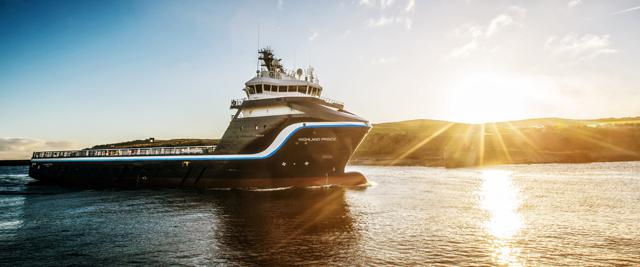 GulfMark Offshore (NYSE:GLF) is a marine and transportation services firm which serves the oil and gas industry in their offshore exploration and production projects. The company has a global operation, with 75 large vessels spread throughout the world.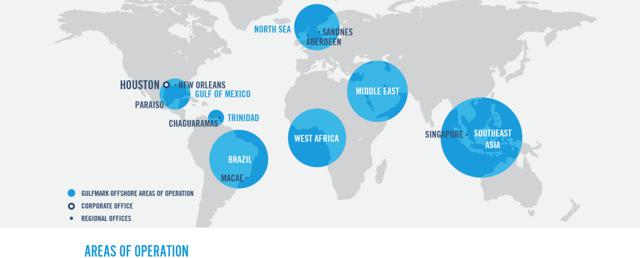 The company has seen its share price decimated since mid 2014, but a particularly sharp collapse has taken place since the turn of the year. I will argue that this decline is overdone and that the company is priced at a very attractive valuation for an investment.
Share Price Action
Below we have the chart of GLF from roughly mid-June to the present. We can see the stock has lost roughly 75% of its value in this time, in tandem with the price of WTI crude which has collapsed roughly 40% from its early summer rally. The price traded in a range between $4.50 and $6.50 recently for a couple of months and seemed to be finding a floor.
However in the last couple of weeks the share price has collapsed from $5.80 down to $3.16 in an almost continuous decline. I believe this decline to be sharply overdone and that the stock is due a sharp rebound. There are a number of reasons for this, which I will go into in greater detail below.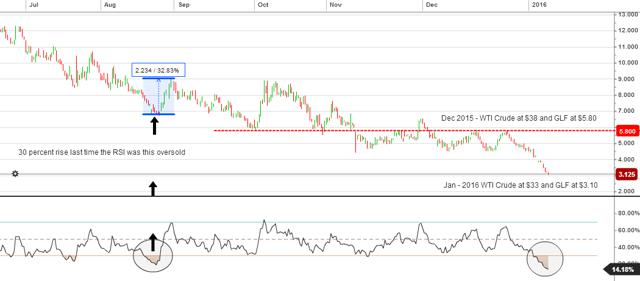 RSI
The stock has entered deep oversold territory based on the Relative Strength Index, testing a RSI level not since the August sell off. This can be seen in the two highlighted positions on the above chart. It is worth noting that the stock rose by more than 30% in quick succession the last time it was this oversold.
Share price reaction to crude prices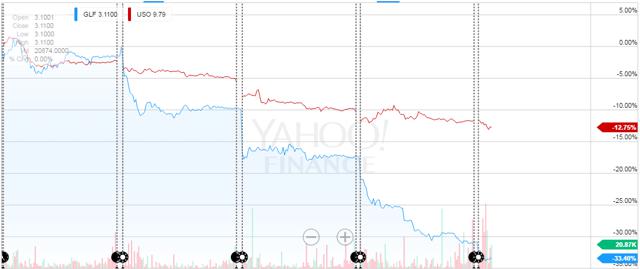 (Monday 4th January to Friday Morning 8th January)
I believe the above chart offers an excellent case in point in favor of a bounce back for the stock. Since the start of the year crude prices have decline by roughly 13% (I'm using USO for a comparison in the above chart). However GulfMark's share price has declined by a massive 33% in the same time frame. The stock has been experiencing some massive price swings on no company specific news or factors. The share price seems to be in control of day traders, this is most clearly shown from Thursdays price action. The share price declined by over 16% on this day alone despite WTI barely moving.
Deep Undervaluation
The company is now valued at just a fraction of its book value, while it continues to generate reasonable free cash flow in the current depressed environment. The companies major liability is $500m in bond notes which are not due until 2022. Other than this the company only has some outstanding cap ex ($61m for ships currently being manufactured) as a major financial obligation, and this will be cleared in 2016. Current liquidity stand at $280m, while they are cash flow positive and the only other remaining major financial commitment is six years away.
Despite GLF's rock solid security as far as the foreseeable future is concerned, they are currently valued at just 0.10 times book value (having just completed an impairment of over $103m last quarter). This is key as it bring us to our next point.
Large Short Positions
The company has a total number of shares outstanding of 24.76m. As of Dec 15th it is reported that 28% (6.89m shares) of the outstanding float is short. The continued declining share price since Dec 15th lets me assume that covering hasn't been occurring on a large scale. This is important for a number of reasons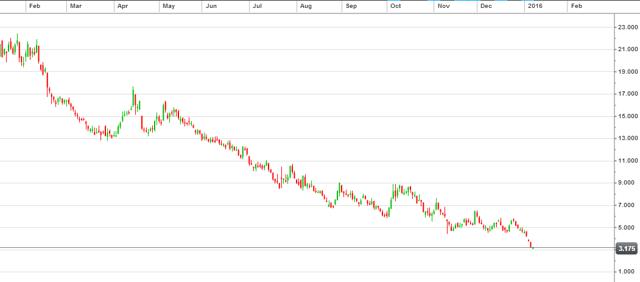 The above is the one year chart for GLF. Anyone who was short has cleaned up and gained considerable profits. In fact anyone who has been short has made money. It reached new lows for the year on Friday.
Now priced at just 0.10 x book value, the risk reward to a short position isn't justifiable anymore. There is a zero possibility of it going to $0.00 per share for many years at least.
If you've been short since $8 why put at risk a 60% gain on a highly volatile stock to gain an extra 10% on your position?
Borrowing costs are now 17% per annum.
William Martin of Raging Capital owns 20% of the stock (5.113m shares), he is also a large holder of senior notes and has recently joined the board. As a result I am assuming he plans to hold onto his shares for at least the short term.
Insiders own a significant amount of shares themselves. The CEO and three directors alone own 0.887m shares between them.
Including insider ownership and mutual fund ownership the short size may be as much as 35% or more of the available float.
With a daily average volume of roughly 530k shares per day it could be difficult for shorts to cover in a hurry.
Now I am not categorically stating a short squeeze is going to happen, but I believe there is enough here to facilitate a sharp rise from the current low. With such a large amount of the float short I fail to see why anyone was has been short would continue to do so and put their gains at risk. The borrowing costs, financial security of the company and limited further downside make this a very unattractive level to be short the stock. A large amount of covering could result in a sharp rise in the share price of the company.
Analyst Forecasts
Current book value stands at $31.18 per share. With a current share price of $3.16 we can see that we're currently priced at around 10% of book value. However the company has a few tough years ahead of it with continued GAAP losses on an EPS basis forecast.

We can see from the above that analysts are estimating an annual loss of $1.96 per share for 2016 and $1.55 for 2017. This is going to have the effect of reducing book value significantly over the next two years as shown below.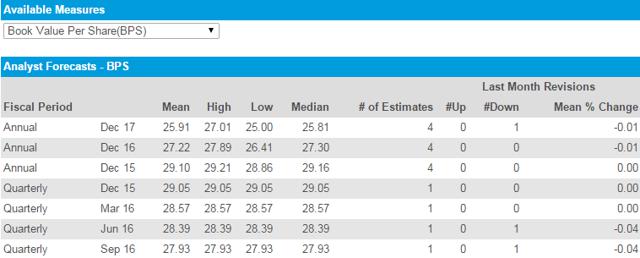 With a mean average for 2017 book value of $25.91 we can see that even after two years of heavy losses the company will still be heavily undervalued on a BV basis.
A key point I want to stress is the cash generation ability of the company, even during this drastic downturn. The company has managed to continue to be cash generative by cutting costs in tandem with falling rates. The high variable cost associated with the business ensures cash costs (excluding interest repayments) continue to drop alongside revenue.
Our main aim is to remain free cash flow positive each quarter of the downturn by swiftly making required adjustments to variable costs and working with our shipyards on remaining capital commitments.
CEO Quinton Kneen (Q3 Earnings Call - via Seeking Alpha)
This is one of the key factors in how the business has been able to continue paying its interest repayments while simultaneously generating excess cash. Below we have the EBITDA forecast for 2016 and 2017. With interest expenses coming in just below $32m per annum on the $500m notes and with depreciation being a non cash cost, we can see that the business will be roughly cash neutral in 2016 before returning to cash generation in 2017.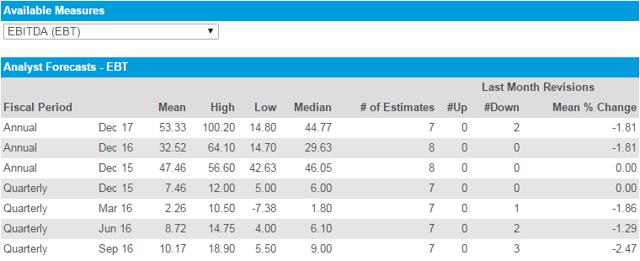 Of course the cash on hand and credit revolver provide the company with liquidity of $280m, which offers a huge cushion against these estimates, should operations start to consume some cash. With EBITDA coming in at $53m in 2017 and interest repayments about $32m, we can see that the company could be generating as much as $20m in cash from operations. Based on the current market cap of $81m that leaves us valued at just 4 times 2017 cash flow.
We are forecasting we're going to be cash flow positive in each quarter
CFO Jay Mitchell (Q3 Earnings Call - via Seeking Alpha)
Key Insider Purchases
Gulfmark's CEO purchased almost $200,000 worth of shares as recently as November at prices between $4.84 and $5. This is clearly a very bullish sign and signals clear undervaluation. Martin William gained a seat on the board on the 9th December. Just three weeks later (Dec 30th) he bought an additional 20,000 shares at an average price of $4.84. Now, less than two weeks later, the share price is more than 30% cheaper.
Price Targets
With 2017 book value estimated to be somewhere between $25 and $27 (down from the current $31) I believe the current share price is vastly undervalued. That said, the company is involved in a capital intensive business which is strongly subjected to commodity prices. The offshore industry is also the most costly method of oil production and exploration, and will therefore be the slowest to benefit from rising oil prices.
The 2022 notes will also have to be repaid, which will require another issuance. This subjects the company to vulnerability from oncoming rate increases. As such I believe the shares should trade at a significant discount to future book value estimates.
Applying a multiple of just 0.2 x future book value applies a share price value of $5.20, upside of roughly 65% from my entry price of $3.16. Applying a multiple of 0.40 times BV gives a per share valuation of $10.40, upside of well over 200%.
While these gains may sound extreme, one must remember that the share price was $5.60 just over two weeks ago. There has been no company specific news in the intervening time. The share price was also above $10 less than six months ago.
The analyst community who follow the company have a wide range of price targets, but all of which point to deep undervaluation. The lowest price target amongst the seven analyst who follow the company is $5.50, slightly above my 0.2 x future BV.

Conclusion
I view this as a safe way to play a recovery in oil prices over the medium term (5+ years if needs be). With very few cash obligations due until 2022, a large amount of liquidity, cash flow positive performance and having bought at just 10% of book value I see very limited downside from this point for anyone who holds with a multi-year timeframe. I believe the share price could reach $5 again in a short space of time, and that it could go considerable higher over the medium to long term.
Disclosure: I am/we are long GLF.
I wrote this article myself, and it expresses my own opinions. I am not receiving compensation for it (other than from Seeking Alpha). I have no business relationship with any company whose stock is mentioned in this article.
Additional disclosure: Long the common stock at $3.16. Also long Feb 2016 $5.00 Calls
Editor's Note: This article covers one or more stocks trading at less than $1 per share and/or with less than a $100 million market cap. Please be aware of the risks associated with these stocks.