Whenever trends change, investors are forced to ask whether the change is a temporary "blip" or whether it's a change of direction. As of January 2016, railroad investors are forced to address this question head on. Rail traffic during 2015 slowed dramatically from 2014, down 15.6% from December 2014 to December 2015. This is in spite of the fact that the winter of 2014-2015 was generally more mild than the winter 2013-2014. In this article, I want to comment briefly on each of the business segments at Union Pacific (NYSE:UNP) and point out that for investors with a long-term horizon, the bullish thesis remains intact. For those who have a time frame less than 3 years, they should not buy the shares and should probably have never owned them.
A Response To Bears
Much has been made of the fact that Union Pacific's business has dropped in 2015. This captures only one half of the analysis, though. It's true that traffic volumes are down, but so are the share prices for railroads. The traffic volumes at Union Pacific are down, but the P/E multiple is also down about 40% (from a P/E of around 21 in January 2015 to a P/E of 12.8 today). It's plain that the business suffered in 2015, but the share price reflects that drop in business. Anyone considering buying the shares at these cheaper prices has to tangle with one question: Were reduced volumes in 2015 a "blip" or are they the shape of things to come. In this article, I'm going to try to answer this question.
Demand For Agricultural Products
It's impossible to forecast year-to-year variability in agricultural demand, though the market never stops trying. Over a long timeline, though, agricultural demand is expected to grow a great deal. With global population reaching 9 billion people by 2050, and the population of the United States expected to hit about 362 million by 2045, the long-term demand for agricultural product transportation is expected to be good. There will be some short-term variability in this demand, as farmers may keep more products in silos in order to seek better prices, but over a longer timeline, demand equals population growth and population growth is expected to be robust.
Agricultural products represented 16% of Union Pacific's operating revenues in the first 9 months of 2015. As demand rises, I expect this business unit to grow.
Chemicals
The chemical business dropped in 2015, with a reduction in both fertilizer and crude oil. I believe the demand for both of these, particularly fertilizer, will improve over the next five years. The nature of the business is such that farmers need to sell crops to pay for next year's crop (good for shippers) and they must buy and transport fertilizer in order to plant those crops (good for shippers). Farmers can postpone these shipments to some extent, but it's impossible to delay them long term. I'm forecasting a 1% growth in the chemical business, based on improved fertilizer demand and continued softness in crude oil shipments.
Industrial Products
This segment consists of steel, lumber, frac sand and the like and saw some poor demand in 2015. For the nine months ending September 2015, industrial products represented about 17.8% of operating revenue (18.5% of operating revenue in 2014) and is a play on housing and energy in the United States. Although core pricing improved, lower volume and lower average revenue per car harmed this division. The primary culprits were a decline in frac sand shipments and steel shipments related to lower demand from oil wells. Low prices for lumber also harmed demand, but this may improve over the next five years.
Over the long term, I believe the increased population in the United States will improve the demand for housing product, so I'm modeling an increase in this business of about 2% over the next five years. I'm also reminded that investors have been proven wrong very often when trying to predict the short term price of oil (remember $200 dollar oil is "inevitable?"). For that reason, I think the best way to model the industrial products business is to link it to overall economic growth. Some years it will be more. Some years it will be less, but for a long-term investor, this segment should match economic growth. I think any investor who focuses on the short term here is doing himself a disservice, as the long-term trends for oil and for housing are still fairly good in my opinion.
Intermodal
Intermodal has to be divided into two sections: domestic and international. Domestic intermodal is doing relatively better than international.
The situation of international intermodal is complicated by a couple of factors. First, 2014 is a particularly bad year to be compared to. Shippers pushed up the dates of their shipments in anticipation of west coast strikes, so it should be reasonable to assume a short term drop from there. At the same time, softness in China and the rise in the price of the US dollar is bad for exports and could drastically reduce international intermodal traffic. I'm modeling a flat international intermodal business over the next three years.
Domestic intermodal volume was actually up 1% in the first 9 months of 2015 compared to 2014. The low cost of fuel has made truckers more competitive than rail, as fuel makes up a much bigger percentage of the costs to a trucker (so truckers benefit much more when fuel prices drop). In my opinion, this is a short-term blip for a few reasons. First off, the price of fuel is likely going to rise over time. Secondly, in the face of fuel tailwinds for truckers, Union Pacific managed to continue the trend of converting traffic from the highway to rails, calling into question the impact of low fuel prices. Lastly, there are problems that the trucking industry faces that won't be solved with lower fuel charges. Therefore, the long run demand for domestic intermodal is expected to be good in my opinion.
Demand For Coal
With low natural gas prices, coal demand will probably continue to fall. The coal that Union Pacific hauls out of the Powder River Basin may be less impacted by this, but it's safe to say that coal's best days are behind it. Coal represented fully 15% of operating revenues for the first 9 months of 2015. Coal represented 17% of operating revenues in 2014, so it's becoming less important a commodity. It's obviously still a problem, but the decline of coal is nothing new to the markets. The decline of coal was probably priced in last year and is priced in now.
Risks: Automotive
This may be a large risk for investors, as the automotive business was the single "bright spot" for Union Pacific in 2015. The demand for automotive was very strong in 2015, but I consider this to be a blip. Since 2015 broke the sales record set all the way back in 2000, it's reasonable to suppose that auto sales are cyclical. For that reason, in my opinion, automotive may actually disappoint in the next few quarters. I'm modeling an automotive business that is flat for the next two quarters and down about 5% after that and 10% after that.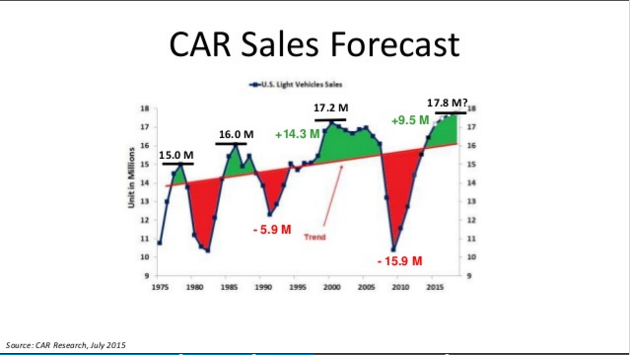 Conclusion
2015 was a challenging year for Union Pacific for two reasons. First, it was placed relative to a very good 2014, making comparisons challenging. Second, the volume of commodity shipments dropped, in some case dramatically. I'm somewhat optimistic that 2015 will make 2016 look better. At the same time, short term softness in coal, oil and exports impacted by the strong U.S. dollar will continue to be soft. At the same time, I don't believe the market is taking the risk of automotive slowdowns seriously enough. This is a major risk for Union Pacific in 2016.
All that said, the shares are priced quite inexpensively (the last time they were at these multiples was in June of 2009, just at the end of the financial crisis) and any bad news has already been priced into the stock. Investors who have a time horizon longer than three years should buy this company, knowing that the business may suffer some bumps, but is growing along with the economy. People who are concerned more about short term price movements as the market reacts to news should avoid the shares. The price of a major commodity (NYSEARCA:OIL) is too unpredictable in the short term.
Disclosure: I/we have no positions in any stocks mentioned, but may initiate a long position in UNP over the next 72 hours.
I wrote this article myself, and it expresses my own opinions. I am not receiving compensation for it (other than from Seeking Alpha). I have no business relationship with any company whose stock is mentioned in this article.