In my previous articles, I described my efforts to develop a portfolio of about 40 stocks that would produce a greater income stream than the annual required minimum distribution "RMD". I have continued to adjust this portfolio with an eye to reducing risk while maintaining a goal of 5% income. These adjustments include taking advantage of lower stock prices and eliminating some stocks with greater perceived risk. This process will likely continue for several more months as I bring an additional IRA holding currently invested in a balanced mutual fund.
Although the generally accepted investment advice is for retirees to invest at least 50% in bonds, I believe that the bull market in bonds is finally over and buying long maturity bonds is riskier than buying carefully chosen stocks. And short-term securities pay so little, inflation wipes out that income. When I was in my 30s, cash was king; you could earn 18% in money markets! Rates were so high it was worthwhile to wire even a few thousand dollars to your MM mutual fund to earn interest for a few additional days. So now that I'm retired I get to earn 0.1% on money market cash. You can't win.
One of my biggest disappointments recently was the major dividend cut in Kinder Morgan (NYSE:KMI). I even wrote an article that was bullish on this company, and I have to eat crow after writing that article. I still think it is a good company, even though I now think we were sold a key to the pitcher's box by management who had previously given assurances of maintaining the dividend. Those people who raised a red flag over the level of debt incurred by KMI were certainly correct, and I have learned to place greater emphasis on a company's debt level.
I should emphasize that this portfolio is a work in progress. Some of my stocks remain from my investments prior to retirement, when I included micro-caps and momentum stocks in my investments. In addition, I have a rollover IRA remaining that is in a target 2015 balanced mutual fund. As soon as I determine the stocks to buy, I will bring this IRA into the main group and reinvest it. So, do not consider this to be a recommended portfolio; it is incumbent on you to perform due diligence on each investment.
One of the investment ideas to increase income is to write covered options. I usually do not have enough cash to write covered puts, although I may consider this at a later date. Some authors suggest writing cash covered puts at a price you wish to buy. If the stock drops to that point, you get to buy it at your price while keeping the put premium. Usually if I decide to buy a stock, I do it. Perhaps I need more patience. Successful option writing is dependent on the market direction as well as choosing the right stocks. Last year I did very well with covered call writing on Delta Airlines (NYSE:DAL) that was in a slow decline for much of the year. But at the same time writing calls on Apple (NASDAQ:AAPL) resulted in slightly better than break even. Stocks that trade in a range are the best bets, or if the market is in secular decline. As stock prices go up, you will lose money on covered calls. And, if the call is in the money, your stock will probably be sold.
Another suggestion is to include a small percentage of your portfolio in growth stocks, although I have a bias against stocks that pay no dividend at all. Total yield in some issues will be greater than dividends alone. A company paying 1.5% but with a record of 6%-8% growth is going to outshine a stock like AT&T with a 5% dividend but very little growth.
And that brings up another point: Don't sell because of bad news causing a drop in price (although I have to keep reminding myself of that point when it comes to Kinder Morgan.) Some authors say to sell only if the dividend drops. But you have to consider the capital loss; remember, the number one rule is not to lose money! I'm still holding NLY and AGNC on the books at a loss, although the dividends have more than made up for that.
REITs are the backbone of my portfolio. One Seeking Alpha author I particularly appreciate who specializes in REITs is Brad Thomas; I have not read poor advice from him in the past two years. I noticed that he recently raised the percentage of REITs to 20% in his overall portfolio. Before this past week I was at 28% REITs, but since many of these have actually gone up, it's now nearly 30%. But diversification is very important; I'm in the process of reducing that percentage by adding to other sectors. My current sector percentages:
| | |
| --- | --- |
| ENERGY | 5.6% |
| TECHNOLOGY | 2.9% |
| REIT | 29.6% |
| UTILITIES | 15.5% |
| CHEM/DRUG | 9.6% |
| INDUSTRIAL | 6.1% |
| COMMUNICATION | 9.3% |
| FINANCIAL/BANKS | 8.3% |
| VOLATILITY HEDGE | 1.0% |
| CASH | 3% |
| | 100% |
I plan to add consumer staples and/or discretionary soon.
One of the most important points that I should emphasize is keeping each holding below 5%. And any stocks that show higher volatility should be kept much lower. Case in point: KMI in my portfolio was less than 2% even before the sell-off. Checking historical volatility should be one of the due diligence items you review before purchasing.
Still one more area to consider is preferred stocks. I won't buy any preferred that I would not buy the common; you need to do your research on the common. Most active preferreds have a par value of $25; I don't buy over that price because if the issue is called in, you will get $25 per share, not what you paid for it. One thing that is very nice -- the company must pay the preferred before the common. They can cut the common dividend but will often still pay the preferred dividend. Note that preferreds listed as non-cumulative will not pay the dividend in arrears if it is skipped. I'm currently finding it difficult to find any preferreds of solid companies below par. There are some preferreds with a par value of $50, $100, or even $1000, but most trading in these is illiquid. The bid-ask spread will kill you even if you can find the shares for sale. Preferreds are 10% of the whole portfolio, but I hope to increase that percentage.
Here's the current listing of stocks including those that were sold since November 23. The current yield of this make-up is 5.2%. I sold some BDCs to decrease my exposure to that industry; a couple of other stocks that had yields below 3% and were showing a profit were also sold. Purchases included more Wells-Fargo preferred, AT&T (NYSE:ATT), Cummins (NYSE:CMI) and Exxon Mobil (NYSE:XOM).
One more minor point -- I bought 200 shares of VXX, the issue that follows the future value of the volatility index. It is strictly a trial for the purpose of hedging; VXX goes up when the market drops. I already made a profit on 100 shares last week when the market tanked. I guess I'm still a trader at heart. I felt I could risk 2%, and 22% return in six weeks ain't bad! But don't hold this for long because the general long-term direction is always down.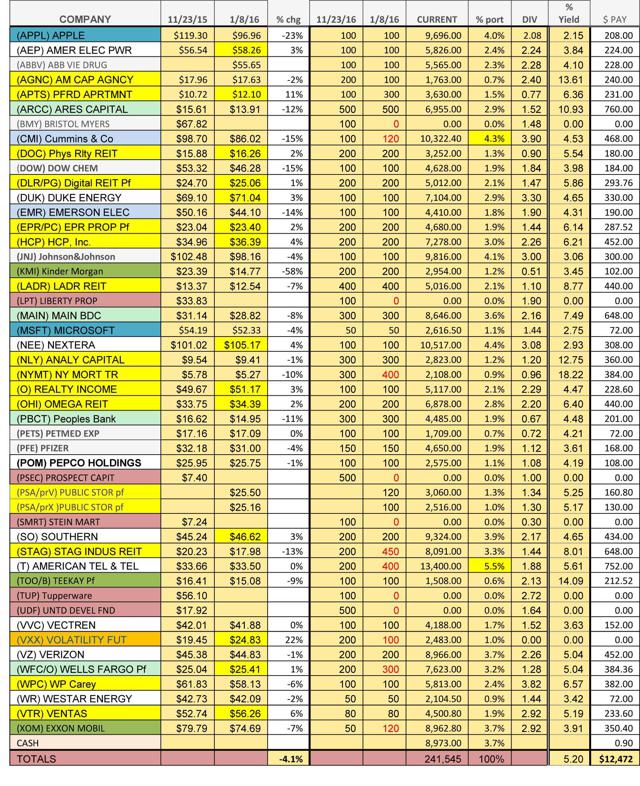 Disclosure: I am/we are long AAPL, AEP, AGNC, APTS, ARCC, CMI, DOC, DOW, DLR, DUK, EMR, EPR, HCP, JNJ, KMI, LADR, LPT, MAIN, MSFT, NEE, NLY, NYMT, O, OHI, PBCT, PETS, PFE, POM, PSEC, SMRT, SO, STAG, T, UDF, VVC, VZ, XOM, WFC, WPC.
I wrote this article myself, and it expresses my own opinions. I am not receiving compensation for it (other than from Seeking Alpha). I have no business relationship with any company whose stock is mentioned in this article.