2016 is turning out to be very, very bad for crude oil. In fact, so far this year, crude oil prices have already taken a huge hit and have declined to almost $30 per barrel from around $37 per barrel at the beginning of the year. As a result, oil and gas companies such as Marathon Oil (NYSE:MRO) have seen a massive decline in their stock price already this year. In fact, Marathon is down close to 25% in 2016, which is not surprising given the mayhem in the crude oil industry.
But, the question that investors should ask at this point of time is whether or not Marathon is well-equipped to overcome a period of prolonged weakness in the oil patch. Let's find out.
Conserving cash is the right thing to do
No oil company would like to invest in production growth given the situation in the end market. Rather, they are deferring such investments and selling off their inefficient assets. As such, it is not surprising to see that Marathon Oil has announced that it will sell off a majority of its Gulf of Mexico assets for $205 million.
The company has already sold its non-core assets in East Texas, North Louisiana, Oklahoma, and East Africa, as a part of its divestiture target of at least $500 million. Further, harsher measures such as headcount reduction and minimizing the dividend distribution are being taken across the industry. Marathon is no different as it will be saving more than $425 million in annual cash outflow by cutting the quarterly dividend from $0.21 per share to $0.05 per share.
Now, these tough steps are important for Marathon as the company has seen a massive decline in its operating cash flow in the past year, as shown below: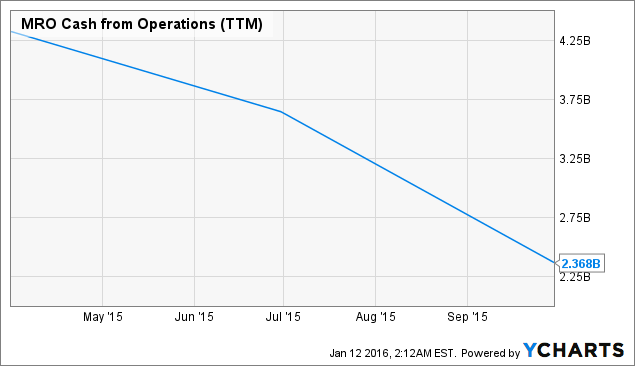 MRO Cash from Operations (NYSE:TTM) data by YCharts
As such, by reducing the dividend and selling off non-core assets, Marathon will be able to arrest the slide in its cash flow to some extent. Additionally, the company has been consistently reducing capital expenses. The company had lowered its third quarter capital, investment, and exploration program by about 7% sequentially.
As a result, its investments in the capital program were $623 million in the third quarter, and will be limited to $3.1 billion for the full year, a reduction of $200 million from the actual plan for 2015. The following chart clearly shows the reduction in Marathon's capital program this year: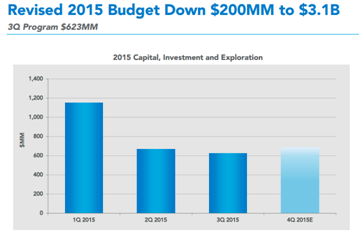 Source: Marathon Oil
What's more, for 2016, Marathon plans to cut capital spending to $2.2 billion, a decline of almost 30% from last year. More importantly, almost 75% of its savings will be driven by assets such as the Bakken, Eagle Ford, and the Oklahoma Resource Basin, where the cost of production is low. Let's take a closer look at how these assets are driving value for Marathon.
Cornerstone assets will help Marathon do well in the downturn
Marathon's Bakken, Eagle Ford, and the Oklahoma Resource Basin plays carry low costs of production but higher efficiency. For instance, in the last reported quarter, Marathon was able to slash its expenses by significantly high percentage points due to these assets. Its consolidated E&P production expense was 30% below the levels a year ago. More specifically, the cost per oil equivalent barrel was down 27% compared to the third quarter 2014.
This impressive cost reduction can be attributed to the fact that Marathon has the highest drilling efficiency in the Eagle Ford, as shown in the chart given below: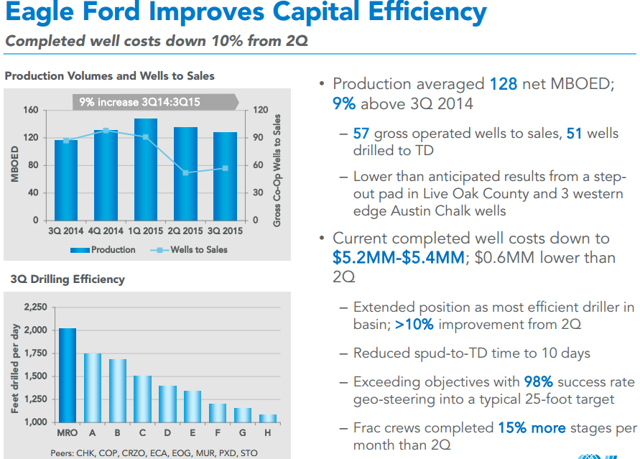 Source: Marathon Oil
Now, the company has been able to achieve this level of drilling efficiency on the back of its focus on drilling longer laterals and increasing the number of stages, which ultimately lead to lower drilling and completion costs. In fact, Marathon management believes that at $50 per barrel, the company will be able to 70% of its inventory at a profit. Of course, current oil pricing is way below that standard, but the rate at which Marathon has been able to reduce its costs and is focused on reducing expenses, it should be able to weather the weakness in the end market.
In fact, as shown in the chart given below, Marathon was able to increase its cash balance on a sequential basis due to better operating cash flow and asset disposals, and as the company will be lowering capital expenses and divesting more assets, it will be able to sustain its cash position going forward.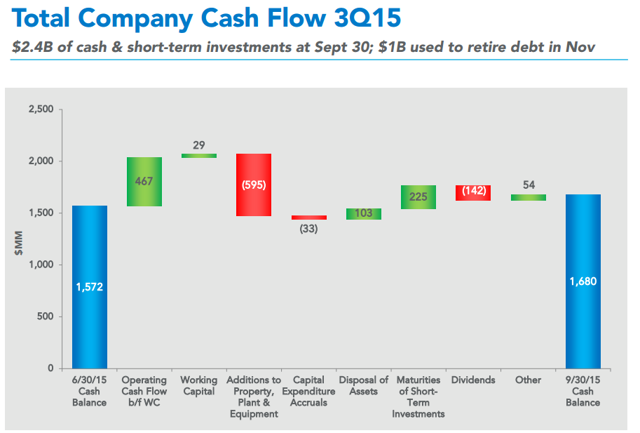 Source: Marathon Oil
Also, as shown above, Marathon used a sizable chunk of its cash flow to retire its debt, which is the smart thing to do since it will bring down its interest cost.
Conclusion
Marathon Oil has been able to maintain its liquidity despite difficult market conditions, where its average realized price has fallen 47% year over year to $29.43 per BOE, including declines of 53% for liquids, 24% for gas, and 55% for oil sands. This is because the company has been successful in driving down costs by improving efficiency and reducing activity.
All in all, Marathon Oil is taking prudent actions in terms of asset sales, dividend reduction, and lower capital expenses. Therefore, it will most likely survive the present oil scenario, and when things get better, a lower cost base will aid margin growth.
Disclosure: I/we have no positions in any stocks mentioned, and no plans to initiate any positions within the next 72 hours.
I wrote this article myself, and it expresses my own opinions. I am not receiving compensation for it (other than from Seeking Alpha). I have no business relationship with any company whose stock is mentioned in this article.