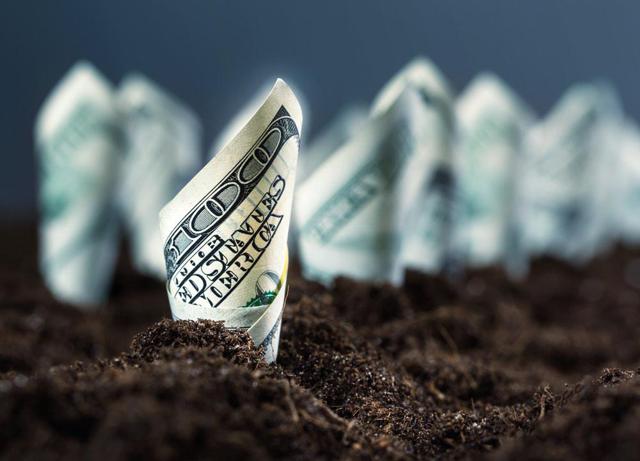 So far 2016 has been a rough year for most shareholders as the broader market had one of its worst starts in U.S. history. But among the carnage, some dividend value stocks have become even cheaper and are now worth consideration by long-term investors.
An mREIT for rising rates
After an early 2015 rally, New Residential Investment Corp (NYSE:NRZ) had a rough second half of the year. Lumped in alongside the other rate-hike-fearing mREITs, New Residential's share price tumbled back down to close lower for 2015.
But unlike most mREITs, New Residential is designed to benefit from rising rates. The company owns mortgage servicing rights, or MSRs, that tend to increase in value when interest rates rise since the risk of prepayments falls. Worth noting is that New Residential also owns call rights which, while having the potential to deliver significant profits to the company, are likely to fall in value in a rising rate environment. Fortunately for new investors, the market is largely ignoring these call rights in valuing the company so a decrease in their value should not materially affect the share price.
In 2016 New Residential has not been immune to the market decline and is 5.1% lower year to date. For income investors this only makes the stock more attractive as the dividend yield has risen to nearly 16%.
Risks
Like all investments, New Residential is not without risks. In the short-term, a key risk is that the market will continue treating the company like another mREIT and shares will fall during both market downturns and rising rate periods. Provided that nothing fundamentally changes, long-term investors may want to use these dips to accumulate shares given that New Residential should actually benefit from rising rates.
The company also faces a risk in how it is managed. New Residential is a permanent capital vehicle of Fortress Investment Group (NYSE:FIG) and Fortress earns greater management fees if it manages more assets. This could encourage Fortress to issue additional New Residential shares to increase assets under management or refrain from share buybacks even if they would be accretive to New Residential shareholders. While this does remain an ongoing risk, there was a positive sign in December 2015 when another permanent capital vehicle from Fortress, New Senior Investment Group (NYSE:SNR), announced a $100 million share buyback. It remains up in the air whether such action would ever take place at New Residential but it would certainly be a positive catalyst for the stock.
Big bank on sale
The early 2016 market decline hit financials particularly hard pushing Bank of America (NYSE:BAC) shares to near the low-end of their range. Shares are now down nearly 10% this year on the back of Fidelity ending a partnership with the bank, fears over global economic growth, and concern that weakened growth could delay further Fed rate hikes which are generally considered to be beneficial to big banks.
Although there are still some notable positives for Bank of America. Interest rates are expected to move higher as the Fed is eager to raise rates in order to have ammunition to fight a future slowdown. Such rates increases, even if delayed, should help the bank boost its net interest margin and grow overall profits.
Bank of America will also face another round of stress tests in 2016 as it submits a new capital return program. After stumbling in both 2014 and 2015, a clean pass could bring some investor confidence back to the bank. Investors will also get a look at the capital return program which could include raising its dividend to more competitive levels and/or boosting its buyback program to take advantage of its discount to book value.
Ultimately, Bank of America is a long-term play for dividend investors with a relatively small yield of 1.5% right now but significant potential for increases as EPS rise and the allocation of shareholder capital returns changes.
Risks
Banks are often proxies for economic health and Bank of America's profits are likely to rise and fall with American economic growth. Challenges including worldwide growth, the effect of rate hikes, and a stronger U.S. dollar could all put pressure on the U.S. economy which would, in turn, impact Bank of America. On the other hand, much of the current economic concerns are coming from emerging markets and more specifically China. As a domestically focused bank, Bank of America has less exposure to these markets than some of its rivals including emerging markets player Citigroup (NYSE:C). This should help Bank of America weather more localized emerging markets downturns although it could still feel the pinch if the troubles spread to the U.S. economy.
Monthly dividend airline
Few investors would look to airlines as a source for dividends but Chorus Aviation (OTC:CRHVF) (TSX: CHR.B) is not an ordinary airline. Chorus sells regional flight capacity to Canada's largest airline, Air Canada (OTCQX:ACDVF) (TSX: (AC)), through pre-defined contracts allowing Chorus to develop a far more stable income stream than a typical airline.
Currently, Chorus Aviation shares trade for C$5.46 (US$3.85) and pay a monthly dividend of C$0.04 (US$0.028) giving the shares a yield of 8.8%, well above the small yields from most major airlines. With shares down 3.2% this year, Chorus trades for only 6.0x est. 2016 EPS and 5.7x est. 2017 EPS giving it a low valuation even for an airline.
Risks
Chorus' generates over 95% of its annual revenue from the sale of capacity to Air Canada. Because of this, Chorus would stand to lose a significant portion of its revenue if Air Canada was unable to honor its contract or switched to a different airline to provide capacity. The current contract with Air Canada runs until 2025 and both carriers seem to have a working relationship that is likely to result in a contract to continue. In the past, Air Canada has opted to continue working with Chorus despite legal disputes that sent the airlines to arbitration. At this point I believe it's in both Air Canada's and Chorus' best interests to continue their partnership since both carriers have aligned their networks to function with one another. However, if this relationship degrades or Air Canada decides to go with a different carrier despite the current benefits of working with Chorus, it could have a significant impact on Chorus' revenue and shareholders should be aware of this risk.
Additionally, if Air Canada were to face bankruptcy the contract may be tossed out or revised and Air Canada may restructure away from Chorus. Currently Air Canada is producing record profits as it expands internationally and cuts costs and its ultra-low valuation makes me bullish on the stock. But Air Canada is not without risk. It still faces competition from WestJet Airlines (OTC:WJAFF) (OTC:WJAVF) (TSX: WJA) and discount start-up airlines would could pressure prices and eat into margins. A prolonged economic downturn could also hurt travel demand and consequently shrink ticket sales. Despite this, Air Canada's restructuring and expansion have greatly reduced the risk of bankruptcy through a lower cost structure and geographic diversification. Additionally, the Canadian government is likely to help Air Canada avoid liquidation due to the national need for air travel and the number of jobs at stake.
U.S. based investors should also take currency movements into account when investing in Chorus Aviation. Shares of the airline primarily trade on the Toronto Stock Exchange and earnings and dividends are in Canadian dollars. Consequently, an investment in Chorus is also an investment in the Canadian dollar. This makes Chorus a rare airline in that U.S. based shareholders could benefit if oil prices rebound since oil prices and the Canadian dollar are highly correlated.
Takeaway
The recent market downturn has provided opportunities to grab attractive dividend stocks on the dips. Whether its the current dividends from New Residential and Chorus Aviation or the dividend with room to grow from Bank of America, this dip in the market has pushed dividend yields higher giving income investors much to consider.
Disclosure: I am/we are long ACDVF, NRZ, AND MAY ADD TO NRZ IN THE NEXT 72 HOURS.
I wrote this article myself, and it expresses my own opinions. I am not receiving compensation for it (other than from Seeking Alpha). I have no business relationship with any company whose stock is mentioned in this article.
Additional disclosure: The author does not guarantee the performance of any investments and potential investors should always do their own due diligence before making any investment decisions. Although the author believes that the information presented here is correct to the best of his knowledge, no warranties are made and potential investors should always conduct their own independent research before making any investment decisions. Investing carries risk of loss and is not suitable for all individuals.
Editor's Note: This article discusses one or more securities that do not trade on a major U.S. exchange. Please be aware of the risks associated with these stocks.