In the last 10 days, I attempted to highlight the most obvious and glaring fundamental flaws within the sell-side analyst investment ratings suggesting long-term investment in Fitbit (NYSE:FIT). My main contention, and after speaking and disseminating advanced analytics to many an institutional investor, for holding shares of FIT in a long-only portfolio was the simplicity of its business model that was centered on sales of non-essential goods. Additionally, and as the marketplace hyped the potential for Fitbit to garner additional technologies for diversification of the product line, I scoffed at this notion. It is relatively uncommon for a company of this specification to be able to branch out into other capabilities. Certainly, Apple (NASDAQ:AAPL) is an example of greater product portfolio development, but keep in mind that Apple was on the verge of dissolution prior to the turn of the century. The decades that came and past finally allowed Apple to recognize greater diversity in its business, but not before several years of failure and shareholder suffering. So if one compares Apple to the likes of Fitbit, be sure to include the full scope of what Apple and its shareholders went through over the years.
My first publication regarding Fitbit and its business model titled, "Fitbit's Total Addressable Market Hype May Leave Investors With Disappointment" proved accurate and noteworthy. The stock plummeted shortly after publication. Capital Ladder Advisory Group (for whom I formerly was employed by) received dozens of email requests to speak with me alongside achieving new relationships as the analysis within the aforementioned article was unlike anything previously disseminated regarding Fitbit. By advancing the factual representation of how investors view non-essential good sellers, many investors were better able to understand the likely scenario for which FIT shares would trade over time. But Fitbit's CEO and staff who apparently read my works here on Seeking Alpha did not equally appreciate this dissemination of facts.
I travel the world extensively. It's just part of a research analyst's job in research and data gathering. I speak with management for hundreds of companies and on the part of clients and wealth managers. This past week, I attended the Consumer Electronics Show, which featured some of the biggest names in technology and consumer facing goods.
It was unfortunate to witness a duplication of what I saw last year. At last year's CES show, there were at least 30 different GoPro (NASDAQ:GPRO) like companies showcasing their action cameras. This year there were four. This year, there were 58 fitness tracker and smart watch companies showcasing their Fitbit-like products. So the question that does really remain is, "How many will there be next year?" And it happens every single year at the CES show; it's called follow the leader, and emphasizes a peak in the application of a product segment. In layman's terms, it's a good indicator of a saturated category. But back to Fitbit's CEO and the company's staff in attendance at the Fitbit platform.
At the CES show, participants are asked to wear a lanyard nameplate to indicate affiliation. Three categories identify your participation at the event; exhibitor, media and buyer. As an analyst, I always participate as "media" although my affiliations are attached to many exhibitors. Upon entering the Fitbit platform, I went right to the new "Blaze" product. It's so bad, so unnecessary and highlights the company's inability to innovate beyond its core competency. The product itself is seemingly more advanced than its predecessors, but for many of those advanced functions, like text and calls, you have to actually have your phone with you to do anything with the data on your Blaze. It's not an opinion to suggest that if you still need your cell phone the Blaze renders itself obsolete, it's actually a factual representation. It's part of the reason sales for the device post pipeline build will not achieve positive comps long term and on a YOY basis. GoPro's iterations and/or improvements upon its latter models are a perfect example of useless upgrades that do not offer greater utility to consumers. They purport to do so in theory, but in practice it proves futile.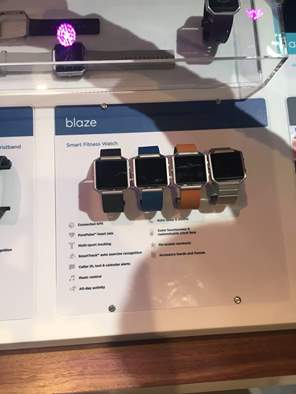 In articulating to the sales rep the redundancy of technology and applications between the Fitbit and a smartphone, the rep recognized this perspective, but attempted to advance the other features. After I presented several analytical brick walls in the discussion with now two representatives participating in conversation with myself, CEO James Park entered the conversation. With a polite chuckle, he asked if I understood the steps involved in achieving an end goal for fitness and wearable trackers. I, in turn, responded politely by suggesting my need to understand is only limited to their ability to express those steps more publicly. In other words, I attempted to highlight management's inability to positively spin the Fitbit story to be anything more than a hardware manufacture exhibiting what all hardware manufacturers exhibit, consistently slowing growth before ultimately bearing declines in sales. Where Mr. Park attempted to divert the conversation, I rationalized the reality of the FIT situation and was invited to meet with company officials at a later date. Not for nothing, but I would have not expected anything less.
I've presented brick wall arguments with many a company in the past, as it is often the case that management is so embedded in the business operation that they fail to see the bigger picture or at least the alternatives/options. Inevitably, where a presented argument can't be rationalized to the contrary, it's because the contrary is unlikely. This theory is a summation of what I offered in my first FIT publication and is now exhibited in the significant share price decline. Investors have come to recognize Fitbit for what it is and as I've described it to be.
It was just awful to see the dozens of Fitbit "wanna bees" at the CES show. It was even more awful to see how erroneously the Under Armour (NYSE:UA) product announcement for the category was analyzed or mentioned in the press. Truth be told, the media does a poor job of understanding the consumer goods categories and especially with addressing new product segments. Jim Cramer pounded the table about GoPro's ecosystem value last year, didn't he? This year, he was pounding those Fitbit holiday sales. In both cases, the media, inclusive of Mr. Cramer, miss the big picture. One-trick-ponies are not ecosystems, and sales for non-essential goods fade, some more quickly than others.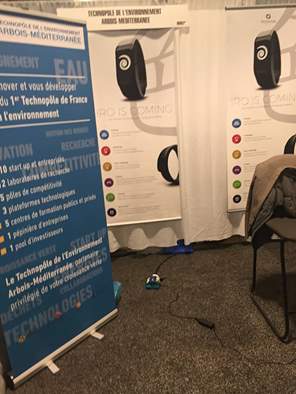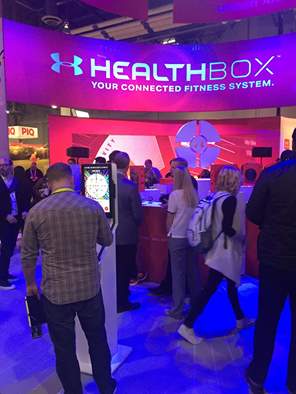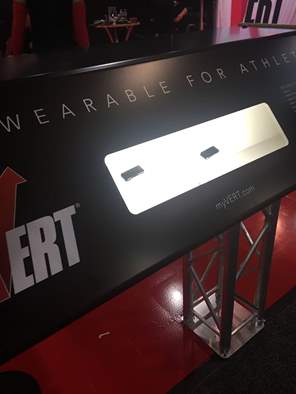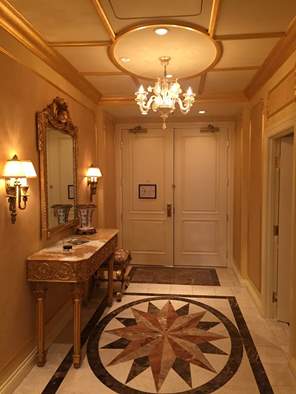 I took the photographs noted above just to show a few of the products offered in the fitness tracker category during the show. If I were to show them all, Seeking Alpha couldn't publish this article. Some of the companies featured at the show invite media up to their private suite in the Venetian Hotel for further discussions. More importantly, let's get back to the Under Armour product offering in the fitness tracker segment.
Consumers will pay a hefty sum to buy into Under Armour's new initiative. The UA HealthBox will sell for $400, the UA SpeedForm Gemini 2 RE's will retail for $150 and the wireless headphones will sell for $180. But a slow sales start won't necessarily become a significant setback to Under Armour's growth, especially given the company's record of overcoming lukewarm initial results for its product launches.
While the media has proposed that HealthBox will exhibit great competitive pressures on the Fitbit business, the reality is that it won't and when considered more logically. Fitbit rules the retail channel and it does so with great presence and point of sale media implementation. The number of products it offers also allows for retail partners to lure customers with broad selection of price points and aesthetics. The Under Armour fitness tracker product doesn't offer this for retailers to date. Additionally, due to the Under Armour price point, many retailers will not be able to participate with the product. Bed Bath & Beyond (NASDAQ:BBBY) and Kohl's (NYSE:KSS), which arguably shouldn't be carrying fitness trackers, will definitively not be carrying more or those with a $400 price point like the HealthBox. But readers probably did hear anything like this in the media hype for consideration. This is just one example of how the media doesn't really support their hype with logical understanding of the retail and consumer goods industry. It's quite the norm for the media to grab a press release, assimilate the news story and look at the headline in the most superficial manner. With that said, if you thought the Under Armour HealthBox press release will be the undoing of Fitbit, think again. How a company that will be introducing its first application into the category will all of a sudden be a competitive threat leaves much to be desired. And apparently competition only works in favor of the start-up? This thought process defies logic.
Moreover, Fitbit has a long and arduous road ahead for itself. Diversification of the business and product line are essential for investors to benefit from the company's performance longer term. With Fitbit seemingly dedicating itself to continued development of smart watches and fitness trackers, it doesn't appear Fitbit sees the bigger picture for itself. But time and pressure can serve to spur innovation and/or simple changes that breathe life into a business. So with that said, have shares of FIT bottomed, now down some 30% since my first publication? Maybe the more appropriate question is, why investors should bother with what appears to be a more speculative investment when there are numerous other opportunities abound?
Disclosure: I/we have no positions in any stocks mentioned, and no plans to initiate any positions within the next 72 hours.
I wrote this article myself, and it expresses my own opinions. I am not receiving compensation for it (other than from Seeking Alpha). I have no business relationship with any company whose stock is mentioned in this article.