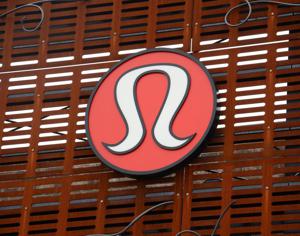 When life hands you lemons, hope they're Lulu. The shares of Lululemon (NASDAQ: LULU) bounced up and down in 2015, but the retail company is entering 2016 very strong. With the announcement yesterday increasing Q4 net revenue and EPS expectations, the stock should continue to perform well. This announcement has already positively affected the shares:

(Source: Bloomberg)
For shares of LULU, such performance may be enjoyed even after the Q4 earnings release. Management's decision to maintain a conservative financial position has made Lululemon a very solid company. With zero debt, the company plays it safe. Such a unique capital structure places more pressure on its shares to perform well. However, LULU well outperformed its sector yesterday, as seen below: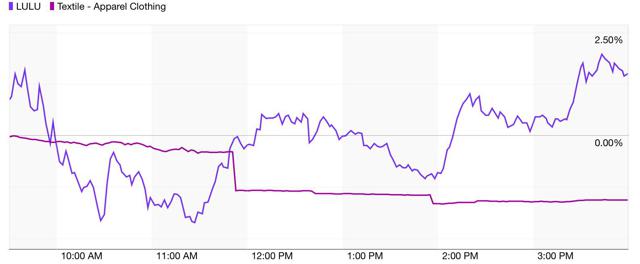 (Source: Yahoo Finance)
Additionally, as regards its competitors, Lululemon has lunged ahead of its main rival, Under Armour (NASDAQ: UA). Under Armour's balance sheet is the polar opposite of Lululemon's. Though UA has steadily increased its asset base over the past few quarters, its debt level and disappointing cash flows continue to drive the stock down. Shares of UA continue to get hammered, as they were just dealt a downgrade, especially as concerns continue to mount about the company's falling market cap: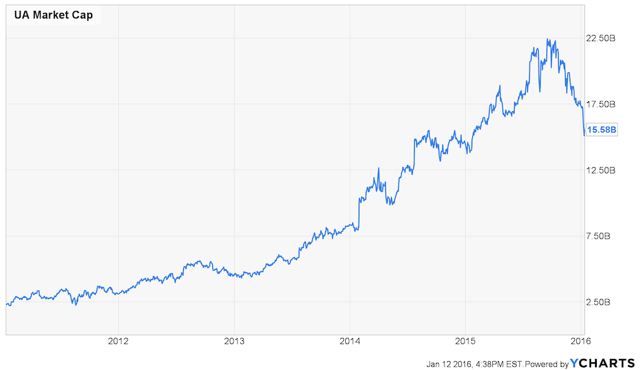 Unlike Under Armour, Lulu's capital structure is allowing the company to achieve sustainable growth and post exceptional profits, even during a time of increased market volatility. With a steady increase in its asset base as well as sales revenue, Lululemon has successfully put itself in a comfortable position. While Under Armour may have hit its peak and the shares are starting to reflect that, Lululemon still has more room to grow and expand its product areas that would make it a direct competitor to Nike (NYSE:NKE). The company's growth profile and zero debt level are the two main factors that make a long position in LULU attractive for an investor. Meanwhile, the shares of UA continue to fall:

(Source: Bloomberg)
These two factors also set Lululemon up for potential acquisitions of smaller apparel firms in the future. While its current debt level has kept the company strong, it would be strategic for Lululemon to have a more aggressive debt profile on its balance sheet by financing future acquisitions with debt. If Lululemon wants to keep growing and reach the same level as Nike, the companyy will need to explore potential acquisitions.
Overall, a long position in LULU is a sound investment. Q4 earnings should boost the stock even further. Lululemon as a whole has many growth options and can expect to remain profitable, especially as the appeal of its brand continues to increase and remains relevant among consumers. Despite recent market volatility, I recommend a long position in LULU due to the above detailed factors.
Disclosure: I/we have no positions in any stocks mentioned, and no plans to initiate any positions within the next 72 hours.
I wrote this article myself, and it expresses my own opinions. I am not receiving compensation for it (other than from Seeking Alpha). I have no business relationship with any company whose stock is mentioned in this article.