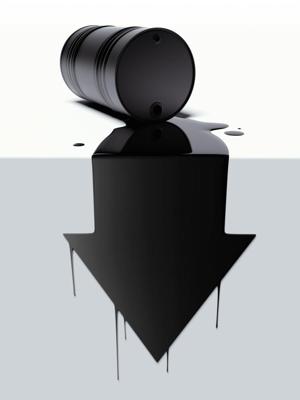 The stock market is attempting to stem the decline we have seen so far this year and reverse back to the upside, but it keeps drowning in oil, figuratively speaking, of course. The world is drowning in crude oil, apparently for real, which is why crude touched a 12-year low yesterday and briefly fell below the $30 level.
The correlation between the S&P 500 (NYSEARCA:SPY) and crude oil has risen substantially as of the beginning of the year. Yesterday morning was a prime example, as we had S&P 500 futures up more than 20 points prior to the opening bell, with a relatively strong open to follow. Then, crude oil reversed its early morning gain shortly after the market opened, and by 10:00 am EST, the price had moved from a gain to a loss on the day, as can be seen below.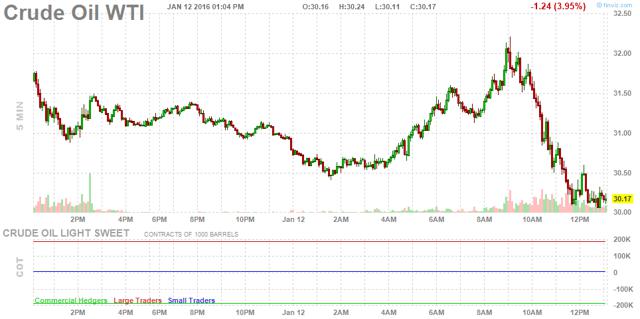 That reversal from a gain to a loss on the day for crude oil took the stock market down with it. As you can see below, the market gave up its 20-point gain and also moved into negative territory.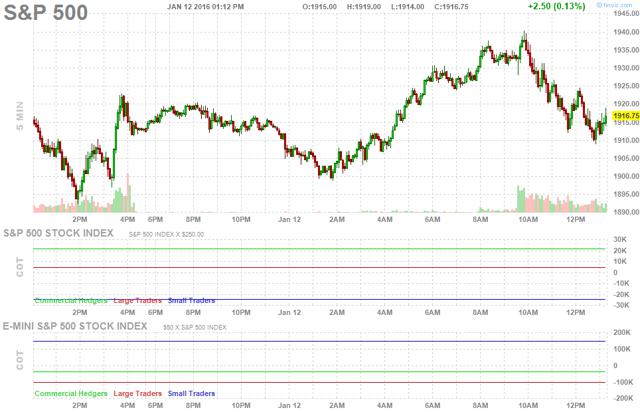 The S&P 500 index bottomed shortly after 2 pm EST, just minutes after crude oil broke the $30 level, which was its 12-year low, and then rallied in concert with the recovery in the price of crude oil into the close. As I write now, S&P 500 futures are up 12 points alongside a 2% gain in crude oil futures.
I realize that markets are interconnected, but wow, that's a near-100% correlation.
We have heard repeatedly that lower oil prices are good for the US economy. It makes perfect sense given the fact that our growth is predominately consumer-based. Lower gas prices are a tax break for the American consumer. It is like a tax cut, or a stimulus measure, fueling discretionary income. I have my issues with this argument, but we can all agree that lower oil prices, and in turn gasoline prices, are not a negative for the consumer or our consumer-based economy. Why, then, have crude oil and stock prices been moving in lockstep since the beginning of the year?
For the past several years, the correlation between stocks and oil has not been that high at all. In my opinion, this sudden near-100% correlation implies that there is a lot of stress in the financial markets. We saw a similar correlation during the financial crisis. I'm not implying, however, that we are headed for another financial crisis.
What I am saying is that when prices fall dramatically over a short period of time, it is usually because some very large investors are being forced to sell. When losses occur in one part of a portfolio, investors may be forced to sell in another part of the portfolio to raise cash. The lower prices fall, the more selling that results in a vicious negative feedback loop. When the correlation weakens, it usually means that this stress is diminishing.
It looks like we are starting to see a highly anticipated bounce in stock prices from what was an extremely oversold condition on a short-term basis. The 1900 level on the S&P 500 was the initial downside target for many. It will be interesting to see if the correlation between oil and stocks continues. If the stock market can rally without riding the coattails of crude oil, perhaps it indicates that this stress is abating, and that the rally has some legs. If not, then I think there is a lot more forced deleveraging to go.
Disclosure: I/we have no positions in any stocks mentioned, and no plans to initiate any positions within the next 72 hours.
I wrote this article myself, and it expresses my own opinions. I am not receiving compensation for it (other than from Seeking Alpha). I have no business relationship with any company whose stock is mentioned in this article.
Additional disclosure: Lawrence Fuller is the Managing Director of Fuller Asset Management, a Registered Investment Adviser. This post is for informational purposes only. There are risks involved with investing including loss of principal. Clients of Fuller Asset Management may hold positions in the securities mentioned in this article. Lawrence Fuller makes no explicit or implicit guarantee with respect to performance or the outcome of any investment or projections made by him or Fuller Asset Management. There is no guarantee that the goals of the strategies discussed will be met. Information or opinions expressed may change without notice, and should not be considered recommendations to buy or sell any particular security.