The last year has been a shocking year for Colombian stocks with the broad-based Bolsa de Valores de Colombia or BVC down by 19% since the start of 2015. While the COLCAP Index, which is market-capitalization weighted index that includes the 20 most liquid stocks listed in the BVC, has plunged by 29% over the same period.
There is one key culprit for this, the sharp collapse in oil with the fortunes of Latin America's fourth largest economy closely tied to that of oil and then other commodities such as coal which has also collapsed. As a result, the value of the Colombian peso has crashed as oil prices plunged below $40 per barrel, to now be down by 26% since the start of 2015. This sees the primary Colombian ETF, the Global X MSCI Colombia ETF (NYSEARCA:GXG) down by 43% over the same period.
However, these ugly numbers should not deter investors from investing in Colombia. Over the last decade, the country has transformed itself, rapidly growing its economy and ending the decades of civil conflict that almost saw it become a failed state.
This has created a number of opportunities among Colombian stocks with a range of ADRs listed on the NYSE heavily oversold and irrationally valued. One Colombian ADR offering considerable upside for investors in 2016 is Colombia's largest financial services group Grupo Aval (NYSE:AVAL).
Background
Grupo Aval is Colombia's largest financial services group and has a controlling interest in four of Colombia's largest banks, Banco de Bogota, Banco de Occidente, Banco Popular and Banco AV Villas. It also has complete ownership or controlling stakes in Colombia's largest fund manager Porvenir, its largest merchant bank Corficolombiana and Central America's largest banking group BAC Credomatic.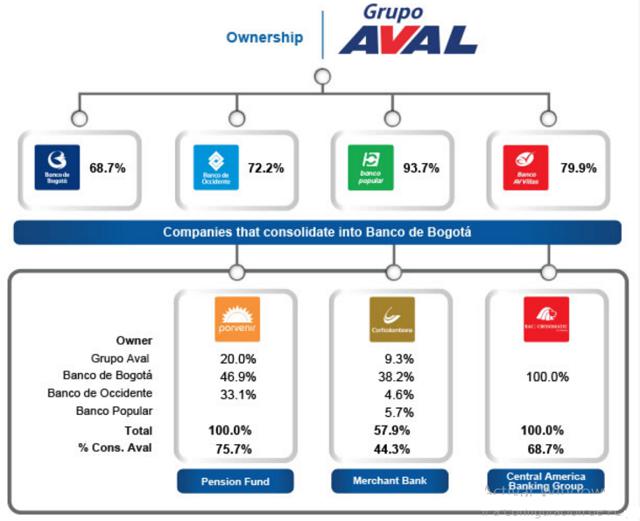 Source: Company filings.
This multi-brand approach allows it to target and cater to different market segments giving it greater share of wallet than its major competitors such as Bancolombia and BBVA. For instance, Banco de Bogota is a full service bank focused on commercial lending and targeting a similar demographic to Bancolombia, whereas Banco Popular is targeting a lower socio-economic demographic and has become a market leader in payroll loans.
Overview of Colombia's banking sector
Colombia's banking sector is relatively oligopolistic and arguably the most profitable in Latin America. The five largest banks are Bancolombia (NYSE:CIB), Banco De Bogota, Davivienda, Banco de Occidente and Banco Bilbao Vizcaya Argentaria or BBVA Colombia (NYSE:BBVA).
The five largest banks between them hold over two thirds of the sectors assets and dominate market share, making it extremely difficult for competitors to enter the market. Of the top five banks two, Banco de Bogota and Banco de Occidente, form part of Grupo Aval, highlighting the considerable market share that it holds and its dominant position in Colombia's financial system.
Aside from BBVA, the only other foreign bank operating in Colombia that has significant market share is The Bank of Nova Scotia (NYSE:BNS) which has a controlling interest in Colpatria Colombia's sixth largest bank.
Colombia's banking system showed itself to be quite resilient to significant downturns in the global economy such as the global financial crisis and this in part can be attributed to its conservative nature and regulation. Even the commodity crunch which has had a marked impact on a number of economies and their banking systems in the region such as in the case of Brazil, to-date has had a rather muted impact on Colombia.
This is despite the Colombian peso now being down by 26% over the last year, inflation increasing sharply and Colombia's balance of trade worsening because of its over-reliance on oil exports to generate hard currency.
Financial health remains strong
One of the most important aspects that investors should consider when choosing to invest in a bank is its financial health or more specifically the quality of its core assets, its loan portfolio and its capital.
Despite what many investors and market pundits believe, Colombia's banking system is heavily regulated and conservatively managed and this is reflected in the financial health and operations of the country's major banks.
The overall degree of non-performing loans or NPLs in Colombia is relatively low for an emerging market that has experienced considerable economic growth over the last decade. By the end of 2015, the national NPL ratio was 3.1% which is lower than many global banking groups.
This low ratio is also reflected in the asset quality of Colombia's major banks. Grupo Aval has an NPL ratio of 1.6% which is far lower than its major Colombian and regional competitors. As expected, it is far lower than any of the major privately owned Brazilian banks such as Itau Unibanco (NYSE:ITUB), Banco Bradesco (NYSE:BBD) and Banco Santander (Brasil) (NYSE:BSBR). However, surprisingly it is also lower than Peru's Credicorp (NYSE:BAP) which is known for its conservative approach to credit risk.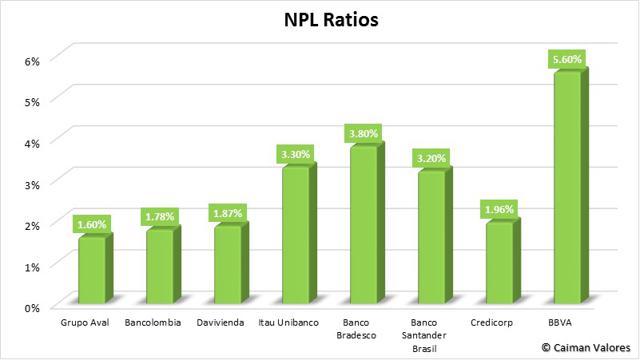 Source: Company filings.
This in part can be explained by Brazil's deep economic slump but also because of the conservative nature of Colombia's banking system and approach to managing risk. It is also worth noting that since its acquisition of Chile's Corpbanca (BCA), Itau Unibanco gained a more significant presence in Colombia's banking sector.
The volume of NPLs by the end of the third quarter 2015 had fallen by 10 basis points QoQ and 20 basis points YoY. This is an impressive outcome considering that the Colombian economy is slowing, battling high inflation and a declining balance of trade because of the collapse in oil prices.
Total loans at risk, classified as C, D and E loans also declined reflecting an uptick in the health of Grupo Aval's loan book.

Source: Company filings.
This along with provision expenses dropping by an impressive 26% QoQ indicates that the overall quality of Grupo Aval's credit portfolio is improving.
Grupo Aval remains adequately capitalized with a tier one capital ratio of 7.5%, which compares favorably to its peers. This however is quite low by international standards with all of the major Colombian banks having ratios well below those of other major international banks.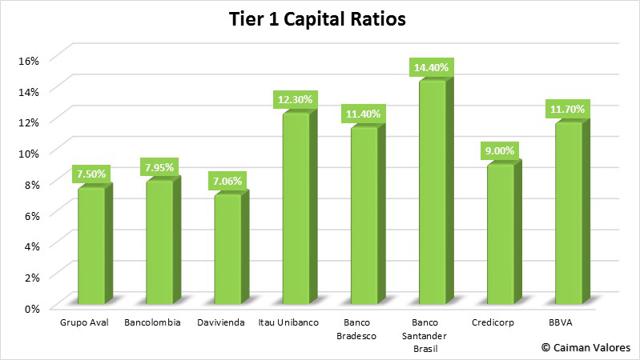 Source: Company filings.
The downside of this is that Grupo Aval's financial strength is relatively low in comparison to other major banks and any moves by the bank to boost its tier 1 capital ratio will have an impact on its earnings. This is because it will require the bank to divert capital away from economically productive uses in order to bolster its capital ratios, thereby reducing its return on equity.
Nonetheless, the positive side of a lower tier one capital ratio is that the bank needs to hold less regulatory capital than its North American peers and this frees that capital up to be used for productive means.
A positive aspect of Grupo Aval's financial health is its loan-to-deposit ratio of 106%, which is substantially lower than its Colombian competitors Bancolombia and Davivienda.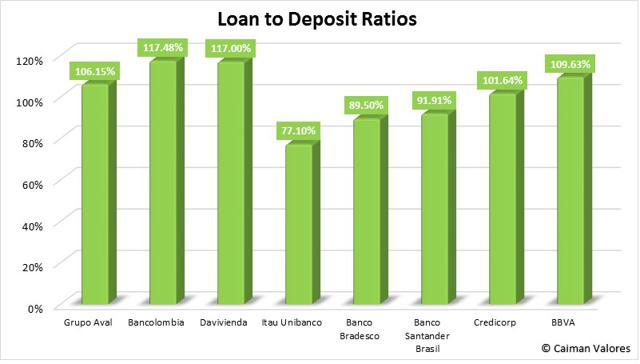 Source: Company filings.
At this level, I consider Grupo Aval's loan-to-deposit ratio to be sitting in the sweet spot where it is maximizing the deployment of its funds in order to generate revenue while not being overly reliant on funding sources outside of deposits. This means that its overall cost of funding is quite low in comparison to those banks that have higher ratios and are dependent upon external funding.
Grupo Aval's financial strength is quite impressive and highlights its conservative approach to risk management, which is inherent across Colombia's banking industry. While a solid balance sheet is certainly a must have when choosing to invest in a bank, it is how a bank deploys its capital, the macro backdrop and key growth levers that are also important.
The macroeconomic backdrop
The economic outlook for Colombia at this time is pessimistic because of the sharp collapse in commodity prices, the extraction and export of which forms an important driver of economic growth.
The deterioration of the peso and the terms of trade has had a ripple effect through the economy. Business and consumer confidence has collapsed, fiscal revenues have fallen, direct foreign investment is in decline and investment growth has slowed.
Over the last year, the peso devalued substantially tumbling by 26% in response to the collapse in oil prices. This is the fourth worst performance among emerging market currencies and has left the Colombian government with an ever growing funding gap in its budget and a current account gap that the IMF expects to be its worst since 1980.
The collapse of the peso has also had a significant impact on inflation with it coming in at 6.77% for December, its highest level since October 2008. This along with the central bank's recent rate hike that saw the headline or policy rate increase of 25 basis points to 5.75% in an effort to rein in inflation will adversely impact economic growth.
It has increased the cost of credit which along with the high inflation rate will cause the level of consumption and economic activity to fall.
As a result of the sharp collapse in oil prices, Colombia's economic growth continues to falter with third quarter GDP of 3.2% YoY, below the 3.5% originally estimated. Full year 2015 GDP is expected to be between 2.9% and 3.1%, which is well below the 4.2% originally forecast at the end of 2014.
Furthermore, 2016 GDP growth is forecast to slow to 2.8% as the oil rout and other substantially weaker commodities have an even greater impact on Colombia's economy.
For further detail on how the economic outlook for Colombia and the impact of weaker commodity prices see my articles: 'The Oil Crunch And The Collapse Of The Peso: Is This The End Of The Colombian Economic Miracle?' and 'Bancolombia Is Irrationally Valued And Offers Considerable Upside'.
These factors are set to have an impact on Grupo Aval's growth prospects with lower demand for credit, but the increase in the policy rate will help to offset this to some extent by increasing its net-interest-margin.
There is also growing economic momentum among the services sector which along with construction booms in Colombia's major cities will to some degree help to offset the deterioration in economic growth.
The structure of Colombia's banking sector will also help to offset the impact of weaker economic growth while enhancing Grupo Aval's long-term growth prospects. Colombia is heavily under-banked with it estimated that roughly a third of Colombians don't have access to any formal banking or other financial services, while 80% don't have access to credit cards. This coupled with Grupo Aval's multi-brand strategy, a rapidly expanding middle class and growing domestic wealth provides a ready-made market to expand into.
Grupo Aval also possesses a solid economic moat because it operates in a heavily regulated oligopolistic market with substantial market share, meaning it can be a price maker rather than a price taker.
All of these attributes shield it from competition and virtually guarantee its earnings growth over the long term.
Benefits from solid margins
An important advantage that banks in emerging markets have over those operating in developed markets is the ability to generate higher margins while incurring lower costs. This is because of the faster rates of growth in emerging economies which means they have higher official interest rates coupled with lower wages and wage growth.
Colombia's official policy rate as set by the Banco Central de Colombia or BANREP is 5.75%. This is 50 basis points higher than it was when I wrote on Bancolombia with two rate rises since then. The new policy rate has yet to be reflected in Grupo Aval's results, so I expect its already impressive net-interest-margin or NIM of 5.3% to grow over coming quarters.
As you can see, this NIM compares favorably to its regional peers and is only lower than Brazil's major banks because the headline rate in Brazil is 14.25% or 2.5 times higher than Colombia's.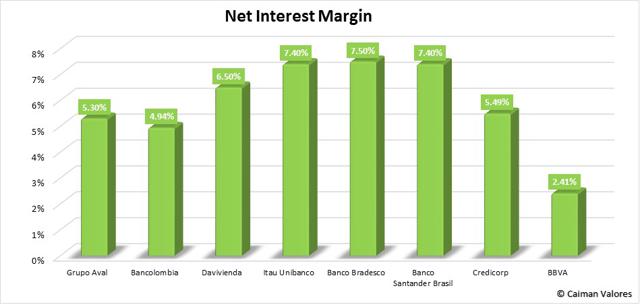 Source: Company filings.
The bank is experiencing difficulties in managing costs with its efficiency ratio for the third quarter blowing out to 50.7% from 46.3% in the previous quarter and 47.7% YoY. This ratio is superior to Bancolombia's but is inferior to Davivienda's and its other regional competitors.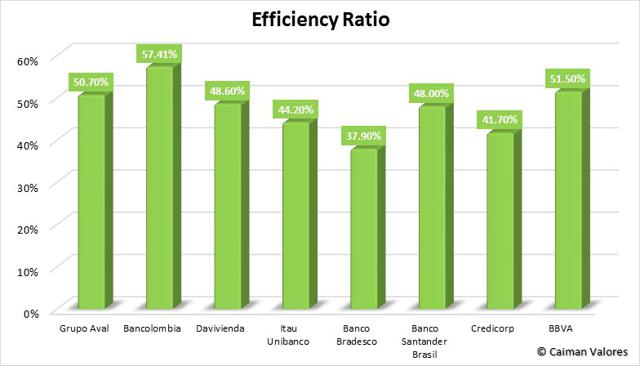 Source: Company filings.
The key driver of this deterioration in Grupo Aval's efficiency ratio can be attributed to a marked increase in personnel and administrative expenses. However, given the lumpy nature of these costs, I expect its efficiency ratio to improve over coming quarters.
Determining Grupo Aval's fair-value
Determining the indicative fair value of a bank can be quite difficult and in the case of Grupo Aval, this certainly applies with its diversified financial services operations across banking, funds management and investment banking. When looking at Grupo Aval's valuation metrics, it does appear somewhat expensive in comparison to its competitors as you can see below.

Source: Company filings, Yahoo Finance & Bloomberg.
However, I don't believe that a comparison of ratios gives the full picture of a bank's value because of the large number of moving parts.
In order to arrive at an indicative fair value for Grupo Aval after taking into account both its solid growth prospects and the headwinds it is facing, I have used an excess return valuation. To do this, I have taken the tangible book value of Grupo Aval's earning assets as the starting point and then applied the following assumptions:
Grupo Aval's ROE has been discounted over the valuation period, in order to reflect the predicted slowdown of the Colombian economy.
An ROE in perpetuity of 12% has been used to calculate the terminal value of retained earnings. This takes into account both the bank's growth prospects in Latin America as well as any future economic headwinds it may experience. It is worth noting that while this may appear high, it accounts for the higher rate of growth that Colombia is expected to experience as an emerging economy in comparison to a developed economy.
A conservative rate of economic growth has been used. This is represented by an assumed GDP growth rate of 3% for Colombia, which is lower than Colombia's average annual GDP growth rate of 3.5% for the last 20 years. It does however, take into account the near-term impact of the weaker commodity prices as well as an expected slowdown in economic growth as Colombia's economy develops further.
I have used an exchange rate of $3,200 Colombia pesos to the U.S. dollar, which was the market rate at the time of writing.
Like Bancolombia, Grupo Aval's value is closely tied to that of the peso. If the peso is to appreciate in value, then so will Grupo Aval's share price and obviously its share price will fall if the peso weakens further.
I have accounted for the bank's dividend payout ratio using a combination of its stated dividend policy and its average payout ratio in recent years.
I have applied a cost of equity of 8%, which was calculated using the capital asset pricing model (CAPM). This includes adding a country risk premium of 3% to the equity risk premium of 8.45%, giving a total equity risk premium of 11.45%. These calculations and assumptions are set out below.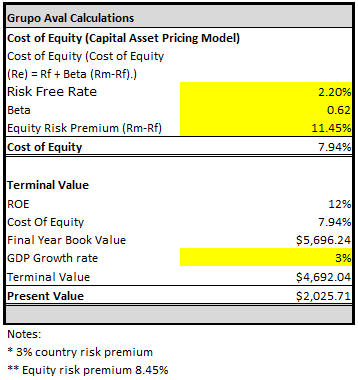 Using this data and these assumptions, I have calculated an indicative fair value from Grupo Aval's retained earnings of $7.58 per share (ADR) as you can see below.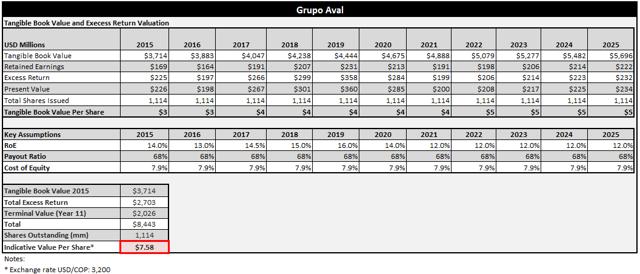 This represents a premium of 25% to Grupo Aval's current share price and offers investors a considerable margin of safety. I believe that it is a credible one-year target, with Grupo Aval set to continue growing its lending business despite the downturn in Colombia's economic growth.
Investors should note that Grupo Aval's share price is sensitive to the value of the Colombian peso as the table below highlights.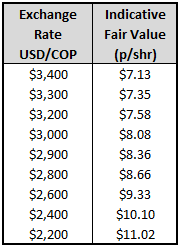 Any solid rally in the peso will enhance the prospects of a recovery in Grupo Aval's share price while if its value depreciates any further it will have a sharp impact on its value.
The dividend
Grupo Aval pays a monthly dividend that yields 6% at the time of writing and with a payout ratio of 68% coupled with Grupo Aval's growth prospects, economic moat is sustainable. The key issue facing the dividend at this time is that its value for international investors will decline as the value of the Colombian peso declines.
Investors should note that dividends paid by Colombian companies are liable for a 33% withholding tax when they are paid out of untaxed profits. However, in the case of Grupo Aval dividend payments are not subject to withholding tax because they are paid out of taxed corporate profits.
Bottom-line
There is no doubt that Colombia's economy is facing its fair share of headwinds that will impact the growth prospects of its banking sector. Nonetheless, the sharp sell down of Grupo Aval because of the sudden depreciation of the Colombian peso appears well over done.
As a result, it is now markedly undervalued and offers investors 25% upside which can only increase if there is a recovery in the value of the Colombian peso. It also offers investors considerable solid long-term growth because of its dominant position and solid economic moat along with a low risk high quality balance sheet in what is arguably South America's most profitable and conservatively managed banking sector.
Supporting Documents
Disclosure: I/we have no positions in any stocks mentioned, but may initiate a long position in AVAL over the next 72 hours.
I wrote this article myself, and it expresses my own opinions. I am not receiving compensation for it (other than from Seeking Alpha). I have no business relationship with any company whose stock is mentioned in this article.