It's rare that an investment thesis gets laid out on a silver platter as cleanly as the exceptional write-up of Windstream Holdings (WIN) by NS Capital Partners this June. While I usually prefer to source my own ideas, in the case of Windstream, quick due diligence didn't turn up any reasons I shouldn't buy it and a lot of reasons that I should.
What's interesting is that since mid-August, despite numerous favorable developments for shareholders (including selling the data center assets at 14x EBITDA and announcing a $75MM buyback) - the stock has been flat. I think 2016 and beyond will be good years for shareholders; here's why.
Even "Trough" Free Cash Flow Covers Dividend
There has been a lot of harrumphing over the sustainability of Windstream's 15-cent quarterly dividend (good for a 10% yield at the current stock price, and an annual burden of $60MM). Yet not only does this appear to be covered - it's covered in a year when capex is substantially higher than the company's long-term guidance.
Excluding Project Excel (funded by the sale of the data center), 2015 capex is $965MM. (Of this, $95MM is funded by CAF-2). This is over 17% of full-year revenues - well above the company's 13-15% long-term expectation. Going forward, Project Excel will pull some planned capex out of the budget in '16 and '17, and "core" capex should come down into that range - which would materially boost FCF, to levels that start to look almost ridiculous in context of the stock price.
The big question, of course, is whether all of Windstream's supposedly discretionary non-maintenance capex is truly discretionary. This is a valid question; I seriously doubt they could cut capex back to $420MM and remain competitive. At the same time, they don't need to be spending 17% of revenues either.
Not A Great Business - But A Predictable One
I have no romantic attachment to the Windstream business and am not expecting >GDP growth in the long term. In fact, continued declines are even a possibility. That said, the nice thing about the business is that it's predictable - phone and internet services are fairly low on the Maslow hierarchy. Moreover, revenue declines in several segments should be arrested (or reversed) from a combination of the lack of run-off from tower connections, in addition to the incremental (high margin) revenue from success-based projects and bringing more buildings on-net.
The significant investments in network speed should also make Windstream more competitive against cable. Again, cable is less of a threat here than it is for most, as Windstream's very rural footprint is much less dense than that of competitors.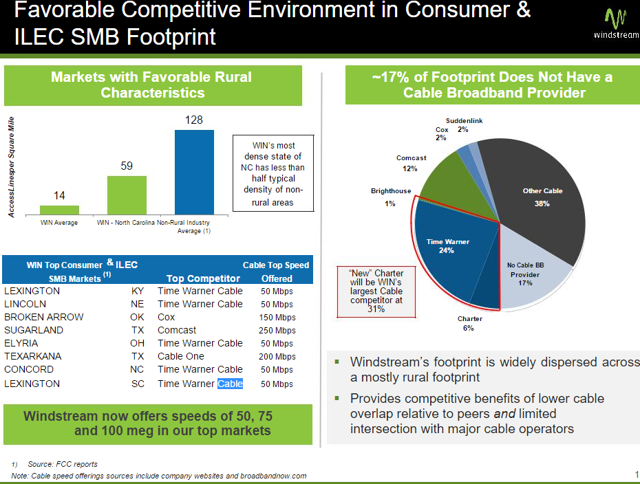 Source: WIN investor deck
Why I'm Buying
I believe that over the next few years, revenues will at least be flat, and as capex comes down significantly, the market will be unable to ignore the free cash flow relative to the market cap. Management is making smart capital allocation decisions via repurchase of not only shares, but also high-cost debt (using the revolver). The eventual sale of the Communication Sales & Leasing (NASDAQ:CSAL) stake will reduce the leverage that's scaring some people away. This could actually result in substantial value accretion as CSAL looks to be undervalued itself here and could materially increase in valuation if/when it announces another deal (could be within a few months). And once leverage is down, incremental free cash flow will likely be returned to shareholders accretively.
In addition to the above, it's also worth noting that Windstream is focused on improving margins in its Enterprise segment closer to the peer average (20%). While they don't have to get all the way there, every incremental 1% in margins represents $20MM in EBITDA - execution here could easily drive nice accretion to the bottom line.
In the near term, I think management's guidance for 2016, when presented along with Q4 earnings, will likely reveal better revenue trends as well as lower "core" capex (excluding Project Excel). This should help shift the market's perception of the business prospects over the next few years. Right now, they're looking at a double-whammy of a capex spree and declining revenues, not to mention tricky financials from the CSAL spin this past spring.
While situations like this can sometimes take some time to normalize, I think WIN will trade above $10 sometime within the next 2-3 years. It could even trade higher, but I'm in no rush to assign high multiples or revenue growth estimates for now. In the meanwhile, the stock pays a 10% dividend that appears to be well covered, so it will generate capital quarter in and quarter out that I can deploy elsewhere.
WIN is not the kind of stock I'm going to get greedy with - I really prefer owning high-quality businesses, and "rural telecom" simply doesn't fit within my definition of that (given the high capital intensity and limited potential for more than low single-digit growth). So above $10, I would probably look to be a seller unless the trajectory of the business changes materially (in which case, I might hold on for a higher price). That said, this seems like a "there are no bad assets, just bad prices" situation - at $6, I'm happy to jump in and bide my time for a few years earning a solid return on Windstream.
Disclosure: I am/we are long WIN.
I wrote this article myself, and it expresses my own opinions. I am not receiving compensation for it (other than from Seeking Alpha). I have no business relationship with any company whose stock is mentioned in this article.