Acadian Timber (OTC:ACAZF) is a prime beneficiary of low energy prices, a removal of the Softwood Lumber Agreement, beneficial Canadian subsidies, a weak CAD Dollar and long-term recovering housing market. While US lumber companies will have a tendency to suffer from a strong US Dollar and removal of the Softwood Lumber Agreement, ACAZF's operations will be strengthened. Currently, ACAZF has some of the highest operating margins in the industry. Positive macro trends will help to increase margins in the short-run, while a recovering North American housing market will help to increase the top and bottom line in the long-run.
Summary
As a business, ACAZF is a supplier of forestry products in Eastern Canada and Northeastern United States. The products that ACAZF sells are softwood and hardwood saw logs, pulpwood, and biomass products. In 2014 the company sold to 90 regional customers in North America.
On a consolidated basis, the company has ~2.4mm acres of land under management. The company also owns a forest nursery in Second Falls, New Brunswick. Finally, ACAZF provides management services to ~1.3mm acres of land under Crown Licensed Timberlands.
| | | |
| --- | --- | --- |
| Forest Areas | Acres | Hectares |
| Maine Timberlands | 299,000 | 121,000 |
| New Brunswick | 761,000 | 308,000 |
| Crown Lands Under Management | 1,313,000 | 531,000 |
| Area Under Management | 2,373,000 | 960,000 |
ACAZF's diversified end product mix helps offset the risk of the cyclical nature of the overall business model.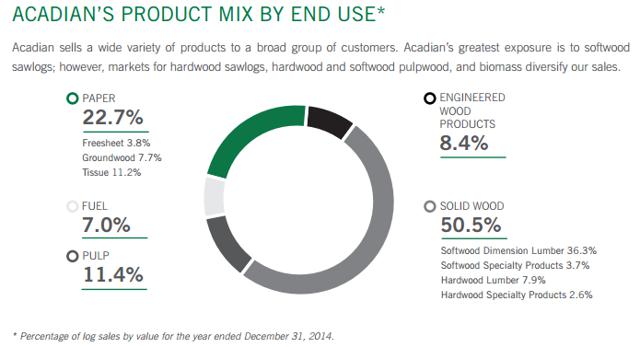 Source: 2014 Annual Report
The biggest revenue driver for ACAZF is the construction market and more importantly, residential housing builds. A continual expected recovery in both the construction and housing market is one of the key points in my long-term, bullish thesis.
Investors can purchase Acadian Timber on the Toronto stock exchange under ticker symbol ADN.TO or on the OTC market under ticker symbol ACAZF. All financial numbers for ACAZF, going forward will be denoted under CAD unless otherwise stated.
The Macro Environment
The fiscal year of 2014 was the company's most successful year since inception. 2015 will have a high chance of beating 2014's record due to record sales and continual operational improvements. Currently, the hardwood market continues to strengthen, which will be beneficial to the topline. However, there are near-term headwinds in the softwood market derived from; higher log inventories at regional sawmills and a weak offshore export market.
There are a few key economic indicators that will help to influence positive topline growth at ACAZF. These indicators are US new home construction, strength of employment, number of building permits, US housing starts, and market expectations. I will delve into each of these economic indicators in order to determine the long-term demand for ACAZF's products.
The table below represents new housing unit building permits from the years of 2013-2015.
| | | | |
| --- | --- | --- | --- |
| Total New Housing Unit Building Permits By Month | 2015 Number of Permits | 2014 Number of Permits | 2013 Number of Permits |
| January | 13,252.3 | 12,418.1 | 11,516.1 |
| February | 14,119.2 | 13,406.0 | 11,585.8 |
| March | 17,477.3 | 15,325.1 | 13,926.2 |
| April | 19,869.8 | 17,874.8 | 16,048.5 |
| May | 20,589.3 | 17,698.8 | 16,997.8 |
| June | 24,189.5 | 17,979.6 | 15,666.2 |
| July | 19,457.7 | 18,030.7 | 16,324.0 |
| August | 18,612.9 | 16,112.3 | 15,842.1 |
| September | 18,481.7 | 16,688.5 | 14,656.0 |
| October | 18,408.5 | 17,440.6 | 16,127.0 |
| November | 17,054.4 | 13,459.0 | 13,060.6 |
| December | - | 15,097.8 | 13,835.9 |
Source: Construction Consensus
As you can notice, 2015 has been a very positive year in terms of new housing permits. In fact, new housing permits have not been this high since pre-2007. This is a very bullish indicator that tells us a few different things.
First, growth in new housing permits tells us that Americans are starting to jump into real estate again. It also tells us that market expectations, on the consumer side, are turning more positive. Thus the dark days of the Great Recession are finally starting to become more of a figment of the past than the present. Investors should keep in the back of their minds that there may not be as great of an influx or growth, of new housing unit building permits due to wage stagnation. However, recent growth in new housing unit building permits is rather bullish for the price of lumber.
The forecast for new construction in the US also points to higher lumber prices in the long-term.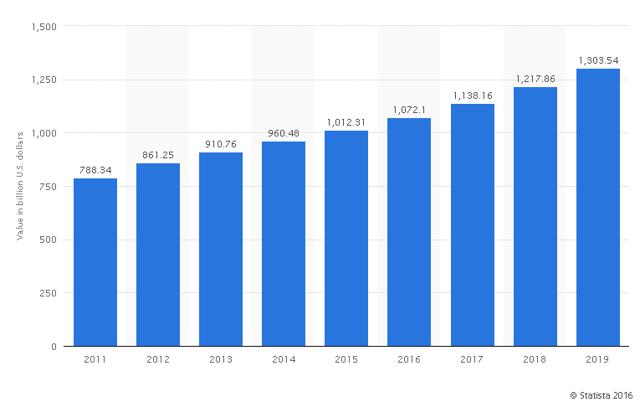 Source: Statista Construction
The bar-graph above represents the forecast for the overall construction market in the US. The positive uptrend suggests that the market will continue to get stronger. A stronger construction market will influence the price of lumber in an upwards fashion. Also, since this is a forecast, the positive uptrend suggests that market expectations are also positive. Yet another bullish factor for the forward price of lumber.
A lower unemployment rate is another positive indicator for higher lumber prices.

Source: Bureau of Labor Statistics
Above is a historical representation of the US unemployment rate. As you can see, the unemployment rate is on a steady downward trend. Lower unemployment indicates that the economy is recovering. A recovering economy indicates that the housing and construction market also has potential to recover. If I am right about a recovering housing and construction market based off of positive economic indicators such as lower unemployment, lumber prices have a chance of rebounding in the long-term.
Not everything is bullish on a macro standpoint though. First, log exports, mainly to Asia, have been falling, due to slow economic growth (most notably China). Lower than expected log exports have increased the log inventories at many regional sawmills, which has potential to put further downward pressure on the price of lumber as a whole. Finally, the Softwood Lumber Agreement between the US and Canada has been lifted. This will produce short-term headwinds (at least a year) for US lumber companies. However, the lift from the agreement has potential to be beneficial to companies like ACAZF.
Overall, I feel that in the long-term, lumber prices will become more bullish. However, in the short-term headwinds have potential to keep the price lower. Interestingly, due to Canadian subsidies, overall lower operational costs in Canadian lumber markets, and a strong US dollar, ACAZF will be protected from falling lumber prices, unlike American lumber companies.
Lower Fixed and Variable Costs Will Influence FCF in a Positive Direction
In the past few years, FCF has expanded at a decent rate (9.12% annually from 2011-2014).
| | | | | | |
| --- | --- | --- | --- | --- | --- |
| | First Nine Months of 2015 | 2014 | 2013 | 2012 | 2011 |
| FCF | 15,624 | 17,634 | 13,081 | 14.022 | 12,437 |
In thousands
Even though the company has not significantly ramped up production, and will most likely not do so in the foreseeable future, FCF has very real potential to expand going into 2016. An expansion of FCF will come from lower fixed and variable costs.
First, fixed costs will be lower in 2016 due to lower interest payments on the company's revolving term loan. In Q3, management refinanced their term loan with interest payments of 3.01% from 3.47%. Management stated the following in their Q3 report in regards to lower interest rates…
"During the third quarter, Acadian completed a five year extension of its existing loan facilities resulting in a decrease in the fixed interest rate to 3.01% from 3.97%, reducing the annual interest expense by US$0.7 million".
This annualized savings of $0.7mm can be used to further decrease the overall long-term debt, or drive quarterly dividend payments higher. Investors should note that lower fixed rate costs also marginally lowered the overall risk associated with this security.
Variable costs will be lower in 2016 for several reasons. First, ACAZF relies almost exclusively on land transportation for the delivery and transportation of its timber products. Due to the reliance of land transportation, fuel costs are a huge variable expense. The recent declination in energy prices as a whole will benefit ACAZF's variable expenses, thus contributing to higher FCF.
What is interesting and has a potential to drive ACAZF's bottom line, is a decrease in overall energy prices. The majority of ACAZF's customers realize a significant amount of costs, derived from the price of energy. Since their customers are high-energy consumers, lower overall energy prices, should let their customers operate at higher operational efficiencies. Based upon traditional economics, ACAZF should benefit via bottom line expansion from lower variable energy costs from customers.
Finally, if the prices of logs continue to rise (in the long-term), or even remain stable for that matter, margins should expand. This is true due to the minimal changes in variable costs associated with higher log prices. For an example, in 2014, adjusted EBITDA margins increased to 28% YOY from 23%. This was due to higher overall log prices coupled with very minimal change in the variable costs per unit sold.
Remember, if log prices remain stable, any expansion in margins will be from lower energy prices. Also, as I will state later in this research report, lumber prices as a whole have been experiencing declines. Thus the paragraph above concerning lumber prices rising is more in regards with higher prices in the long-term.
Valuation
With a TTM EV/EBITDA of 15.19x, ACAZF should not be considered undervalued on an absolute basis. That is unless you are a forward looking investor with high hopes that ACAZF's top and bottom line will continue to expand.
| | | |
| --- | --- | --- |
| | TTM EV/EBITDA | TTM EV/Revenue |
| Plum Creek (NYSE:PCL) | 21.68 | 6.95 |
| Potlatch (NASDAQ:PCH) | 16.30 | 3.11 |
| Rayonier (NYSE:RYN) | 17.79 | 6.27 |
| Weyerhaeuser (NYSE:WY) | 12.70 | 2.70 |
| Pope Resources (NASDAQ:POPE) | 25.53 | 4.69 |
| Average | 18.84 | 4.74 |
| Acadian Timber | 15.19 | 4.73 |
When looking at ACAZF on a relative basis, the company is undervalued, when measured up to its peers. In actuality, the company is ~24% undervalued from the average EV/EBITDA measurement of 18.84x. In reality I can speculate why ACAZF is undervalued on a relative basis.
First and foremost, the undervaluation most likely exists due to the small-cap discount/liquidity discount.
| | | |
| --- | --- | --- |
| | Market Cap | Enterprise Value |
| Plum Creek | 7.91 B | 11.27 B |
| Potlatch | 1.13 B | 1.81 B |
| Rayonier | 2.63 B | 3.48 B |
| Weyerhaeuser | 19.28 B | 14.58 B |
| Pope Resources | 343.73 M | 295.70 M |
| Acadian Timber | 327.09 M | 403.35 M |
All of ACAZF's competitors are much larger than ACAZF itself, except for POPE. Larger companies are much more liquid and much more known to the overall market as a whole. For an example, the average daily trading volume in the past three months was 18,857 (on the Toronto exchange). It is even worse on the OTC exchange, with an average volume in the past three months of 867. ACAZF also has only four analysts covering the company, which does not help the investor community to know the company even exists. Thus, one of the main reasons why ACAZF is trading for a discount to its peers is due to the small-cap discount or liquidity discount.
Since ACAZF is a corporation and not a REIT, they are forced into paying Canadian corporate taxes on all income generated. This has the tendency to put a decent tax burden upon any US investor in ACAZF. For simplicities sake, US investors in ACAZF will be doubled taxed; one for the Canadian dividend withholding tax and one for the dividend tax in the US. There are certain methods around this double taxation, however, avoiding a double taxation is not the base of the article.
Investors should take note that the IRS does have a foreign tax credit via taxes paid to the foreign governments. Investors can either take a tax credit or tax deduction to avoid getting double taxed. I am not a tax specialist so I suggest asking your local accountant more details on these credits.
| | |
| --- | --- |
| | Trailing Dividend Yield |
| Plum Creek | 3.80% |
| Potlatch | 5.20% |
| Rayonier | 4.60% |
| Weyerhaeuser | 4.10% |
| Pope Resources | 4.20% |
| Average | 4.38% |
| Acadian Timber | 4.80% |
When looking at the above table, you can see that ACAZF has a higher dividend yield than the majority of its peers. For Canadian investors, this is good news. With the potential for double taxation for US investors, this puts a decent damper on the overall yield collected.
Another reason that ACAZF could be trading for a discount to its peers is due to the structure of its business. ACAZF is a corporation, while all of its peers are REITS (POPE is structured as an MLP). Thus, it will appear as if ACAZF has a higher yield than its peers. However, there are tax benefits REIT's and MLPS's have that corporations do not have.
It appears as if ACAZF's only benefit from its peers thus far is that it is slightly undervalued on a relative basis. However, there is a somewhat "hidden" benefit of buying ACAZF over its peers. The benefit of investing in ACAZF over its peers is the fact that ACAZF has lower production costs in its Canadian operations.
Lower production costs are not from a more efficient lumber industry in Canada, for the US has one of the most efficient industries. Lower production costs are derived upon access to taxpayers subsidized Canadian Timber. These subsidies, in reality, artificially lower Canadian lumber companies overall production costs, a significant advantage over US companies.
| | | |
| --- | --- | --- |
| | TTM Operating Margin | TTM Gross Margin |
| Plum Creek | 20.19% | 28.0% |
| Potlatch | 12.96% | 21.0% |
| Rayonier | 13.74% | 18.3% |
| Weyerhaeuser | 13.96% | 20.01% |
| Pope Resources | 22.16% | 43.1% |
| Acadian Timber | 30.57% | 39.3% |
As you can see from the above table, ACAZF has significantly higher operating margins and gross margins than the majority of its competitors. This is mainly due to competitive advantage (from subsidies) associated with Canadian lumber companies. Also benefiting ACAZF currently, is that the softwood market in the first nine months of 2015 are being driven by a weak Canadian Dollar (in the first nine months of 2015, ACAZF realized $18.378mm in currency income).
Currently the softwood market is oversupplied, which should be dampening ACAZF's operations. But, since the company is a Canadian company they are benefiting from a weak Canadian dollar and their softwood products, have actually benefited, unlike their counterpart competitors. Positive foreign exchange movements coupled with subsidies makes ACAZF a great play in the lumber industry, despite their double taxation on the dividend.
The two current tailwinds, weak CAD to US Dollar and subsidies could turn into headwinds. This could happen if the CAD starts to strengthen or if a new tariff agreement is reached between the US and Canada. There will be a further look into these potential headwinds in the risks section of this report.
To put the subsidies in context, I have provided scripts from some of ACAZF's competitors, where they elaborate on the disadvantages they have against Canadian companies.
Canadian lumber producers have a significant position in the United States market due to their low wood fiber costs.
Also…
Historically, Canada has been a significant source of lumber for the U.S. market, particularly in the new home construction market. After years of trade disputes over Canadian lumber imports, the U.S. and Canada executed a definitive agreement establishing a system of tiered taxes and/or volume restrictions relating to Canadian lumber imports to the U.S. However, the agreement expires in 2015, and it is uncertain when or if a new agreement will be reached, and if reached what the terms of such agreement would be. Moreover, even if a new agreement is reached, there can be no assurance that it will at all times, or at any time, effectively create a fair trade environment. Therefore, downward pressure on domestic timber and lumber prices caused by Canadian imports could continue or increase.
Source: PCL 2014 Annual Report
After years of trade disputes over Canadian softwood lumber imports, the United States and Canada signed a 7 year Softwood Lumber Agreement in 2006, which was subsequently extended to 2015. The agreement establishes a system of tiered taxes and volume restrictions relating to Canadian lumber imports to the United States. There is no assurance that this agreement will be renewed or renegotiated beyond 2015. If it is not renewed or renegotiated, the United States is subject to a one-year standstill on trade litigation upon expiration of the agreement and we would have little recourse to address the import of Canadian lumber into the United States that competes unfairly with our products. Even if the Softwood Lumber Agreement is renewed or renegotiated, there can be no assurance that it will at all times, or at any time, effectively create a fair trade environment. The London Court of International Arbitration has twice ruled that Canada has violated the Softwood Lumber Agreement.
Source: PCH 2014 Annual Report
As you can read from the paragraphs above, the Softwood Lumber Agreement has just been lifted. Even though Canadian companies did have to pay an extra tax or tariff on softwood dumped in the US, these companies still have been able to operate much more efficiently due to subsidies and low wood fiber costs. Since the Softwood Lumber Agreement has been lifted, Canadian companies no longer face taxes or quota restrictions on lumber shipments to the US. Also, since they were lifted, no trade cases can be filed for a year, which will also benefit ACAZF over its peers.
What makes the removal of the Softwood Lumber Agreement an interesting added bullish thesis to ACAZF's potential upside, is that members of the US Lumber Coalition cannot file petitions for one year (starting October 12th, 2015) due to clauses in the original agreement. Thus, by law, for one whole year, US lumber companies will have to deal with lower Canadian lumber prices, without tariffs. Since there are no regulations or tariffs on Canadian lumber now, there could be an increase of demand for Canadian Lumber and decrease in demand for US lumber. When taking into effect a weak Canadian Dollar, this makes Canadian lumber even cheaper than US lumber (an even stronger suggestion that Canadian lumber will have strong demand for the next year).
Interestingly, it is speculated that there will be an agreement after a year is up, which would help to stabilize prices and or market stability. Many Canadian lumber companies have become comfortable with the Softwood Lumber Agreement. In fact, Canada's Department of Foreign Affairs speaker, John Babcock stated the following…
"There is a general agreement in Canada in the value of maintaining this predictability and stability which has resulted from the Softwood Lumber Agreement."
Overall, Canadian lumber companies within this year, may have a tendency to see rising demand for their products due to the removal of the Softwood Lumber Agreement. However, if a similar agreement is met after October 12th, 2016, the prices of lumber will become more predictable and stable. Investors interested in digging further into the Softwood Lumber Agreement can read reports here, here and here.
A valuation is based off of ACAZF reverting to a higher EV/EBITDA multiple of 18.84x (the peer average). A reversion makes sense due to higher operating margins (from Softwood Lumber Agreement being lifted, attractive subsidies, low wood fiber costs, lower fixed and variable costs and positive foreign exchange movements), and a long-term attractive economic environment.
| | |
| --- | --- |
| EBITDA | 26.55 |
| Multiple | 18.84 |
| EV | 500.20 |
| +Cash | 16.01 |
| -Debt | 95.95 |
| Total Equity | 420.26 |
| Shares Outstanding | 16.73 |
| Estimated Equity Per Share | 25.12 |
In millions
At the current price of ~$19.15/share, the target estimated equity per share, gives investors decent upside potential. I believe that the removal of the Softwood Lumber Agreement is not currently priced into the share price of ACAZF. I am basing the former sentence off of the fact that ACAZF has not released a financial statement since the removal of the Softwood Lumber Agreement. Thus, the company has not been able to report how the removal has affected demand for their Canadian lumber products. I am expecting demand to increase due to the removal, which will help realize the targeted multiple.
As I have stated earlier, ACAZF should trade at a discount to its peers due to its smaller size. Thus a reversion to a higher multiple, especially the peer average multiple would be counterintuitive. Though, I do believe a reversion to the mean has very real potential of transpiring due to stronger operating performance compared to its peers, subsidiary protection from falling commodity prices and the lift of the Softwood Lumber Agreement.
Risks
An economic contraction is the biggest risk in my opinion. When the economy contracts, companies like ACAZF has a tendency to suffer. I believe that this risk can be mitigated for now due to positive economic indicators playing out such as; US job growth creation, a housing market recovery, and easing credit standards. Investors should continue to monitor macroeconomic indicators if they make an investment in ACAZF due to the cyclical nature of the industry.
Overall weaker commodity prices as a whole, could have a tendency of affecting lumber prices, in a negative fashion. Also, lower oil prices could suggest that demand for lumber may falter in the future. For an example, oil dependent areas in North America (Texas and North Dakota), have potential to experience an economic contraction. An economic contraction in oil dependent areas may have a tendency to decrease the level of new builds (housing) or restructuring of housing. However, there are plenty of individuals who will benefit from the low oil prices (via disposable income rising).
If the price of lumber continues to decline, ACAZF's top and bottom line have potential to contract. However, due to the strong US Dollar, Canadian subsidies, the Softwood Lumber Agreement lift and overall lower operating costs on the Canadian front, these risks are not as high compared to US counterparts. Long-run indicators suggest that the price of lumber may rebound, despite short-term headwinds.
ACAZF takes non-cash charges and gains to its net income on a more frequent basis. The charges and gains are from adjustments to the fair value of the timberland the company owns. Because of these non-cash charges, net income has a tendency to be distorted in a positive and negative fashion. Investors should monitor the company's FCF going forward and pay no heed to changes in net income.
A reversion of the US dollar may adversely affect ACAZF's income. Also, a new Softwood Lumber Agreement between Canada and the US, could be detrimental to the business if the agreements are worse than the original ones. I believe that these two potential headwinds poise a big risk to the profits of ACAZF. Investors should continue to monitor currency movements and bureaucratic involvements in regards to a new tariff agreement.
ACAZF hires third party contractors/operators in the majority of their labor. Rising third party costs (due to increased competition from skilled laborers) may damper the bottom line. Unions also represent a good chunk of the workforce. A rise in union benefits may also have a tendency to increase expenses.
There is a Stand-by-Equity commitment with Brookfield Asset Management for $50mm in new common stock. If the company issues further common stock, shareholders will be diluted. Given the fact that Brookfield Asset Management owns >45% of the shares outstanding, it is less likely rampant dilution will take place. However, the risk of dilution poises a great risk for long-term shareholders.
If energy prices start to rise in 2016, variable costs will increase.
Fire damage, insect infestation/disease, bad weather conditions and prolonged drought are high risks. In fact any limitations on harvesting will impact the top and bottom line.
Conclusion
ACAZF is a great long-term play on a recovering North American construction and housing industry. In the short-run there are headwinds in regards to the lumber industry, however, the majority of these headwinds have very real potential to benefit ACAZF in a positive fashion. ACAZF has some of the highest margins in the industry and their margins have expanded in the TTM unlike the majority of their peers/competitors. With fixed costs down from lower interest expenses and potential for further reductions in variable costs from lower energy prices, ACAZF is in a great financial position to generate further FCF.
When looking at the US lumber industry, lower lumber prices, a lift of the Softwood Lumber Agreement, and a strong US dollar have put downward pressure on the majority of US companies. What is interesting and bodes well for a pair trade strategy, is that these negative externalities on the US front are positive benefits for Canadian companies like ACAZF. Shorting a US lumber company like PCH and going long ACAZF, has potential to be very profitable. As stated before though, advanced investors should only partake in a pair trade.
The price target of $25.12/share is arrived at by applying an EV/EBITDA multiple of 18.84x (the average peer multiple). Due to lower fixed and variable costs going forward, positive macro trends and the lift of a regulation, ACAZF has real potential of realizing a higher multiple. While investors wait for a reversion in the multiple, they can collect a decent 4.80% dividend. ACAZF is an undervalued and overlooked microcap, with some of the highest operating margins in the industry. Attentive and astute microcap investors may do well holding a small position in ACAZF.
Disclosure: I/we have no positions in any stocks mentioned, and no plans to initiate any positions within the next 72 hours.
I wrote this article myself, and it expresses my own opinions. I am not receiving compensation for it (other than from Seeking Alpha). I have no business relationship with any company whose stock is mentioned in this article.
Editor's Note: This article discusses one or more securities that do not trade on a major U.S. exchange. Please be aware of the risks associated with these stocks.