Following the release of Jurassic World and Star Wars: The Force Awakens, 2015 will undoubtedly prove to be a year to remember for North American movie theatre operators. Cinemark Holdings, Inc (NYSE:CNK), being one of the largest theatre operators in the U.S. will of course benefit greatly, but following a year filled with blockbusters, will 2016 be more downbeat?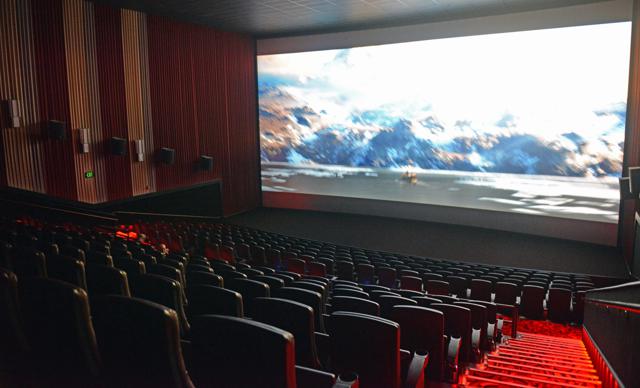 Cinemark Holdings along with its subsidiaries operates in the motion picture exhibition industry with theatres in the United States, Central America, and South America. It is one of the largest companies in the industry with 4,489 screens in the U.S. and 1,257 screens internationally.
We believe 2015 will prove to be an epic year for movie theatres in United States following a year of key blockbuster releases, none more so than Star Wars: The Force Awakens which is expected to have helped boost U.S. ticket sales to a new record high of over $11 billion, and a 6% rise year-over-year. This of course means 2016 is going to have to be even more spectacular if it is going to continue the year-over-year growth.
Even before Star Wars was released we were impressed with Cinemark's performance. The three quarters of 2015 smashed 2014's performance hands down. Revenue rose in every single segment, both domestically and internationally.

(Source: Company 10Q)
There are a number of key releases in the pipeline in 2016, including a little talked about Star Wars film that is flying under the radar. Rogue One: A Star Wars Story is the first film in the Star Wars Anthology series, a collection of stand-alone stories set in the Star Wars universe. With rumored appearances from Darth Vader and Hans Solo, it could be a surprise hit, if even a reasonable portion that saw The Force Awakens tune in for it.
Asides from that, the predicted blockbusters are many in number; Batman vs Superman, Suicide Squad, X-Men Apocalypse, Star Trek Beyond, Independence Day: Resurgence, Captain America: Civil War, Alice In Wonderland: Through The Looking Glass, Finding Dory (The Finding Nemo sequel), and Warcraft.
We feel this is a sufficient amount of quality releases to keep people coming back and expect ticket sales to grow modestly and therefore revenue to do so also. It is worth pointing out though that two analysts have lowered their 2016 box office forecasts. Stifel Research's Benjamin Mogil dropped his estimate to -5% from +3%, while MKM Partners' Eric Handler went to +0.1% from +2%.
So what if overall ticket sales cannot continue its growth? Well, if ticket sales are indeed down, a simple way for the company to increase revenue on fewer ticket sales is of course through price increases. On the Q3 call the company said:
"… we're looking at price increases that we think will benefit us but also won't grouch the consumer. So we know consumers think that the price at the concession stand is relatively high. So we would be careful there. We don't want to be greedy because we want to increase the number of people going to the concession stand. But, yes, we will increase the price moderately."
We take a lot of confidence from this statement. The company clearly knows its customer and we feel ticket price increases will be handled with extreme care. The increases we're seeing in wages and disposable income should go some distance to offsetting any potential negative reaction.
The company can also achieve this through it XD screens. XD stands for extreme digital., and provides moviegoers with the chance to "experience cinema like never before!" The cinema consists of wall-to-wall screens, wrap-around sound, and extra-comfortable seating. This service is a premium service with premium pricing. By converting more screens to this, they can attempt to squeeze more dollars (generally $3 more) out of willing patrons, whilst still providing the cheaper standard option for those that aren't as willing.
On the Q3 earnings call the company stated that it had 196 XD screens throughout its circuit that it had put into key locations. The company tends to pick the highest performing movie and play it in each particular XD marketplace. It is encouraging to see how it is paying off. Management revealed that about 3.5% of its circuit is comprised of XD screens, which is generating about 6.5% of it box office. For these reasons we feel the company can achieve revenue of $2.96 billion in FY 2016.
Compared to its biggest rival Regal Entertainment (NYSE:RGC), Cinemark has much greater levels of liquidity, which is part of the reason we would choose it for investment over its rival at this point. As shown below, both current and quick ratios are significantly higher for Cinemark. We should point out though that they both do produce similar strong amounts of free cash flow, with Regal a little ahead with $194.60 million, to Cinemark's $136.93 million.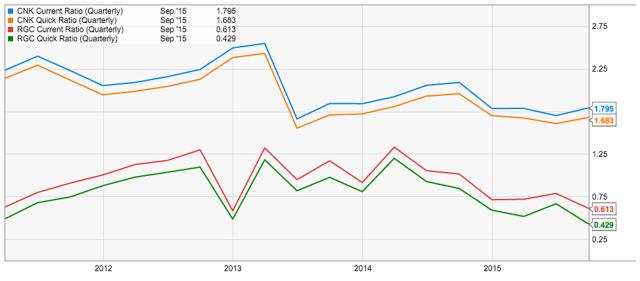 (Source: Ycharts)
Valuation
Part of the reason we have banged on so much about revenue in this thesis is because it is part of our preferred two-step method of valuation for the stock. We feel it is fair to value Cinemark on a price to sales ratio of 1.3, and a price to earnings ratio of 18 times earnings.
So our valuation inputs for FY 2016 are as follows: earnings per share of $2.08 on revenue of $2.96 billion, a price to earnings ratio of 18, price to sales ratio of 1.3, and an increase in shares outstanding to 117 million.
The weighted-average of these two valuations gives us our one-year price target of $35.75. A gain of just over 13%, which isn't too bad to say the least. There is also a good dividend, which we feel is sustainable, yielding 3.22% from a payout ratio of 56%.
Disclosure: I am/we are long CNK.
I wrote this article myself, and it expresses my own opinions. I am not receiving compensation for it (other than from Seeking Alpha). I have no business relationship with any company whose stock is mentioned in this article.