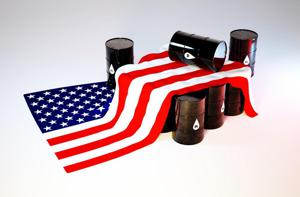 So crude oil is selling at a little above $30.00 a barrel Tuesday afternoon. Some analysts, like those at Morgan Stanley, are saying that the price of oil may drop to $20.00 per barrel. And, what is the implication for this in terms of the world economy?
As more and more analysts are writing, the implication is not good. As the price of oil rose and more and more natural gas fields opened up, energy companies piled on more and more debt. After all, nothing bails out debtors better than inflation.
But what happens when inflation lessens or some prices even begin to decline? Debt becomes a real burden. And this is what many analysts are turning to these days. And, the debt in consideration here is not only the debt of energy companies, but also the sovereign debt of nations, especially including China.
How are nations and businesses going to pay back all their debt when prices are failing to rise...or are even declining? Here in the energy sector, we are seeing everything pile up because of the dramatic fall in the price of oil.
It is true; however, that prosperity in most countries since the end of World War II has been based on the generous expansion in credit in most, if not all, Western nations. It has also been true in other areas of the world. The whole economic policy of these nations have been built on the neo-Keynesian program of the expansion of credit, credit so that the government can reduce unemployment, credit so that more and more people can own their own homes, and credit so that more and more people can own their own cars...and TV sets...and other desirable consumer products.
And supporting this increase in credit is the program to inflate the economy so that the debt created in the credit expansion can be easier to bear. Inflating the economy...even if only modestly...is built into the economic policy of most Western countries whether by means of inflation targeting or hidden behind something called the Phillips curve, which is purported to show the trade-off in the economy between inflation and the nations' unemployment rate.
The idea of the Phillips curve is that the monetary authorities can always reduce unemployment further if a little more inflation can be produced. But, inflation...even if just a little bit...makes it easier to bear the debt the economy puts on as the economy is stimulated to grow just a little bit faster.
This is all fine and good, except when investors catch on to what the governments are doing and start investing...or speculating if you will...to take advantage of the government efforts to inflate the economy.
Most politicians seem to think that inflation...even if only a little bit of inflation...can be continued on indefinitely. All the government has to do is continue to run deficits and then see that credit continue to be extended throughout the economy. The budget office and the central bank are in charge of this part of the program.
Well, something else is happening now. Something has changed. And, whereas the United States seems to be in a not-so-bad position relative to the rest of the world, the rest of the world seems to be facing the problems that can be created by the existence of too much debt.
And the problem goes beyond just the decline in the price of oil. Many commodities are under siege right now as is shown by two of the major commodity price indexes. Both Reuters-Jefferies CRB and S&P GSCI are down today year over year by 26.5 percent.
Many emerging nations that are suppliers of commodities to the world built up massive amounts of debt, both public and private, as commodity prices rose several years ago.
Now, these nations' businesses face the stark reality that debt has to be repaid. And, they are also discovering that this is a much, much harder task when inflation has gone away.
Furthermore, sophisticated investors know that this situation is spreading because the inflationary expectations built into financial markets reflect the reality that these investors are facing.
For example, one year ago, the inflationary expectations built into the bond markets indicated that the expected inflation rate for the next five years was about 1.35 percent. Today, that inflation rate is close to 1.20 percent.
The expected compound rate of inflation for the next 10 years is close to 1.35 percent. One year ago, the expectation was for inflation to be around 1.55 percent for the next 10 years. This is a massive change, but it seems to be the reality that these investors are now working from.
However, it seems to be a different forecast from what the Federal Reserve is working with. The Fed still seems to believe that the inflation rate will return to its target level of 2.00 percent. And this brings us back to the problem of debt. Debt must be repaid. But it becomes harder and harder for debtors to pay back debt if there is little or no inflation. And it is lots harder to pay back debt if prices are declining.
Thus, we are back to the problem with declining oil prices and energy companies that are over-leveraged. The other piece of market information that comes into play here is what some analysts call the bond market "confidence index." A confidence index is constructed by dividing the yield on a low-risk bond issue by the yield on bonds that are not as highly rated.
One measure of this comes from Federal Reserve data, dividing the yield on Moody's seasoned Aaa bonds by the yield on Moody's seasoned Baa bonds. In July, the "confidence index" was 80.3. Currently, the index is at 72.9.
Barron's publishes its own confidence index using similar yields constructed by it. In July, the "confidence index" was at 79.1 and is currently at 72.0. Both measures indicated that investor confidence in the lesser-rated issues in the bond market has deteriorated substantially from this summer.
Finally, this is a problem that cannot be resolved by governments throwing more money and credit at the economy, and it is a problem that will not be able to be resolved quickly.
Disclosure: I/we have no positions in any stocks mentioned, and no plans to initiate any positions within the next 72 hours.
I wrote this article myself, and it expresses my own opinions. I am not receiving compensation for it (other than from Seeking Alpha). I have no business relationship with any company whose stock is mentioned in this article.