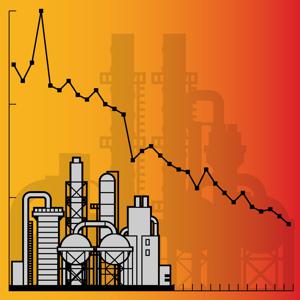 Stocks and oil are tightly correlated these days, as we saw in Tuesday's trade. The relationship could tighten even further Wednesday morning. However, I wonder if the relationship breaks a bit after the report from the EIA today. Recent trading seems to me to illustrate penalized equity and energy valuations have found a level where investors are questioning if they've fallen too far. As Iranian "implementation" of its supply release occurs in the very near-term, we may have a "sell the news" (in this case buy) type of event, given the severe price-down of oil that has led up to the event. In other words, it's priced in. I expect that a positive surprise from the EIA today would serve a rally for stocks, and that bad news from the EIA could only have a short-lived impact before stocks rebound.
The Tie of Oil & Stocks Clearly Evident Tuesday
Stocks started higher Tuesday thanks to a report that OPEC could hold an emergency meeting in Q1 if oil prices fell below $30. However, equities stalled and headed lower I believe once the news was reported broadly by CNBC that Platts was estimating a 2 million barrel build for oil inventory this week. CNBC's Jackie DeAngelis also importantly broadened awareness of the debunking of the report about a possible OPEC emergency meeting, indicating that while some members would like for it to occur, it was not in the cards. Oil then breached the $30 mark and took stocks with it, before resurfacing into the close Tuesday. Most of the market's gains came late and were possibly assisted higher along with oil by a report of the capture of U.S. Navy sailors by the Iranian Navy. That story looks to have a happy ending though, and oil is likely to be pressured again early Wednesday by expectations for a build in crude inventory, or oil equivalents (aggregating with distillates). That would seem to indicate a softer start for stocks Wednesday, but equities and oil are indicating a higher open. I wonder if stocks are coiled for rise once the oil inventory data has been absorbed.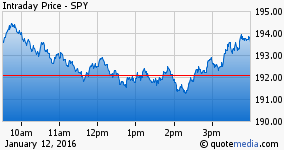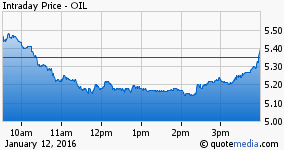 Charts of SPY & OIL at Seeking Alpha
As you can see in the charts, oil really dictated the day's activity and is clearly the key factor acting on stocks now. Reuters first reported on comments by the Nigerian Oil Minister, through which he conveyed the interest of a couple of unnamed members who would like to see a first quarter emergency meeting of OPEC if oil prices fall to sub-$30. Considering prices were right there, they moved higher on the prospect and started the day in U.S. trading higher. The iPath S&P GSCI Crude Oil (NYSE: OIL) opened up 2.4%, I believe on this story, and in so doing led stocks to their gap-higher open. But once the positive news was disqualified by other OPEC members, oil gave way and stocks followed.
Looking ahead to this morning's data
Platts indicated its expectation for a 2 million build in oil today, but the American Petroleum Institute (API) indicated last evening said that it saw a 3.7 million draw from crude oil stocks last week. The API, however, also reported a 7 million barrel increase in gasoline stocks and 3.6 million barrel increase in distillates. The same sort of aggregated build from the EIA last week drove oil prices and U.S. equities lower, and we would expect the same if the EIA reports similar data this morning. However, the EIA and API data do not always match. It's important to note that while traders do give API data relevance, the market responds in a greater fashion to the EIA data.
| | |
| --- | --- |
| Sector Security | Wednesday Early Indication |
| SPDR S&P 500 (NYSE: SPY) | +0.4% |
| SPDR Dow Jones (NYSE: DIA) | +0.6% |
| PowerShares QQQ (NASDAQ: QQQ) | +0.4% |
| iShares Russell 2000 (NYSE: IWM) | +0.2% |
| Vanguard Total Stock Market (NYSE: VTI) | +0.0% |
| Vanguard FTSE Europe (NYSE: VGK) | +0.0% |
| United States Oil (NYSE: USO) | +0.8% |
Recently, I suggested 2016's first stock market rally would likely be driven by good news about crude oil inventory. We've passed seasonal peak crude oil inventory, and draws are thus more likely as the weather gets colder. Over the past couple days of trading we saw stocks seek higher ground despite the same tough environment for energy, with Iranian supply expected to reach market in the very near-term. Data from China has not been supportive, but last evening's reports on trade showed some improvement in China's trade, especially with Europe. I expect that this news is the key reason why oil prices were up overnight, leading European markets higher.
Negative expectations have been greatly priced in, and I believe equities are at a level here where further downside needs strong justification. The news out of China of late has been less dramatic, and its implications on global energy demand less threatening. Seasonal peak oil inventory has been reached, and so draws are more likely. Recent geopolitical scares have shown that despite the Iranian flow, supply is fragile. Thus, I see equities coiled and ready to spring higher, perhaps just temporarily but likely substantially nonetheless. So, after this morning's EIA data is published, I see equities clear to gain. A positive surprise would likely energize a substantial rally, but I only see a negative data point weighing temporarily. I cover the market closely and invite readers to follow my column here at Seeking Alpha.
Disclosure: I am/we are long USO.
I wrote this article myself, and it expresses my own opinions. I am not receiving compensation for it (other than from Seeking Alpha). I have no business relationship with any company whose stock is mentioned in this article.