Nvidia (NASDAQ:NVDA) and Advanced Micro Devices (NASDAQ:AMD) should take notice that Intel (NASDAQ:INTC) is hell-bent on its mission to eliminate the need for discrete video cards. Intel confirmed at CES 2016 that it is developing a gaming NUC (Next Unit of Computing) with a quad-core 6th-Generation Skylake Core i7 and Iris Pro 580 Integrated Graphics Processing Unit (iGPU).
Skull Canyon is testament to Intel's industry-leading capability to miniaturize more powerful PC designs. The skull logo of Skull Canyon echoes the trademark of the fictional hero, The Punisher. Skull Canyon could deliver serious punishment to AMD and Nvidia's desktop and mobile GPU business.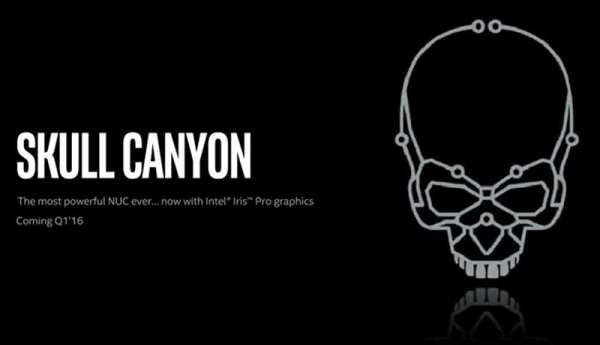 The games-centric Skull Canyon's upcoming release essentially renders AMD's Project Quantum project dead. The Project Quantum concept PC, unveiled by AMD last year, uses a NUC-style design with an Intel Core i7 CPU, coupled with a Radeon R9 Fury X2 video card.
However, the Q1 2016 tentative release of Skull Canyon leads me to believe that Intel, not AMD, will release a gamer-focused Mini PC this year. Once Skull Canyon's reference design is made available, it is unlikely that Project Quantum will receive any serious consideration from PC manufacturers.
More advanced integrated GPU designs are essential to Intel and its PC OEM partners. Intel's high price tags ($300-$530 per tray) for its Core i7 products are justifiable considering they now come with more advanced integrated GPUs. Instead of $1,000 gaming laptops (with discrete Nvidia/Radeon cards), OEMs could get away with similar-performing gaming notebooks (exclusively using Intel Gen.9 Intel graphics) for only $800.
PC Manufacturers Will Find Fewer Reasons To Use Discrete Video Cards
Intel's increasingly-better iGPU lessens the necessity for a separate sub-$250 Radeon and GeForce video cards. The Skull Canyon project could convince manufacturers to ship out mid-range and high-end computers without discrete video cards. One less pricey component saves manufacturing cost.
A savings of $50-$200 by eliminating the discrete GPU allows for lower retail price tags. A cheaper computer always improves its chances of finding more buyers.
A PC without discrete GPU also delivers better energy-efficiency and heat dissipation. Skull Canyon's use of a quad-core Core CPU inside a tiny housing reveals Intel's most powerful consumer processors are now less prone to overheating.
In my experience, using the discrete GPU inside my gaming laptops (even for non-gaming activities) is still a major factor towards overheating. Intel is helping PC builders eliminate a major temperature-raising component inside portable and small computers.
The Iris Pro 580 will be the first GT4 iGPU with 72 Execution Units (EU). It could deliver significant performance improvement over the old GT3 Iris Pro 540, which only has 48 EUs.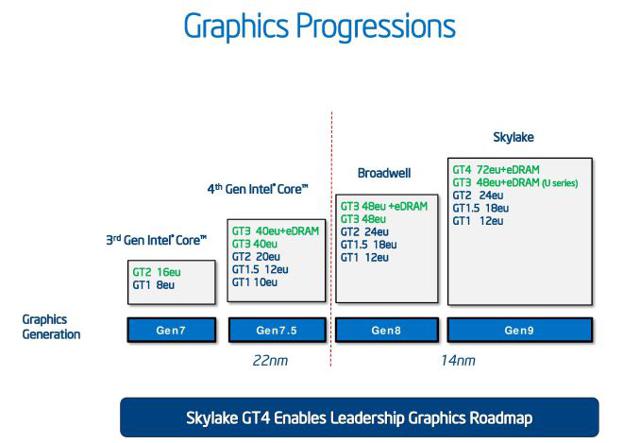 The GT3 Iris Pro 540 touts comparable GPU benchmark scores against AMD and Nvidia's notebook GPUs. Even under full HD 1920x1080 graphic tests, the Iris Pro 540 iGPU is already competitive. Please study the chart below from Notebook Check.net: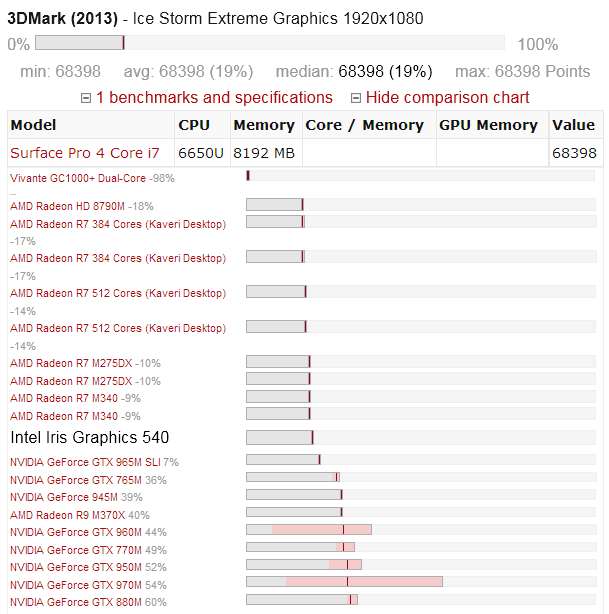 Source: Notebookcheck.net
The Iris Pro 540 beats AMD's Radeon R7 laptop GPUs. The Skull Canyon Iris Pro 580 iGPU will likely compete better with Nvidia's GeForce GTX mobile GPU series. If not, then the next generation of 10-nm Iris Pro Graphics could do this.
I am confident Intel will continue to improve its integrated GPU technology to further enhance the attractiveness of its processors.
The Mini PC Will Replace Desktop Computers
NUC is Intel's platform for mini-computers that continues to see strong market success. Equipping tiny PCs with more powerful CPUs and graphics processors is Intel's preparation for the eventual death of desktop-tower PC products. Skull Canyon foretells a future where consumer and gaming-centric computers would all come in palm-sized (or smaller) configurations.
Intel's advances in integrated GPU design are not only for the pleasure of gamers too. The GPU also serves as a hardware accelerator for software performance in computers. Business users and creative professionals should appreciate that Intel's Gen.9 graphics now offer GPU-based hardware acceleration for media editing/encoding.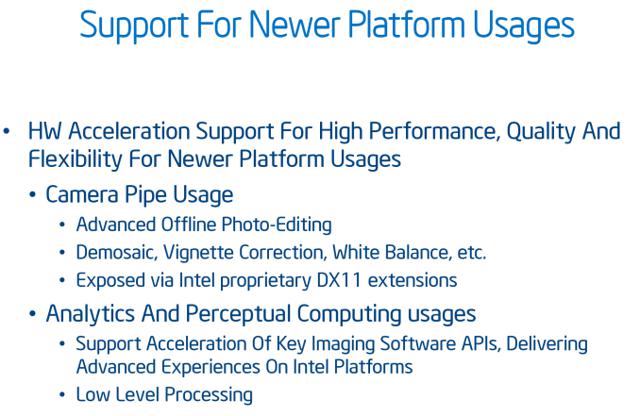 Source: Intel
Imaging software like Photoshop CC and AutoCAD could now also get a GPU boost from Intel's integrated graphics. Even Office 2013 and 2016 have GPU hardware acceleration.
My point is that Intel should be congratulated for coming up with an iGPU with features that were previously only available from discrete video cards.
Conclusion
Intel's increasingly better iGPU solutions are a long-term tailwind for the company. Nvidia and AMD's GPU business could eventually get reduced to a niche market limited to $300++ video cards.
Intel already has 75% of the overall GPU business. This lead could go higher with the release of more affordable Gen.9 Intel Graphics-equipped processors. The entry-level desktop Apollo Lake processor will allegedly come with an Intel HD Graphics 530 GPU. Many OEMs will probably fall head-over-heels for the chance to use Apollo Lake inside games-friendly sub-$500 computers.
The integrated Gen.9 Intel HD Graphics 530 again boasts competitive GPU benchmark scores against mainstream Nvidia and AMD video cards.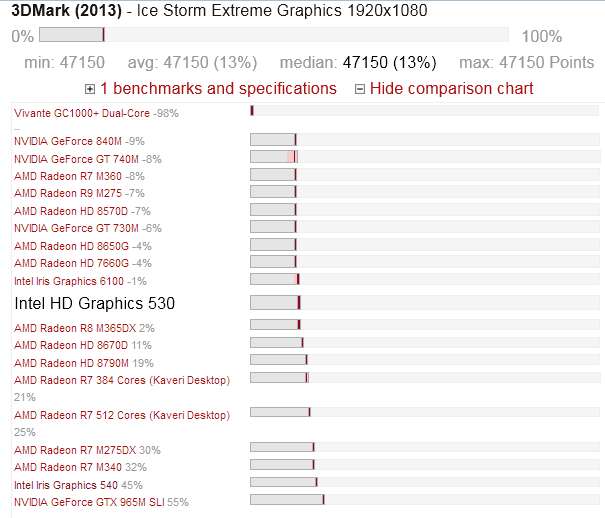 There is no reason for OEMs to take notice of current AMD APUs because Intel is coming up with cheap 6th-generation processors with outstanding GPU capabilities. The current two-generation older 28-nm AMD APUs will remain unattractive compared to Intel's 14-nm processors.
Furthermore, AMD recently confirmed that it can only probably release the high-end version of its 14nm Zen CPUs this Q4 2016. Zen-based APUs will only be available in 2017.
Because of this laggardness of AMD, Intel's processors (and iGPUs) will again dominate the PC market this year.
Disclosure: I am/we are long INTC.
I wrote this article myself, and it expresses my own opinions. I am not receiving compensation for it (other than from Seeking Alpha). I have no business relationship with any company whose stock is mentioned in this article.