Super Bowl Sunday is less than a month away, and the game will most likely be the biggest television event of the year. No one knows for sure which two teams will take part in the final quest for the NFL championship, but many companies feel that the eyes on the television are an important source for future business, so much so that they will pony up more than $4 million for an advertising spot.
The teams that have won the Super Bowl over the past 49 years have ranged from the boring to the electrifying. One of the most boring teams of the past 20 years to win on Super Sunday was the 2000 Baltimore Ravens. They won primarily with a stout defense that barely allowed 10 points per game during their run to the title. They won with a quarterback, Trent Dilfer, who will not be confused with Joe Montana or Terry Bradshaw when it comes to Super Bowl winners and Hall of Fame inductees. They had a solid running game, but it was a defense that allowed a total of 23 points in four postseason games that really did the trick for the Ravens. They were a kickoff return TD from clinching a shutout in the big game.
The 2000 Ravens are much different than the team that was expected to win the next Super Bowl. The St. Louis Rams, called the "Greatest Show on Turf," had already won a title after the 1999 season and set all sorts of offensive records on their way back to the big game in 2001. They had experience, they had players that were sure to make the Hall of Fame -- like QB Kurt Warner, wide receiver Isaac Bruce, and running back Marshall Faulk. They'd only lost two games all year by a combined 10 points on their way to a record-setting season. Yet, for all of the flash they exhibited, they lost to the New England Patriots because of the stout Pats defense.
When investing, there are stocks that are quite "shiny." They look like a great offensive play. My first foray into investing came back around 2000, just in time for the great tech collapse. Shiny new web companies with no earnings seemed like brilliant ideas to a great many investors who were looking for a great offensive play. A great number of traders believed that the market could go nowhere but onward and upward to higher highs indefinitely.
Of course, a few of those companies, like Google, now known as Alphabet, Inc. (GOOG, (GOOGL]]), and Amazon (NASDAQ:AMZN) made it -- and made a great deal of money for their investors. A larger number of companies, like Exodus Communications, basically became worthless or got bought out by other corporations for pennies on the dollar. Fortunately, the latter taught me a great lesson: Rather than chasing capital gains in a business that has little revenue and even less profit, slow and steady investments that provide steady or growing revenues and profits are a better choice.
In a recent article, I looked at the total return of AT&T (NYSE:T) over the past twenty years. Rather than just looking at the price appreciation of around 19 percent over 20 years, the dividends that the telecom giant has returned to shareholders would have nearly equaled the initial investment. With a low beta and solid dividends, AT & T looks much better than Exodus over the long term. The main reason is that it's still around. It's also likely to continue offering cell, Internet, and TV (with the purchase of DirecTV) well into the future. It's not the flashiest of stocks, but it delivers for shareholders. Companies like the infamous Enron and Exodus resemble the 2001 St. Louis Rams, a flashy stock that was expected to soar higher and higher, and yet they are rarely remembered other than as the big busts that they were. The graph below shows the current value of one share of T that has been DRIPed for the past 20 years. There is no comparable graph of Exodus returns over the past two decades, as it no longer exists.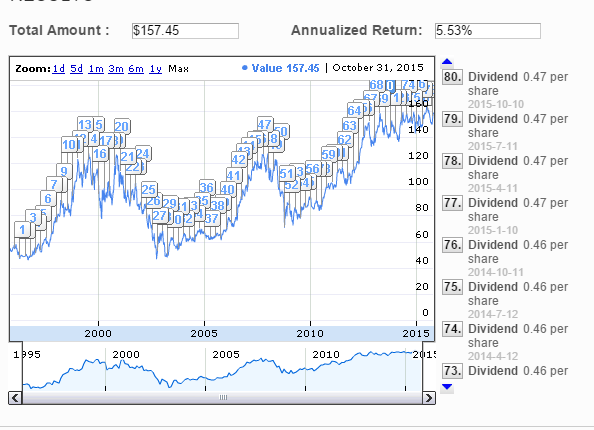 Source: DQYDJ.net
Companies like AT & T and Coca-Cola (NYSE:KO) are considered by many as boring investments that have seen their great heydays of massive growth. What they do provide is a steady cash flow and solid profits. The 2000 Baltimore Ravens were boring, too, but they paid off. KO and T pay off each and every quarter, and with their dividend growth, investors frequently see that their income likewise grows each and every year. This income growth can multiply greatly when reinvesting the dividends. Had I invested in these dividend stalwarts back in 2000, my net worth would be in better shape that it wound up being in. Thanks to the lesson of chasing gains in unproven companies with no revenue or profits, I'm now more interested in companies that pay growing steady or growing dividends that I can reinvest into more stock. When it comes to my investment dollars, boring is beautiful.
Disclosure: I am/we are long KO, T.
I wrote this article myself, and it expresses my own opinions. I am not receiving compensation for it (other than from Seeking Alpha). I have no business relationship with any company whose stock is mentioned in this article.
Additional disclosure: I am not a licensed financial professional. Be sure to check with your financial planner before investing in securities. Losses up to and including all capital invested can occur.