There has been some hefty selling in energy-related junk bonds, but we are seeing an opportunity now with Pacific Drilling (NYSE:PACD) secured bonds maturing in December of 2017. Pacific Drilling is a pure-play ultra-deepwater contractor with the most advanced fleet among all OSD operators.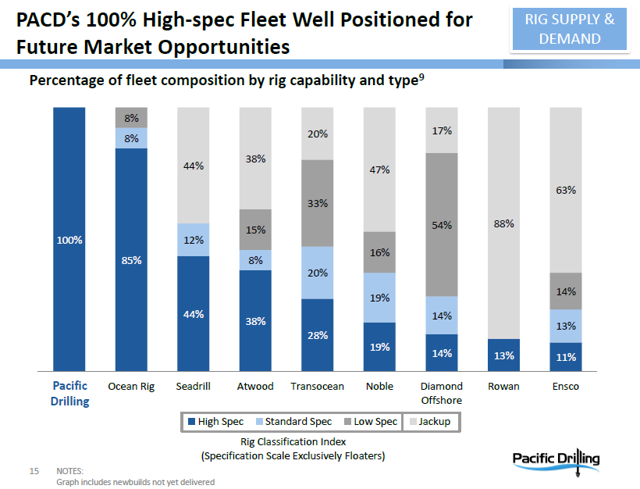 Bonds have been trading below 53 recently and have a coupon of 7.25% payable semi-annually.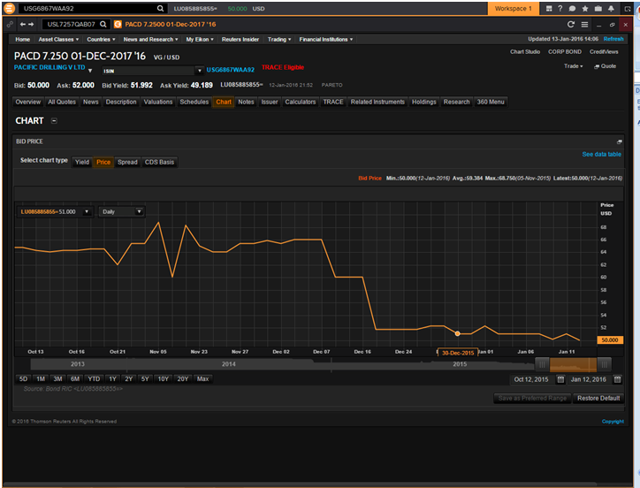 Source - Reuters
Coupons are paid in May and December, and there are four coupons left until maturity. Yield to maturity is 49%, and this article will attempt to project cash flows over the next two years. PACD has a high probability of default over the analyzed time frame. These are senior secured notes with Pacific Khamsin being the collateral. We'd like to analyze whether these bonds present an attractive investment from a risk/reward perspective.
Here's the current balance sheet: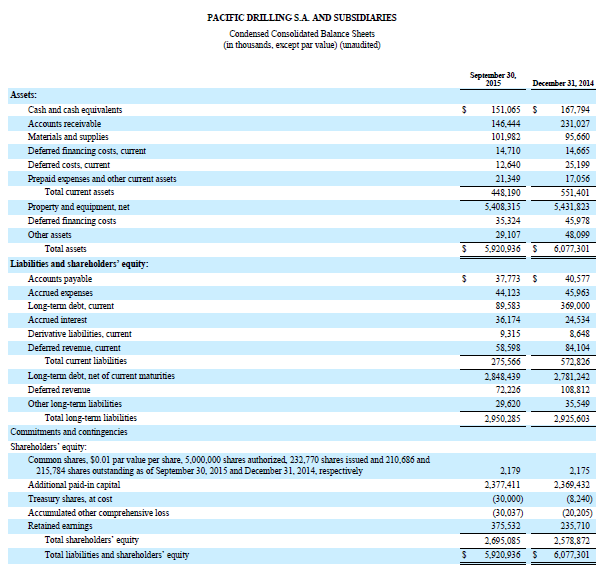 The company has $151 million in cash and $2.9 billion in long-term debt. Current assets, exclusive of cash, are about equal to current liabilities, indicating that short-term liquidity is rather strong. The company still has some high-earning contracts on its books, and let's take a look at cash flows going forward. The company has generated $360 million in cash from operations so far in 2015.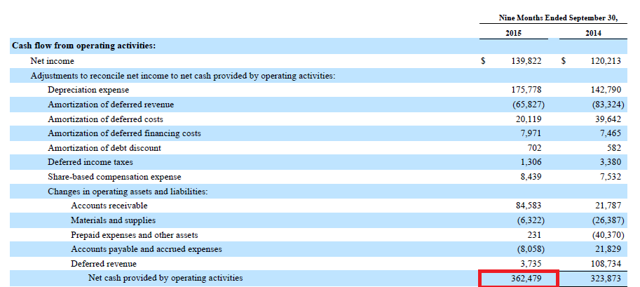 Q4 2015 will closely resemble Q3 results, but we believe fleet revenue efficiency will be higher, resulting in an $8 million revenue uplift. Offsetting revenue efficiency, the company expects to incur higher interest expenses. Interest expenses are estimated to be higher by $14 million, of which $6 million is a non-cash expense. Adding it all together, PACD should generate around $100 million in operating cash flow in Q4 2015.
The company has very little in the way of capex, and operating cash will flow to the balance sheet in its entirety. The company paid down $35 million related to Zonda's revolving credit facility at the time of contract rescission and looks to exit 2015 with a net debt of around $2.6 billion.
Here's how we see PACD's liquidity and debt position at the end of the year assuming available cash is not used for debt repurchases:
Cash - $220 million
Total current assets - $490 million
Total current liabilities - $255 million
Total debt - $2.82 billion
Net debt - $2.6 billion
For 2016, assuming no contract renewals and Khamsin's stacking costs of $40k/day starting with Q2, we arrive at the following P&L statement:
Revenue - $700 million (supported by existing contracts)
Opex - $330 million (lower than 2015 due to lower costs on Khamsin and decreasing opex per rig)
G&A - $55 million
Interest - $180 million ($45 million per quarter assuming no debt repurchases)
Taxes - $30 million
Operating cash flow - $105 million
Capex - $30 million (minimal maintenance and survey work)
Net cash inflow - $75 million
2016 ending cash - $230 million (accounting for $85 million of scheduled principal payments and $30 million in working capital uplift)
End of 2016 liquidity for PACD appears to be as follows:
Cash - $230 million
Total current assets - $460 million
Total current liabilities - $710 million (including $500 million 2017 bond maturity and $60 million in short-term principal payments)
Long-term debt - $2.26 billion
Net debt - $2.59 billion (accounting for $500 million 2017 bond and $60 million in short-term principal payments)
There is approximately $30 million upside to our projections if rig level operating expenses decline to an average of $150k/day as guided by the company. There is further upside if the company uses available cash to repurchase some of the debt on the market. We believe approximately $100 million may be retired with cash on hand, thus interest expenses and net debt may prove to be lower than currently estimated. Additionally, any potential contract may be a source of incremental cash flow.
For 2017, we expect four rigs in operations generating an average dayrate of $370k/day. This assumption is based on blend and extend agreements being done in $290k/day range for Pacific Bora and Scirocco and legacy contracts remaining unchanged. We arrive at the following P&L statement:
Revenue - $550 million
Opex - $320 million
G&A - $50 million
Interest - $175 million
Taxes - $25 million
Operating cash flow - $(20) million
Capex - $25 million (minimal maintenance and survey work)
Liquidity position of the company prior to 2017 bond repayment appears to be as follows:
Cash - $140 million
Total current assets - $380 million
Total current liabilities - $750 million
Long-term debt - $2.19 billion
Net debt - $2.62 billion
For easy visualization, below are tables with projected 2016/2017 P&L, cash flow statement, and liquidity position:
P&L statement
2016
2017
in $ millions
in $ millions
Revenue
700
550
Opex
330
320
G&A
55
50
Depreciation
170
170
Interest
180
180
Taxes
30
25
Net income
-65
-195
Cash flow statement
2016
2017
in $ millions
in $ millions
Beginning cash
220
230
Net income
-65
-195
Depreciation
170
170
Change in working capital
20
20
Short-term principal payment
-85
-60
Capex
-30
-25
Ending cash
230
140
Liquidity position
2015
2016
2017 prior to $500 million debt payment
in $ millions
in $ millions
in $ millions
Cash
220
230
140
Current assets ex cash
270
230
240
Total current liabilities
255
710
750
Short-term debt
85
560
570
Current liabilities ex short-term debt
170
150
180
Total debt
2,820
2,260
2,190
Net debt
2,600
2,590
2,620
We see 2017 being slightly cash flow negative with net debt staying at around $2.62 billion or $374 million per rig. Cash balances would be insufficient to cover $500 million due at bond expiration in December of 2017. The company would be in default unless it taps funds available under its $500 million revolving credit facility.
Should the company elect not to use its revolver for the bond repayment, it would be forced to file a Chapter 11 reorganization bankruptcy, resulting in shareholders being mostly wiped out. Bondholders will become equity holders by converting most of debt into equity and wiping out nearly $180 million per year that PACD makes in interest payments.
Bondholders have incentive to own PACD's assets via bankruptcy
A typical high-spec drillship costs $600 million to construct and approximately $700-750 million to have it in ready to drill condition. If PACD were to restructure its capital, bondholders would become owners of the company's assets at a fraction of their construction value.
With 2017 debt trading below 53% to par and 2020 debt trading at 40% to par, buyers of these bonds will become owners of PACD's rigs at approximately $195 million each or 30% of the construction cost.
Here's the calculation:
Net debt at the time of bankruptcy - $2.62 billion
Average debt per rig - $374 million
Current debt discount - 47% (2017 maturity)
Price per rig with debt discount - $198 million
Not only do bondholders end up with excellent assets at a fraction of their cost, but they also would own a company with the lowest opex per rig among all offshore drilling contractors. PACD is able to operate its homogenous high-spec fleet at daily costs of $160k/day and has a target of $150k/day over the next couple of quarters. For comparison, RIG's daily opex is $180k/day; in addition, the company incurs $30k/day in direct onshore support costs. Other operators such as Seadrill (NYSE:SDRL), Noble (NYSE:NE), Atwood (NYSE:ATW) have high-spec floater costs in the range of $175-190k/day.
Besides being the lowest-cost operator, the new PACD would not incur interest expenses, assuming all debt holders convert into equity. That's annual savings of $180 million flowing directly into operating cash.
PACD would be able to generate $200 million in free cash flow even at average dayrates of $300k/day, assuming six of its seven rigs are contracted in 2018, which we think is rather likely. Here's a breakdown of operating cash in such a scenario, where opex is $150k/day for operating rigs and $40k/day for a stacked rig:
| | |
| --- | --- |
| | in $ millions |
| Revenue | 630 |
| Opex + G&A | 383 |
| Depr | 130 |
| Interest | 0 |
| Tax | 40 |
| Net income | 77 |
| Operating cash flow | 207 |
At a cost basis of $1.4 billion (estimated net debt times 47% discount), that's a 15% operating yield and plenty of upside as the cycle turns past 2018.
Limitations and risks
The risk to this idea lies with deepwater drilling becoming obsolete past 2020. PACD has absolutely the best fleet out there, however, if the industry as a whole is no longer viable, even highest-spec assets will have no value. The dangers are two-fold:
a) Oil demand dropping due to technological improvements in transportation pushing marginal producers out. Deepwater drilling accounts for 8-10 million barrels of oil supply. Costs are substantially higher than in conventional fields but comparable to other unconventional extraction methods. If oil demand were to drop from 95 million barrels per day down to 85-87 million over the next three-five years, drilling in deep-seas would become a thing of a past. We find this outcome highly unlikely as energy consumption in Asia (in particular India, Indonesia, Bangladesh, Philippines) and Africa will experience steady growth as their respective economies improve and more energy would be needed to power higher standards of living of the general population.
b) The second concern is the penetration of shale oil drilling outside of US. We believe this particular risk is insignificant compared to the one mentioned above. Shale oil drilling technology has vastly improved, but still requires a high price on a full-cost basis to provide attractive economics. In addition, few countries have vast areas of available land with the necessary infrastructure in place to commence shale drilling activities as evidenced by the exit of majors from Ukraine and Poland projects and slow commencement of activities in Vaca Muerta, Argentina.
Finally, there is an additional technical limitation for smaller investors as the minimum lot size of PACD's 2017 bond is $200k and the issue is trading with very low liquidity.
Conclusion
At 53% face value of PACD's 2017 bonds and assuming $14.5 in coupon payments over the next eight quarters, the owners' cost basis will be below $40. Bondholders will either be made whole and make a 49% return or end up owning the company's assets at 25-30% of construction cost. A debt-free PACD would instantly become the lowest-cost provider of UDW drilling services in the world and generate $200 million in free cash flow at average dayrates of $300k/day. In both cases, reward outweighs potential risks.
Disclosure: I/we have no positions in any stocks mentioned, but may initiate a long position in PACD 2017 7.25% BONDS over the next 72 hours.
I wrote this article myself, and it expresses my own opinions. I am not receiving compensation for it (other than from Seeking Alpha). I have no business relationship with any company whose stock is mentioned in this article.
Editor's Note: This article covers one or more stocks trading at less than $1 per share and/or with less than a $100 million market cap. Please be aware of the risks associated with these stocks.