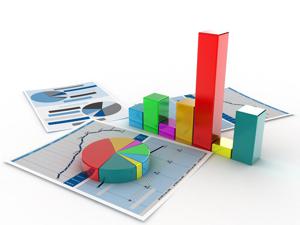 The Fidelity Blue Chip Growth Fund (MUTF:FBGRX) currently enjoys a five-star rating on Morningstar. Even though the fund is certainly not immune from the current beat down that stocks are taking at the moment, its consistent level of performance over the years cannot be ignored. It is a significant credit to the several managers that have steered this fund to success over the years.
For five of the past six years, the fund has outperformed its Morningstar benchmark and S&P 500. This included a thorough outperformance of both benchmarks in 2013. If investors had a time machine, 2013 may be the year to revisit as it was a breakout year for stockholders across the board.
In addition, the fund's consistent outperformance can be seen in its 1-year, 3-year, 5-year, 10-year and 15-year ratios. The fund has done a better job of limiting losses in down periods and exceeding gains in positive periods. This can be seen in the charts below: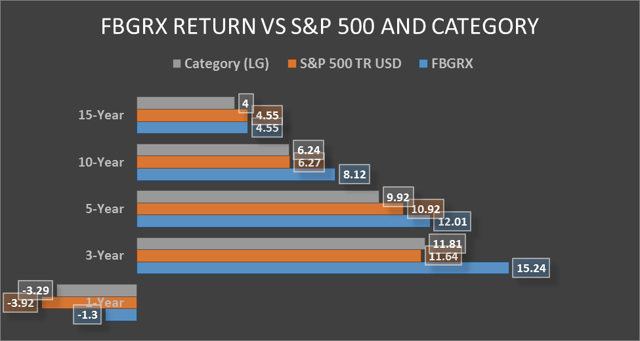 In terms of market capitalization, one cannot help but note the fund's deficit in terms of midcap stocks compared to the benchmark and category average. Certainly, this difference may serve in terms of mitigating downside risk. However, the fund's notable difference in small-cap equities compared to the benchmark and category average serves to cancel the aforementioned advantage out.
| | | | |
| --- | --- | --- | --- |
| Size | % of Portfolio | Benchmark | Category Avg. |
| Giant | 50.84 | 47.26 | 63.45 |
| Large | 29.19 | 32.22 | 16.81 |
| Medium | 12.69 | 19.09 | 17.40 |
| Small | 6.43 | 1.41 | 2.23 |
| Micro | 0.86 | 0.03 | 0.12 |
In terms of volatility measurements for the past 10 years, the fund has outpaced the S&P 500 and benchmark. However, the fund's advantage in standard deviation over the Morningstar Large Growth Category has converged with regards to the 3 year ratio vs the 5-year and 10-year ratios. In spite of this, the Fidelity Blue Chip Growth Fund's advantage in overall return over the category has increased. This can be seen in the chart below.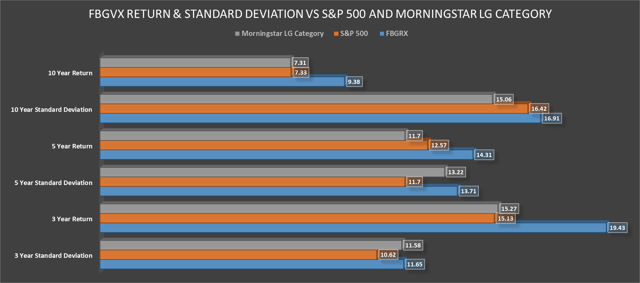 DECLINING DOWNSIDE RISK
The declining standard deviation of the fund over the past several years may be one of the key reasons why the fund's overall risk factor was downgraded to average in its 3-year risk and ratings metric. Previously, the fund's risk factor was above average in its 5 and 10-year metrics.
The fund's decline in downside risk was further illustrated by the fund's declining downside capture ratio. This fund has gone above and beyond in terms of limiting losses for the last three years, as evidenced by the graph below.

BOTTOM LINE:
The Fidelity Blue Chip Growth Fund is attractive based on a combination of consistent outperformance in terms of return and an above-average job of mitigating risk. Both of these key factors make it an attractive fund for potential investors.
Disclosure: I/we have no positions in any stocks mentioned, and no plans to initiate any positions within the next 72 hours.
I wrote this article myself, and it expresses my own opinions. I am not receiving compensation for it (other than from Seeking Alpha). I have no business relationship with any company whose stock is mentioned in this article.