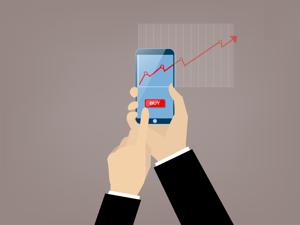 No one ever said investing was easy. It requires you to make tough decisions that go against your natural reactions. It's an essential part of the fight or flight response that's been hardwired into you to save you from dangerous situations. If everyone is running out of a burning building, it takes a special kind of person to run into it. The easy, more natural reaction is to turn around yourself and head for the hills.
Yet when it comes to investing, this opposite behavior is probably what's going to make you money. I've sure you've heard the old adage of "Buy when there's blood in the streets" or Warren Buffett's famed "Be greedy when others are fearful." Talking about it is easy to do, stepping up and actually doing it is a totally different animal altogether.
Of course, this all makes total sense when you piece it together in terms of the market. If most people don't make intelligent investing decisions and find themselves selling into fear and buying into bubbles, then you should probably try to take the opposite end of the trade. Yes, it's very hard to do in a time like this. Just looking at the headlines made me scared. But this sort of fear mongering is everywhere. If we listened to everything we saw on the internet or heard on the news, we'd be holed up in our houses, armed to the teeth, scared to drive our cars because we think they're possessed.
If you're looking for what you could possibly buy in a market like this, think about stocks that have very strong growth prospects in the future but have had their growth premiums sucked out of them during this latest selloff. Look for companies that analysts are still bullish on and have been revising their earnings estimates to the upside. In short, look for Zacks Rank #1 (Strong Buy) and Zacks Rank #2 (Buy) stocks that have a Growth Style Score of "A" or "B." This way we take the guesswork out of the situation and go with what we know works.
Rather than make you dig these stocks up yourself, I'll give you a shortcut. Here are five stocks I've found by running our screener on Zacks.com.
General Employment (NYSEMKT:JOB)
General Employment Enterprises, Inc. provides staffing services in the United States. The company offers professional placement services comprising placement of information technology, engineering, medical, and accounting professionals on a regular placement basis or a temporary contract basis, and weekly temporary staffing services for light industrial clients.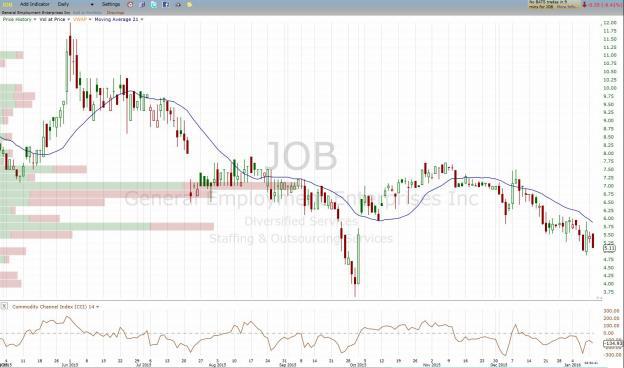 There are a couple of things about this chart that may be hinting at a turnaround for shares of General Employment. First, the lows that we've experienced to start the year here aren't coming anywhere close to the October 2015 dip. Then we've got a sharp spike down to oversold territory near -300 on the Commodity Channel Index (CCI) earlier this month, which now appears to be approaching the zero line. Then there's the psychological $5 level we're getting close to as well. Are these factors enough to overweight the bearish case of trading below the 21-day and below the think band of volume near $6? That remains to be seen, but if you do decide to add this, you can put stops just south the $5 mark and limit your downside.
Arris International (NASDAQ:ARRS)
Arris International plc provides media entertainment and data communications solutions in the United States and internationally. The company operates in two segments, Customer Premises Equipment and Network & Cloud.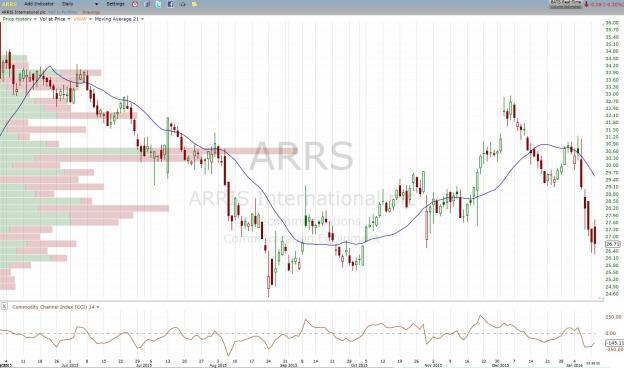 It's been a wide ride for shares of ARRIS with the stock coming down below $25 before catching a bid and rallying to $33 to start December. Since then there's been a selloff back to the late October low. Initial support here implies that this may be a great buying opportunity for shares. The CCI has recovered a bit after getting down to -213. Perhaps the heavy selling pressure has begun to subside here.
Centene (NYSE:CNC)
Centene Corporation operates as a diversified, multi-national healthcare enterprise that provides programs and services to under-insured and uninsured individuals in the United States. It operates in two segments, Managed Care and Specialty Services.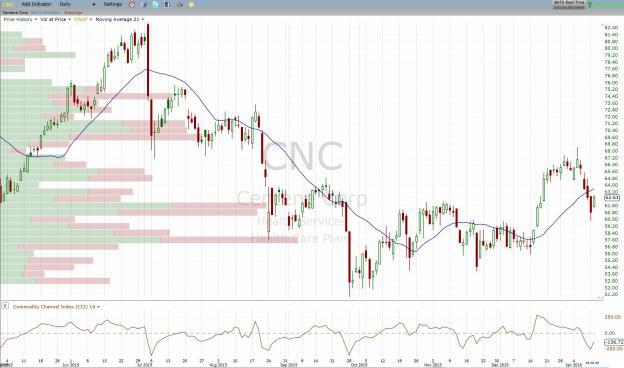 The volatility in healthcare was a big source of concern for investors during the second half of 2015. What seemed like such a no-brainer quickly became a nightmare of a trade as the entire sector began to unravel. The pressure saw shares of CNC plummet from over $82 all the way down to $51 in only three short months. There is some hope for CNC as a rebound from the lows pushed up over $68 before the rally succumbed to the broad selling pressure of the market. This retrace to the low $60s to an area of support while the CCI has bounced from extreme oversold territory may be confirmation of the end of the selling pressure.
Zayo Group (NYSE:ZAYO)
Zayo Group Holdings, Inc., through its subsidiaries, provides bandwidth infrastructure solutions for the communications industry in the United States and Europe. The company operates in three segments: Physical Infrastructure, Cloud and Connectivity, and Other.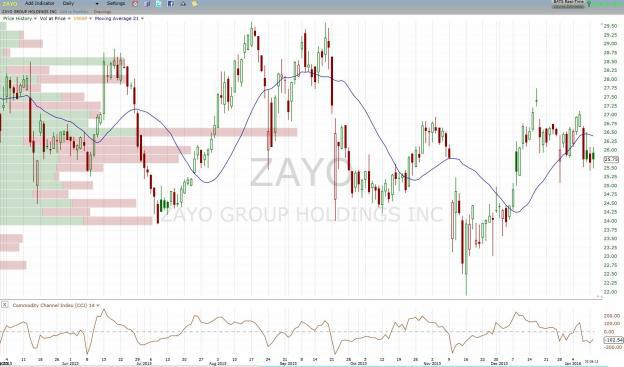 Plenty of chop here for shares of ZAYO as the stock has been range bound for most of the year. Aside from an aggressive dip during November, nearly all the price action has been concentrated between $24 and $29. It does appear that buying when the CCI dips below -200 has been a successful short-term strategy. It worked on at least five occasions in the last several months. With the CCI at -101, I'd keep a close eye on this one.
Codexis (NASDAQ:CDXS)
Codexis, Inc. develops biocatalysts for the pharmaceutical and fine chemicals markets in the United States and internationally. The company offers Codex biocatalyst panels and kits to pharmaceutical companies that are engaged in drug development and the marketing of approved drugs to allow them to screen and identify possible enzymatic manufacturing processes for their drug candidates and their marketed products.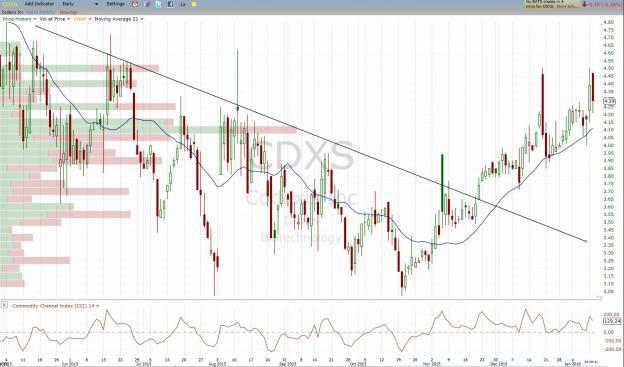 This may be the most compelling of all the charts here. Like a couple of others, shares of CDXS bottomed in October just above $3. Since then, the rally has been fierce, taking shares near $4.50 or 50% higher. CDXS has leapfrogged the 21-day moving average and the CCI has confirmed the bullish trend since early November. What I like the most is the latest run broke a long term bearish trend channel. That's among my favorite sights to see when combined with a favorable Zacks Rank.
Bottom Line
It's kind of scary out there folks, I know. But these have historically been some of the best times to stand in and buy stocks. If you weren't buying stocks with the S&P 500 above 2,100, then you officially have the pullback you've been waiting for. Now that it's here, you have to ask yourself, "What am I waiting for?"
Editor's Note: This article covers one or more stocks trading at less than $1 per share and/or with less than a $100 million market cap. Please be aware of the risks associated with these stocks.