My contributions mostly involve stocks I believe are undervalued with the potential for significant upside within a year or so. Dividend income is a secondary consideration, but after hours of tinkering with my brokerage's value and income screener, I have uncovered what seems to offer the best of both worlds in this turbulent and uncertain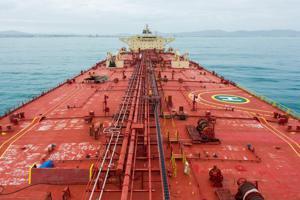 market. Ardmore Shipping (ASC) is a small-cap ocean shipping company that transports petroleum and other refined chemical products through the ownership and operation of 24 ultra-modern tankers. Operating from both Bermuda and Ireland, ASC was a private company until it went public in August 2013 at $14 per share. Over the last 30 months, it has traded as high as $15.84 and at the writing of this article, $10.70. The $1.24 annual dividend yields 12% and seems to be secure as I will explain later. I believe ASC deserves increased investor attention and here's why.
The Business Drivers
The great oil price crash has caused many investors to avoid anything to do with crude, but the glut and accompanying price decline have produced opportunities that deserve to be explored. Ardmore Shipping Corporation is one of those situations that is screaming for a closer look. All crude is eventually refined into petroleum and other chemical products. Once refined, the product needs to be transported from the refinery to other installations and the bulk of that transportation occurs by seaborne tankers such as those owned and operated by ASC. Granted there are some signs that worldwide crude production is slowing, but there are also well informed predictions that the oversupply of crude will last 3-4 more years. Once pumped, crude needs to be stored or refined and with worldwide storage capacity all but completely used up, refining is at record levels. This confluence of events has been largely responsible for ASC's astonishing earnings since going public and should continue to drive its business model for a while longer. How much longer, is the million dollar question?
Shareholder Benefits
One of the most impressive management actions to benefit shareholders I've witnessed in quite some time is the new policy of a constant dividend payout ratio of 60% of earnings from continuing operations, which is net income adjusted for gains and losses and to be announced with each earnings release and paid about two weeks later. I believe that this speaks volumes about the company's faith in its continuing ability to execute the business model at an exceedingly high level as well as its positive outlook for the foreseeable future.
The Metrics
Earnings are projected to increase 32% over the next 24 months and at the writing of this article, ASC's forward PEG ratio is a low 0.7 compared to the industry average of 1.4. The lower the PEG ratio, the more undervalued the stock relative to its peers and the market in general. The current P/E ratio is 6.6x projected 2016 earnings compared to the industry average of 9.4, and market average of 15. ASC is trading at just 0.76 of book value, which is incredibly inexpensive. These numbers suggest one of two things; either a company whose profitability is about to crest and the market smells it, or a company that is just overlooked and eventually will draw attention to its story. I believe ASC is an example of the latter.
Other Considerations and Conclusion
The stock has recently been trounced with the rest of the market and has lost nearly 20% in the last 2 weeks; however, of the 13 analysts following ASC, 7 still rate it a buy, 6 a strong buy; and the average price target is about $17, some as high as $20 within the next 12 months.
Earnings reports for the last six quarters have overwhelmingly exceeded analyst estimates, and based on the forward-looking statements and upbeat tenor of management's last report and conference call, I expect the same when Q4-15 results are released on February 2nd. My observations are that following each of the last three earnings reports, ASC has experienced immediate 15%-20% price appreciation but retrenched shortly thereafter. If history is any indicator of the future, positioning oneself at the current price prior to the earnings report could provide a nice short-term gain, which would be welcome by most everyone at this juncture.
Even if earnings don't positively surprise and just meet expectations (which I believe is a given), there seems to be minimal downside risk with the previously announced 60% dividend payout commitment serving to provide some price support at current levels along with the 12% yield. The metrics suggest that ASC is relatively undervalued, and this, along with projected earnings growth, should also help buffer against further downside. Projected earnings growth coupled with management's strong cost containment mindset suggests to me that the dividend is safe for now.
If my thesis holds true, and the Wall Street prognosticators are correct, patient investors (12 months) could see a 50%-60% return while collecting a generous dividend. As with any stock, there is the risk of capital loss, so conduct your own research and speak with your investment advisor about ASC.
Disclosure: I/we have no positions in any stocks mentioned, but may initiate a long position in ASC over the next 72 hours.
I wrote this article myself, and it expresses my own opinions. I am not receiving compensation for it (other than from Seeking Alpha). I have no business relationship with any company whose stock is mentioned in this article.