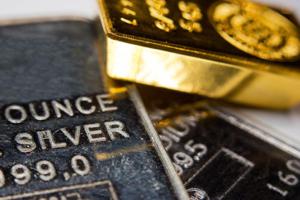 Recently, while reading some common sense investment quips by Warren Buffett, I began thinking of the correlation between the Buffettquotes and the precious metals miners sector. Then, when one combines a value oriented approach to Avi Gilburt's (elliottwavetrader.net) guidance suggesting precious metals are bottoming into a long anticipated retrace area, it even further accentuated Mr. Buffet's anecdotes. Here are a few of the quotes that really stood out.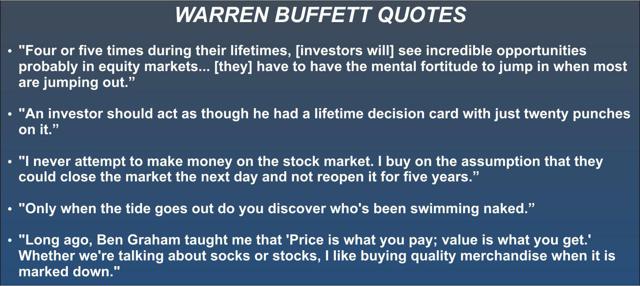 In this article I'll discuss how metals are bottoming in a cyclical correction to a long term secular bull market, the incredible "value" opportunities that exist within the precious metals mining sector, a perspective relating to how to uncover real value, and why I view metals as reasonably close to a multi-generational low.
Gold is in a Cyclical Correction in a Secular Bull Market
Between 1968 and 1980 gold rallied during a secular bull market from $35 per ounce to $675 per ounce. During this rally, between December 1974 and September 1976, it experienced a cyclical correction from $185 down to $104. I can only imagine the public sentiment in respect to gold during this timeframe as being virtually identical to that of today, investor's imagining that new lows were nigh upon them, only to suddenly see gold subsequently rise from $104 to $675 in January, 1980 (Figure 1).
Gold is now experiencing a very similar configuration to that of Figure 1. Since it's 2011 high of $1,895, gold has experienced a cyclical correction which is, based on Avi Gilburt's larger degree Elliott Wave count - see below, coming to a conclusion, quite potentially in the coming few weeks to few months, setting the stage for a continued rally inside the long term secular bull market (Figure 2).
Figure 1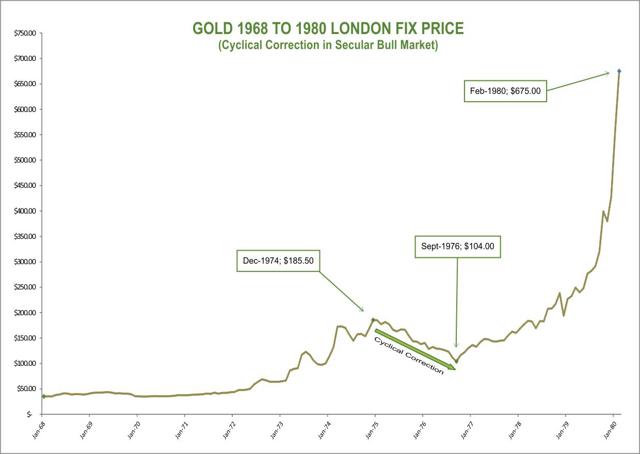 Figure 2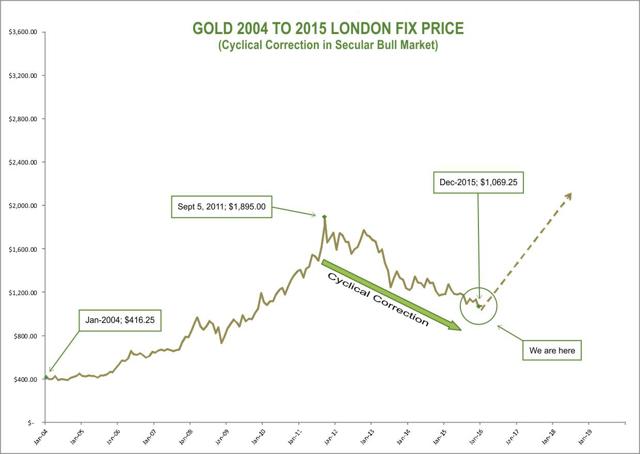 The precious metals mining sector moves in concert with metals, only at a greater percentage pace than metals in the prevailing direction (i.e. bull or bear market). Since 2011, gold has dropped 43%. During this same time period, the HUI Goldbug's Index has dropped from 640 to 103, or 84%. In addition, many small cap and junior miners have dropped well over 90-95%.
With gold levels dropping to an area that is close to many companies "all in" cost of production, and with silver well below most companies "all in" and "cash" cost of production, is it any wonder the sector has dropped so low relative to the underlying metals themselves. However, it's a classic case of "when the tide goes out, all vessels drop" coupled with Mr. Buffett's anecdote - "Only when the tide goes out do you discover who's been swimming naked", as there truly are incredibly solid companies that have been dragged down by the ones swimming naked, offering investors the opportunity to punch their proverbial lifetime investment card.
One must pause and consider the opportunities exhibited by combining the Value Aspects (Micro Fundamental Analysis) of individual companies with the long term technical aspects of the underlying precious metals. This target rich environment of miners provides investors with the investment opportunity of a lifetime. It seems a Perfect Storm is brewing.
The greatest long term opportunity to maximize returns within the miners segment is by investing in medium and small cap companies, and in silver miners. Silver's percentage upside potential is much greater than gold's potential. Within the medium and small cap segment, the most attractive companies are those with lofty resources/reserves, solid financials, and management leadership with the ability to take advantage of the opportunities to grow resources while simultaneously controlling expenses.
Value Analysis Approach to companies from within the sector
There are many important aspects to consider when analyzing a miner from a value perspective (e.g., reserves, cash on hand, cost of production, jurisdiction, annual production, management, etc.). An investor's objective should be to allocate capital to the "correct" companies from within the sector - the safest companies that offer the most long-term upside potential. Two areas I focus heaving on are (1) Enterprise Value, and (2) Proven and Probable Reserves and Measured Resources ("Reserves"). The following are several terms to assist in comparing one company to another.
Enterprise Value ("EV") - EV is Market Cap - Current Assets + All liabilities. If one were buying the company in its entirety, they would pay the current market cap, but would receive the benefit of cash, inventory, and receivables, and would still be responsible for all liabilities. Enterprise Value is the most realistic way to view the cost of a company because it takes into consideration the current stock price, cash and short term assets, and all debts.
Proven and Probable Reserves and Measured Resources ("R&R") - As an investor, you are buying a company's Reserves and Resources and its ability to mine those R&Rs over a reasonable period of time.
Enterprise Value Per Ounce ("EVPO") - The EVPO is the cost of each ounce of Reserves based on the current Enterprise Value. This provides a simple relative number to use when comparing one company to another, while taking into consideration the overall market cap, debt, cash, other current assets, relative to overall Reserves.
Net Present Value ("NPV") - In determining the NPV, we assume a company will mine all of its R&R over a 10-year period and then subtract its current All-In Costs of production to determine a net profit and cash flow for each at gold prices at $1,200, $1,400, and $2,000 per ounce, and then discount the profits back to today using a discount rate of 10%. While it may or may not be practical to mine all R&R over 10-years, this approach nonetheless provides a relative comparison of companies.
NPV/Enterprise Value ("NPV/EV") - The Net Present Value of a company divided by its Enterprise Value provides an indication of the discount at which a company's stock maybe presently selling based on certain future gold price assumptions. For example, if the NPV/EV = 30 at $2,000 per ounce of gold, this is suggestive that the Enterprise Value could appreciate 30 times with a move in gold to $2,000 per ounce. Practically speaking, the NPV may increase by a sizeable positive factor to that of the EV/NPV when the price of gold rises to $2,000 per ounce, much in the same way as miners are presently selling at such an enormous discount to the NPV - where the market basis it's assumption that the underlying - gold and silver - will stay at present levels, or lower. This is a relative comparison tool only, but the comparisons are quite revealing.
Although value investing fails to determine with precision the future share price of a company, it is a solid way to identify those companies that have the potential to significantly outperform others from within the sector. The disparity, as confirmed by a comparison of the two companies listed below, is enormous. In order to better illustrate, let's compare two companies, AngloGold Ashanti Ltd (NYSE:AU) and Argonaut Gold (OTCPK:ARNGF).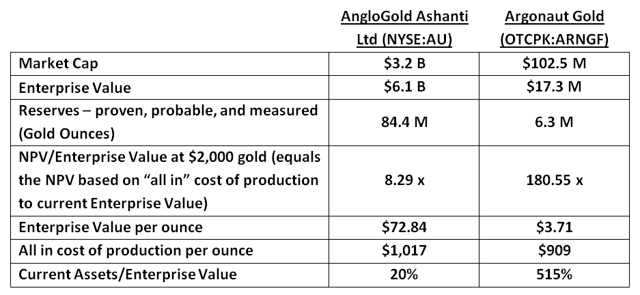 Certainly, AU is much larger than ARNGF, but that is not to suggest that AU is a better long term investment than ARNGF. Reasons as follows:
Notice AU's Enterprise Value is almost double its current Market Cap, whereas ARNGF's Enterprise value is only 22% it's market cap. In the case of AU, this is because of their very high debt levels, whereas ARNGF's debts are small, and their cash is significant relative to market cap.
ARNGF has current assets that represent 5.15x their Enterprise Value, whereas AU's current assets are only 0.2x of their Enterprise Value - suggestive of solid cash on hand in the case of ARNGF.
AU's all in cost of production per ounce is roughly $1,017 vs. ARNGF all in cost of production is $909.
If an investor takes a view that they are buying the entire company, then in the case of ARNGF, they would be purchasing un-mined R&R for $3.71 per ounce vs. $72.84 in the case of AU.
Perhaps the most revealing number of all is the NPV/Enterprise Value at $2,000 gold. What this suggests is that based on an NPV valuation, with a move in gold to $2,000 per ounce, ARNGF's stock could be worth 82.6x its current stock price vs AU would be worth 8.29x its current stock price. Does this mean that if gold rises to $2,000 per ounce, ARNGF will increase 180.55x in value. Not necessarily. However, what it does suggest if that if gold rises to $2,000 per ounce, ARNGF will significantly outperform AU.
This simple analysis illustrates that with a move to $2,000 in gold, both companies are severely underpriced, however the much smaller company, ARNGF is much more significantly underpriced than AU, offering a greater upside potential. The example further illustrates that ARNGF has better overall staying power than AU.
Another example is Barrick Gold ("ABX") compared to Perseus Mining Limited ("PRU-TC"). Presently, PRU-TC has a market cap of $195M and an EV of $49.6M, and EV per ounce of R&R of $13.17, whereas ABX has a market cap of $9.5B and an EV of 22B, suggestive of enormous debt, and a EV per ounce of R&R of $222. Based on these metrics, PRU-TC is the better choice.
Technical Aspects that support conclusion to Cyclical Pullback
I have been following Avi Gilburt's guidance (elliottwavetrader.net) on the metals complex (gold, silver, and miners) virtually since he founded his service four years ago. During this time, I have come to this conclusion: there is no analyst anywhere in the world that has their finger on the pulse of investor sentiment - through his Elliott Wave and technical charting - in a fashion that allows for practical investment decision making, better than Mr. Gilburt. Not only did he call a top to metals in 2011, but he accurately forecasted the decline in both gold and silver into their current retrace areas, along with accurately pegging every major pivot point. Coincident to Mr. Gilburt's major market calls in gold and silver, I have witnessed one fundamental analyst after another pronounce from the tree tops that the "bottom is in" in metals, only to watch a continuation lower, consistent with Mr. Gilburt's guidance. Presently, gold and silver are coming into Mr. Gilburt's long anticipated price targets.
If I had a lifetime decision card, as Mr. Buffett refers, this is truly one of those moments I'd be getting it punched.
Avi Gilburt uses Elliott Wave charting coupled with his extensive experience with measuring chart patterns using Fibonacci extensions and retracements in order to establish expectations for high probability directional moves of certain asset classes - ultimately a measure of investor sentiment. Is the use of Elliott Wave analysis, when conducted correctly; a more practical tool in determining overall market direction than that of macro Fundamental Analysis? To this investor, the answer is an emphatic - YES!
Additionally, once an overall higher degree directional move has been determined with use of Elliott Wave charting, especially in a sector like precious metals miners, the use of micro fundamental analysis to compare one company to another can become highly relevant - what Benjamin Graham calls "value investing". In other words, fundamental analysis on a macro scale is, at its best, a difficult method by which to enable an investor to pinpoint turning points and is far too nebulous to have any practical use, whereas micro fundamental analysis, or what I've referred to as "value" investing in this article, is a helpful tool used to narrow ones investment.
It is therefore the contention of this investor that macro fundamental analysis offers very little in assisting one in determining long term directional expectations in metals and miners. Whereas determining overall direction by the use of Elliott Wave and then extracting from the larger body of miners those companies which provide superior financial and resource attributes will provide an investor a portfolio of companies that offer "extreme" upside potential.
Conclusion
A Perfect Storm presently exists within the precious metals mining sector. The existence of enormous disparities in value between individual companies within the metals/miners sector has created a potential "once in a lifetime" opportunity for investors who are willing to do their homework.
A solid portfolio of miners would include a healthy portion of silver and small cap miners to enhance overall performance. It's imperative that investors do their homework to root out the best opportunities.
Tracking along with and following Avi Gilburt's (elliottwavetrader.net) ongoing analysis in metals and miners allows one to put the future appreciation of certain selected miners into the context of a larger secular move in metals.
Disclosure: I am/we are long ARNGF, AU.
I wrote this article myself, and it expresses my own opinions. I am not receiving compensation for it. I have no business relationship with any company whose stock is mentioned in this article.
Editor's Note: This article covers one or more stocks trading at less than $1 per share and/or with less than a $100 million market cap. Please be aware of the risks associated with these stocks.