Note to the Reader
This article is Part II of a series on the intersection of Healthcare and Big Data (HCBD). We suggest reading Part I - Can Big Data Fix Healthcare? as well as two related articles: Healthcare and the Internet of Things and Long-Term Healthcare an Introduction in order to have background context for this article. Each of the articles can be read by following the embedded links.
Introduction
Our original plan was to write Part II of this series on the "consumer" side of HCBD - largely focused on wearable and smartphone technology and the related software apps, platforms and social media that will likely (in time) create a massive shift in the manner in which healthcare is controlled, delivered, consumed and monetized. However, some useful discussions after the publication of Part I made us realize that an important step was missing. In the midst of the huge publicity surrounding various forms of new wearable technology, it seemed that many people have a mental picture of home healthcare (HHC) that's similar to the diagram below from Deloitte Health Solutions.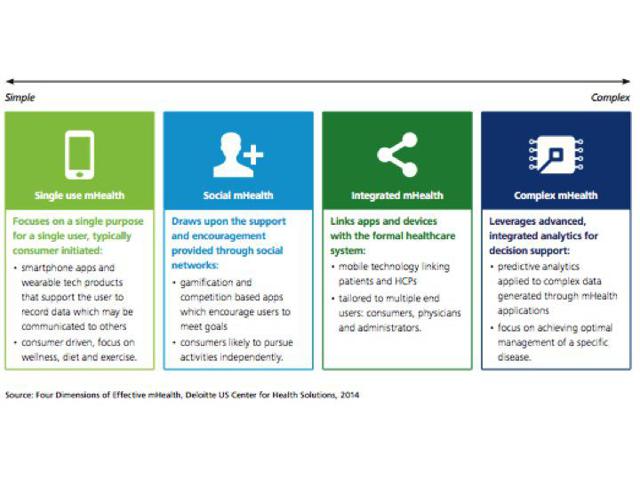 Indeed this line of reasoning is consistent with a rapidly emerging and fundamentally important concept that is being dubbed as the Quantified Self. One definition of this term comes from Melanie Swan - "A key contemporary trend emerging in big data science is the quantified self (QS) - individuals engaged in the self-tracking of any kind of biological, physical, behavioral, or environmental information as n = 1 individuals or in groups."
(Note to readers - we suggest perusing the following links on this topic: (1) The Quantified Self: Fundamental Disruption in Big Data Science and Biological Discovery and (2) Quantified Self Public Health Symposium 2014.)
What's missing from this picture is a strong grasp of the current situation for HHC. The potential, practice and popularity of HHC is rapidly increasing. The patients often prefer it. Payors and providers looking at the costs are increasingly interested. Substantial new technology in the form of medical devices and communications are available. Rules and regulations are being modified to accommodate. Incentives are being examined and implemented.
However, this generates the requirement to handle increasingly complex patients which involves understanding a grittier reality composed of: (1) more patients suffering from long-term chronic conditions and/or recovering from recent hospitalizations who need help from people and not just technology, (2) the difficult challenges faced by the HHC workforce as well as the potential opportunities, and (3) the migration of HHC to include telehealth/telemedicine technology which provides remote monitoring and/or treatment for conditions such as diabetes, hypertension, dialysis, Chronic Obstructive Pulmonary Disorder (COPD) and various heart conditions. All of these factors lead to the need to generate and utilize HCBD in order to answer key questions such as: when should transitions be done? What are the best practices? How should HHC be extended to the "pre-acute" - i.e. normal daily life to encourage healthier living and detect oncoming troubles?
Thus, the picture we will be working from for this article is better represented by the diagram below - HHC should be understood as a combination of people intensive activities (with the workforce becoming big data technology enabled) in conjunction with remotely monitored Medical devices and wearable consumer devices.
We often hear about continued escalation of healthcare costs in the US but sometimes it's useful to look at the raw numbers to get a real feel for the situation. According to the data from Table 102 of the annual Health USA Report (from the Centers for Disease Control) - between 1980 and 2013, healthcare spending in the US rose from $255B to $2.9T and the percentage of GDP went from 8.9% to 17.4%. In view of these staggering numbers, many people have proposed the need to "bend the cost curve" downward. Given the cost differentials in Medicare's estimated daily rates for care ($47/day for HHC, $330/day for nursing home and $2346/day for acute hospital), it seems clear that if the curve is going to be bent in the foreseeable future then HHC will likely play a key role.
There has been an ongoing struggle to move appropriate healthcare services with reimbursement from institutional settings such as hospitals and nursing homes to the home environment for many years. An excellent source of the history is the work of AE Benjamin which dates from the mid-1980s and covers a 30-year time period e.g. An Historical Perspective on Home Care Policy.
One way to get a feel for the size, scope and shape of the HHC market is to examine a partial segment, namely Medicare spending after discharge from an acute care hospital. This summary gives us a feel for the market fragmentation - 12,000 providers derive $17B in revenue but even the single largest provider has revenue on the order of $1B (and thus less than 5% of the overall market). The diagram also hints at a key trend - more people using HHC and more people transitioning directly to care at home and bypassing skilled nursing.
There is often considerable confusion about what is meant when we talk about the current services provided by HHC. There are three types that we will differentiate in this article:
Type I - Home Health Services - In the words of Kindred Healthcare (NYSE:KND), "If you are recovering from illness, injury or surgery, our highly skilled medical team of caregivers will create a safe, supportive, and professional environment in your home." This team can include skilled nursing, physical therapist, speech therapist, medical social worker and home health aide. Note carefully that this definition is consistent with Medicare's definition of home health care and thus often eligible for Medicare reimbursement
Type II - Personal Home Care Assistance - "If you or a loved one is struggling with prolonged illness or simply the challenges of aging, personal home care assistance services will provide the support you need. These services will help you maintain your regular daily activities in the familiar, comfortable surroundings of your own home." The key point is that services are not provided by "skilled" personnel (i.e. nurses) and are aimed at assistance with the so-called Activities of Daily Living (ADLs).
Type III - Remote Telehealth - A certified medical device (e.g. glucose monitor, dialysis machine, pacemaker or defibrillator) is either placed in the patient's home or implanted in the patient's body. The device records appropriate measurements/indicators and instead of the patient going to a provider facility, the measurements are automatically uploaded and when needed data/instructions can be downloaded into the device as well
The Role of Government
The role of government is similar to that which we described in Part I of this article with several important increments described below:
Medicare Definitions
So long as Medicare foots the bill, then Medicare definitions are critical. According to Medicare - "Home health consists of skilled nursing, physical therapy, occupational therapy, speech therapy, aide services and medical social work provided in the home." Eligibility requirements are threefold: (1) at least "intermittent" skilled care must be needed, (2) the patient is unable to leave home without "considerable effort" and (3) physician certification and care direction is required. Note that a preceding hospital stay is NOT required. Medicare reimbursement is in 60-day episodes of care and must be re-certified for additional episodes. Medicare now has a program called Home Health Compare that is used to rate the comparative quality of certified home health agencies. Finally, it's always useful to read the annual MEDPAC chapter on HHC. Notable highlights of the 2015 report were: (1) "that the payment rate should be rebased to better align Medicare payments with the actual cost of providing services", (2) the "recommendation that a co-pay be established for episodes not preceded by hospitalization" and (3) by the observation that the highest utilization rates occurred in a very small number of well defined geographic areas. In other words, reimbursements are too high and potential fraud should be carefully monitored. The reader should note two key applications of HCBD that follow from this: the collection and analysis of data used to generate the Home Health Compare ratings and rankings and the analytics behind fraud and abuse detection.
The Legislative Scene
Two key bills are pending in the House and Senate - the Home Healthcare Planning Improvement Act and the Medicare Telehealth Parity Act.
The Home Health Care Planning Improvement Act of 2015 (S.578 in the Senate and HR.1342 in the House) would specifically allow certain advanced practice registered nurses (APRNs) to exercise full practice authority in the HHC arena and thus be able to sign the Plans of Care and certify home health benefits for Medicare patients. APRNs include physician assistants, nurse practitioners and clinical nurse specialists. The key argument behind this bill is that precious time is spent waiting for MDs to sign and certify Medicare HHC plans and orders when the knowledge and capabilities are really in the realm of APRNs.
There is a widespread recognition that telehealth/telemedicine will provide numerous benefits for patients while driving down costs for providers and patients alike. However, as is often the case, the technology is outrunning the rules, regulations and reimbursement procedures. A bill called HR2948 - the Medicare Telehealth Parity Act of 2015 - was introduced in Congress by a bipartisan coalition to address these issues. The bill would provide for reimbursement for home telehealth conferences as well as for remote patient monitoring for a variety of chronic conditions including heart failure, COPD, diabetes and dialysis for end-stage renal disease. It also expands the set of providers who can provide telehealth services to include physical and respiratory therapists. Note carefully that although passage of this bill would help alleviate numerous hurdles, similar bills were introduced in 2014 (HR5380) and 2013 (HR3306) and failed to pass due to partisan wrangling. (Update - it's now 2016 and little progress was made on this bill in 2015.)
Finally, the Improving Medicare Post-Acute Care Transformation (IMPACT) Act of 2014 was approved by Congress in 2014. IMPACT calls for additional data collection of various quality and resource utilization metrics and the ability to do standardized Health Information Exchange of the data with adjacent care providers. This is likely to set the stage for various new billing and operational models - for example the Comprehensive Care for Joint Replacement (CCJR) whereby hospitals, physicians and post-acute providers are "encouraged to work together in order to improve the quality and coordination of care."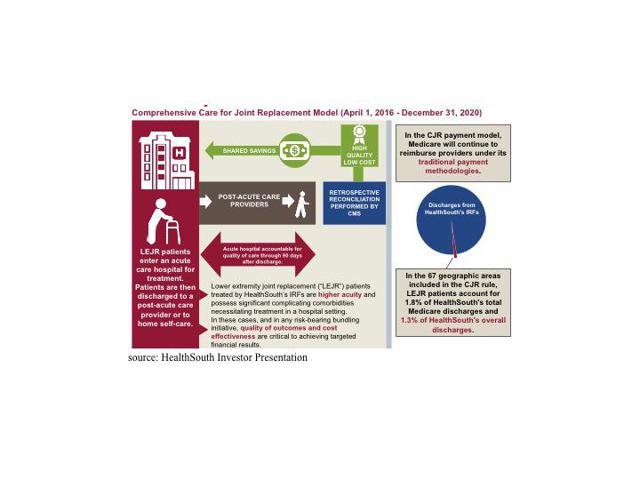 Workforce Legislation/Regulation
Given the ageing demographics of American society as well as the cost-savings push by many entities in the healthcare complex - home health aides (and the nearby job classification of personal care aides) are among the fastest growing job categories. However, due to a combination of low wages, poor training and difficult working conditions - these very workers find themselves at the vortex of many of the key socio/politico/economic issues of our time, e.g. minimum wage laws, unionization efforts and state budget deficits (e.g. Medicaid expansion). The Federal Labor Standards Act (NYSE:FLSA) was originally enacted in 1938 and enshrined the 40 hour work week, a national minimum wage and premium pay for overtime ("time-and-a-half"). Curiously, in 1973-74, Congress exempted home health aides from these protections. This was reversed in 2013 by the so-called "Final Rule" issued by the Department of Labor. This ruling was hotly contested by the HHC industry as well as numerous states and (perhaps) settled by a decision of the US Court of Appeals in August 2015 to uphold the Final Rule (and a subsequent refusal by the Supreme Court to stay the ruling). This situation is now being directly reflected in financial statements of the HHC industry - e.g. from the most recent Addus (NASDAQ:ADUS) 10Q: "In September 2013, the United States Department of Labor announced the adoption of a rule that extended the minimum wage and overtime pay requirements of federal law to most direct care workers, such as home health aides, personal care aides and certified nursing assistants. These employees have been exempt from federal wage laws since 1974. In an action brought by the Home Care Association of America and related industry groups, the United States District Court for the District of Columbia invalidated key provisions in the Department of Labor's rule, briefly restoring the status quo for home care organizations. However, the United States Court of Appeals for the District of Columbia overturned the D.C. District Court rulings on August 21, 2015 and reinstated the rule effective on or about October 13, 2015."
Home Health Compare
Home Health Compare provides relevant information about the relative quality of care provided by home health agencies that are certified by Medicare. The overall rating is based on a summary of process and outcome measures and is summarized by a star rating on a 5-point scale. Note that the rating is relative - 1 or 2 stars indicates that the agency performs below the overall average, 4 or 5 stars indicates that the agency performs well above average. The data collection tool used to collect and report the underlying data is called Outcome and Assessment Information Set (OASIS) and specifically OASIS-C is used to measure rates of use of well defined, evidence based processes.
Categorizing the Home Healthcare Players for Big Data
As in our previous article, the number of players involved is large so we will divide them into strategic categories and "cherry pick" the key players to discuss in each category with an eye towards publicly-traded entities.
[C1] HHC Provider Players
We will cover two different types of players under this category - the so-called "pure play" HHC providers which are heavily focused on HHC services and a distinct group which we will label the "continuum of care" players which are busily driving convergence between previously distinct silos.
[C1a] Pure Play Home Health Providers
The HHC market is hugely fragmented and mostly occupied by small, non-profit or private entities. Thus, we cherry pick the publicly-traded universe which results in five companies - Almost Family, Amedisys, LHC Group, Addus Homecare and Chemed. The part of Chemed (NYSE:CHE) that provides healthcare services is actually a hospice provider (Vitas), so we'll defer discussion of this entity to a hospice-focused article. Note that the distinctive geographic footprint of each of these providers makes ongoing merger and acquisition activity highly likely.
Addus HomeCare (NASDAQ:ADUS) - Addus provides personal care and adult day care services with a sharp focus on the dual eligibles (i.e. covered both by Medicare and Medicaid) and transitions driven by Managed Care Organizations (MCOs). Although Addus is the smallest provider in our public universe (quarterly revenue of ~$85M and average daily census of ~32K patients), they have a uniquely insightful marketing slogan - "the Pre-Acute Solution to the Post-Acute Problem" and "We Pay Attention." Addus touts diversified operations in 122 locations spread over 21 states, but if you look carefully at the map (and the financial statements) they are heavily concentrated in Illinois (60% of revenue).
Although Addus does not provide Type 1 HHC services, it has placed strong emphasis on technology deployment and workforce usage of the technology due to its core strategy of being a key MCO partner and thus co-responsible for providing the data necessary to drive quality ratings and measurable results.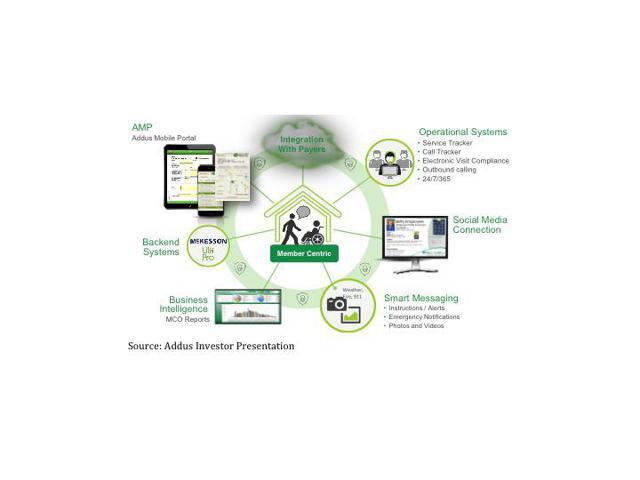 Their basic strategy involves leveraging the workforce to observe relevant changes in the patient's condition. Addus equips them with mobile technology to observe and record these changes. As these changes are observed and recorded, new workflows are driven that enable a range of actions from modifications of the plan of care to provision of supplemental care.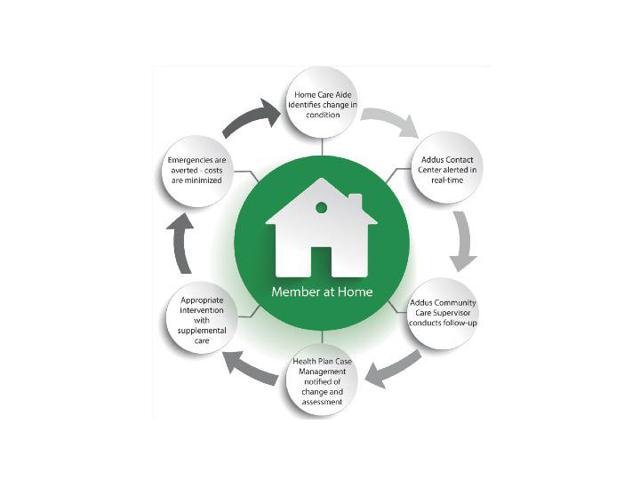 Addus endorses technology developed by the likes of Carewatch, Inc. Addus is an excellent example of what we would call a "small data" company - it's to small to drive internal development of innovative new technology (and doesn't provided type II or type III HHC services) but has an excellent understanding of the operations and systems needed to be a key data feeder to adjacent entities.
Almost Family (NASDAQ:AFAM) - Almost Family provides Type I services which they call Visiting Nurse, Type II services which they call Personal Care and a variety of specialty programs including care management (assessment), orthopedic rehabilitation, Optimum balance, Medication management., cardiocare, BREATHE (pulmonary), transition care and Geropsych (mental health). AFAM also provides Type III telehealth services via a partnership with Medtronic Cardiocom. The service is initially targeted at Congestive Heart Failure (CHF) patients but looking to expand to diabetes and COPD. Quarterly revenue is on the order of $130M. AFAM has created a business segment known as Health Innovations to address HCBD. Health Innovations (HI) is currently pursuing both acquisitions and venture-type investments. HI has acquired Long Term Solutions (in-home nursing assessments) and Imperium Health Management (integrate HHC with Accountable Care Organizations). HI has also made a venture investment in NavHealth, an early stage population health and analytics company.
Amedisys (NASDAQ:AMED) - Amedisys is a home health and hospice powerhouse with approximately 314 home health care centers and approximately $326M in quarterly revenues. As usual, there is significant geographic concentration, in this case in the Southeastern and Northeastern corridors.
Amedisys has crafted a set of evidence-based programs which focus on specific conditions - e.g. chronic kidney, COPD, pain management, diabetes, Balanced For Life (fall avoidance), heart (congestive heart failure, hypertension, etc.), orthopedic recovery, stroke recovery, surgical recovery, wound care, etc. Unique among this group of players, Amedisys has put significant time and resources into technology development with the goal of strong differentiation from the competition.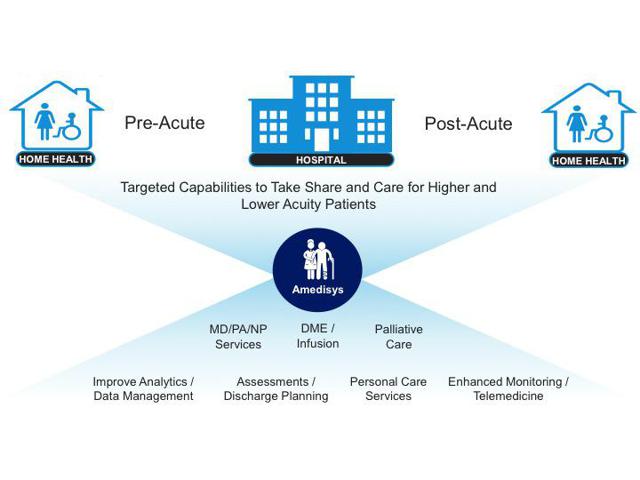 This effort has turned out to be a bit of a "double edged sword." On the one hand, Amedisys has successful deployed point of care technology for its mobile workforce, a web portal known as MercuryDoc for physicians, an impressive start at TeleHealth/Telemonitoring for multiple vital signs and an innovative care transitions and care coordination program. On the other hand, Amedisys touted an internal development effort known as the Advanced Medical System (AMS), which has resulted in a significant failure - "As of December 31, 2014, we had $74.7 million of internally developed software costs related to the development of AMS3 Home Health. Expanded beta testing to additional sites in February of 2015 demonstrated that AMS3 was disruptive to operations. Additional analysis of the system determined that the system was not ready to be fully implemented and would require significant time and investment to redesign. Therefore, during the three-month period ended March 31, 2015, we made the decision to discontinue AMS3" (from Amedisys 10Q). Amedisys is now busily deploying and integrating the "industry standard" - namely Homecare/Homebase. Note that Amedisys avoided this fate in its Telehealth efforts by partnering with Medtronic/Cardiocom early on. Amedisys had an aggressive plan for expanding its core business into adjacent patient segments by leveraging technology such as "enhanced telemedicine," mobile diagnostics and an integrated set of "patient assessment and predictive modeling capabilities." Time will tell if this is delayed or pursued via technology partnering.
LHC Group (NASDAQ:LHCG) - LHCG offers a range of services from HHC and hospice to long-term acute hospitals over a wide geographic footprint. However, a closer look at the financials shows that the HHC services are heavily concentrated in just 12 states and that the revenues and patient census are dominated by the HHC business - LHCG has an average daily census of 37K HHC patients and 76% of its revenues are derived from HHC services. LHCG utilizes the Homecare/Homebase platform and LHCG has a partnership with Medtronic/Cardiocom to provide telehealth/telemonitoring services via the CommanderFlex technology.
[C1b] Continuum of Care Provider Players
Continuum of care providers have already recognized the ongoing convergence between adjacent segments of the healthcare complex as well as the importance of enabling transitions between these various segments. The choice of strategic approach depends heavily on the starting point so we'll cherry pick the three primary megaplayers - Brookdale Senior Living from the senior housing side, Kindred Healthcare from the skilled nursing and long-term Acute care side and HealthSouth from the inpatient rehabilitation side.
(Note that others such as Ensign (NASDAQ:ENSG) could be covered but again we cherry pick. We will include ENSG in the HCBD investable table.)
Kindred Healthcare (NYSE:KND) - Kindred entered the business via the acquisition of Gentiva which closed in early 2015. The acquisition substantially altered Kindred's business mix as Gentiva was a HHC powerhouse. Note that quarterly revenues of over $400M for the HHC segment actually makes Kindred the largest HHC provider by revenue. Kindred has an extensive footprint of approximately 626 Kindred at Home locations and has established 23 Integrated Care market areas where they deliver the entire Continuum of Care.
As Kindred's business focus has been on establishing smooth transitions across a broad continuum, they already have an extensive supporting information technology base in place.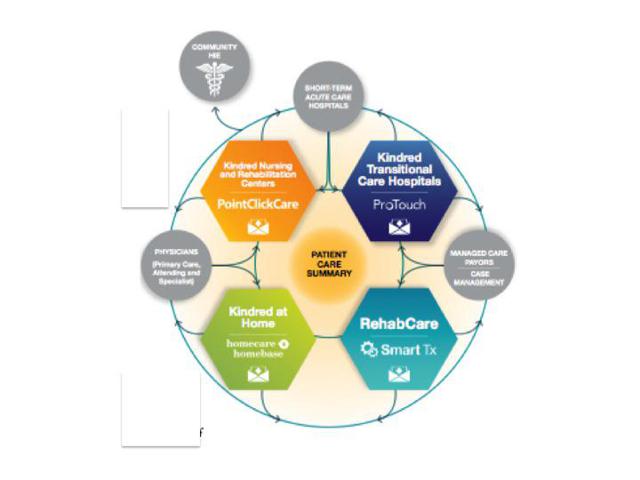 Kindred (like many leading providers in the HHC business) uses Homecare/Homebase as its underlying HHC IT platform. While we lack the specific details of Kindred's HCBD activities, we can follow several hints to make educated guesses. For example, SAP (NYSE:SAP) issued a press release in February 2015 with the following quote: "Kindred's implementation powered by the SAP HANA platform strategically positions the company as the leader in post-acute healthcare data analytics and healthcare information sharing. The addition of SAP HANA to Kindred's massive post-acute clinical and financial data set represents a significant upgrade for Kindred." We also know that Kindred is an important customer of Medalogix which offers analytics-based population health management solutions and is also a key partner of Homecare/Homebase.
Brookdale Senior Living (NYSE:BKD) - Brookdale is the product of the 2014 merger of Brookdale and Emeritus which created a senior living giant. The merged Brookdale certainly has the size and scale to follow the big data imperative with approximately 1,150 communities spread across 47 of the 50 states. Brookdale communities offer a variety of services including independent living, assisted living, memory/dementia care, skilled nursing and HHC. Given Brookdale's footprint and financial resources, it would seem to be an obvious candidate for driving HCBD. However this has not been the case - at least so far. We would classify Brookdale as a bit of a technology laggard (e.g. Brookdale touts a service called "Connected Living" but it really amounts to firewalled wireless internet access). At this time, Brookdale is focused on successful completion of the Emeritus integration project. Brookdale certainly seems to have a HCBD plan as the topic of Population health management is briefly discussed in their Investor presentation but the details remain unclear at this time.
HealthSouth (NYSE:HLS) - HealthSouth entered the business largely through the acquisition of Encompass Home Health in 2014. They are now the fifth largest provider of Medicare HHC services with 213 locations in 23 states and on the order of $118M in quarterly revenue. HealthSouth offers a full suite of Type I and Type II HHC services and has crafted a series of specialty programs including orthopedics, cardiopulmonary, care transitions, fall prevention and diabetes management. HealthSouth utilizes the Homecare/Homebase platform for IT operations and HCBD. Indeed the platform was originally developed as an internal project at Encompass and the founder of Encompass became the CEO of HC/HB.
[C2] Medical Device Players
Medical device companies have emerged as strong players in HCBD. Aging demographics have gone hand-in-hand with growing sales of various devices. It also has become clear to several of these companies that monitoring, collection and analysis of the data generated by these devices would become both an important business as well as healthcare management opportunity due to the ongoing emergence of Type III HHC services.
(Note to reader - obviously Medtronic fits into this category but we have chosen to cover them under the Wild Card category.)
Dexcom (NASDAQ:DXCM) - Dexcom is a market leader in the area of continuous glucose monitoring (CGM). Dexcom has accomplished several important goals in HCBD: (1) making the data available in real time in clear and concise fashion to the patient/consumer via apps on consumer devices (e.g. Apple iPhone and Watch), (2) enabling the patient to share the data via a secure cloud infrastructure with appropriate third parties including both healthcare providers and family members, (3) putting web-enabled diabetes analysis, visualization and management tools in the hands of both patients and healthcare providers and (4) changing the shape and volume of the data collected by doing continuous monitoring.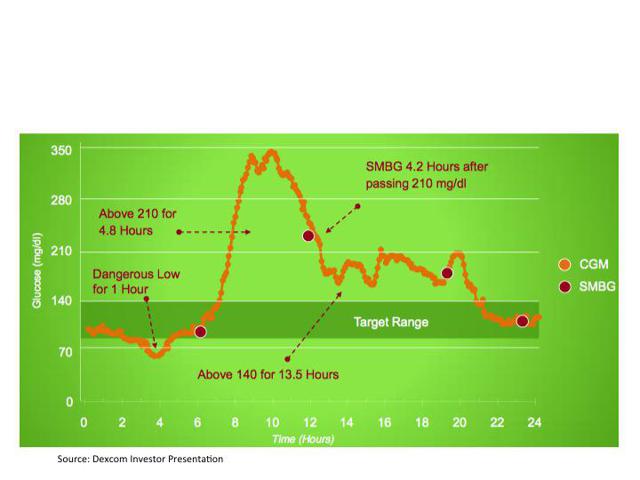 Boston Scientific (NYSE:BSX) - Boston Scientific has a variety of relevant medical devices as well as the Latitude Patient Management (remote monitoring) system. However, for the purposes of this article, the recent equity investment and sales partnership with Preventice Solutions provides us with the most relevant insight into future strategic direction. The result provides BSX with an integrated solution for HHC cardiac conditions including wearable devices, Smartphone apps, extensive analytics and a suite of professional services ranging from diagnostic monitoring to insurance reimbursement assistance.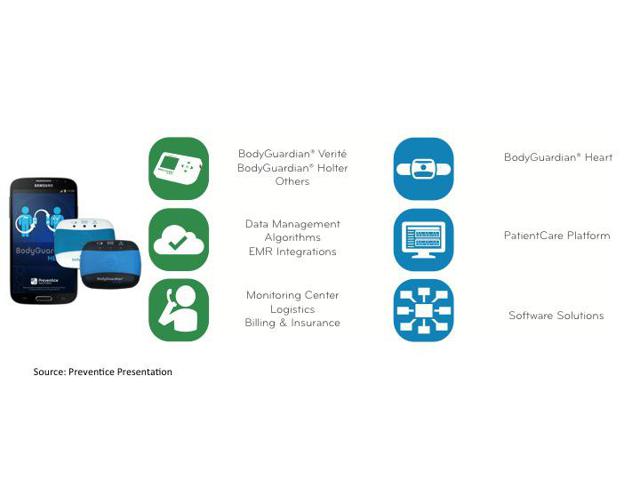 [C3] Technology Startup Players
Not surprisingly, Silicon Valley and the venture capital community have become aware of the HHC market. Given the potential size of the market, the underlying demographics, the potential for applying technology and the extreme state of industry fragmentation - it is seen by some as a major business opportunity. There are numerous potential startup players in the area so we'll cherry pick just two of them - honor and CareZapp (which both have raised large venture rounds).
honor
The startup that seems to be generating the most publicity is honor which features the slogan "The right care professionals. Right away." The honor story is based on the interesting combination of (1) carefully selected/vetted and trained home health aides known as "Care Pros," (2) well-crafted apps and website that lets clients schedule the care they need, when and where they need it, (3) a "marketplace" which provides best matches between clients and CarePros, (4) providing feedback concerning the quality of care received as well as building community between the clients, their families and the CarePros; (5) a means of tracking CarePro arrivals, departures and services rendered, (6) a full suite of Type II HHC services ranging from medication reminders to transportation, (7) a superior wage scale for CarePros, and finally (8) a large group of high profile investors. honor's plans to generate or leverage HCBD (or even data such as OASIS) are unknown. It will be interesting to follow the evolution of the company to see how they manage to handle workforce issues and how they plan to integrate with the larger Healthcare complex. We strongly advise the reader to take the time to read two articles that provide considerable insight into working in the HHC industry - Who Will Care for America's Seniors and Giving Caregivers a Raise: the Impact of the $15 Wage Floor. Despite having a higher wage scale and potentially superior apps, honor will likely encounter a similar set of issues - the work remains physically and emotionally difficult, lonely/isolating and provides little obvious career path (especially if you are not part of a larger, diversified healthcare organization).
CareZapp
CareZapp is taking a different approach - their slogan is "partnering with home care providers, community-based services, healthcare professionals and technology suppliers. Together we are actively looking at ways of transforming care at home and in the community." CareZapp provides a combination of communications hub and applications platform. The core set of functionality includes ZapBoard (a sharing hub for information and comments shared among family, friends and relevant healthcare providers), Reminders (ranging from medications to appointments to activities), Vitals (connecting to various devices around the home to measure, record and threshold health information) and Activity ("learn routines and activities and notify caregivers when certain events happen or fail to happen"). The potential HCBD relevance of all of these capabilities (but especially Vitals and Activity should be clear to the reader).
[C4] Platform Players
Unlike the situation in the institutional segment, there is a single dominant platform in the large provider HHC space - namely Homecare/Homebase (which is covered below in the Wild Card section). However, lurking in the background we find McKesson.
McKesson (NYSE:MCK) - MCK offers an extensive suite of HHC software capabilities via its Homecare platform. Features and capabilities include: Infocenter (online resource center for support and upgrades), Insight (HHC data analysis), MobileCare (mobile EMR access and staff scheduling/communication support), SupplyLink (medical supply ordering and tracking), telephony (electronic visit verification), WebChart (sharing documentation and records with physicians), consulting services for implementation and operations and HomeHealthConnect (leverages the RelayHealth platform to provide secure exchange of clinical data).
[C5] Wild Card Players
Medtronic (NYSE:MDT) - It comes as no surprise that Medtronic is a key player in the HHC/HCBD market segment. What makes MDT the wild card player in this article is its fundamental foresight in preparing for a major change in both care models and business models. MDT issued a press release which captures the situation nicely for the case of diabetes care - "true transformation goes beyond being the leader in diabetes devices and requires informatics and integrated care to achieve real results." MDT is an important competitor in insulin pumps and continuous glucose monitoring systems. MDT provides the CareLink and MiniMed Connect systems for remote monitoring, data collection and analysis, data sharing with friends, family and healthcare providers and optimization of patient care plans. Medtronic has leveraged the CareLink system to accumulate "a vast repository of both glucose and insulin usage data representing over 125 million days of insulin pump usage." Medtronic built partnerships with Samsung (OTC:SSNLF) (integration of mobile and wearable devices) and Glooko (open, cloud-based diabetes management platform). MDT has been following the Big Data Imperative and continuously gathering more data on a larger scale then its competitors. MDT is looking for ways to apply creative analytics by combining the CareLink data with various other data sources to derive previously unknown insights which can be used to "change the way diabetes is managed to drive better outcomes and better health economics." In this vein, MDT has partnered with IBM (NYSE:IBM) Watson to "discover new clues and try to do something truly transformational." Most notably, MDT acquired Diabeter and has thus potentially created an integrated care model for diabetes treatment.
For MDT, this approach is an extension of a business transformation that had been put into play via the 2013 acquisition of Cardiocom. To grasp the larger strategy we need to examine the fundamental importance of this acquisition. Cardiocom is a rather unique example of what MDT calls a "fully vertically integrated TeleHealth company."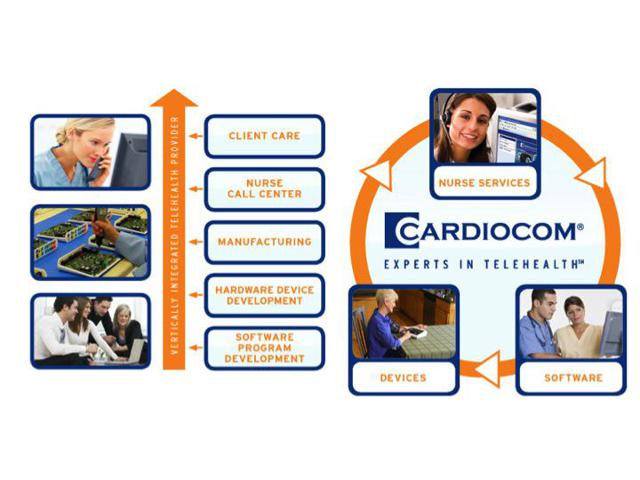 MDT has leveraged these capabilities to form key partnerships in the HHC business. This includes the indirect case, e.g. the partnership with the leading HHC/HCBD platform vendor Homecare/Homebase (here). It also includes the direct case wherein MDT partners directly with leading HHC providers with an outsourced service, e.g its partnerships with Almost Family and LTC Group. Many of these partners are utilizing the CommanderFlex system which is targeted at a variety of complex, chronic conditions including heart failure, hypertension, COPD, diabetes, asthma and kidney disease.
Homecare/Homebase and Hearst Health - The overwhelming platform of choice for Homecare Providers is the Homecare/Homebase (HCHB) platform. The platform offers a wide range of functionality and a deep set of partnerships. Interestingly, HCHB was acquired by Hearst Health, a division of the privately held Hearst Corporation (2014 revenues of $10.3B). Hearst Health has assembled an impressive group of Healthcare IT companies which now includes HCHB (read an interview with the HCHB CEO about joining Hearst Health), FirstDataBank (optimal drug prescribing and drug interaction knowledge and analysis), MCG and Zynx Health (analytics engine and evidence-based care coordination across the continuum of care). Hearst Health claims that "each year in the U.S., care guidance from the Hearst Health network reaches 84 percent of discharged patients, 174 million insured individuals, 35 million home health visits, and 4 billion prescriptions." We would suggest that if Hearst Health can integrate these assets into a coordinated entity then they would be uniquely positioned to offer a platform whose intellectual property value could rival those of the Platform Players discussed in Part I of this article. The Hearst Health collection is especially interesting because many of the capabilities are complementary and not competitive with those of the other key platform players.
Triventis Health - Numerous "hybrid" entities resulting from creative partnerships are beginning to emerge and may play a key role in HCBD. The most interesting example we see at this time is an entity called Triventis Health. Triventis is a marketing entity formed as a joint venture between iMPak Health and NetScientific. iMPak Health itself is a wholly owned subsidiary of Meridian Health, a New Jersey hospital system with $1.4B in annual revenue. iMPak has a family of credit card size devices that provide data collection and monitoring for a variety of conditions (e.g. asthma, COPD, medication management, cholesterol, various heart conditions, blood pressure, weight management, sleep management, pain management, glucose screening, etc.) and then upload the collected data to a Bluetooth-enabled collection device or secure cloud. NetScientific is a publicly-traded entity listed on the London market under the ticker NSCI. NSCI focuses on funding and developing early to midstage digital health companies including Wanda and G-Tech Medical. Wanda leverages machine learning technology to analyze the information collected from devices such as those produced by iMPak and then provide optimal decision aids to providers/clinicians according to patient-specific knowledge that result in "interventions to reduce expensive escalations and hospitalizations." The reader should take note of several key trends: (1) the increasing "activism" of providers to fund digital health startups in value-add domains (consider the example of Explorys and Cleveland Clinic), (2) the ability of this type of partnership to deliver uniquely innovative sensors such as gut diagnosis, and (3) the ability of startups to deliver innovative solutions based on "machine learning" which should be translated as "cognitive computing" and will no doubt challenge the highly touted work of IBM Watson.
Investable Universe Summary
Given that the new year has just started, we'll summarize the performance over the previous three months and the previous 12 months for the publicly-traded stocks in the HHCBD universe. It was a good year for the pure play HHC players (with the exception of ADUS) and for the medical device players and a difficult year for the continuum players. This may be a good opportunity to have a close look at KND as it is receiving little credit for its massive HHC expansion (we'll examine various metrics in a subsequent article). This also raises a related question - what if you wanted to invest in HCBD, how would you do it? There are numerous biotech, pharmaceutical and various other healthcare ETFs and indices but none of them come close to reflecting appropriately represented HCBD players. In part IV of this article we will construct and discuss a prototype equal-weight index that tries to accomplish this purpose.
| | | | | | | | |
| --- | --- | --- | --- | --- | --- | --- | --- |
| | Ticker | 3Mth | 12Mth | | Ticker | 3Mth | 12Mth |
| | ADUS | -25.8 | -2.48 | | AFAM | 2.4 | 38.2 |
| | AMED | 2.8 | 39.1 | | LHCG | -6.3 | 32.9 |
| | KND | -27.6 | -45.6 | | BKD | -28.2 | -55 |
| | ENSG | 2.4 | 0.73 | | HLS | -10.1 | -11.7 |
| | DXCM | 0.3 | 33.7 | | BSX | 1.5 | 16.9 |
| | MDT | 0.55 | -1.88 | | CHE | 8.4 | 36.8 |
Disclosure: I am/we are long QQQ, THQ, HQL, THW.
I wrote this article myself, and it expresses my own opinions. I am not receiving compensation for it (other than from Seeking Alpha). I have no business relationship with any company whose stock is mentioned in this article.