Source: Yahoo Finance
Last week, the Indian Rupee (or INR) touched 66.92 against the U.S. dollar (or USD), due to global shocks and the sharp depreciation of the yuan. This level isn't far away from the lows of August 2013, when the INR touched historic low of 68.80 against the USD. Despite the improvement in economic conditions, the downside risks to the INR still exist.
Weakening exports
The slowdown of the Chinese economy affected global growth in 2015. Recently, the World Bank slashed its 2016 global growth forecast from 3.3% to 2.9%. This is likely to affect Indian exports in the year ahead. In FY 2015/16 (April 2015 to March 2016), the Indian government expects its exports to decline by 13% year-over-year to $270 billion. A stable INR is making Indian goods less competitive and hurting Indian exports. The INR depreciation is a likely solution to boost exports.
Foreign investment
In 2015, India relied on foreign investment to support its foreign exchange kitty. In H1 2015, the Indian governments "Make in India" initiative attracted foreign direct investment (or FDI) worth $28 billion. In 2016, the FDI is likely to weaken due to the slow pace of economic reforms. Last year, the Indian government failed to clear the Goods and Services Tax (or GST) Bill in the Parliament due to pressure from opposition parties. The passage of the GST Bill looks bleak this year as the ruling BJP party doesn't have a majority in the upper house of the Indian Parliament.
Last year, foreign institutional investors (or FIIs) sold Indian equity shares worth $3.13 billion. The FIIs continue to be net sellers this year and have sold equity shares exceeding $797 million. The Fed rate hike is likely to propel capital outflows from emerging markets including India. Weak exports and weak foreign investment are likely to weigh on India's foreign exchange reserves, which stand at $350 billion.
External Debt
In September 2015, India's external debt touched $483.2 billion due to increase in long term liabilities including non-resident Indian deposits and commercial borrowings. India's foreign exchange reserves are sufficient to cover up only 72.46% of its external debt, which is not a healthy indicator.
Inflation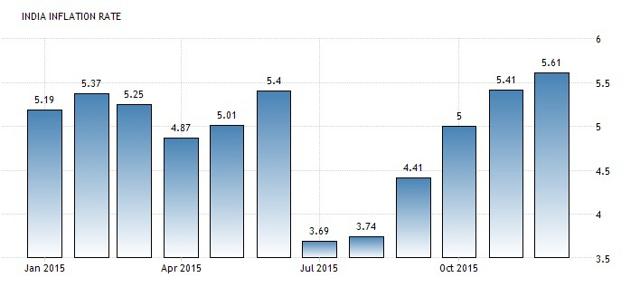 Source: Trading Economics
Despite the sharp fall in crude oil prices, the retail inflation has been ticking up over the last few months. In December 2015, India's retail inflation jumped to 5.61% as prices of pulses increased by 45.92% year-over-year. Rice prices could also skyrocket due to its shortage in the country, which will keep food inflation up in the coming months.
Final Thoughts
I recommend selling the INR with a price target of 70 against the USD by the end of this year.
Disclosure: I/we have no positions in any stocks mentioned, and no plans to initiate any positions within the next 72 hours.
I wrote this article myself, and it expresses my own opinions. I am not receiving compensation for it (other than from Seeking Alpha). I have no business relationship with any company whose stock is mentioned in this article.