The general consumer may have more brand recognition for Budget (NASDAQ: CAR) than a construction equipment rental company. The customer loyalty and experience with Budget includes renting and then buying a lightly used car at a discounted price. This can also be accomplished with earthmovers (depicted below).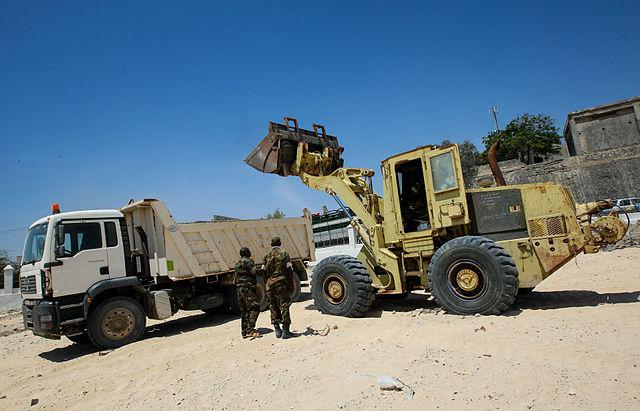 Consumers and businesses are more apt to buy when gas prices are suppressed and loan interest rates are graciously low. They might buy a gas-guzzling full-size truck or multiple earthmovers.
As this economic environment changes, these assets become liquidated and with construction; the preference changes towards renting heavy equipment.
There are also seasonal dependent purchases such as with Arctic Cat (NASDAQ: ACAT) snowmobiles. If an owner has troubling finances during the summer months, the snowmobile is on the chopping block. For contractors that hold large equipment during off-season, this becomes heavy weight on the books. Should they not keep their outfit together, they too will be forced to sell.
Companies in the rental and leasing sector are positioned to take advantage of both sides of the coin. When the economy props the consumer/business then they can buy new name brands or used from Caterpillar Inc. (NYSE: CAT), Deere & Company (NYSE: DE), Komatsu Ltd. (OTCPK:KMTUY) and Volvo AB (OTCPK:VOLVY) the former owner of Blueline Rental. These companies are also known to rent their equipment, but are not the cookie cutter rental/lease businesses.
The publicly traded equipment companies more known for renting equipment:
Neff Corp. aka, Neff Equipment (NYSE: NEFF)
United Rentals, Inc. (NYSE: URI)
H&E Equipment Services, Inc. (NASDAQ: HEES)
These companies can also sell brand names from their used inventory. Some less mentioned competitors in this space are Hertz Global Holdings, Inc. (NYSE: HTZ) and Home Depot Rentals (included in charts).
The sector is fragmented and competitive
When you see Warren Bufffet/Berkshire Hathaway (NYSE: BRK.A , BRK.B) enter the "automotive ecosystem" of buy, lease, rent, repair, finance, etc.; one's ears should perk up. The return on equity (ROE) for these companies has been 29% on average, attracting investors.
The ROE for construction equipment is even more attractive than that of automotive. United Rentals, Inc. and H&E Equipment Services, Inc. have superior ROE of 41% and 35%, respectively. The competition has Neff Corp. leveraged out at 4x EBITDA to acquire more equipment and market share. As this sector competes for market share and penetration of specific rental equipment, look for big players to swoop in and take larger positions.
It is Neff Corp.'s business plan for earthmovers that differentiates them from the group. Their revenue margins and lower valuation place them as a buy-side interest in the stock market.
The NEFF value comparison with competitors
The comparative chart below includes various companies within the rent and lease sector. Neff Corp. is #1 for two of the three margins, but falls behind in profit margin mainly due to the minority interest (Wayzata Investment Partners) factored out of the operating income. The following Excel chart of margins was constructed from data at finviz.com. The EV:EBITDA comparison is from the Seeking Alpha platform.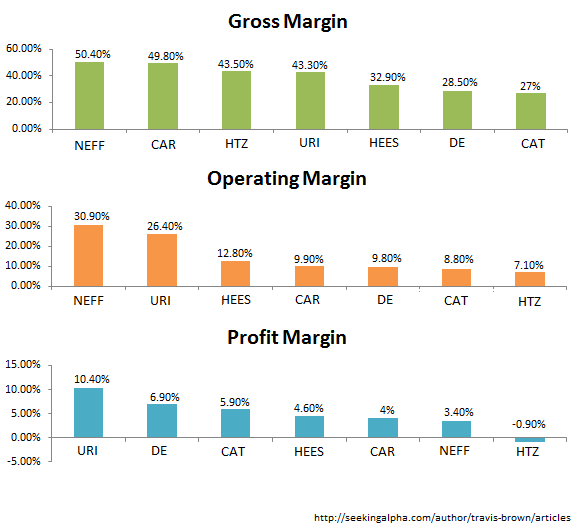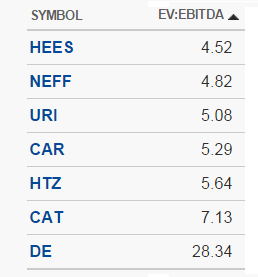 Neff Corp. has a $25MM repurchase program, which has some analysts in disagreement. The program may be better explained in context of the aforementioned profit margin and Wayzata Investment Partners' minority interest.
The factored minority interest drastically reduces the net income and common shareholder's earnings. Wayzata owns 14,951,625 shares for $15.92MM of the net income (past nine months). If Neff Corp. could possibly exercise all $25MM to acquire shares around the low $6s they could reduce the minority interest significantly.
It appears unlikely that Neff Corp. could find $25MM worth of shares from the float. This could mean they turn to Wayzata to strike a deal for additional shares. If Neff Corp. could get the repurchase program to drop Wayzata's 58.8% ownership to below a 50% stake, they might fare better than to simply reduce debt. They would no longer have to consolidate this position according to the Financial Accounting Standards Board (FASB) for non-controlling interest and thus, improve several market metrics.
In response to Terrier Investing's analysis of Neff Corp.
On December 9, 2015, TI gave a pass rating titled:"Neff Rental Has Upside, But Watch The Balance Sheet." The concern centered around the debt and leverage, which I have shown a contrarian view to. Additionally, a dated research paper was cited using 2013 data. The story changes when new data is reviewed from the Rental Equipment Register.
Aside from taking an alternative view on the debt and a bullish stance on the earthmover plan, I'd have to hand it to TI for ranking it a "pass." The market continues to be hit with this rolling/bear market. Followers of TI have avoided a 24% loss; a drop from $7.55 PPS at the December 10, '15 close to a recent $5.72 PPS (market close 01/08).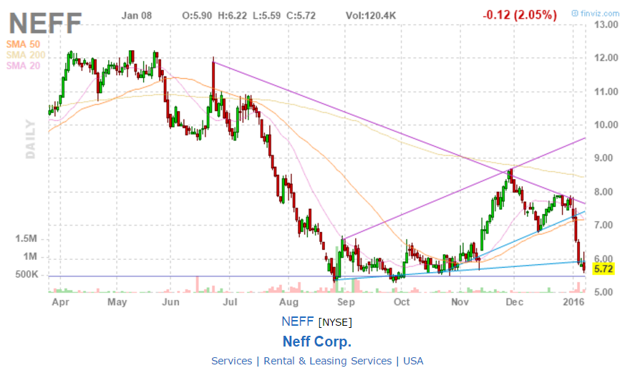 I have comprised the following charts to show Neff Corp.'s improved ranking. I have also created an average return per outlet score. You will find Home Depot Rentals as the odd one out, propping its revenue via outlet presence in numbers.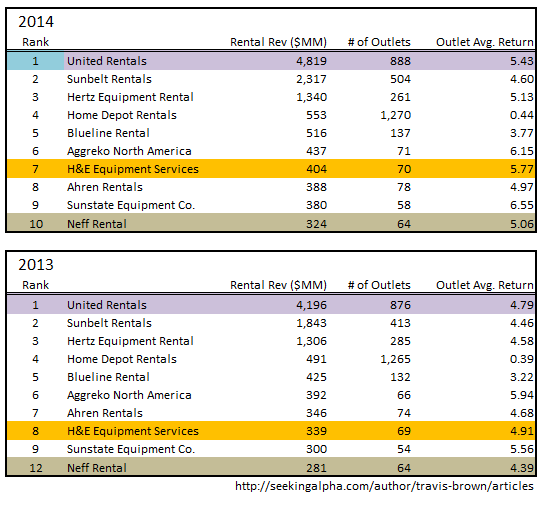 Neff Corp.'s rental revenue growth is respectable: 15%. They have increased the proficiency of each outlet's production by 15%. Sunstate Equipment Co. shows the more impressive potential overall, improving and posting the highest outlet average return of 6.55%.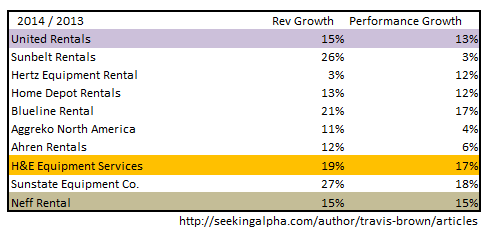 Using Seeking Alpha's chart regarding debt, Neff Corp. shows to be at the mean/midrange and to form the mode along with HTZ.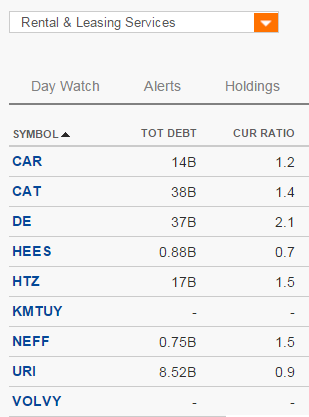 Based off of recent guidance, Neff Corp. has an adjusted EBITDA range of $185MM to $190MM. Their total debt is approximately $0.75B. This gives them a leverage of 4.05x EBITDA at the low end of guidance and a leverage of 3.95x EBITDA at the high end of guidance. Again, in a larger perspective of other rental companies, this is not bad.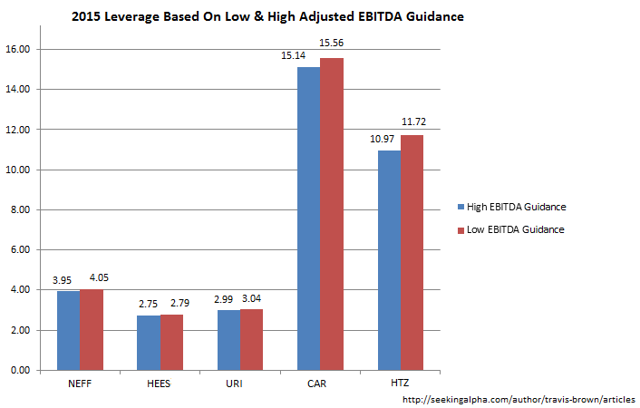 Although NEFF is at a higher leverage ratio than HEES and URI, it is of modest difference. Compared to the auto sales, lease, and rental business of CAR and HTZ, the leverage is far more reasonable. The company's target leverage by the end of 2016 is 2.5x to 3.5x. The high end of that target would place them in the lead.
Houston, multi-unit housing and the Fannie Mae benchmarks
In September of 2015, I had reviewed the new Fannie Mae and Freddie Mac incentives for the financing of multi-family housing. The Federal National Mortgage Association (OTCQB:FNMA), aka Fannie Mae, and the Federal Home Loan Mortgage Corporation (OTCQB:FMCC), aka Freddie Mac had increased funding benchmarks for single-family homes too.
According to Neff Corp.'s business plan, earthmovers will generate more rental revenue as they are not specific to the declining "Oil & Gas" market. Earthmovers tend to be heavily utilized by the other markets, including residential, municipal and infrastructure.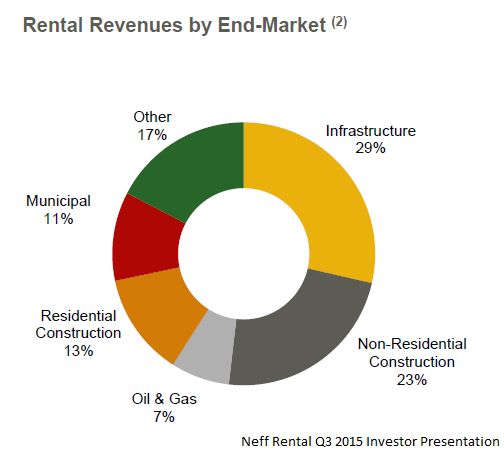 Neff Corp.'s focus regions include Houston, which continues to see growth in residential and commercial real estate.
The housing market (Houston) has been in boom mode for a while now...[M]aster planned communities are huge. The builders all raised their prices in the Fall, e.g., Perry Homes went from $299,000 for a small single story home to $329,000. There is not a slowdown in single family homes here. I have a lot of clients building 6 pack homes, 3-4 story homes... I deal with mostly international clients. India, Pakistan and China. Huge residential and commercial buyers/investors...
Conclusion
After a 24% pullback on PPS, NEFF presents a value buy at the high $5s. The forward looking P/E of 4.15 and a EV:EBITDA of 4.82 place the company in good standing amongst peers. The loss from the minority interest must be taken into account when sizing up this investment. Thus, the stock repurchase program could have an immediate positive outcome if it can lower the interest to <50%. The company's target leverage by the end of 2016 will further assist the rebound in stock price.
The last four insider transactions for NEFF have been buys. A board director, COO and CEO acquired 35,000 shares cumulatively. This is typically a bullish sign, while the opposite effect can be exemplified in another stock I follow, Skullcandy (NASDAQ: SKUL). (See Can Skullcandy Value Investors Survive Insider Activity?).
The company's differentiating focus on earthmovers allows for the business plan to shed the declining oil & gas market. Future outlooks in residential and commercial real estate look promising. Overall, an investment in Neff Corp. offers a decent entry into the rental and leasing service sector.
----------
Photo credit: an earthmover by African Union Mission in Somalia (CC0 1.0)
Disclosure: I am/we are long FNMA, SKUL, NEFF.
I wrote this article myself, and it expresses my own opinions. I am not receiving compensation for it (other than from Seeking Alpha). I have no business relationship with any company whose stock is mentioned in this article.
Editor's Note: This article discusses one or more securities that do not trade on a major U.S. exchange. Please be aware of the risks associated with these stocks.