Precious metal streaming companies like Royal Gold (NASDAQ:RGLD), Silver Wheaton (SLW), Franco-Nevada (NYSE:FNV), and Sandstorm Gold (NYSEMKT:SAND) have been quite fashionable for investors (if anything can be considered fashionable in commodities these days). With some blogs calling 2016, "The Year of the Streamer" and others espousing the low risk that these companies offer investors especially as gold and silver all-in costs have risen and thus pushed many operational miners to the brink of solvency.
As fellow Seeking Author writer Itinerant explains:

Streaming companies offer exposure to precious metals at reduced risk levels compared to mining companies for the following reasons:

Streaming companies have fixed operating and capital costs.
There are no exploration costs, but streamers still enjoy exploration upside.
Operational risk is reduced compared to miners.
There are no risks of environmental costs.
The asset base is typical more diversified than with mining companies.
Thus we hear investors often say why invest in a mining company when you can get the gold/silver without having the operational or overhead risks? The recent saga of Rubicon Minerals (RBY) offers a very instructional response.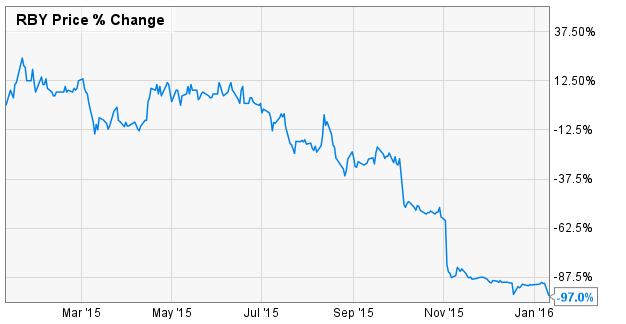 The Fall of Rubicon Minerals
Over the past few years Rubicon Minerals raised over $500 million in capital through debt, a private equity deal with Agnico Eagle (NYSE:AEM), and a $75 million dollar streaming deal with Royal Gold.
Everything was going good as the company was developing its Phoenix deposit in Ontario with first gold pour occurring in mid-2015, but then the warning signs started happening. In October, Rubicon announced out of nowhere that CEO Michael Lalonde was departing, and that the company had milling problems that were nearly a month old. Then everything came to a head on Nov. 3, when Rubicon halted all underground work at the Phoenix project. The company acknowledged the geology of the deposit is more complex than previously thought and a new development plan is needed. The stock plunged 55 percent, and investors had doubts about whether Rubicon will be able to finish construction without a large restructuring.
Then yesterday the company announced that it had finished its revision of its resources and as a result strategic alternatives would have to be considered. Why? The company announced that contained gold ounces in the updated 2016 indicated resource category had plunged 91% from the 2013 resource estimate, while contained gold ounces in the inferred category have fallen 86% compared with the earlier estimate.
That's right - 91% less gold is present than was to be expected from the previous resource estimate!
The updated resource estimate now puts indicated resources at 492,000 tonnes grading 6.73 grams gold per tonne for 106,000 oz. of contained gold, down from the 2013 estimate of 4.12 million tonnes grading 8.52 grams gold for 1.13 million oz. contained gold. Inferred resources have fallen from the 7.45 million tonnes grading 9.26 grams gold for 2.22 million oz. of contained gold in 2013, to 1.52 million tonnes averaging 6.28 grams gold for 307,000 oz. gold.
So the company had originally expected resources of around 3.3 million ounces, but it turns out that after further drilling and investigation the resources only total around 400,000 ounces - OUCH!
We won't go into the things that Rubicon should have done differently or the consequences to the industry, what we want to point investors' attention to is the other side of the fall - the streaming deal financed by Royal Gold.
It still hasn't been decided how Rubicon will be restructured, but we think that ultimately any asset sale will be for pennies on the dollar, and after paying back their debts, there will be little or nothing left for shareholders or to pay back Royal Gold's $75 million streaming deal investment. Thus the expected 135,000 ounces of production (worth around $150 million at the time) in gold flows plus the 3.15% in additional gold production have all evaporated.
Conclusion for Investors
It is nice to think of a precious metals stream as guaranteed gold or silver at a fraction of the price with none of the risk, it simply isn't true. If the development of a deposit fails, and many of the good streaming deals can only be obtained before production, then all the risks of the developer are passed on to the streaming company. Additionally, even when a stream is based on an asset that is already producing gold or silver, the streamer also is risking any operational issues that could shut down the mine, any environmental risks that could cause authorities to question the mining license, or even as simple as the gold price falling below profitable levels for the miner - regardless of what the agreed upon stream price was. If a miner cannot economically continue a mine, then operations will be shut down one way or the other.
Basically a streamer is facing all of the risks that the underlying miner faces with little to none of the operational upside (such as extra production) and this is something investors need to understand. The big upside in our view to streaming deals is two-fold as (1) either a company can finance a development project and then reap benefits of the already calculated streaming profit or (2) the gold/silver price is rising and the previously calculated profits are now increased based on a higher selling price for a fixed stream.
So investors that still desire to invest in streamers need to make sure that they carefully screen the underlying streams to verify that these underlying companies can maintain production at current gold prices. Additionally, they also need to know the financial situation of the underlying companies to make sure that too much debt doesn't handicap production or push a company into bankruptcy - thus losing both the stream and the potential of financial recovery. In our view, these are hardly riskless investments when gold and silver prices are falling.
Disclosure: I/we have no positions in any stocks mentioned, and no plans to initiate any positions within the next 72 hours.
I wrote this article myself, and it expresses my own opinions. I am not receiving compensation for it (other than from Seeking Alpha). I have no business relationship with any company whose stock is mentioned in this article.
Editor's Note: This article covers one or more stocks trading at less than $1 per share and/or with less than a $100 million market cap. Please be aware of the risks associated with these stocks.