With many large investment banks, including Citigroup, turning underweight on the US stock market, I have been looking at opportunities in the international markets, namely Europe, Japan, and Australia, which are expected to outperform in 2016. I started publishing last week a series of articles on this subject, the first being about the Australian high-yield equities entitled: Australian Dividend Stocks For High Yield And Capital Gains - Expected 20% Return For 2016.
Today, I am highlighting a high-yield security focused on the German equity markets.
Europe Dividend Culture
When it comes to dividends, Europe has long had a "dividend culture". Distribution rates in Europe are higher than in most other regions, especially the US where companies are more concerned with either building up cash on the balance sheet or growing the business. European stocks (excluding the UK) account for 37% of the global dividend basket while US stocks account for 30%. UK and Japan stocks account for 10% and 6%, respectively.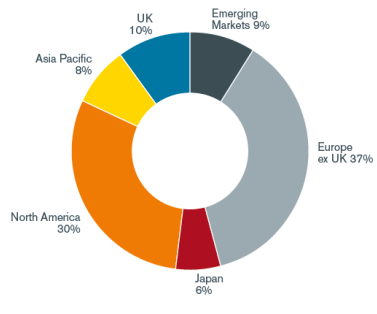 Source: Henderson.com
It is no surprise many income investors are flocking to high-yielding European stocks, and especially German ones.
German Economy
Germany is one of the most developed and efficient industrial nations. It is the world's 4th largest national economy after the U.S., Japan, and China. Furthermore, with a population of 82 million, Germany is the largest and most important market in the European Union (EU), and widely viewed as the economic catalyst and stabilizer for its fellow European Union states. Its economy contributes around 28% of Europe's GDP and constitutes half of the European Union's international trade, with around one euro in four earned from export activities. Since the last financial crisis, the German economy has rebounded better than any other country. Its economic success stems from a strong export sector, low unemployment, strong housing and manufacturing sectors, with a focus on produced goods and services which are highly valued internationally. Germany is one of the few countries around the world running a fiscal budget surplus while growing at its fastest rate since 2011. It has outpaced the U.S. in its economic "wellbeing" index.
Bullish On European Stocks, And German Ones In Particular
Continued aggressive Quantitative Easing (QE) is expected by the European Central Bank as the current inflation in the Eurozone is 0.2% with risks of running into deflation later in 2016, according to European Central Bank President Mario Draghi. Investors can benefit from this expected enlarged QE by investing in Europe.
Europe is a big importer of energy, so reduced oil prices will boost consumer spending.
The European economic recovery has started showing healthy signs with domestic demand growing robustly in virtually all countries, and Germany in particular.
Europe's manufacturing is continuing to pick up speed from its recent low, which will be good for export-oriented countries, with Germany being the first exporter of Europe.
The U.S. markets look less positive due to a lackluster EPS forecast and the U.S. Federal Reserve's (Fed) tightening policy.
While U.S. equities are on the expensive side, the European markets are more fairly valued.
German economy is nearing its full capacity to grow as its unemployment rate at 4.5% is considered to be full employment.
Bank And Analyst Outlook On The German Market (DAX 30 To Rise By 12% In 2016)
German equities have "several factors in their favor," according to a German expert fund manager, citing lower German valuations, more attractive dividends, and better earnings growth. The German DAX 30 index, a blue chip stock index tracing the 30 major German companies, is very similar to the Dow Jones Industrial Average (DJIA) with the only real difference being the "zip code" of the companies and the currency they trade in. Otherwise, these blue-chip companies are respective leaders in their sectors.
"Buy Europe, dump US stocks" says Goldman Sachs, which is overweighting Germany, Italy, Spain, and some UK companies.
"The European equities markets are set to outperform US markets", says UK bank Barclays. It forecasts DAX will rise 12% in 2016.
The strategists at Citibank are also positive on European equity markets.
Statistics On The German DAX 30 (Source: Fool.com)
Between 1974 and June 2014, the DAX had an average annual return of 9.2%.
Between 2002 and 2007, the DAX had an average annual return of 22.8%.
Over the past 10 years, the DAX had annual double-digit returns in seven out of 10 years (27.1% in 2004, 22% in 2005, 22.3% in 2006, 23.8% in 2007, 16.1% in 2009, 29.1% in 2011, and 25.5% in 2012).
Best Way To Invest In Germany
The Deutsche X-trackers MSCI Germany Hedged Equity ETF (NYSEARCA:DBGR) tracks the performance of the German equity market while mitigating exposure to fluctuations between the value of the US dollar and the euro.
This ETF, issued by Germany's largest bank Deutsche Bank, is a well diversified fund and holds a broad basket of German stocks, with 56 securities in its portfolio. The fund which currently yields 5.5% (paid semi-annually) was listed on the NYSE in 2011. Its sector allocation is wide as shown in the table below (Source: Deutsche Asset Management):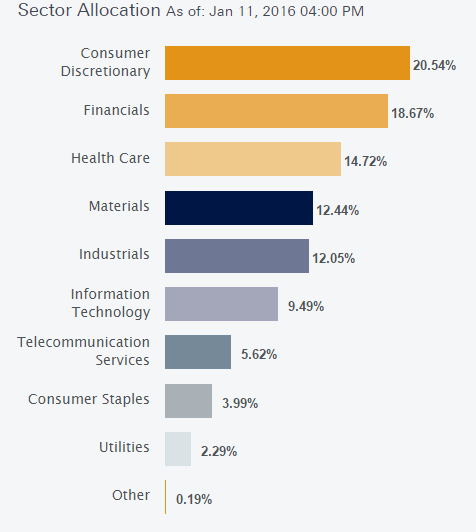 DBGR's Largest Holdings
DBGR holds 56 securities including the best German blue-chip companies such as the multinational drug company Bayer (OTCPK:BAYRY), the giant German Deutsche Bank (NYSE:DB), and the carmaker Daimler (OTCPK:DDAIF) with its world-class brand Mercedes-Benz. The largest 15 holdings which constitute around 70% of the portfolio are listed in the table below: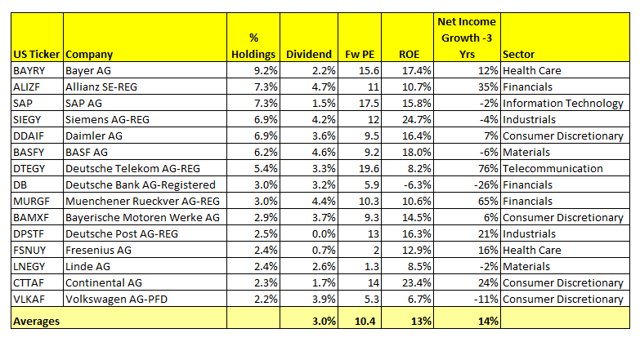 It is worth to note the following when looking at the table:
The average forward Price Earnings Ratio (PE) of 10.4 is low compared to its U.S. counterpart, the Dow Index, which has a forward PE of 15.22.
The average dividend yield is 3% compared to 2.7% for the Dow Index.
Both DBGR's averages for Return on Equity (ROE) and Net Income Growth are strong.
Hedge Feature Of DBGR
DBGR is hedged using currency forwards to protect against the euro devaluation. This also helps the security when volatility spikes in global markets causing the U.S. dollar to rise. During the last five years, the cost to hedge (by using forwards) has been very small, averaging about 10 basis points a year.
Distribution Yield And Management Fees
The stated yield is actually a "distribution yield" and does not necessarily mean that it all comes from dividends. The ETF has funded the distribution yield since its inception in 2011 from dividends (68%) and from short-term and long-term capital gains (32%). No return of capital has ever been made (Source: Morningstar).
The cost to manage the fund is 0.45%, which is on the low side for similar ETFs.
High Yielding German Stocks
Alternatively, investors can buy individual high yielding German stocks. The best ones being:
Diversifying My Portfolio With German Exposure
Today, the stocks listed in all the U.S. markets combined make up less than 50% of the global market capitalization. Despite this, many Americans seem to have a "home bias" when it comes to investing, and prefer to stick to U.S. securities exclusively. This lack of geographical diversification goes against best investment advice. A diversified portfolio is likely to result in less volatility, higher returns and better market opportunities.
With the German market offering a bright outlook and "safety through diversification" being one of the main pillars of my investing strategy, I have recently added a position in DBGR to my high-yield "Retirement Dividend Portfolio".
Follow me for future updates on my portfolio targeting overall 6-9% dividend yield.
View The Full Holdings Of My High Yield "Retirement Dividend Portfolio"
I am currently sharing the full holdings to my high-yield "Retirement Dividend Portfolio" (target yield 6% to 9%) in a monthly newsletter "Retire with High Dividends" published on Seeking Alpha's subscription service. For those who have not yet joined, the newsletter provides a unique approach to high dividend safety through diversification and value investing. The Core Portfolio allocates 40% to the high-yield Exchange Traded Funds and 60% to the individual dividend stocks. For more information, please press the orange banner below entitled "LEARN MORE".
Disclosure: I am/we are long DBGR.
I wrote this article myself, and it expresses my own opinions. I am not receiving compensation for it (other than from Seeking Alpha). I have no business relationship with any company whose stock is mentioned in this article.