Apparently the investing world has lost a good bit of confidence in the Canadian economy. It is true that Canada has become more linked to the developing world through the "commodities supercycle." Canada has been a big exporter of natural resources to the developing world, especially resources such as timber, potash, uranium and of course crude oil.
That commodities 'supercycle' has come to a screeching halt as growth in emerging markets in East Asia has slowed dramatically. With big drops in almost all commodities since 2012-2013, the resource boom in Canada (and everywhere else) is pretty much over. Therefore, Canada's decade-long outperformance versus other developed economies is also likely to come to an end.
That has spelled bad news for shares of Canada's largest bank, Royal Bank of Canada (NYSE:RY). U.S. shares are now at a low not seen since mid-2012.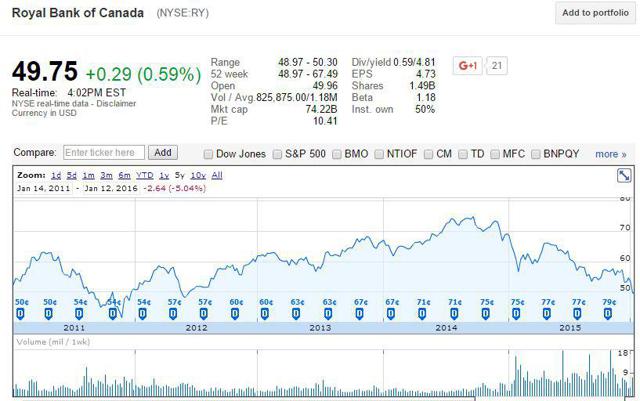 Courtesy of Google Finance
I've recommended Royal Bank of Canada a number of times. In August of last year I wrote an article recommending investors buy the stock, and once again in September I included Royal in a 'mini portfolio' article. Today shares are a little bit lower, but overall I don't regret recommending shares of Royal because I still believe those will end up being good investments over the long term. This is especially true because Royal has 'yield support' from a healthy dividend which now yields 4.8%.
But what about going forward? This article looks at Royal's latest quarterly performance, its valuation and most of all its dividend prospects.
Diversification
Will this downturn effect Canada and Royal? Actually, it already has. However, the Canadian economy is not as weak as it was back in the 1990s. Its fiscal budget has been cleaned up, and inflation has been tamed. And while Canada has surged ahead as a resource economy, its 'old' economy of manufacturing and cross-border commerce and tourism is still there and will spring to life as the Canadian Dollar drops. Furthermore, Canada's banking system is generally regarded as the safest in the world.
Right now Canada's economy is coming out of a recession. In 2016 most forecasters, Royal included, expect GDP growth of between 1.5% and 1.8%. That's not great, but it's terrible either. If those predictions come true, I think Royal Bank of Canada will do alright.
Not only is Canada a diversified economy, but Royal Bank of Canada is also a diversified company, with exposure to a broad array of industries. Royal has taken stock of its portfolio and has estimated its exposure to energy at only 1.8% of the total portfolio. Of course, if energy crashes (or, rather, when it crashes), the fallout will spread well beyond just energy, especially in energy-dependent provinces such as Alberta. It's difficult to know exactly how much exposure Royal has to Alberta, but the bank's largest single business segment, mortgages, may give us a good look at the overall picture.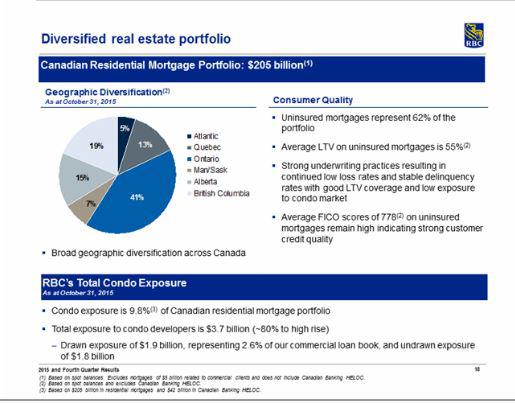 Courtesy of Royal Bank of Canada Investor Relations.
Alberta represents about 15% of Royal's mortgage portfolio. Once again, it's hard to know what the fallout in Alberta will ultimately be. Right now, defaulting accounts are expected to tick up from 20 basis points to 30 basis points, which is really just about what it has been for the last few decades. Could things get worse as laid off oil workers' severance packages run out? I believe so, but the bottom line is that Canada should be able to muddle along alright, and so too should Canada's largest bank, Royal Bank of Canada.
Fundamentals
If last quarter is any indication of how Royal is doing, I'd say things are going quite well. Earnings were up 11% year-on-year, and the company has turned around its personal banking business in the Caribbean. Tax legislation hurt the bank's insurance business, but as it has been for a few years, Canadian banking remained strong and drove the company's results. Earnings from Canadian banking rose by 12%. Over the course of the year, Royal raised its dividend 8%, and did so on two occasions last year.
I don't believe that kind of earnings growth is sustainable. I suspect earnings growth will decline to low-mid single digits as the effects of the end of the commodities supercycle really sets in. I also believe that dividend growth will slow to a similar rate. But even with that slower growth, Royal is a buy here because shares are so inexpensive.
As the stock chart in the beginning of the article shows, Royal hasn't been this cheap in nearly three years. The stock has been beaten up on what I believe are fears of a continued recession. The good news is that U.S. shares now yield about 5%, which is the best yield from Royal that I've seen in awhile. According to data from FAST Graphs, Royal has averaged a P/E of 12.4 times. Right now Royal trades at just under ten times expected 2015 earnings, which means Royal is trading at a pretty nice discount. All things considered, Royal is a buy right here.
Conclusion
With Royal you'll get a very well-known franchise in the safest banking system in the world. Royal should be able to at least slowly grow the dividend, going forward. The stock now trades at a nice discount and a solid yield of 4.8%. For income investors, this is a good bet.
Disclosure: I am/we are long RY.
I wrote this article myself, and it expresses my own opinions. I am not receiving compensation for it (other than from Seeking Alpha). I have no business relationship with any company whose stock is mentioned in this article.