Two weeks ago I wrote about the fading growth in retail sales being a sign of the end of the business cycle and by extension, a harbinger of impending recession. Last week I wrote about declining new orders for durable goods, with the focus on business capital expenditures. This week's article will cover a proxy for business demand, wholesale sales and inventories. I use wholesale data rather than the category of "business" sales and inventories, because though the latter are more complete and so used in GDP calculations, they simply add retail goods data that can be volatile and reflect vagaries in the weather as much as anything else.
The chart below shows the rate of change in trailing twelve-month sales ("TTM"), along with year-over-year changes in inventory levels (all figures use not seasonally adjusted data from the U.S. Department of Commerce).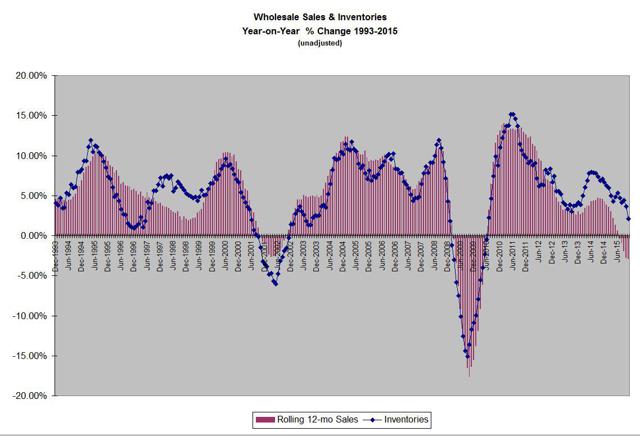 The most obvious thing that jumps out from the chart is that the level of TTM wholesale sales has gone negative for five months now, with the current level of (-2.9%) being the lowest level since April of 2009 (-3.4%). Since 1993, the rate has only gone negative during recessionary periods, with the current rate lower than the bottom of the 2001-2002 recession (-2.6%).
I have seen a steady stream of remarks on CNBC and elsewhere that fourth-quarter GDP (currently tracking at 0.8%, according to the Atlanta Fed, with Friday's data on December retail sales and industrial production still to come) is being unduly, nay unfairly, influenced by a pesky inventory correction that will come and go, giving way to an inventory build that will in turn revive GDP figures. "Pay no attention to this transitory factor" is the message.
Well yes, inventory corrections do come and go. When they are large enough, we call them recessions. They too come and go, so I'm not sure what significance or consolation there really is in saying that this too shall pass, particularly to investors with shorter time frames - e.g., retirees who are currently in the withdrawal phase of life. For them, waving away recessions as transitory can be deadly, as they will have less money for rebuilding once markets begin to recover.
On the chart, note the large gap between the current percentage change in inventories (year-on-year) and TTM sales. With sales plunging, what that tells me is that inventories have a ways to go before they are done correcting, and indeed the latest inventory-to-sales ratio (seasonally adjusted) stood at 1.35 through the end of November, much higher than a year ago (1.22) and the highest reading since April of 2009. That also came in the midst of a transitory inventory drawdown, one that we called a recession.
Some say ignore the data as being distorted by the correction in the oil patch. The last recession started with just a correction in homebuilders, and the one before started with just a correction in telecom. They were all less than 10% of GDP. The problems may be concentrated in the energy sector, particularly in credit, but once banks start losing real money on loans the list of paper that the fixed income market is willing to trade freely begins to shrink. Credit begins to contract, activity contracts, demand contracts (as the chart above shows) and finally employment - but by the time the last stage is reached, the recession can already be underway.
The current turmoil in the equity markets has obviously raised the fear of recession in many minds, so Wall Street is feeling less sanguine than usual and the "r" word is creeping into more conversations. The current inability of stocks to rebound from quite oversold levels is troubling; it isn't due to the data on wholesale sales, of course, but the way the stock market is tracking oil is reminiscent the way it once began to follow other key sectors lower, such as homebuilders, dot.com stocks, or savings and loans banks. Next week I will look at one more major data series indicative of slumping economic activity.
I conclude each piece in the series with four admonitions:
1) Every hill has a top: business cycles are a natural occurrence.
2) Before growth contracts, it levels off. When demand levels off, business cuts spending.
3) There are no new plateaus (Bob Farrell's investing rule #3)
4) Wall Street doesn't acknowledge recessions until everyone knows we're in one.
Disclosure: I/we have no positions in any stocks mentioned, and no plans to initiate any positions within the next 72 hours.
I wrote this article myself, and it expresses my own opinions. I am not receiving compensation for it (other than from Seeking Alpha). I have no business relationship with any company whose stock is mentioned in this article.