Huntsman Corporation (NYSE:HUN) is a manufacturer and marketer of a wide variety of chemicals. It manufactures products that are used in technology, agriculture, autos, footwear, textiles, aviation, furniture, paint, healthcare, detergents and much more. Shares of this company have been in a downtrend and have been hit even harder in the recent market decline. The decline appears irrational and this stock is now significantly undervalued and it offers a generous dividend with a 4.4% yield.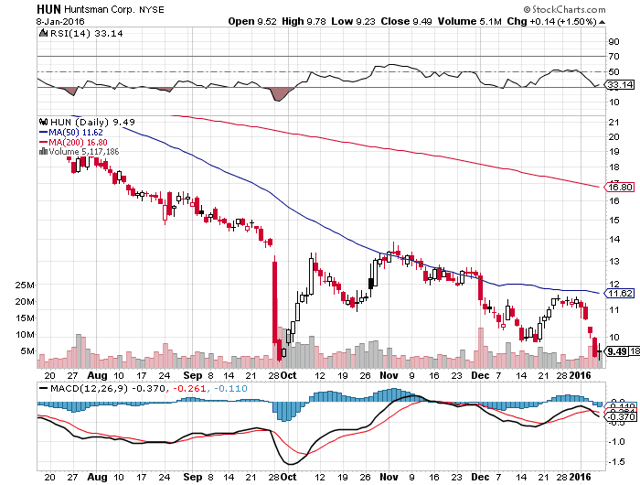 As the chart above shows, Huntsman shares are now oversold and trade well below the 50-day moving average of $11.62 and the 200-day moving average of $16.80. This stock is now trading near the lows it hit in late September which is right around $9.50. Because this stock held up this level back then, it could be a strong support level for it now and even be considered as a bullish "double bottom." This could suggest that potential downside risks are limited at this time.
Analysts expect that Huntsman will earn about $1.75 per share for 2015 and $2 per share for 2016. That puts the price to earnings ratio at just 5 times, which is well below the average of roughly 16 times for the S&P 500 Index (NYSEARCA:SPY). It's also well below the PE ratio when compared to other companies in the same industry. For example, Dow Chemical Company (NYSE:DOW) trades for about 14 times earnings.
It seems that some investors have been selling Huntsman shares as this company is being lumped in as a commodity play. While chemicals can be called a commodity, the prices of chemicals have not plunged like oil and natural gas and that is one reason why this sell-off in Huntsman is a big buying opportunity. In fact, prices for titanium dioxide (one of Huntsman's biggest products in terms of revenues) have just gone up. Titanium dioxide is used in everything from paint to toothpaste to milk and sunscreen, just to name a few examples. A number of industry players (including Huntsman) recently raised prices on titanium dioxide by $150 per metric ton, effective January 1, 2016. That means Huntsman should get a profit margin boost from this in the first quarter and throughout 2016.
Insiders at this company have a significant ownership interest of about 16% of the company and have recently bought more. An officer at Huntsman bought 3,000 shares at $10.20 on December 16, 2015. Some "smart money" investors appear to see significant value and upside potential in Huntsman shares. For example, David Tepper is a billionaire investor who founded Appaloosa Management, which is a hedge fund with well over $20 billion in assets. His firm is reported to own over 8 million Huntsman shares, which is more than 3% of the entire company. As shown in the data provided by Yahoo Finance below, many other renowned investment firms also have purchased significant stakes:
Top Institutional Holders
| Holder | Shares | % Out | Value* | Reported |
| --- | --- | --- | --- | --- |
| Scopia Capital Management LLC | 13,870,838 | 5.65 | 134,408,420 | Sept. 30, 2015 |
| Vanguard Group, Inc. (The) | 13,632,860 | 5.55 | 132,102,413 | Sept. 30, 2015 |
| Boston Partners | 12,029,728 | 4.90 | 116,568,064 | Sept. 30, 2015 |
| LSV Asset Management | 9,570,875 | 3.90 | 92,741,778 | Sept. 30, 2015 |
| Appaloosa Management L.P. | 8,037,950 | 3.27 | 77,887,735 | Sept. 30, 2015 |
| Wellington Management Company, LLP | 7,629,305 | 3.11 | 73,927,965 | Sept. 30, 2015 |
| BlackRock Institutional Trust Company, N.A. | 6,597,294 | 2.69 | 63,927,778 | Sept. 30, 2015 |
| Westchester Capital Management, LLC | 5,564,718 | 2.27 | 53,922,117 | Sept. 30, 2015 |
| Lord Abbett & Co | 4,353,212 | 1.77 | 42,182,624 | Sept. 30, 2015 |
| Norges Bank Investment Management | 4,216,413 | 1.72 | 96,049,892 | Dec. 31, 2014 |
While investors are waiting for the share price to rebound, they will be able to collect a generous dividend yield of 4.4%. The quarterly dividend of 12.5 cents per share has been growing and has increased by 25% just since 2012. With earnings of about $2 per share, the payout ratio is very low and that makes the dividend appear very secure with plenty of room for the company to continue raising it in the future.
The analyst community has an outperform rating and an average price target of $18.40. Some price targets are as high as $22, which seems reasonable for a company earning about $2 per share on an annual basis. That would equate to a PE ratio of just 11 times earnings which is still below the multiple of about 14 for Dow Chemical. Just a few weeks ago, analysts at UBS put a buy rating on this stock and set a $20 price target. That appears to be the most recent analyst rating update on Huntsman and it implies that this stock could double for investors who buy now.
Data is sourced from Yahoo Finance. No guarantees or representations are made. Hawkinvest is not a registered investment advisor and does not provide specific investment advice. The information is for informational purposes only. You should always consult a financial advisor.
Disclosure: I am/we are long HUN.
I wrote this article myself, and it expresses my own opinions. I am not receiving compensation for it (other than from Seeking Alpha). I have no business relationship with any company whose stock is mentioned in this article.