Peabody Energy (NYSE:BTU) is at an important part of the distressed process. In my opinion, it is now much too optimistic to avoid at least discussing the possibility of bankruptcy. For many coal and energy CEOs, 2016 may be an even more difficult year than 2015. Although many companies have already gone bankrupt in the coal industry with Arch Coal (NYSE:ACI) being the latest casualty, this does not necessarily imply we will have pricing relief anytime soon. One can hope for relief, but to base an investment thesis off of the certainty of relief is entirely speculation.
Strategic analysis
On November 20th, Peabody announced entering into a definitive agreement to sell its New Mexico and Colorado coal assets for $358 million in cash with the counterparty assuming $105 million in related liabilities which may in on balance sheet or off balance sheet liabilities. Management projected the assets sold to be able to produce $70 million in pre-tax cash flows after capital expenditures which could essentially be interpreted as a measure of EBIT of free cash flow for the assets. Depending on the amount of capital expenditures required, and depending on what the $105 million in liabilities actually involved, the free cash flow or EBIT multiple could be anywhere between 5.1 to 6.6 times. Not an extremely encouraging multiple, but Peabody can create a lot of value depending on what they do with the cash. We've seen some support in the price of the varying debt issues over the past few weeks and I very much hope it is a sign of the company buying back this debt rather than numerous investors bidding up the prices.
In my opinion, management may choose to go down two different paths depending on their beliefs. They may behave like operational managers being ever so optimistic on the eventual recovery of the company, or they may see Peabody as a company where financial engineering is the only way to save it. I believe the latter view will benefit investors far more. The former view indicates that management will dedicate more resources to capital expenditures and the nearer term 2018 debt maturity issue. The latter view indicates that management will maximize the reduction of total face value of debt and interest expenses through any financial means available to them. An appropriate metaphor may perhaps be to compare these views as using a long term prescription drug plan to heal the patient or to have an emergency surgery operation on him to save his life. I fear that our patient is too far gone for slow medicine to work and the doctors must operate as soon as possible.
The asset sale represents the opportunity to reduce the face value of outstanding debt by anywhere between $1.0 billion to $3.0 billion if bought on the open market. A reduction of $1.0 billion implies an average debt repurchase price of 35.8 cents on the dollar whereas a $3.0 billion reduction implies a repurchase price of 11.9 cents on the dollar. I would guess that $3.0 billion is not a very realistic amount and would predict a $2.0 billion reduction in face value of debt to be our realistic upper bound if management executed it flawlessly. This execution would include negotiations with holders of large blocks of this debt looking to unload their bonds at a premium to prevailing market prices as well as open market purchases. This would have to be done while keeping other bondholders in the dark about their intentions as knowledge of their actions would incentivize more holders to hold out and demand a higher price.
Quantitative analysis
Cash shortfalls have averaged about $110.8 million per quarter over the past four quarters as calculated via the increase in the net debt of the company. Management reports LTM adjusted EBITDA to be $590 million while run rate interest expense for the 3rd quarter of 2015 was $474 million. In other words, management must either increase revenues or decrease expenditures such that a shortfall of $110.8 million per quarter in cash can be made up. This is truly a desperate situation and management must make tremendous cuts capital expenditures and make up the other portion through savings operational expenditures and debt repurchases. Furthermore, because the asset sale will decrease EBITDA by at least $70 million per year and likely quite a bit more since $70 million represents after capital expenditure numbers, the shortfall in cash will widen by an average of $17.5 million quarter to $128.3 million per year if the cash proceeds from the asset sale is not used to materially reduce debt.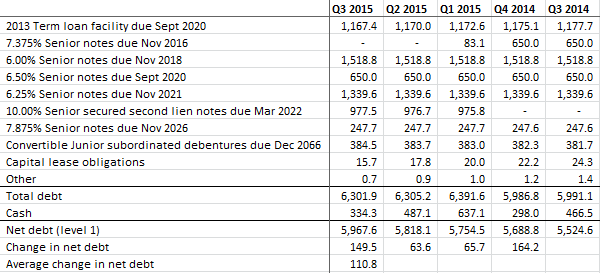 Source: Author's own work

Source: Author's own work
Let's assume we can squeeze a further $28.3 million per quarter out of operational expenditures savings and lower capital expenditures by $60.0 million per quarter. We're then left with a $40 million per quarter deficit that we must take from interest expense savings. This will imply a roughly 33.8% reduction in the total face value of debt which is about $2.13 billion. As shown in the earlier calculations, this is possible but difficult to achieve. These are all fairly aggressive assumptions for cost savings and, of course, this is assuming coal pricing performance that's constant with 2015. With 2016 predicted to be an even more difficult year on the pricing front, these most optimistic savings assumptions may still not be enough to achieve a positive cash flow for the company. However, a neutral or slightly negative cash flow may be all that Peabody needs in 2016 in order to survive if recovery abounds in 2017 and beyond. The chief issue lies in the nearer term and if Peabody can avoid bankruptcy during 2016 by dramatically changing its cost structure, the bonds may provide for tremendous returns. On the other hand, if management does not seize the moment and decisively reduce the outstanding debt face value with proceeds from their asset sale and other debt, bankruptcy is a very real possibility. Hence, it would be foolish for management to solely focus on the 2018 debt issue. The much more useful plan of action would be to repurchase debt indiscriminately and focus on positive cash flows. If management fails to take full advantage of the current situation and allows bankruptcy to become a high probability event, the outcome of an investment in Peabody bonds will be much more difficult to predict.
Disclosure: I/we have no positions in any stocks mentioned, and no plans to initiate any positions within the next 72 hours.
I wrote this article myself, and it expresses my own opinions. I am not receiving compensation for it (other than from Seeking Alpha). I have no business relationship with any company whose stock is mentioned in this article.
Editor's Note: This article covers one or more stocks trading at less than $1 per share and/or with less than a $100 million market cap. Please be aware of the risks associated with these stocks.