As we get closer to Apple's (NASDAQ:AAPL) earnings report on the 26th, Apple investors are finally getting some reliable indicators of Apple's performance in the December quarter. The fever of anti-Apple sentiment that has convulsed the business media for the past few weeks appears to be subsiding. Apple shares are starting to look like a probably fleeting bargain.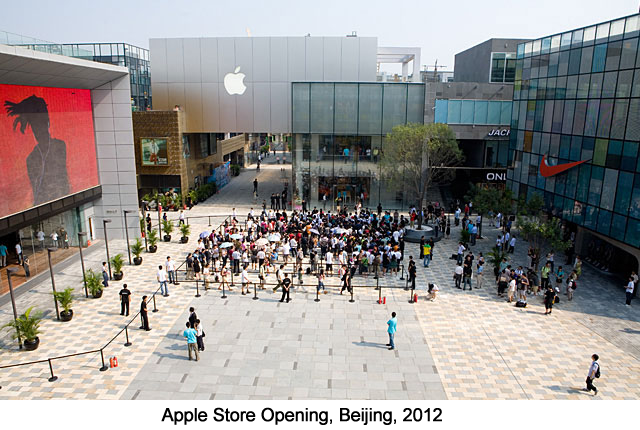 Source: iDownloadBlog
The Shrieking Crescendo
The media coverage of Apple towards the end of the year more or less played out as I predicted back in August. At the time I wrote:
In the coming months we'll probably hear all the reasons why Apple is going to fail, repeatedly in infinite variation. The difficult comps will get frequent mention. Leaked supplier reports will claim that iPhone sales are "disappointing." Apple Watch will be an unmitigated disaster. The litany of negative speculation will seem endless. And it probably won't end until Apple reports fiscal 1Q 2016 results next January.
But even I have been taken aback by the intensity of the invective hurled at Apple and its management. It reached a climax of sorts with Global Equities' Trip Chowdhry calling Tim Cook "completely clueless." This prompted Jeff Reeves, writing for MarketWatch, to join the throng of Apple doomsayers with his The iPhone slowdown spells doom for Apple. This will undoubtedly be added to the Mac Observer's Apple Death Knell Counter.
I'm not even going to speculate as to why it's so appealing to journalists to continually write epitaphs for Apple. Clearly, there's an audience for such sentiment, and probably always will be. Most of us Apple investors have learned to just filter this noise out. Let's move on to some real data.
Considering the Sources
The best data indicating Apple's December quarter performance comes from none other than IDC and Gartner. Both of these companies have been repeatedly castigated by Daniel Eran Dilger for their supposed bias against Apple. At the very least, we may consider them not to be biased in Apple's favor.
Both companies came out yesterday with their reports of PC sales and the news was undeniably good for Apple. Both companies agree that Apple's Mac sales rose y/y by 2.8% in the December quarter to over 5.6 million units. Once again this bucked the global trend which saw PC unit shipments decline by 8%-10%. I've been saying for some time that Windows 10 was not going to catalyze PC sales, and it hasn't.
Almost every other vendor saw y/y declines in unit deliveries and market share globally, except Apple. In the U.S., a mature and supposedly stagnant market, Apple did even better in the December quarter, growing unit shipments by 6-9% (depending on the estimate source) and market share.
But isn't Apple all about the iPhone? Does it really matter how many Macs Apple sells? I believe it does. Apple's PC sales are being driven by a halo effect of the iPhone. Mac sales are an indicator of the continuing appeal of the Mac OS X and iOS ecosystems. If iPhone sales were on the decline, I would expect Mac sales to follow suit. The fact that there's some upward momentum in Mac sales indicates to me the iPhone continues to be increasing, rather than decreasing in popularity. In the chart below I show iPhone and Mac unit growth relative to a baseline in calendar Q4 2010.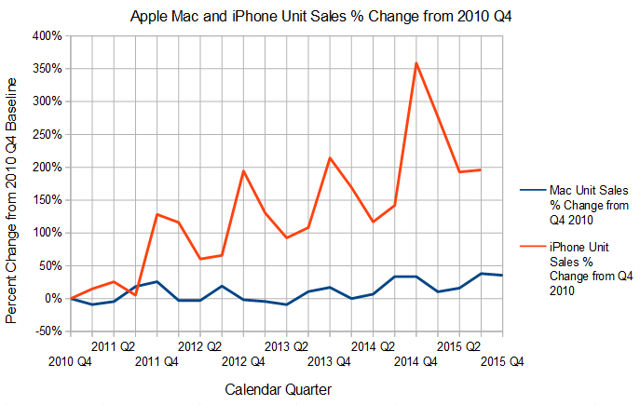 Note that the final data point for calendar Q4 2015 is based on the IDC/Gartner data. Both companies typically underestimate Mac sales compared to what Apple actually reports.
The other piece of good news was the report by Philip Elmer-DeWitt of the analysis by Stifel's Aaron Rakers. Mr. Rakers is predicting a 33% increase y/y in sales of non-Android smartphones in China for the December quarter. This is 24 million vs. last year's 18 million. Since Apple has about 93% of the non-Android market in China, according to Kantar Worldpanel, Rakers is effectively predicting about 22 million unit sales in China for Apple.
Rakers' conclusion was based on an announcement by the China Ministry of Industry and Information Technology, which stated everything in market share percentages. To get to unit shipments, some assumptions needed to be made about total unit shipments for the quarters in China. According to IDC's data for China in calendar 2014 Q4, 107.5 million smartphones were shipped in China. Rakers' estimate of 18 million non-Android smartphones shipped for 2014 Q4 is consistent with the IDC number.
To get to this year's estimate, Rakers still needed to assume some value for total smartphone shipments, which appears to be about 116 million. This could be the soft part of the Rakers analysis, since some might take issue with even this modest y/y growth.
I was a little skeptical of Rakers' conclusion, especially since I couldn't find the original Chinese report to back it up. However, Bloomberg also published an article repeating Rakers' conclusions, and providing a link to the source of the China data, the China Academy of Telecommunication Research. I still can't find the referenced data, because most of this site is in Chinese, but Bloomberg's article does provide some additional support of the Rakers conclusion.
The Rakers analysis offset what was probably the worst supply chain news regarding Apple, which was iPhone supplier Foxconn's report of December sales. Foxconn's sales fell by 20% y/y for the month of December, as the chart below shows.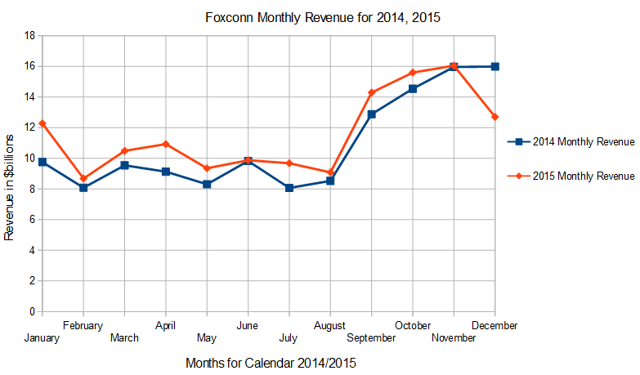 After arguing extensively on behalf of Foxconn as an indicator of iPhone sales in the quarter, I was naturally very disappointed by the December sales figure. According to my thesis of Foxconn as a predictor of iPhone sales, iPhone unit sales for the December quarter are predicted to decline by 2.26% according to Foxconn's revenue decline. This would put iPhone sales at about 72.8 million units for the quarter.
Investor Takeaway
All told, the weight of the supply chain data should make investors a little cautious, but not afraid of Apple. Most of the supply chain reports have referenced cutbacks of iPhone 6s/6s Plus production, but haven't mentioned iPhone 6/6 Plus production. This may serve as the best way to reconcile the supply chain reports with the Rakers analysis.
As I have stated for some time, I believe that iPhone 6/6 Plus sales continue to be strong, especially in China, where the discounting of the older models makes them more attractive. Continuing sales of iPhone 6/6 Plus may serve as the best explanation for how Apple can have strong overall iPhone sales while not having particularly strong sales for the latest iPhone model.
Recently, even Piper Jaffray's Gene Munster caved to the media negativity and lowered his iPhone shipment estimates for the March quarter. I absolutely refuse to go there. I am not going to talk about March until we see the December quarter results.
I still remain cautiously optimistic that we're all going to be pleasantly surprised by the December quarter. I continue to rate Apple a buy.
Disclosure: I am/we are long AAPL.
I wrote this article myself, and it expresses my own opinions. I am not receiving compensation for it (other than from Seeking Alpha). I have no business relationship with any company whose stock is mentioned in this article.