One thing I've been curious about lately is the notion that dividend growth investing seems to almost necessarily lend itself to do-it-yourself individual stock picking. Intuitively, this did not strike me as something that should be absolute -- I figured any old fund manager could stuff a mutual fund with Chevron (NYSE:CVX), Altria (NYSE:MO), PepsiCo (NYSE:PEP), Kimberly-Clark (NYSE:KMB), and Abbott Labs (NYSE:ABT), and then call it a day. With several dozen companies out there with very long dividend growth track records that appear likely to keep their streaks going, I thought it would be easy to find a dividend growth fund out there that could give investors growing annual streams of income.
With this goal in mind, I decided to take a look at the T Rowe Price (NASDAQ:TROW) Dividend Growth Fund, (PRDGX). The fund has a "Four Star" ranking from Morningstar over the past 3,5, and 10 year periods, and the management explains the fund's investment objective in this way: "The fund's objective is to provide increasing dividend income over time, long-term capital appreciation, and reasonable current income through investments primarily in dividend-paying stocks." That statement sounds similar to what you might get from a lot of dividend growth investors at Seeking Alpha, doesn't it?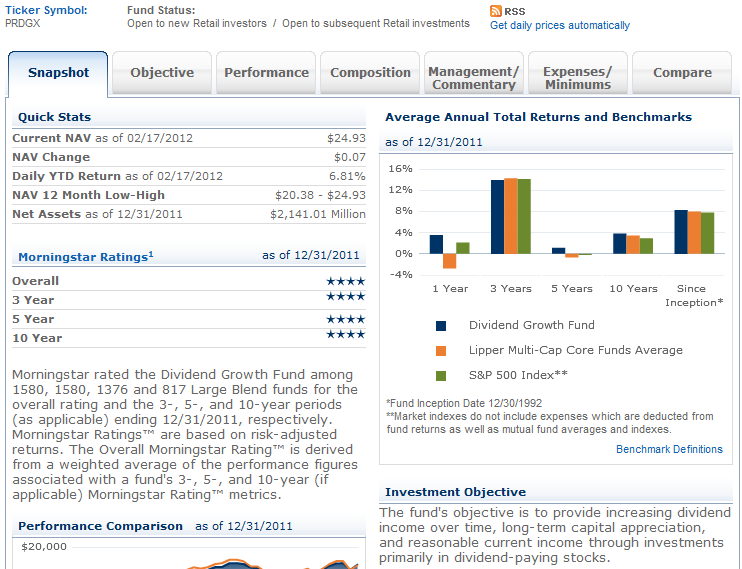 But when I took a look at the major holdings of the Dividend Growth Fund, I did not find quite what I had expected. Sure, Exxon (NYSE:XOM), Chevron, and Pepsi are dividend growth stalwarts that regularly belong in the portfolios of many dividend income-focused investors. Likewise, Pfizer (NYSE:PFE), US Bancorp (NYSE:USB), and Wells Fargo (NYSE:WFC) represent interesting plays on companies in "dividend rehab," which could offer a boosted level of dividend growth going forward as they seek to raise payout levels to pre-crisis levels.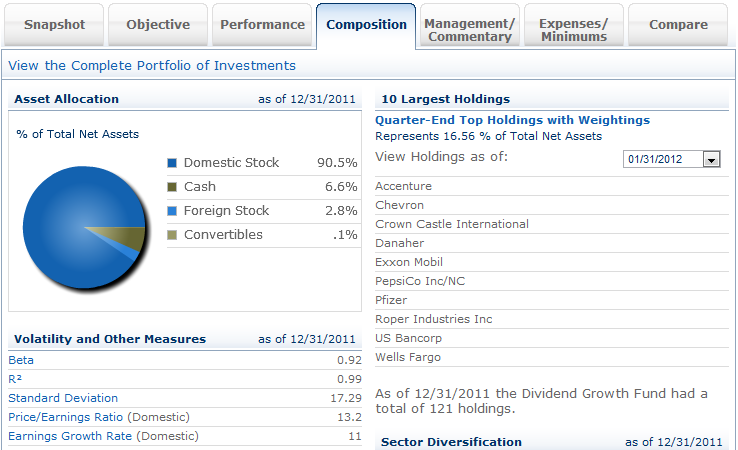 But three of the holdings in the top ten caught me completely off guard. Roper Industries (NYSE:ROP), Danaher Corp (NYSE:DHR), and Crown Castle International (NYSE:CCI) all managed to make the list of the Dividend Growth Fund's top holdings. Roper offers investors a 0.58% yield, Danaher offers investors a 0.19% yield, and Crown Castle International does not even pay a dividend. This is the kind of stuff that aggravates me -- I do not understand the logic of putting companies with 0.2-0.5% yields in a dividend growth portfolio. The loose change I find under my mattress pays a higher yield than that. And I certainly do not understand the logic of putting a company that does not even pay a dividend at the top of a portfolio labeled "Dividend Growth."
When these three companies make up a sizable weighting of a Dividend Growth Fund, it becomes easier to see why dividend growth investors produce better income streams by focusing on companies with 3-4% dividend yields and a track record of 7-11% annual dividend growth. I understand that the prospectus grants T Rowe Price to do this, but I can't imagine that most investors looking to buy shares of a dividend growth fund want to see a portfolio littered with companies that pay less than 1% in dividends or no dividends at all.
T Rowe Price is a well-respected firm in the mutual fund industry. Personally, I hold their Capital Appreciation and New Horizons funds in particularly high regard. In many ways, I expect T Rowe Price to be a standard-bearer for the industry. But when the company offers a Dividend Growth Fund that violates some of the most basic common sense principles of dividend growth investing, I have to scratch my head at the logic behind that.
This is yet another example of why I think dividend growth investors are often best served picking individual stocks themselves. If there is anything that all dividend growth investors have in common, it's probably that they almost always desire a growing annual income stream. At least for me, "Growing Cash Distributions" would have little stars drawn next to them if I wrote out a personal investing mission statement. A combination of no dividends and 0.5% yields is not part of my formula for success with this strategy. Until I see a dividend growth ETF or mutual fund with rock-bottom fees, a track record of annually rising payments to shareholders, and a portfolio stuffed with blue-chip companies that pay 3-6% annual dividends, I'm not even going to consider letting anyone else run part of my dividend growth strategy.
Disclosure: I have no positions in any stocks mentioned, and no plans to initiate any positions within the next 72 hours.