Welcome to 1987
The performance of the Chinese stock market has been receiving much attention lately. As the SSE Composite has been falling since mid-June 2015, restless media are supplying the masses with China-related news at an increasing pace. Finding an investor not tired of the buzz this market is creating on a daily basis is becoming quite difficult.
The connection between the Chinese and U.S. stock markets is undeniable. There is an opinion that the economic slowdown in China simply cannot affect most U.S. companies to a great enough extent to cause a major sell-off in U.S. stocks. However, it is rare for traders to ignore the performance of Asian and European markets before trading in U.S. securities, Everything is interconnected, and major economic or stock-related news do not usually come out on a daily basis. In fact, the Chinese stock market itself has joined the club of most talked-about topics in the investing world, along with oil (NYSEARCA:USO) and the Federal Funds rate.
Other markets' performances have a significant impact on investors' collective mood on a particular trading day, especially if the global trend toward increasing globalization is taken into account. An investor who gained from the rise of the dollar and lost on stocks last year might be more inclined to close some of his U.S. positions should he take losses on his China positions overnight.
And now, as we are trying to determine the direction the markets will follow in the coming months, let's take a look back at 1987. The stock market crash that happened that year was not entirely fundamental-driven. Did the pre-crash market have similarities with the current bull market? Yes.
Correlation
It is true that the long-term correlation between the SSE Composite and the S&P 500 (NYSEARCA:SPY) is only marginal, which can be clearly seen on the graph below.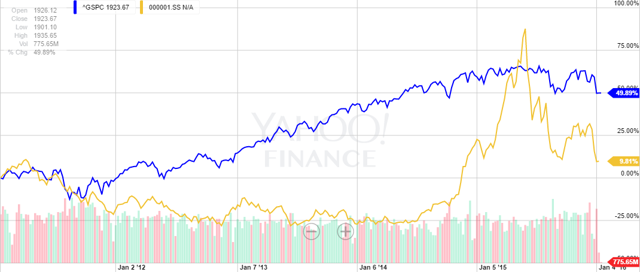 5-Year Performance of SSE Composite (Blue line) and the S&P 500 Index (Orange line). Source: Yahoo Finance.
Why does the connection matter then? And another question is, are the developments in China significant enough to make investors in the U.S. change their bullish views on the U.S. stock market? And are they relevant enough to scare them?
As for the last two questions, history answers yes to both.
In his book The Alchemy of Finance, George Soros documented his real-life experiment, which provided readers with a detailed trading diary of the famous investor. Unfortunately, the experiment ended before the famous crash of 1987 that happened on the 19th of October, which is also known as the Black Monday. Nevertheless, the situation that persisted prior to that crash and was described by George Soros might be reminiscent of the market conditions we are dealing with right now.
A Plunge in Oil Prices
After trading around $30 for an extended period of time, light crude oil took a dive in 1986, following a pattern relatively close to the one we have been observing in the oil prices lately.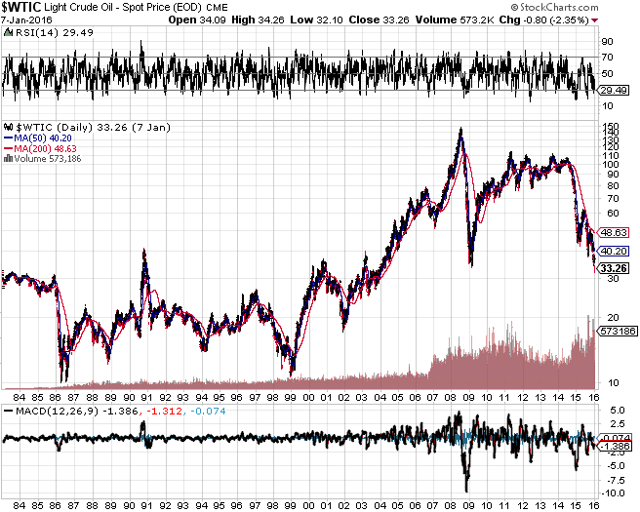 Source: StockCharts.com
Stock Valuations
Prior to Black Monday, stock valuations could hardly be called extraordinary, especially when compared to the post-millennial bubble. Note that pre-crash P/E ratios were lower than they are today: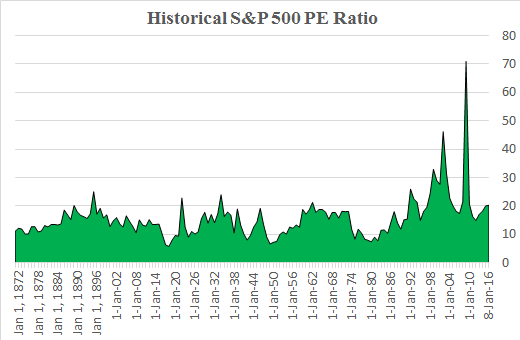 Historical S&P 500 P/E Ratio (Figure for January 8 is an estimate). Source: Multpl.com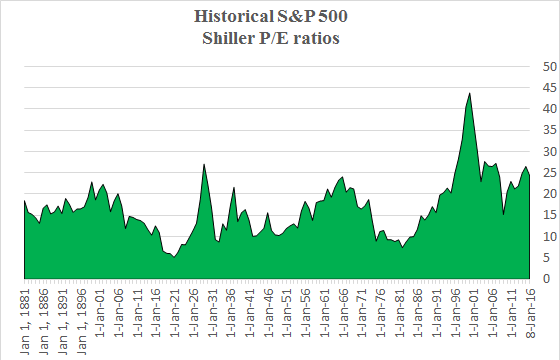 Historical S&P 500 Shiller P/E Ratio (Figure for January 8 is an estimate). Source: Multpl.com
Here is what George Soros thought of stock valuations on March 27, 1986 (571 days before Black Monday):
When I look at the internal dynamism of the market, I find that the boom is far too young and vigorous to collapse of its own weight. Investors are still very cautious, including myself. Stocks are just on the verge of becoming too expensive for leveraged buyouts, and the real rate of interest is still too high, given the collapse in oil prices. Either the dollar or interest rates have to decline, or both. [...] On internal grounds alone, the boom has a long way to go: stock prices could double or more before they become vulnerable. [...] At present, the only danger is an external shock. Its potential origin is clearly visible; oil prices are set on a collision course. Oil will continue falling until it sets off some catastrophic event that will arrest or reverse the trend. We may distinguish between the two kinds of cathartic events: military and financial.
Correlation Between Oil and Stocks
For stocks, falling oil prices were not such a big deal back in 2014. However, as 2015 was coming to an end, and oil price declines were gaining momentum, oil performance has been experiencing a drastic increase in importance. Today's stock market movements are getting more and more determined by oil, outlook for which is only getting worse.
It was the same before the 1987 crash. The chart below demonstrates a scenario similar to that described above: the lower prices of oil, the more volatility for the markets. After being caught off-guard when light crude oil fell below $14, S&P 500 only resumed the confident movement higher when the oil prices started showing signs of hope. By that point, the readers might already guess what happened after a nearly 50% rally the stocks produced in the first 10 months of 1987.
On July 21, 1986, Soros stated that "The bull market may be cut short by a deflationary spiral engendered by the collapse of oil prices", even though he believed the bull market might sustain in case it survives for another couple of months. At that point, stocks have already had positive a correlation with oil prices, as they rose along the volatile beginning of the oil price recovery. A 2014-like performance that started happening in the late 1985 can be seen as well, as stocks did not care about this commodity too much until the economy felt the first effect from the falling oil prices.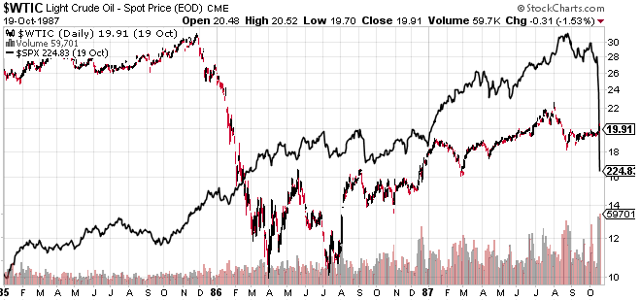 Price Performance of Light Crude Oil (CME, Spot Price) and the S&P 500 Index, 1985 - October 19, 1987. Source: StockCharts.com
And then came the extraordinary day of October 19, 1987. Market crashes are like snowflakes - there are no identical ones, and it is always difficult to notice the moment when it is only starting to snow.
Bond Yields
Bond yields were at their 9-year low in the beginning of 1987. Low interest rates have lead to a massive debt issuance, large part of which consisted of junk bonds. "With bond rates expected to remain at low levels, investment bankers predict that corporations will continue to flock" (NY Times, Jan.2, 1987). As the bonds plunged, major banks were forced to cut their fixed income staff and cut their losses.
Sounds familiar?
Asian Stocks
In 1987, Hang Seng and Nikkei 225 have been competing for the role of the U.S. bull market's leading disturber. Trading places, these 2 indices have been producing short-term pressure on the U.S. stocks since mid-June 1987.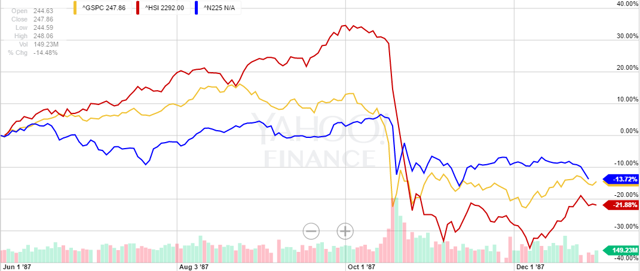 Performance of S&P 500 (Orange line), Nikkei 225 (Blue line) and the Hang Seng Index (Red line), June 1987 - 1988. Source: Yahoo Finance.
The Nikkei was entering the correction zone in July, decreasing the momentum of the S&P 500 until the August rally, which was interrupted by a poor performance of Chinese stocks. As U.S. stocks started to move away from the bull market peak reached on August 25, another correction experienced by Japanese stocks forced the S&P's newly-established downward trend to sustain. Since then, the gradual correction was preparing itself to transform into a major crash.
From the technical perspective, Japanese stocks' impact has been far exceeding that of the Chinese stocks in 1987. That year, Japan was entering a major asset bubble which was later called "The Japanese Asset Price Bubble", as stock and real estate prices continued increasing up until the 90s. The stock market correction that prepared the scene for the Black Monday of 1987 was only a regular correction for the Japanese stocks. By April 1988, the Nikkei 225 was up once again.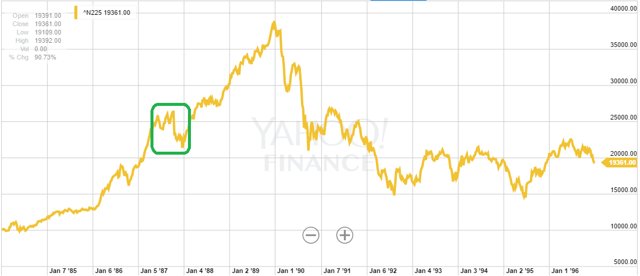 Performance of the Nikkei 225 Index, 1984 - 1997. Source: Yahoo Finance.
This time, even though the scenario described above has much in common with the current one, Chinese and Japanese stocks both seem to be much more volatile.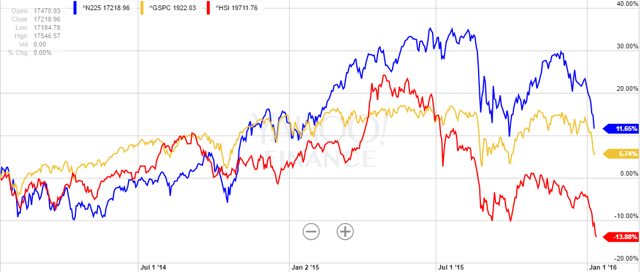 2-Year Performance of S&P 500 (Orange line), Nikkei 225 (Blue line) and the Hang Seng Index (Red line). Source: Yahoo Finance.
With numerous downticks coming from either Hang Seng or Nikkei 225, the S&P 500 has substituted the upward trend with a fluctuating horizontal movement in the late 2014, and it is clearly seen that the recent performance has been dragging the index lower as it followed the major Asian stock indices down.
Again, does it look familiar?
Of particular note is the fact that Japan and China combined accounted for 16.17% of the world's GDP in 1987, while the 2014 figures stand at 19.21%.
And now, as George Soros is getting nervous again, it might be a perfect timing for the investors to decide whether their risk tolerance level allows them to stay exposed to a market like this or not.
1987 Predictions
There are always two sides of the same coin, and there will always be expectations that contradict with each other. Despite the suddenness of the stock market crash of 1987, it was widely expected and forecasted by many analysts and investors, including Robert Prechter, Paul Tudor Jones and Martin Zweig. Nevertheless, investors should remember that these forecasts could go wrong - just as the pessimistic short-term forecasts related to this bull market might prove to be. There are opinions and facts that clearly outline the arguments in favor of a continuation of the current bull market.
Here is an article with a detailed description of the events happening in 1987 prior to the crash, and this Youtube channel contains Wall Street Week's "Before The Crash" and "After The Crash" series, which feature Martin Zweig and his prediction.
Conclusion
Speaking of 1987 again, what is different this time? The Black Monday crash was not driven by a recession or worsening fundamentals. That year's crash was painful but brief, as no recession followed in the U.S. Today, when the fundamentals are clearly deteriorating all over the world, the potential downside is far from being limited. And as the media continues flooding the markets with more opinions on the same data that contradict with each other, it is difficult to keep the mind still. I will not fill this article with the same fundamental figures that everybody else has seen, since investors need to form their current view on the markets themselves. Any counter-opinions regarding the similarities with the 1985-1887 period are welcomed, as I am also in the process of preparing my portfolio for what my expectations are or will be in the nearest term.
I am neutral-to-bearish for the medium term.
Disclosure: I am/we are long EDZ.
I wrote this article myself, and it expresses my own opinions. I am not receiving compensation for it (other than from Seeking Alpha). I have no business relationship with any company whose stock is mentioned in this article.
Additional disclosure: Not an investment advice.