Cummins (NYSE:CMI) has been put through the wringer since hitting record highs last year. While it has a huge international presence and is present in over 190 countries, it relies on the US and Canada for 60% of its revenues. The US and Canada are fairly stable markets that aren't without their issues. 2016 will hold many challenges for the diesel giant, but Cummins has been positioning itself well for these situations. Operating in four segments; engines, components, power generation and distribution, the main issues lie in the engine segment.
In my last article on Cummins, a reader had asked about the North American market share for Cummins in OEMs. Simply put, CMI dominates by a safe margin, but is losing ground to the OEMs. Seeing as how its engine segment was 43% of its Q3 revenues, it is the most important aspect. The first half of 2015 provides some great insight into this portion of its business. In the first half of last year, Cummins dropped 2.3% to 36.7% of market share.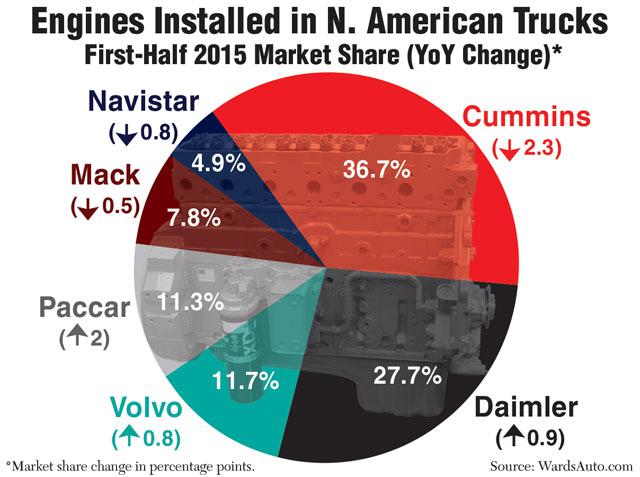 The loss can be attributed largely to PACCAR (NASDAQ:PCAR) as evidenced by the above chart. The positive for Cummins is that it is the only third-party engine manufacturer in the industry, and CMI sold 12% more engines than the year before. Being a third party, it has access to all of the OEMs. The negatives are quite obvious. The slide for Cummins is expected to settle into the low to mid 30s as customers will still require a variety of powertrain options, and the company provides that. As it appears, the biggest threat to its market share at this point is PACCAR; it is important to take a look at its trucks. PACCAR placed its own engines in 39.8% of its Peterbilt and Kenworth trucks, the rest were Cummins'. While CMI's share is still quite large, this is a 6.2% increase for PACCAR over the year before and is likely to persist in the years ahead as OEMs more effectively sell powertrain integration to their customers. Solace can be taken in the fact that heavy truck manufacturer's number one mission is to sell its trucks and Cummins is still a great selling point for them. Navistar (NYSE:NAV) spokesman Steve Schrier is quoted saying:
"We believe we have the best 15-liter option for customers (in the Cummins ISX15) and the best 13-liter option (Navistar N13)."
It is evident it will continue to slowly lose market share before leveling off as OEMs improve their offerings and the benefits of integration become greater. The next headwind facing Cummins in North America for 2016 is economic growth, or better yet lack of it. In the US, GDP grew at 2.1% in the third quarter and Canada at 2.3%. Class 8 trucks, commonly known as tractor-trailers or semi-trucks, transport massive amounts of freight across the US and Canada and are a great indicator of the overall health of the economy. Year over year, truck tonnage has crept up by only 1.2% as brick and mortar retail inventories have remained high due to their slowdown in sales. Truck sales have suffered as a result, posting an overall 36% drop in sales in December for the industry when compared to the year before. Annual sales of HD trucks are forecasted to rise 7% to 286,000 for 2015 and remain flat for MD trucks. It is worth noting that 2014 was an outstanding year for HD and MD truck sales, up 22% and 9%, respectively, and continuing that growth isn't feasible. This lower growth but consistent sales may be the new normal, and manufacturers, including Cummins, are adjusting to that. With Class 8 trucks driving over 68,000 miles a year, the industry will remain strong, but will require cost cutting and efficient business practices, something CMI has proven quite skillful at.
While engine sales for Cummins will remain challenged in 2016, thereby putting pressure on its other segments, there is good news out there for the company and its investors. In December, UPS (NYSE:UPS) rolled out the last of its 2,470 natural gas powered vehicles, over 800 using the Cummins Westport ISX12 engine. The move by UPS and others to utilize NG is economically and environmentally driven. Currently, the NG engine market is not that large, but can be expected to grow as the technology advances and oil inevitably rises. Many of the aging trucks replaced by the NG powered ones were reaching their end of service life and were becoming more expensive on fuel and maintenance. While modern diesel engines are about on par with NG in terms of emissions and fuel economy, older diesel engines are much worse off, thereby giving companies the incentive to update and possibly change the platform. Historically, the price difference between NG and diesel fuel was large with NG being cheaper; only recently with the oil glut has the gap closed. With the Cummins JV with Westport, it has created a large lineup of engines and offers its products through many OEMs and all over the world. I'm not looking so much at the NG market, but Cummins' ability to adjust its business to meet the rapidly changing demands of the global market and field quality items sometimes well ahead of competitors. If the industry the company operates in is a football game, Cummins is the left tackle. It is athletic, quick to adjust to the play, and exploit any weaknesses for its own gain.
Beginning in 2013 when the global and domestic headwinds became apparent, Cummins began acquiring its North American distribution JVs in an effort to streamline its supply chain and reduce structural costs. This has resulted in an overall loss of revenues from the distribution JVs bottom line, but is immediately accretive to Cummins' income. Its most recent acquisition of the 50% stake in Cummins Crosspoint LLC was made for $65M where that JV had $258M in sales the previous fiscal year. At the analyst day, CMI reiterated its intent to pursue acquisitions to grow. Unfortunately, the company was forced to eliminate 2,000 jobs, mostly from its corporate structure, in order to save up to $200M in ongoing expenses. A cut in employment is usually the sign of a truly challenging environment and spooks investors, this one was no different. While unfortunate, it also highlights the management's ability to make tough decisions that are in the best interest of the company at the time, especially in a cyclical industry.
In conclusion, the losses in OEM market share and the slow paced growth in the US and Canada are putting vast amounts of pressure on Cummins going into 2016. It has taken meaningful steps to mitigate these headwinds and is constantly adapting and innovating through these tough times. Despite the challenges ahead for Cummins, I feel the current trading range around the mid to high 80s has the bad news and fear baked in, but we could still see a fall to $75 with a bad Q4 and lowered forecast for 2016. With a current P/E of just ~9.2, this is a great value for the long term. When you consider the healthy dividend of 4.53% is well protected even in a lower earnings environment, it is tough to write off CMI. Should 2016 turn out to be an absolute disaster, I still place my worst-case scenario at $60/share. I find that highly unlikely, as that would mean an almost 33% drop in earnings if we apply the same P/E. The 2015 results and Q4 should be interesting as the global market is appearing to deteriorate at a faster rate than forecasted. I look forward to the discussion in the comments, and good luck to all of you. Thanks for reading.
Disclosure: I am/we are long CMI.
I wrote this article myself, and it expresses my own opinions. I am not receiving compensation for it (other than from Seeking Alpha). I have no business relationship with any company whose stock is mentioned in this article.