As predicted in "Tax-Loss Harvesting History for BDCs", business development companies ("BDCs") declined during the first two weeks of December, followed by dead cat bounce, and then further selling in 2016 likely due to China and oil-related concerns.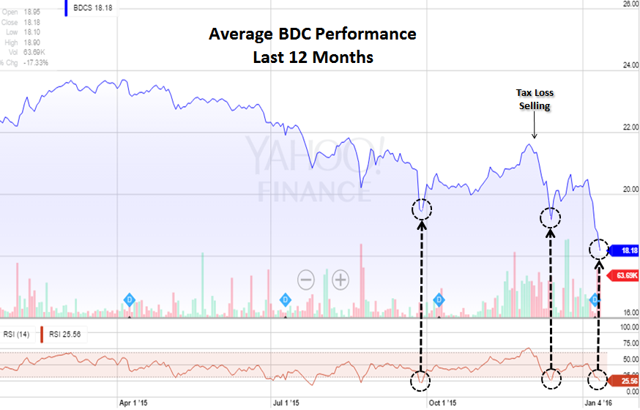 However, not all BDCs have performed the same in 2016, and many have beaten the S&P 500, which is down 7.5%.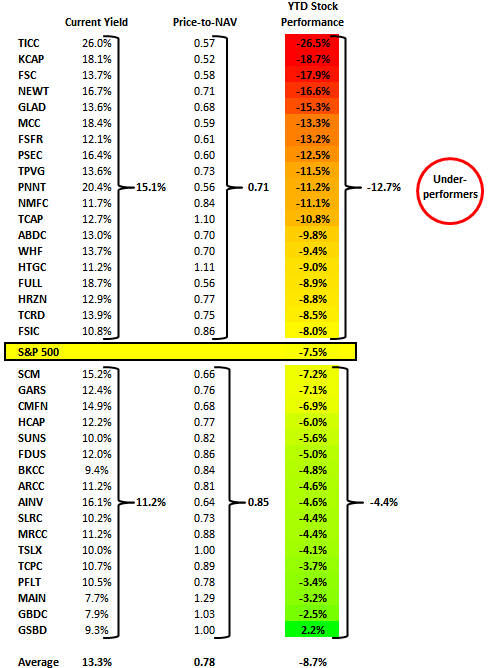 Outperformers
As mentioned in "Stocking Stuffers: Discounted BDCs", I have purchased shares in Goldman Sachs BDC (NYSE:GSBD) and will be covering more actively this year. Golub Capital BDC (NASDAQ:GBDC), Main Street Capital (NYSE:MAIN), PennantPark Floating Rate Capital (NASDAQ:PFLT), TCP Capital (NASDAQ:TCPC) and TPG Specialty Lending (NYSE:TSLX) are among what I consider to be higher quality for many reasons, including portfolio credit quality. BlackRock Capital Investment (NASDAQ:BKCC) was one of the top-performing BDCs last year, and is still doing well, likely related to its improving credit quality driving net asset value ("NAV") per share growth. Ares Capital (NASDAQ:ARCC) is also a higher-quality BDC, but has been growing the amount of second lien to improve portfolio yield and dividend coverage.
Underperformers
TICC Capital (NASDAQ:TICC) and KCAP Financial (NASDAQ:KCAP) have recently had the largest declines, likely related to large amounts of collateralized loan obligations ("CLOs") that have historically contributed to large NAV per share declines. Prospect Capital (NASDAQ:PSEC) investors could also be anticipating some NAV per share declines, related to its growing CLO investments, and currently pricing it at a 40% discount to book value. However, this discount could also be related to the quality of management that has impacted BDCs, such as Fifth Street Finance (NASDAQ:FSC), Fifth Street Senior Floating Rate (NASDAQ:FSFR) and Medley Capital (NYSE:MCC), that are also trading at 40% discounts to NAV. Newtek Business Services (NASDAQ:NEWT) is also down more than most BDCs, but I do not follow this company as closely as the others due to lack of dividend coverage from core net investment income ("NII").
Gladstone Capital (NASDAQ:GLAD) and PennantPark Investment (NASDAQ:PNNT) are still being discounted heavily for oil exposure as well as Apollo Investment (NASDAQ:AINV), which is down less than PNNT and GLAD for the year, but still trading at a healthy discount.
When should we buy more?
As mentioned in my previous article, I'm a slow and patient buyer, in small increments, during most pullbacks. Last year, BDCs were also down around 12% during the first two weeks of December, followed by a dead cat bounce, before rebounding in Q1, as shown in the chart below. Investors should either be buying now or waiting to see if BDCs continue lower with the overall market. If you are interested in more information on BDCs, including my current positions and potential buys, individual dividend coverage potential, rankings (risk, return, pricing, dividend potential), target pricing charts and valuations, and suggested BDC portfolios, please see my "BDC Research Page" and for information on specific BDC pricing, total returns, operating expenses and dividend coverage, please visit my "BDC Pages".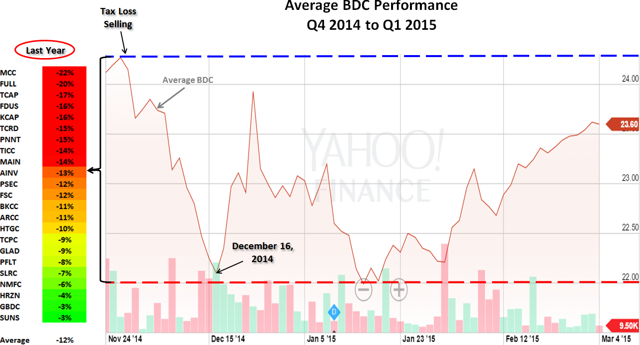 Personal note: I have updated my positions to reflect changes in my holdings, but please keep in mind that some of the positions are very small and mostly for research purposes.
Disclosure: I am/we are long ABDC, AINV, ARCC, BKCC, FDUS, FSC, FSFR, FSIC, GAIN, GARS, GBDC, GLAD, GSBD, HTGC, MAIN, MCC, MRCC, NMFC, PFLT, PNNT, PSEC, TCAP, TCPC, TICC, TPVG, TSLX.
I wrote this article myself, and it expresses my own opinions. I am not receiving compensation for it (other than from Seeking Alpha). I have no business relationship with any company whose stock is mentioned in this article.