On Wednesday, U.S. stock market indices extended their losses and panic selling took over investors. The Dow Jones Industrial Average finished Wednesday deep in the red, it was down 2.21%, or 365 points and closed at 16,151. The S&P 500 did not do much better: The major benchmark index slumped 2.51%, or 49 points and finished a brutal trading session at 1,890. All sectors from tech to energy dealt heavy losses to investors while crude oil prices are trading close to $30 per barrel again.
The broad sell-off also inflicted pain on Kinder Morgan, Inc. (NYSE:KMI) shareholders again, who have seen the value of their stock holding collapse ~13% in the last eight trading days.
Wednesday was a bloodbath, and investors are on edge. So the question here is, is this a standard market correction, or are we in the midst of major trouble?
When stocks head south, investors have a tendency to rush to conclusions and head for the door, which is probably the worst they can do. In my last piece I penned on Prospect Capital (NASDAQ:PSEC) I referred to two investment advisers, J.P. Morgan and RBS, which have recently warned clients to adopt a conservative stance when it comes to U.S. equities. RBS in particular advised clients to "sell everything". But are things really that bad?
I don't think so. The S&P 500 has had a good run for the last seven years, that's true, but the S&P 500's forward P/E ratio is close to its historical average, as this slide from J.P. Morgan's 'Guide to the Markets' presentation from December 31, 2015 pointed out.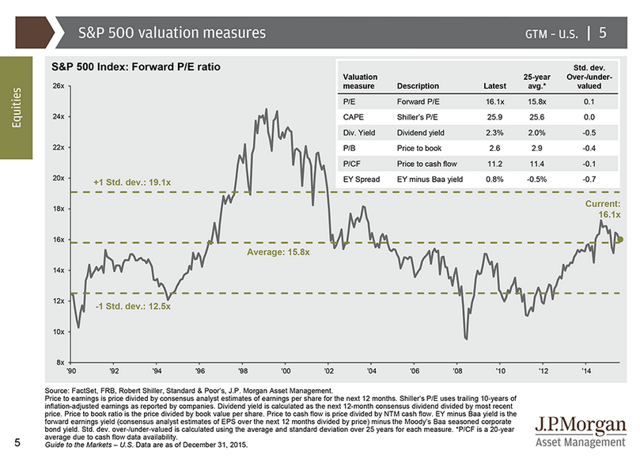 Source: J.P. Morgan Presentation
So while there is a lot of talk going on right now about the state of the stock market, chances are that we are only experiencing a healthy market correction, that, frankly, was overdue. When stock markets move into the same direction for a long time, investors forget what corrections look and feel like. It is easy to forget that when markets move up for nearly seven years straight.
Since U.S. stocks are NOT too expensive when put into historical context and the U.S. economy is vibrant, chances are that the current weakness is part of a market dislocation that will correct itself.
Tremendous value destruction for energy companies
Kinder Morgan turned out to be a terrible investment for most, but not all, investors. Lucky are the ones that got out in the high $30s.
From top to bottom, KMI has now crashed ~71%. KMI fell to a new 52-week low of $12.75 on Wednesday, too. Breathtaking.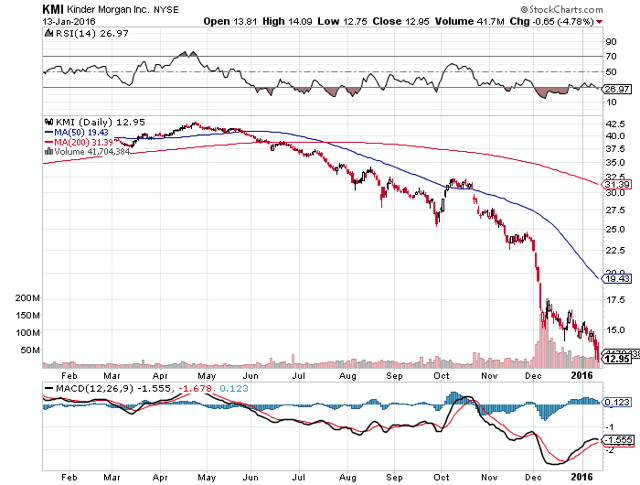 Source: StockCharts.com
Biting the bullet, or sitting it out?
Only looking at one's portfolio these days can cause acute fever attacks...I am in the same position as everybody else. Watching my Kinder Morgan position bounce around is surely not a lot of fun.
But with oil falling to $30/barrel and potentially more downside to come in the near term if OPEC remains reluctant to cut production and support prices, Kinder Morgan has even more downside potential. Since the near-term market outlook is dim, and oil clearly has the potential to continue its tailspin, investors essentially have two options now: 1. Biting the bullet, taking the loss, and parking the cash on the sidelines until the storm has passed, or 2. Sitting it out and waiting for better times...and that could take time.
No near-term catalyst in sight...
Kinder Morgan has slashed its dividend in order to protect its credit rating and to be able to fund the equity portion of its capital budget. So far, so good.
But Kinder Morgan will likely be forced to report uninspiring fourth quarter results that might see large declines in revenues and distributable cash flow, certainly when compared to the fourth quarter of 2014, thereby given investors even more reasons to be sellers in the first quarter of 2016. Unless investors have a long breath and they are willing to sit out an upside-down investment, it might be better to bite the bullet at this point and sell. A shortage of positive catalysts for Kinder Morgan's stock does not make the situation that many investors find themselves in any easier.
Your Takeaway
The last eight days have been a bloodbath for stocks. I think the market dislocation is transient and stocks in general will recover from a healthy shakeout. As far as Kinder Morgan is concerned, a stock I have been bullish about until the dividend was abruptly slashed, I see little to no upside in 2016, especially since the oil price glut is building and OPEC has made no effort yet to step up to the plate. Investors might want to face the bitter reality and bite the bullet in light of expectedly weak fourth quarter earnings coming up. Burned investors can take solace in the fact that Richard Kinder has racked up substantially higher losses than all of us together.
Disclosure: I am/we are long KMI, PSEC.
I wrote this article myself, and it expresses my own opinions. I am not receiving compensation for it (other than from Seeking Alpha). I have no business relationship with any company whose stock is mentioned in this article.